Carrot Margaritas are a delicious spin on the classic margarita with carrot juice added to the mix! They have the standard tequila and lime juice, sweetened with orange juice and a little sugar, then a splash or two of carrot juice. A refreshing seasonal cocktail that no one will guess has something healthy in it!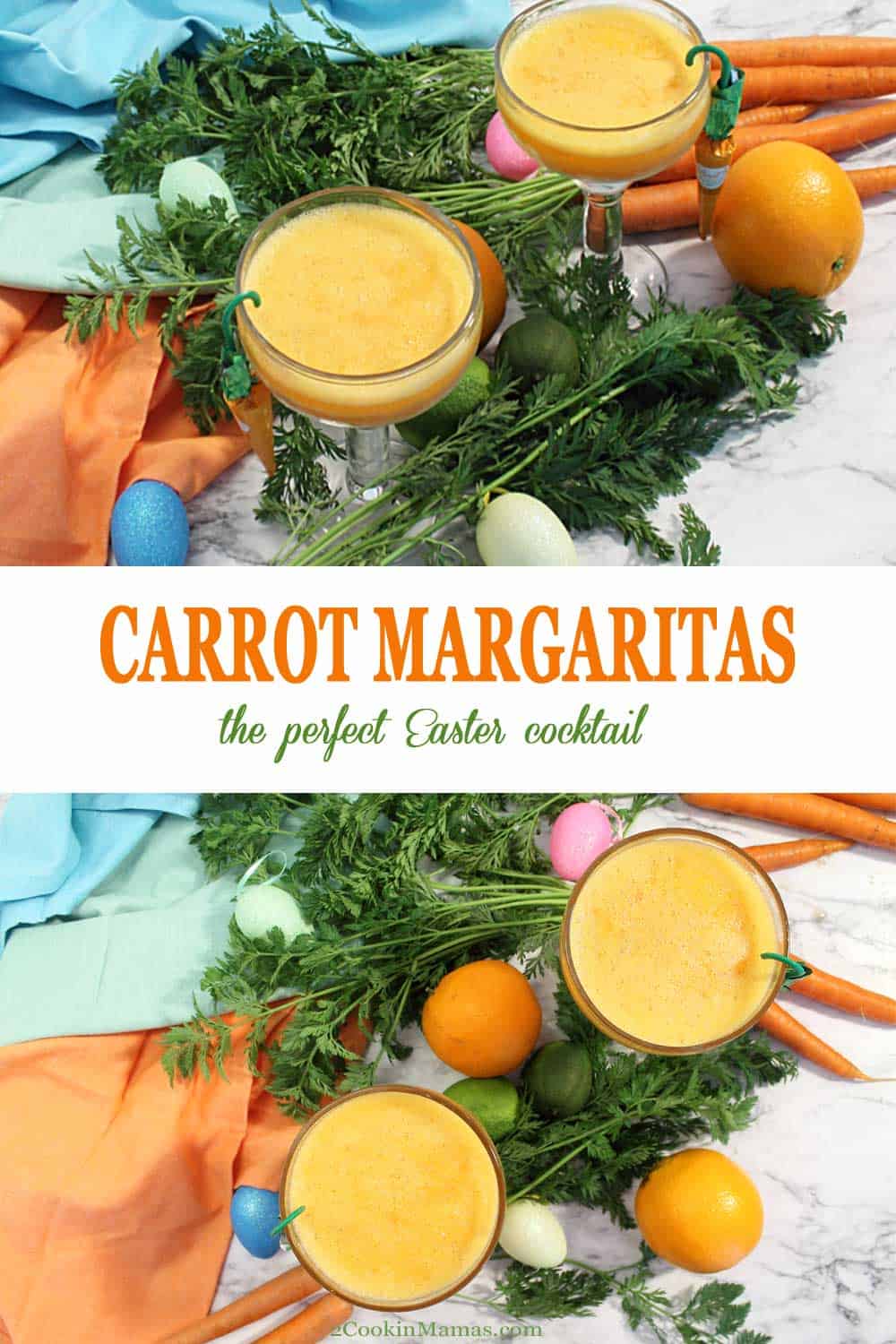 Easter Carrot Margaritas
One of my favorite cocktails is the classic margarita. I love the lime's tartness, the sweetness of the orange liqueur and the smooth vanilla, caramel flavor of a good tequila. It's one of those drinks that just tastes so bright and refreshing any time of year.
However, I also like to experiment with flavors that go with the season. My friends and family all love my Apple Cider Margarita in the fall and my White Christmas Margarita during the holidays but what was I going to make come Spring and the Easter season?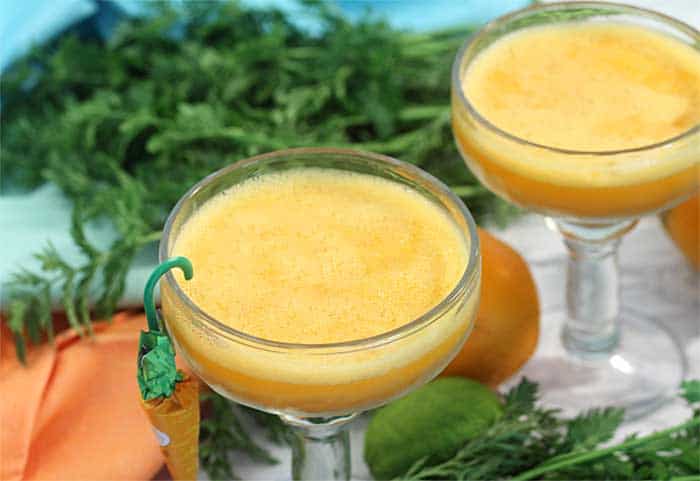 Thinking of Easter makes me think of bunny rabbits, which make me think of carrots, hence, in my roundabout way, the addition of carrot juice to the basic margarita. I know, you're thinking, yuck, who wants carrot juice to mess up a good cocktail. But wait! Once you try this you'll realize that no one will even know that there is carrot juice in it and it tastes smooth, bright and refreshing. It's the adult Easter treat!
Just 2 steps for this easy Easter margarita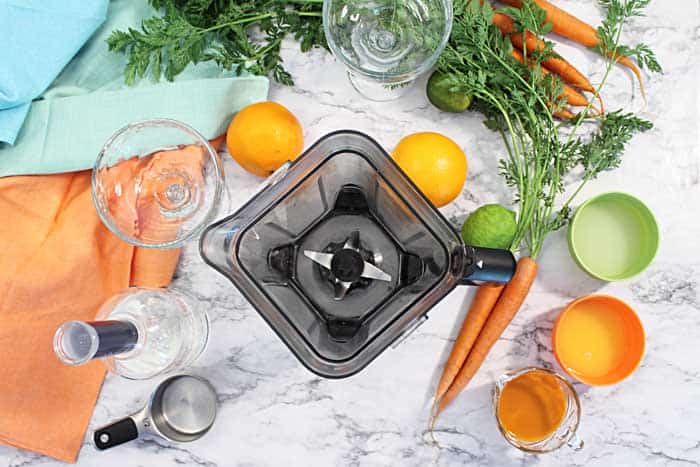 Gather ingredients. Tequila, carrot juice, lime juice, orange juice and sugar.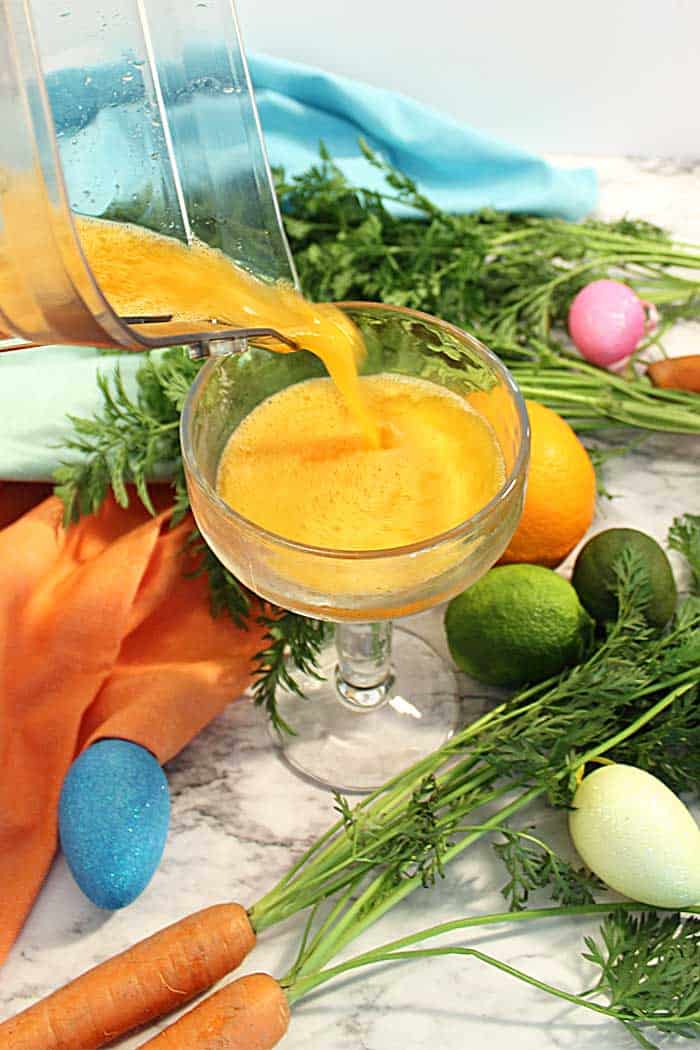 Pour all ingredients into a blender and blend til smooth. Pour into margarita glasses, garnish with a little chocolate carrot and enjoy!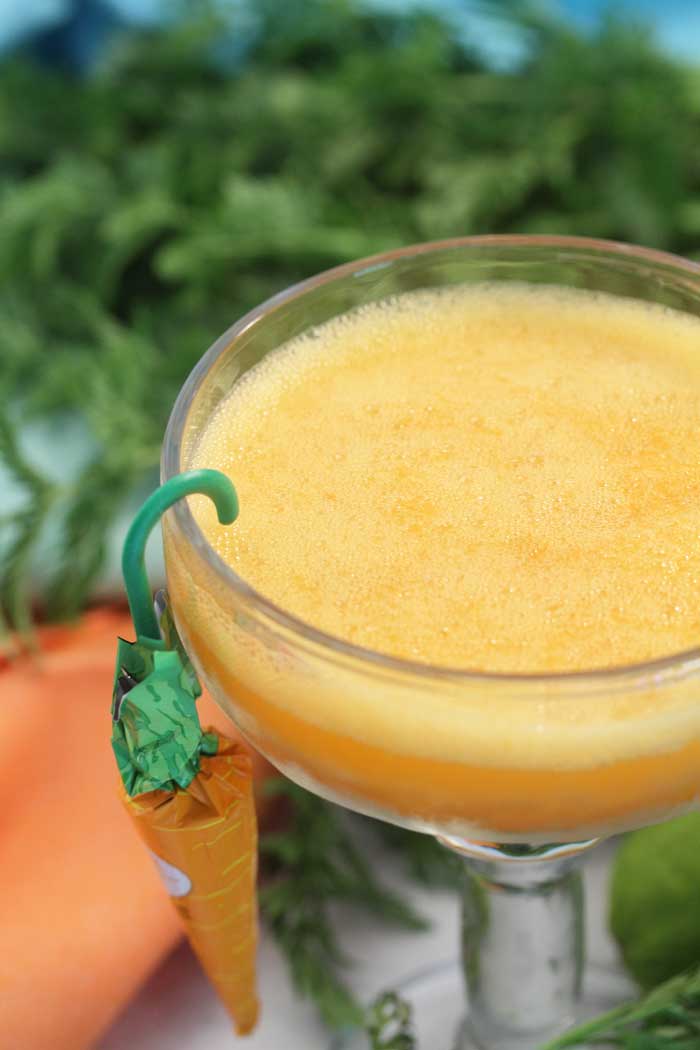 Frequently asked questions about margaritas:
Why are margaritas called margaritas?
There is much debate about where the margarita was invented and where it got its name. One story has said its a variation of the Tequila Daisy Cocktail which was made of tequila, lime and grenadine. And called a margarita because daisy in Spanish is margarita. Some say it was named after the recipient of the cocktail, Margarita Henkel, produced by Don Carlos in a bar in Ensenada Mexico. We might never know but we'll drink to whoever came up with this refreshing drink.
Is a Margarita healthy?
It depends on your definition of healthy. Some say any liquor is bad while others just state moderation is the key. So take this with a grain of salt. (haha, get it, salt on the rim)
The cocktail contains both lime juice and orange juice for a good dose of Vitamin C. It also has carrot juice which is said to lower stress levels and cholesterol. As to the tequila, if you use 100% blue agave tequila, it's gluten-free and sugar-free, and helps to speed up digestion by cutting through the fats.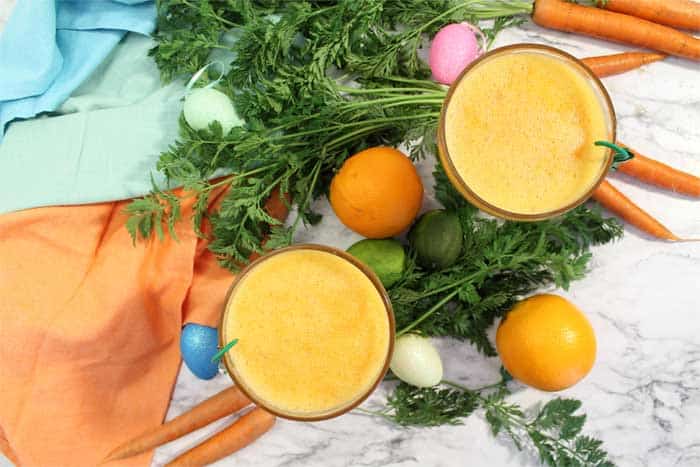 Yep, Easter treats aren't just for the little ones! After the Easter baskets, egg hunts, and chocolate bunnies are devoured - just hop on over to the kitchen and mix up a batch of delicious carrot margaritas for the "real" Easter bunnies. 🙂 Cheers!
More Margarita deliciousness
Watermelon Margarita from 2 Cookin Mamas
Mixed Berry Margarita from Cake N Knife
Strawberry Lemonade Margarita from 2 Cookin Mamas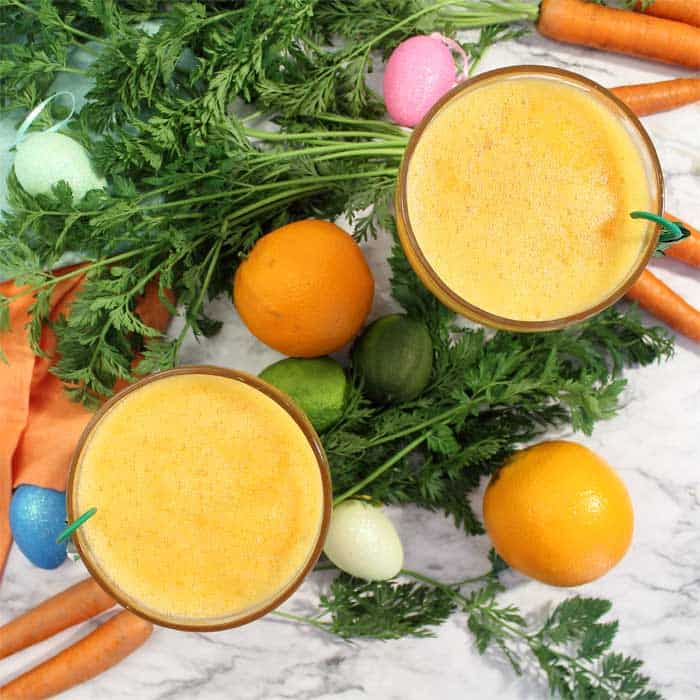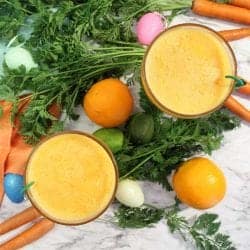 CARROT MARGARITAS
A simply delicious margarita with a spin for Easter - you add carrot juice! Our Carrot Margaritas are sweetened with orange juice and a little sugar, then we add some tequila & a squirt of lime and you've got a refreshing twist for a seasonal cocktail.
Print
Rate
Ingredients
½

cup

carrot juice

½

cup

tequila

(for gluten-free use Jose Cuervo)

¼

cup

orange juice

about 2 oranges, juiced

¼

cup

lime juice

about 2 limes, juiced

¼

cup

sugar

or a squeeze of agave syrup

2

cups

ice
Instructions
Pour all liquids and sugar into blender then fill to the top with ice.

Blend until mixed well and smooth.

Pour into margarita glasses and add a chocolate carrot for a nice Easter touch!
Nutrition
Calories:
280
kcal
|
Carbohydrates:
36
g
|
Sodium:
41
mg
|
Potassium:
269
mg
|
Sugar:
30
g
|
Vitamin A:
11345
IU
|
Vitamin C:
29.6
mg
|
Calcium:
14
mg
|
Iron:
0.3
mg
This post has been updated with new photos and additional information. The original was published on April 8, 2014