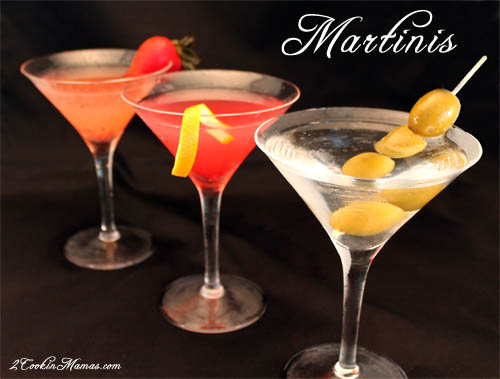 What exactly is a martini and where did it come from?
The basic martini, as described by wikipedia, is a cocktail made with gin and vermouth, and garnished with an olive or a lemon twist. Famous writer H. L. Mencken described the Martini as "the only American invention as perfect as the sonnet".
Where it came from is debatable, one popular theory suggests that it started around 1863 by an Italian vermouth maker who marketed a product under the name of Martini that was half a glass of vermouth and half a glass of wine. This is now known today as Martini & Rossi. Another theory is that it evolved from a cocktail called the Martinez served at the Occidental Hotel in San Francisco around the 1860s. Of course, the people of Martinez say that a bartender there created it and named it after their town. Still another theory links the first dry martini to the name of a bartender who concocted the drink at the Knickerbocker Hotel in New York City around 1911.
Now there is a martini for just about anyone, whether you like extra dry with just a swish of vermouth in the glass, one made exclusively of vodka, dirty with lots of olive juice or something on the sweet side like a cosmopolitan. Whatever your preference, enjoy National Dry Martini Day with your favorite style of martini.
Classic Martini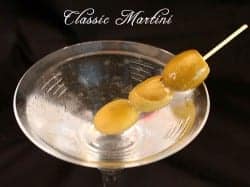 Ingredients:
Dry Vermouth
2 jiggers vodka
Crushed ice
Directions:
Place glasses and shaker in freezer for half hour prior to preparing drinks. When ready to serve, remove glasses and shaker from freezer and pour a small amount of dry vermouth into glass, swirl to coat the glass. Dispose of vermouth.
In the cold shaker, add crushed ice and vodka. Shake well then pour into martini glass. Add a pick full of olives for garnish. (blue cheese stuffed olives are the best!)
Cosmopolitan
2 jiggers vodka
3/4 jigger triple sec
1 jigger cranberry juice
1 Tablespoon fresh lime juice
Orange peel/twist
Crushed ice
Directions:
Place martini glass in freezer for half hour.
Fill your shaker with crushed ice. Add vodka, triple sec, cranberry and lime juice. Shake.
Remove glass from freezer and strain martini mixture into glass. Garnish with curl of orange peel.
Strawberry Mint Martini
1 splash dry vermouth (optional)
2 handfuls hulled strawberries, reserve one with hull to garnish glass
2-3 fresh mint leaves
5-oz vodka
Crushed ice
Directions:
Place martini glass and shaker in freezer for half hour.
Remove shaker and place strawberries into bottom. Add mint leaves and muddle or smash them to draw out juice. Add crushed ice and vodka.
Here you have the option of coating the glass with a splash of vermouth, swirling around then discarding. I usually skip this step but it is up to you.
Shake the mixture well then strain into cold glass. Garnish with strawberry.
Cheers!
Check out these great accessories for martinis.