Our Key Lime Pie Martini will add a touch of the Florida Keys to your favorite martini. A refreshing cocktail that brings the tartness of key limes mixed with sweet vanilla. It's like having your "pie in a glass"!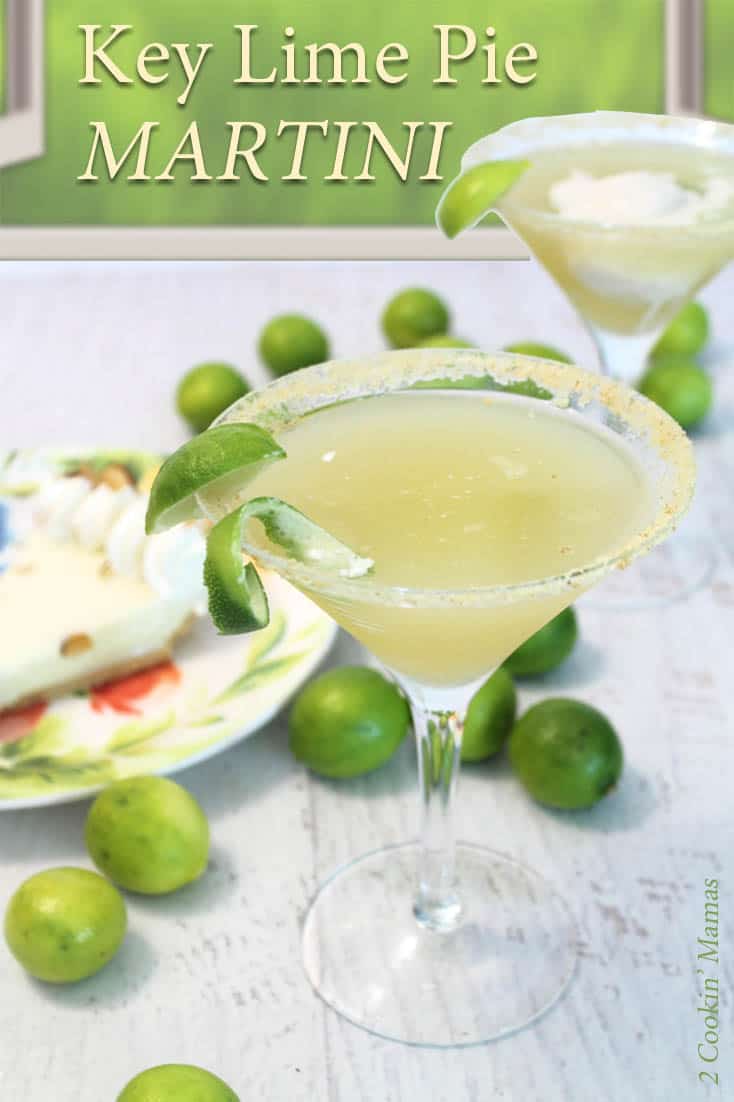 We love the Florida Keys and there is nothing better than their famous key lime pie and anything that tastes like it! If you've never been to the Keys it is somewhere you should put on your 100 places to visit before I die.
Key West – a quirky paradise
It is a string of laid back islands, full of interesting characters, calm, clear waters and some of the best seafood you'll find stateside. Activities abound with snorkeling, diving and fishing being the most popular. If it's entertainment you're looking for, this small island is home to hundreds of artists and musicians from everywhere around the world. Oh, and of course, the original "bestest" key lime pie and key lime pie on a stick . What's that you say? Key lime pie on a stick? Yep, it's actually a frozen key lime pie that's been dipped in chocolate and one of those OMG! treats you don't want to miss.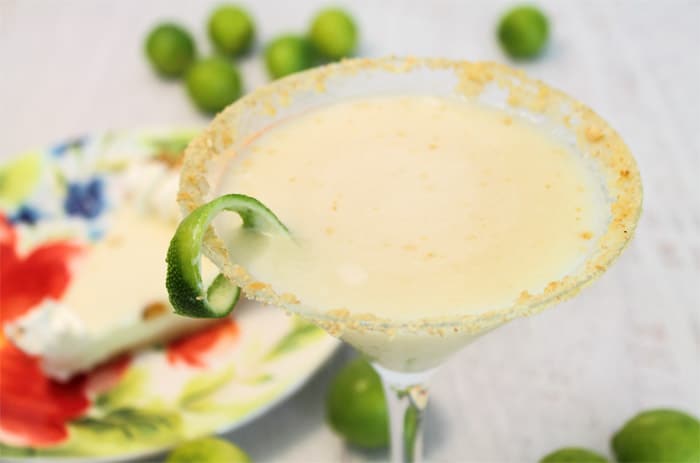 Key Limes make the most amazing recipes
We actually have our own cute little key lime tree in our backyard and, believe me, these little babies make the most amazing recipes. They add a refreshing flavor to desserts like Key Lime Coolers, Key Lime Cake and Key Lime Swirl Brownies . Then there's smoothies, such as our Key Lime Smoothie, quick breads and even salsas. They even work great with any kind of fish dish, adding a little tartness, as in my Key West Style Striped Bass.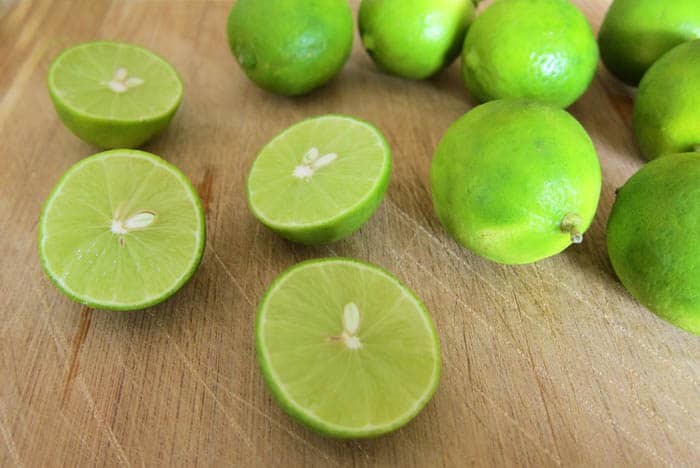 I kind of got carried away didn't I 🙂 but key limes do that to me. Maybe you've never even heard of a key lime, have you? They are not exactly the easiest fruit to find in a grocery store but, if you're looking, they're about the size of a golf ball and look like miniature Persian limes but with more of a yellowish hue. They are also a little stronger in their lime flavor and just a mite bit tarter.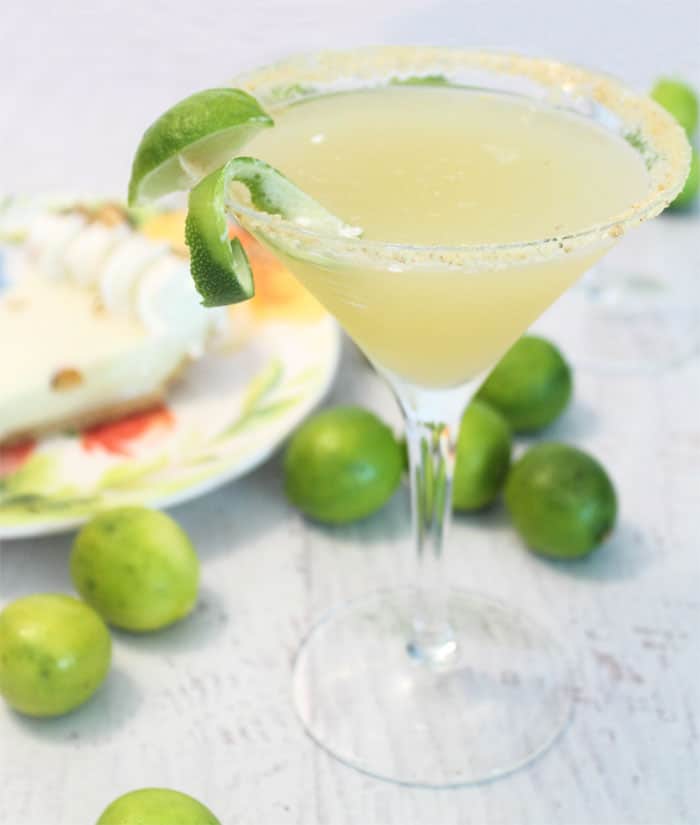 Key Lime Pie in a glass
OK, now I've just got to share my recipe with you. And, believe it or not, it tastes just like key lime pie in a glass. Yep, you've just got to try it to believe it! A friend, now a very good friend (lol), gave me this recipe that he had received from the White Tarpon, a restaurant/bar in Key West, that specializes in this cocktail. And yes, it really does taste just like key lime pie even down to the graham cracker crumbs on the rim and the big dollop of whipped cream that you can add to the top. Woohoo! Now who's joining me for a cocktail?
Cheers!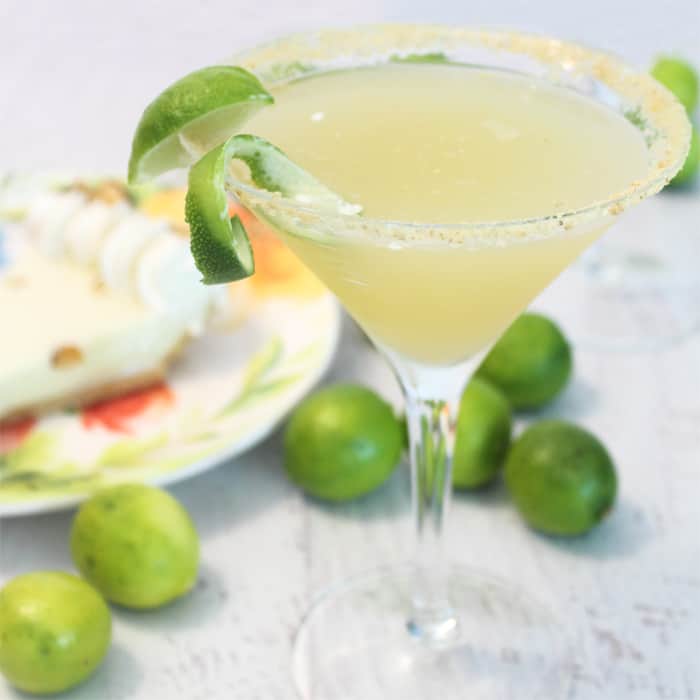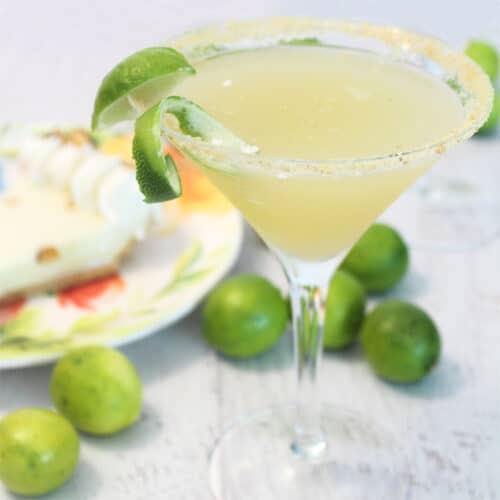 KEY LIME PIE MARTINI
Add a touch of the Florida Keys to your martini with this "pie in a glass" key lime pie martini. A refreshing cocktail with the tartness of key limes.
Keywords:
key lime martini, summer cocktail
Ingredients
Key Lime Pie Martini
2

oz.

vanilla vodka

1

oz.

Licor 43

1

oz.

Rose's lime juice

1 1/2

oz.

sweet & sour bar mix

(see easy recipe below for your own homemade mix)

Garnish: graham cracker crumbs,

lime slices, vanilla ice cream
Sweet & Sour Bar Mix
1

cup

sugar

1

cup

water

1

cup

lime juice

1

cup

lemon juice
Directions
Martini
Add 1/2 cup of crushed ice to a shaker then pour in martini ingredients, except for garnish, and shake well.

Prepare martini glasses by rubbing rims with a slice of lime then dipping into graham cracker crumbs. Pour drink into glasses, garnish with a lime slice and enjoy!
Sweet & Sour Bar Mix
If making your own bar mix, heat sugar and water in a small saucepan. Stir constantly until sugar is dissolved. Remove from heat.

Stir in lime and lemon juice then store in refrigerator. Make sure it is cool prior to mixing with cocktail.
Recipe Notes
Total time does not include preparing Sweet & Sour Bar Mix.
Nutrition Facts
KEY LIME PIE MARTINI
Amount Per Serving
Calories 279
% Daily Value*
Sodium 5mg0%
Potassium 100mg3%
Carbohydrates 50g17%
Vitamin C 35.6mg43%
Calcium 6mg1%
* Percent Daily Values are based on a 2000 calorie diet.
DON'T MISS A RECIPE!