The warmest flavors of the season - apple, oranges, and cinnamon - combine in a party-ready apple cider margarita!
A little apple cider, tequila, and a touch of Grand Marnier make this easy, tasty fall Apple Cider Cocktail. Sweeten it up with a rim of cinnamon sugar and it's the perfect drink to sip after a full day of apple picking and hay rides.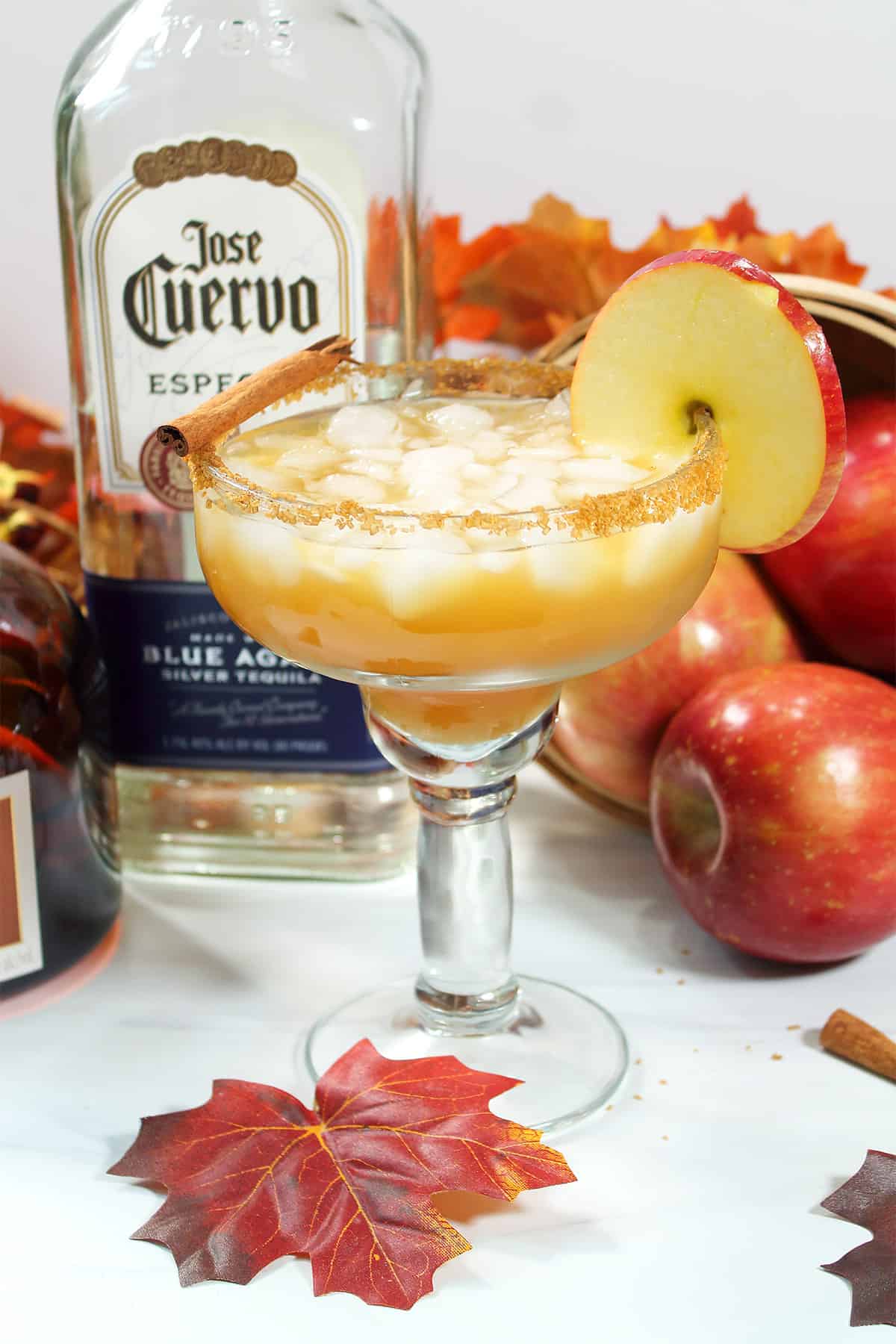 Fall Margaritas
Fall is a season of transition. Changing from short sleeves to fluffy sweaters and baseball to football - the falling leaves and ripe apples are by far the best things about autumn.
And apple season means the best and freshest apple cider. Which of course means Apple Cider Cookies, Apple Cider Pound Cake and Apple Cider Donuts suddenly appear in my kitchen. Yum!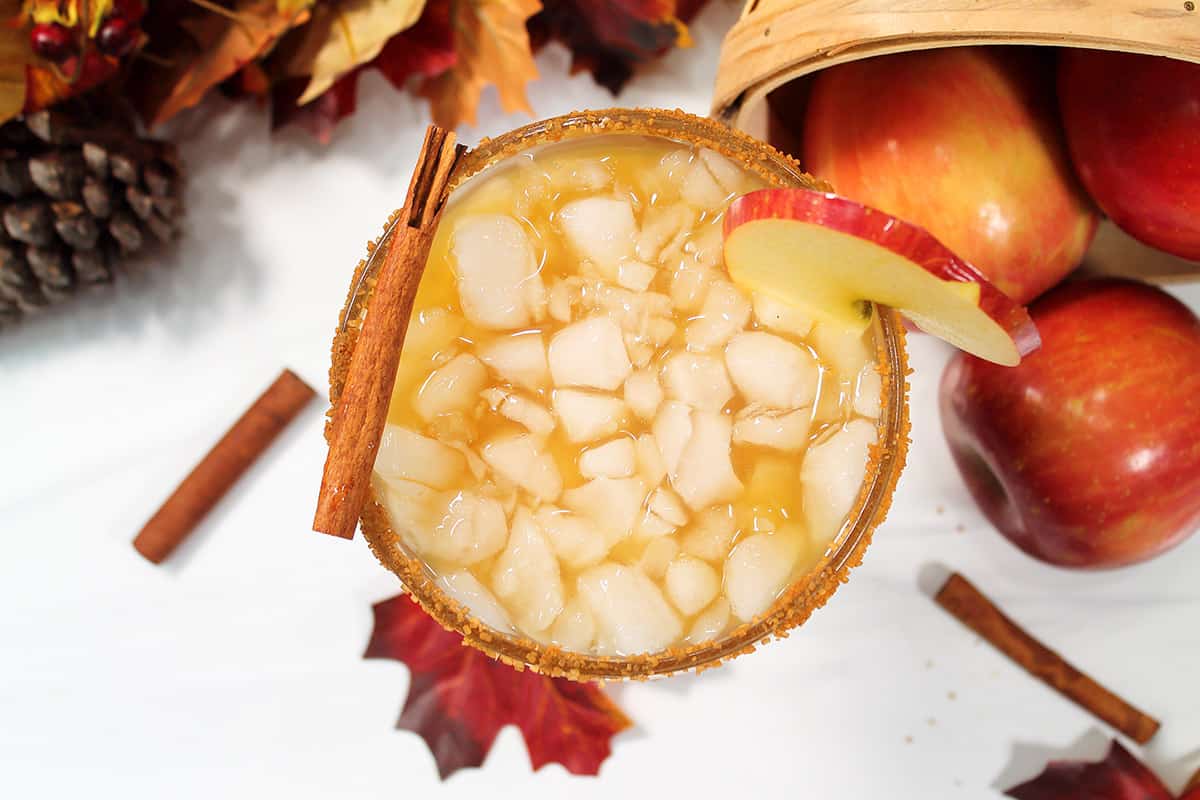 So you'll be thrilled to know that if you enjoy a good margarita, there is a way to make a fall-themed one! This apple cider cocktail includes all your favorite fall aromas and flavors - and mixes it together with tequila!
When I think of fall baking, warm spices are always involved. And with this apple margarita, it was only natural to use one of them for rimming the glass. A cinnamon sugar cocktail rim makes this one of the best-spiced apple cider margaritas you'll ever have!
Why You'll Love an Apple Cider Margarita
Let me tell you, this one is a keeper! This apple margarita bursts with sweet apple flavors and tastes so smooth you'll wonder why you didn't think of it before.
It's really a delicious twist on the classic golden margarita and perfect for seasonal get-togethers and Halloween parties. Cheers!
Ingredients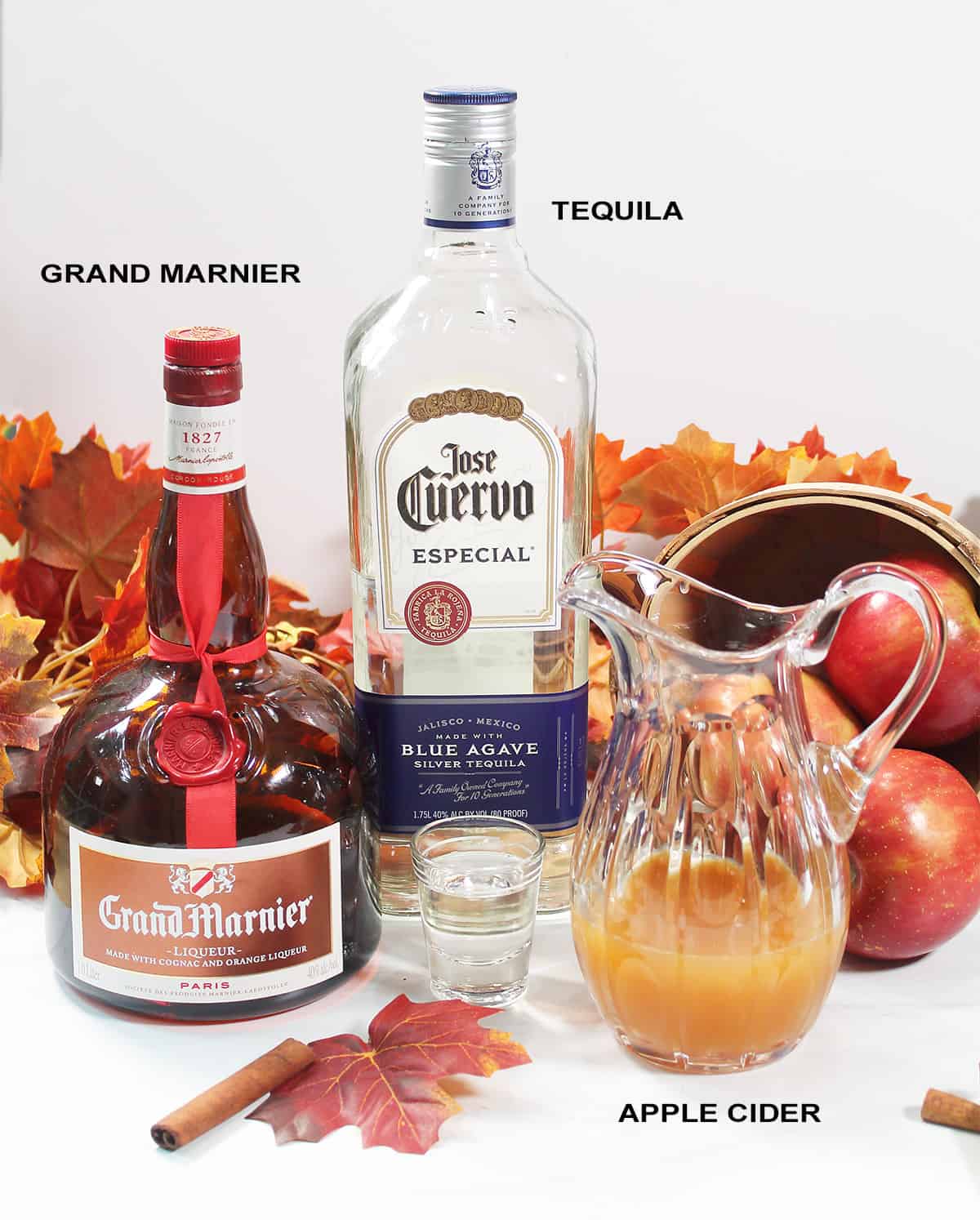 Apple Cider - fresh is best which is why this is perfect for apple season
Tequila - blanco is best being a young tequila with a stronger flavor
Grand Marnier - smooths out the cocktail
Ice
Garnishes: cinnamon sugar, apple slices, cinnamon stick
What type of apple cider?
Filtered or Unfiltered: Apple cider is unfiltered. Filtered does not have the pulp and sediment which makes it pretty much like apple juice. You'll want to use unfiltered to make this drink.
Pasteurized or Unpasteurized: Pasteurized lasts longer and is more shelf stable. Unpasteurized has a higher risk of harmful bacteria and can turn into vinegar or hard cider. Unpasteurized should be consumed within 2 weeks.
Best Tequila for an Apple Margarita
Reach for 100% agave tequilas for more complex flavor and better overall taste. You can find quality tequila in all price ranges. Some suggestions:
Patron Roca Silver (high-end)
Jose Cuervo Especial Silver Blanco (mid-price range)
Espolon Blanco (budget)
How to Make An Apple Cider Cocktail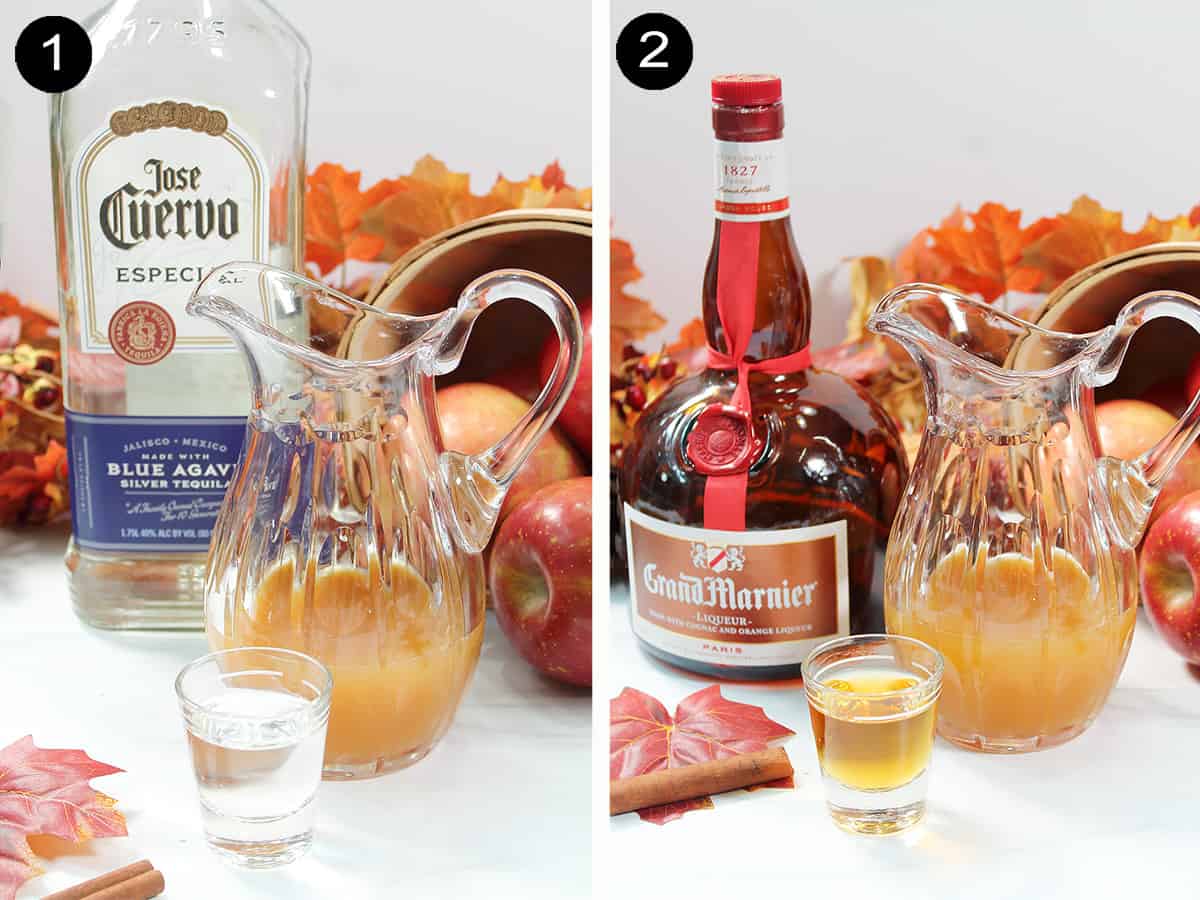 Add tequila to apple cider in a pitcher or cocktail shaker.
Pour in Grand Marnier. Mix well.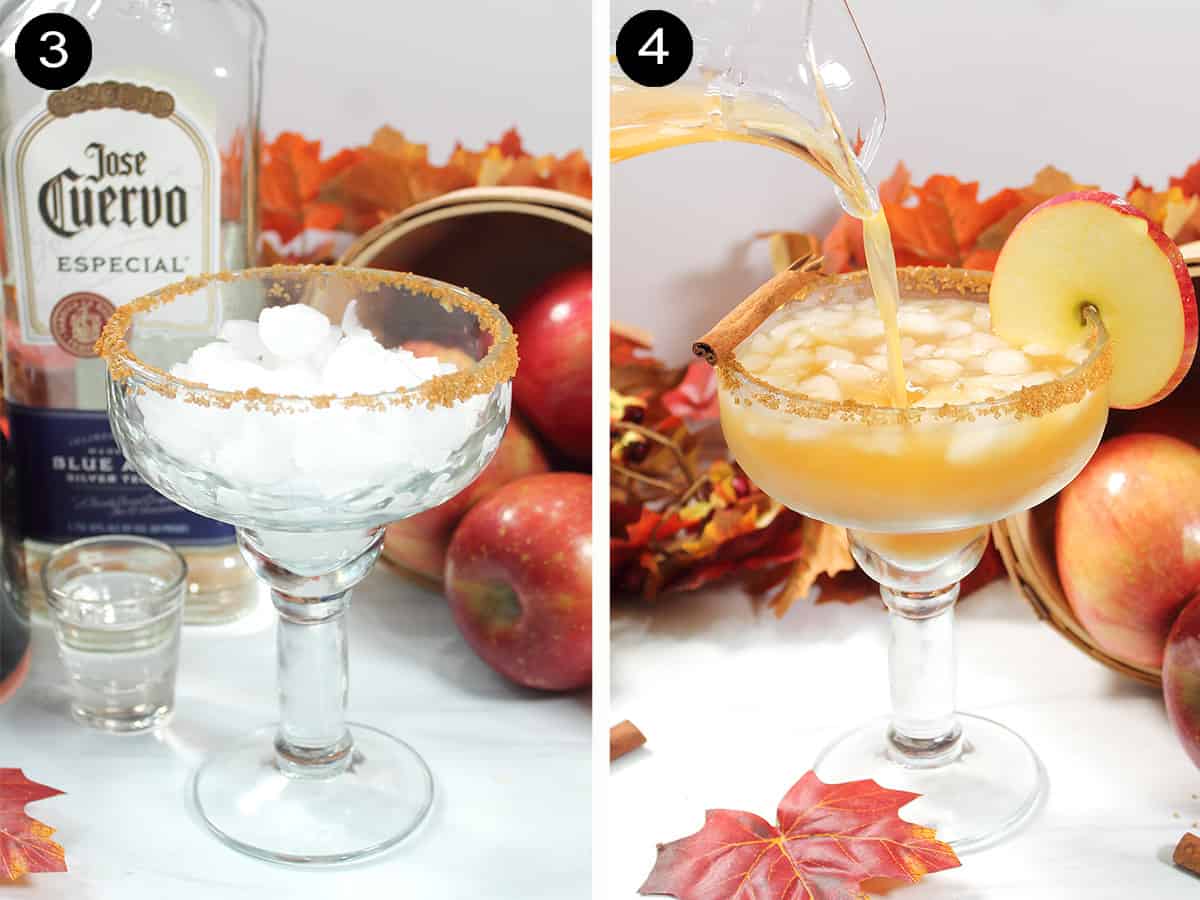 Garnish a margarita glass with a cinnamon sugar rim and fill with crushed ice.
Pour the beautifully fall-colored margarita mixture into the prepared glass. Garnish with an apple slice and cinnamon stick.
Recipe Notes
If you don't have Grand Marnier you can use Cointreau or Triple Sec instead.
If you don't have apple cider you can use apple juice instead. Just note it won't have the same rich flavor.
If you don't have a cocktail shaker you can use a mason jar with the lid on.
Cinnamon Sugar Rim
The cinnamon sugar rim is what gives this apple cider margarita recipe the much-loved margarita look and feel. Everyone loves the salt on a classic margarita, and this cinnamon sugar combo sweetens the entire thing and reminds me of apple pie.
Here's how to rim a glass with cinnamon sugar for this apple margarita: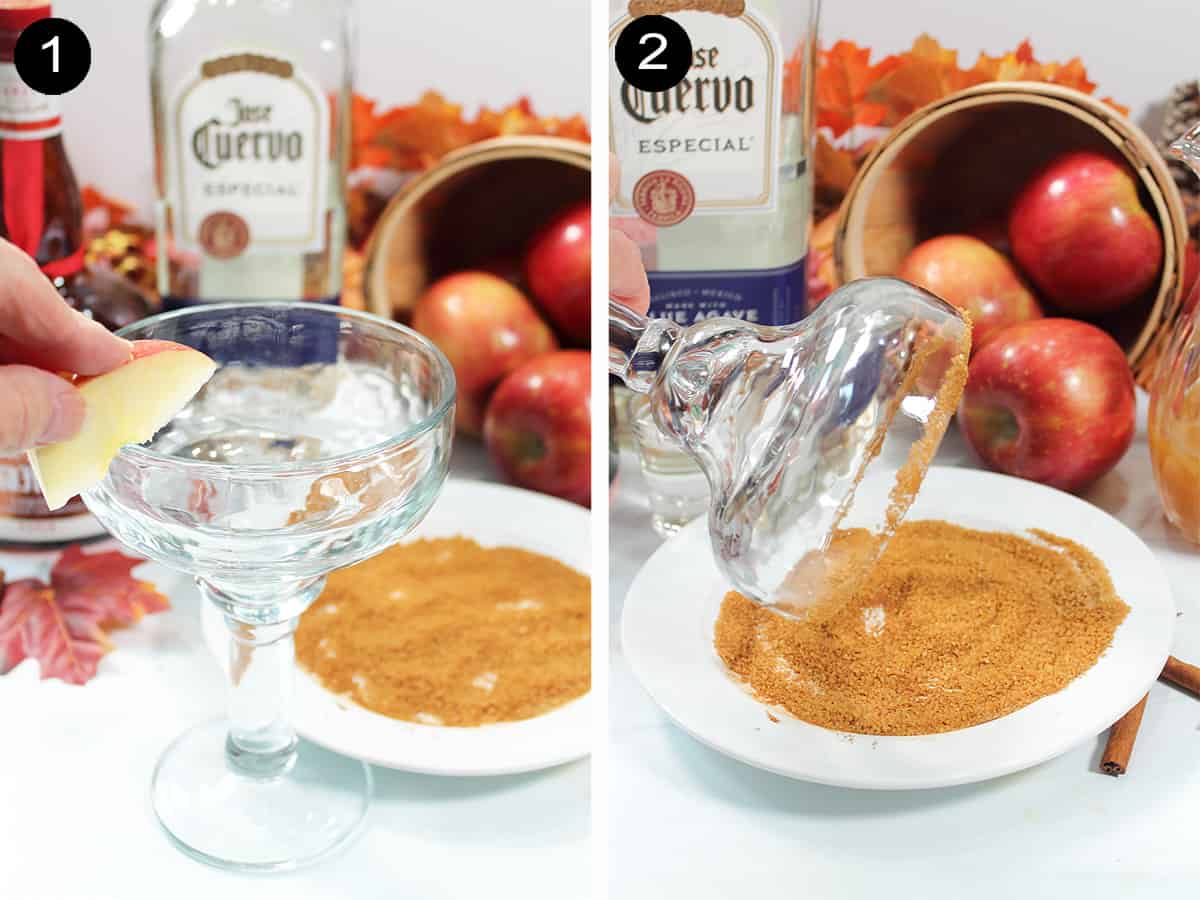 Put a good layer of cinnamon sugar on a plate. I like to make mine with 1 tablespoon of cinnamon and 4 tablespoons of sugar, either granulated to coarse.
Rub an apple slice around the edge of the glass. This will wet the rim with the juice from the apple.
Dip the wet rim in the cinnamon sugar making sure to coat the entire rim.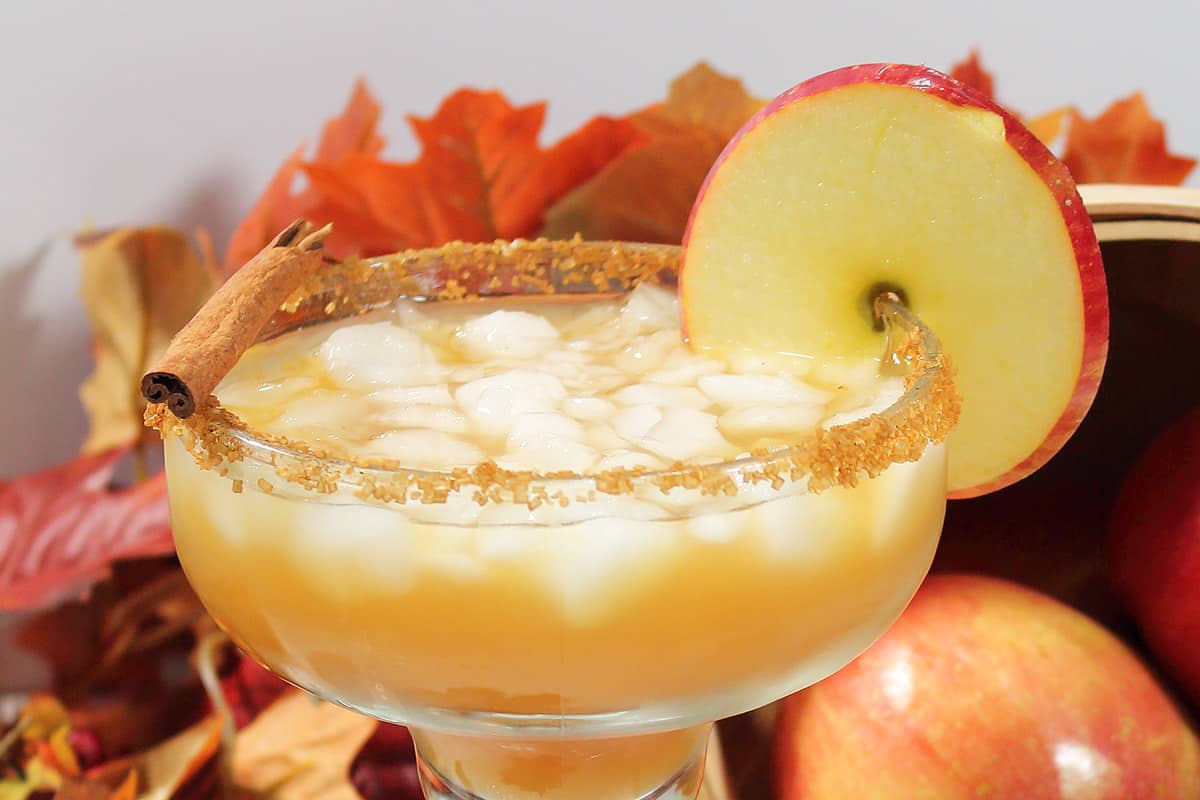 Doesn't that look like fall in a glass? And wait until you taste the sweetness of the rim with the tart taste of the apples and zing of the tequila. It's the perfect fall cocktail to enjoy all apple season long.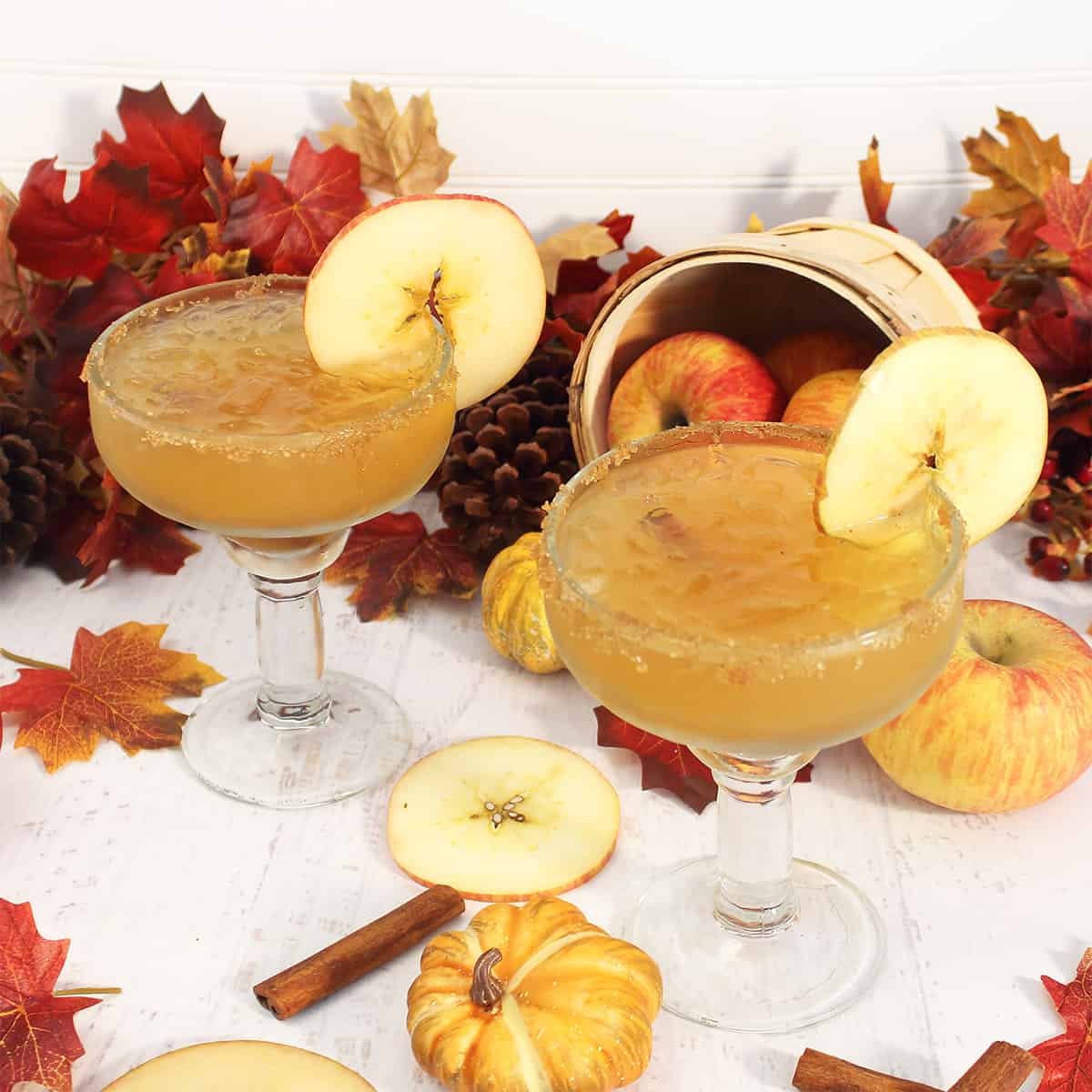 Can you make an apple cider margarita ahead?
Yes! Simply pour the apple cider, Tequila, and Grand Marnier into an airtight container (a mason jar works great) and place it in the refrigerator. It will last up to 5 days in the fridge.
Recipe Variations
There are a lot of different ways to make fall cocktails with apple cider. Here are some of my favorite ways to make fall margaritas.
Hot Apple Cider Margarita
Heat the apple cider in a saucepan until warm.
Add the Tequila and Grand Marnier.
Serve in a mug with a cinnamon stick.
Frozen Apple Cider Margarita
Place the apple cider, tequila, Grand Marnier, and ice in a blender.
Blend until smooth.
Pour into glasses rimmed with cinnamon sugar.
Apple Cider Margarita Pitcher
Combine 48 ounces of apple cider, 8 ounces of tequila, and 8 ounces of Grand Marnier in a pitcher.
Cover and refrigerate until ready to serve.
Stir and serve with ice and glasses rimmed with cinnamon sugar.
When ready to serve, shake the drink and pour it into cinnamon sugar-rimmed glasses filled with ice.
What to Serve with an Apple Margarita
Serve this delicious fall cocktail with appetizers or a meal with fall flavors. Here are some ideas:
More Recipes to Make with Apples
LOVE QUICK & EASY RECIPES? FOLLOW ME ON INSTAGRAM, FACEBOOK, & PINTEREST FOR ALL THE LATEST RECIPE INSPIRATION! PLUS JOIN MY EMAIL LIST AND RECEIVE A FREE E-BOOK.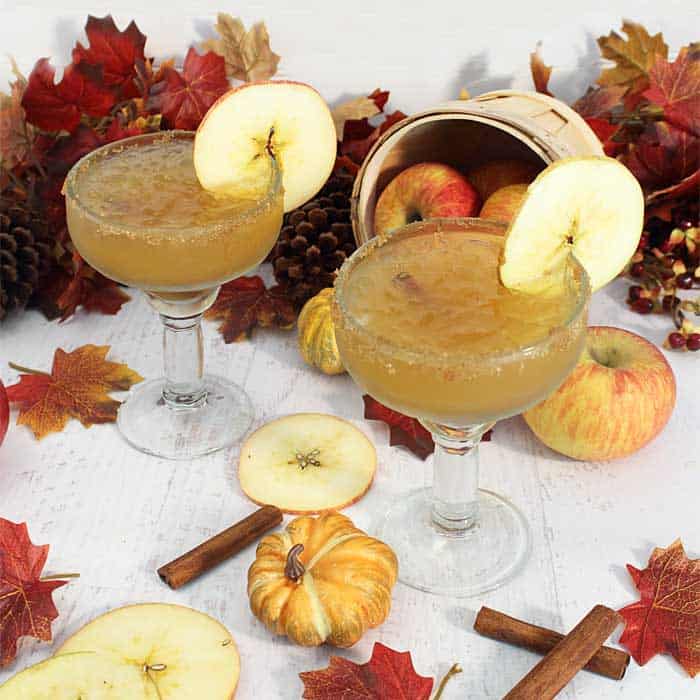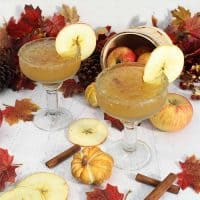 Apple Cider Margarita
An easy cocktail to whip up for the season. A little apple cider, tequila and a cinnamon sugar rim make this a fun fall take on the classic margarita.
Print
Rate
Ingredients
1

oz

Tequila

1

oz

Grand Marnier

5-6

oz

apple cider

Ice

Garnish: cinnamon sugar, apple slices, cinnamon stick
Instructions
Sprinkle cinnamon sugar on a flat plate. Rub an apple segment around rim of glass then press into sugar mixture to coat.

Mix Grand Marnier, tequila and cider together in cocktail shaker pr pitcher with a little ice.

Add crushed ice to glass and pour cider mixture over ice.

Garnish with apple slices and cinnamon stick.
Notes
HOW TO MAKE CINNAMON SUGAR
Mix 1 tablespoon ground cinnamon with 4 tablespoons granulated or coarse sugar.
HOW TO MAKE A PITCHER
Combine 48 ounces of apple cider, 8 ounces of tequila, and 8 ounces of Grand Marnier in a pitcher.
Cover and refrigerate until ready to serve.
Stir and serve with ice and glasses rimmed with cinnamon sugar.
Nutrition
Calories:
218
kcal
|
Carbohydrates:
25
g
|
Sodium:
8
mg
|
Potassium:
143
mg
|
Sugar:
22
g
|
Vitamin C:
1.3
mg
|
Calcium:
11
mg
This post has been updated with step-by-step directions and photos. It was first published on September 5, 2013.