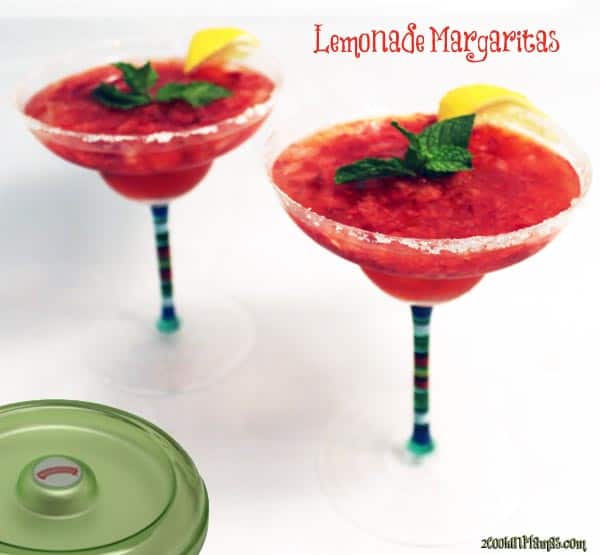 It's Lemonade Day but I didn't want to do the standard "here's how you make lemonade" so I opted for the adult version. Anyone that likes margaritas, especially strawberry margaritas, will love this version. It's has frozen concentrated lemonade in it or lemon simple syrup, so I figured I would be justified in putting this out for lemonade day. Hope you enjoy!
Lemonade Margarita 
6-oz tequila
3-oz triple sec
1-oz frozen lemonade concentrate or lemon simple syrup (see recipe below)
1 cup strawberries
2 sprigs mint
1-2 Tablespoons sugar, to taste (I didn't use any when using lemonade concentrate)
1-2 cups crushed ice
Garnish: lemon wedge, sprig of mint

Directions:
In blender, combine all ingredients except garnish.  Add ice as needed to make slushy consistency.

Wet the lip of  margarita glasses and dip in sugar. Divide mixture between glasses and garnish with lemon wedge and sprig of mint.

Serves 2-4.

Lemon Simple Syrup: Combine 1 cup sugar, 1 cup water and juice of 1 lemon in saucepan. Heat to boiling then simmer until sugar has dissolved. Let cool and store in sealed jar in refrigerator.
Perfect Accessories for Margaritas:
, ,