A quick & easy Chicken and Pasta Alfredo dish that can be on the table in 30 minutes. And it delivers all the creamy cheesy flavor you want without a ton of calories. That's a win-win!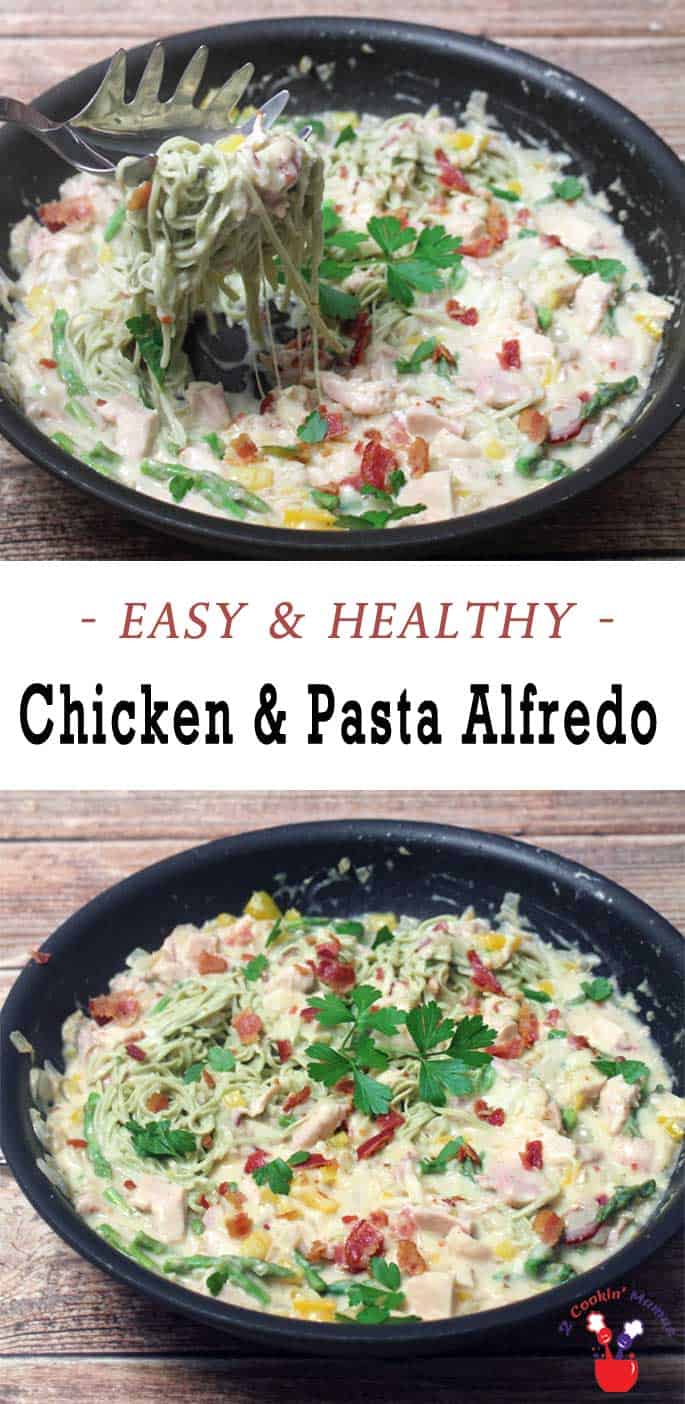 You will never believe what I found when I was shopping in Costco last week - edamame pasta! Can you believe they are making spaghetti out of edamame? How do they get those little soy beans to look like noodles. lol Very cool! So, of course, I had to buy some to try it. 🙂 And this chicken and pasta dish today turned out to be the perfect way to check it out!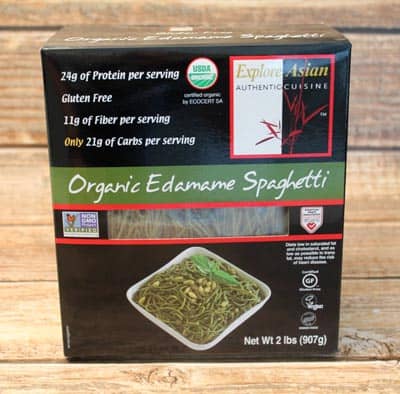 Now, I bet you are wondering why I was so excited to find this unusual pasta. Since the new year, my husband and I have started a new way of eating, notice I didn't use the "D" word (you know DIET) because this is more about changing the way we think about eating, putting healthier things in front of us, than cutting everything out of our daily meals that we love. Hence, the pasta that is more protein that empty carbs got us super excited. And it's great!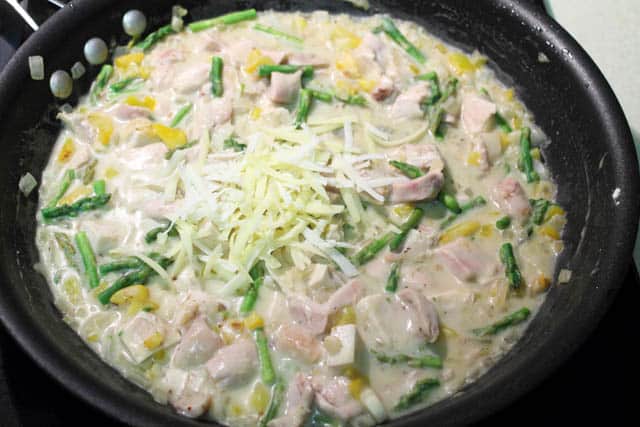 I think I have an addiction to alfredo sauce or just about any cream sauce for that matter. And it's not easy when I have a lactose intolerance on top of that. But this cream sauce is much lower in calories than most, uses almond milk instead of cream (yay!), and cuts back on the total amount of cheese. And it's still cheesy and creamy and all the things that one loves about cream sauces.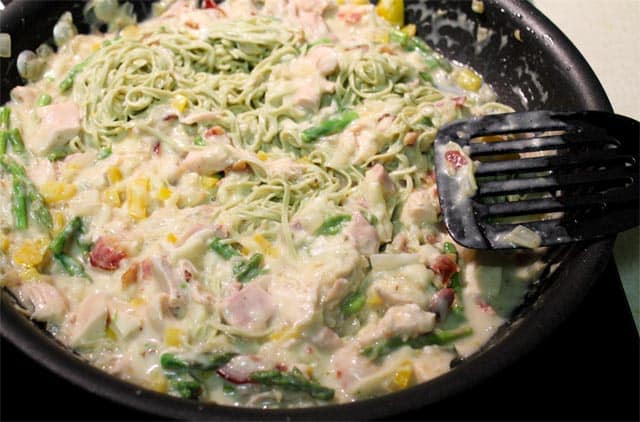 This chicken and pasta turned out to be a quick and easy meal, about 30 minutes total, with little clean up needed. It got the seal of approval from my husband (and he even licked his plate clean) so I know it was really, really good. By the way, this would also be a wonderful dinner to cook for company too. Yep, it's that good!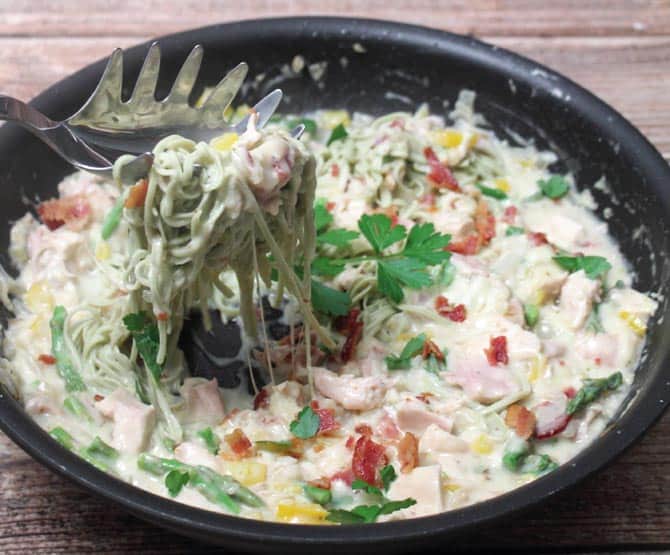 Enjoy!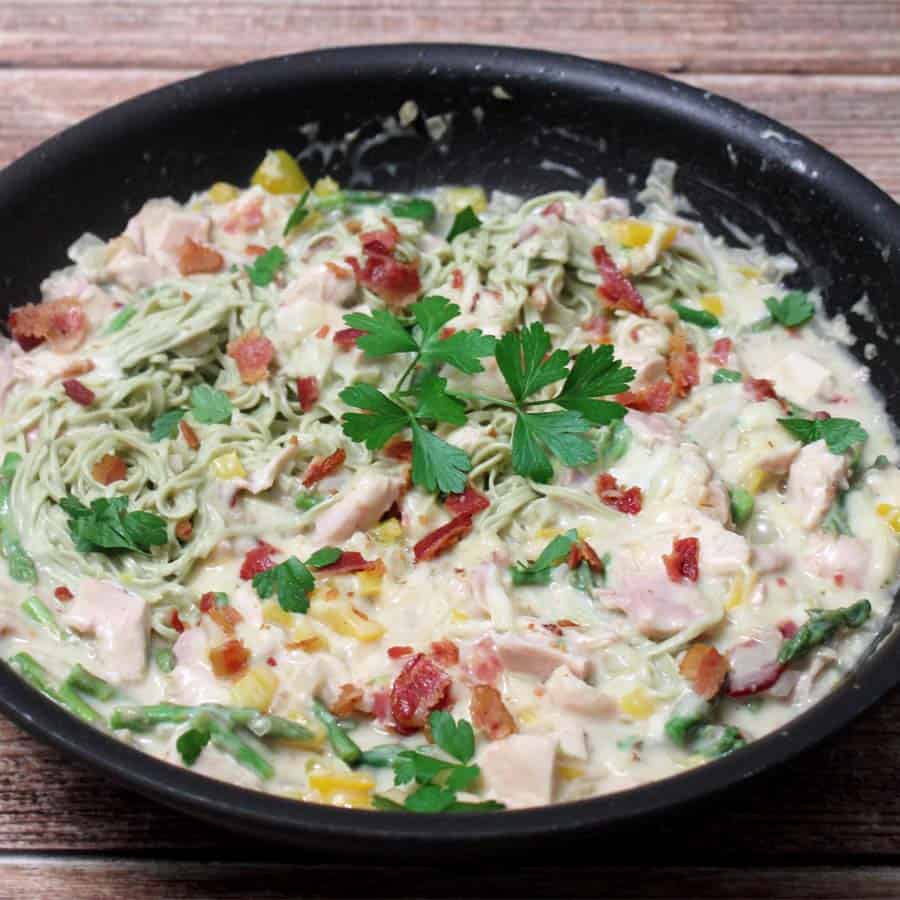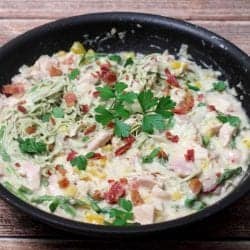 HEALTHY CHICKEN and PASTA ALFREDO
A quick & easy dinner that can be on the table in 30 minutes. And it delivers all the creamy cheesy flavor you want without a ton of calories. That's a win-win!
Print
Rate
Ingredients
½

lb.

edamame spaghetti

½

lb.

chicken breasts,

chopped

3

pcs

bacon,

chopped

½

sweet onion,

chopped

½

yellow or red bell pepper,

chopped

2

cloves

garlic,

sliced thin

1

Tablespoon

olive oil,

as needed

1

Tablespoon

flour

or gluten-free cornstarch

1-¼

cups

almond milk

or low-fat milk

¾

cup

asparagus tips

or you could use peas, fresh or frozen

½

cup

Gruyere cheese

¼

cup

Pecorino Romano or Parmesan cheese

⅛

teaspoon

nutmeg

Salt & pepper to taste

Garnish: parsley or green onions,

sliced thin
Instructions
In a large saucepan, cook pasta according to package directions for al dente. Drain and place in bowl. Keep warm.

In the same pan, cook bacon until crisp. Remove bacon pieces from pan but leave bacon fat.

Sauté chicken breast pieces, onion and bell pepper in bacon fat until chicken is cooked through. Add garlic and cook 1 additional minute. If pan gets too dry add olive oil as needed.

Stir in flour. Add milk and asparagus or peas. Bring to a boil then simmer gently for 2-3 minutes, stirring occasionally.

Add cooked pasta, cheese, nutmeg and salt and pepper to taste. Heat just until cheese is melted.

Serve hot sprinkled with parsley or green onion. Add a side salad for a balanced dinner.