A delicious & easy way to fix Crab Cake Eggs Benedict that takes less than 20 minutes. Whip up the super easy Hollandaise sauce, add a store bought crab cake & believe me, breakfast never tasted so good! Great for special occasions like Mother's Day, anniversaries or just a lazy weekend treat.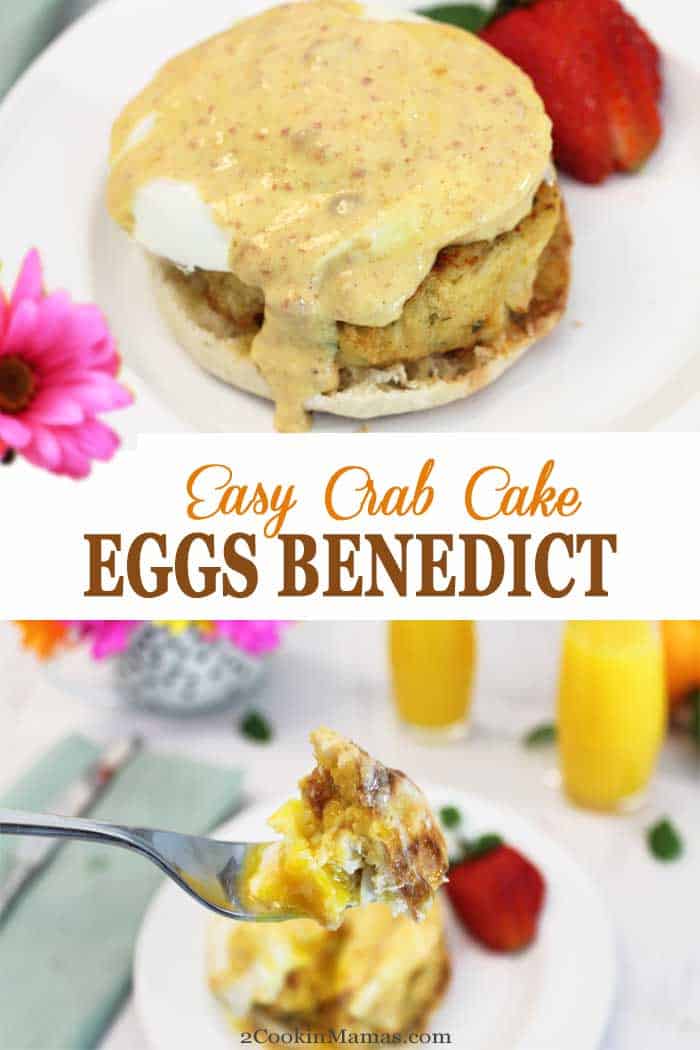 Weekends are always a time when I like to fix a nice breakfast, like Stuffed French Toast or Waffles, and relax with my husband without the thought of rushing off to work. Today's meal, Crab Cake Eggs Benedict, is a delicious but uncomplicated way to fix a gourmet breakfast using a few store bought items. And no one has to know but the cook. 🙂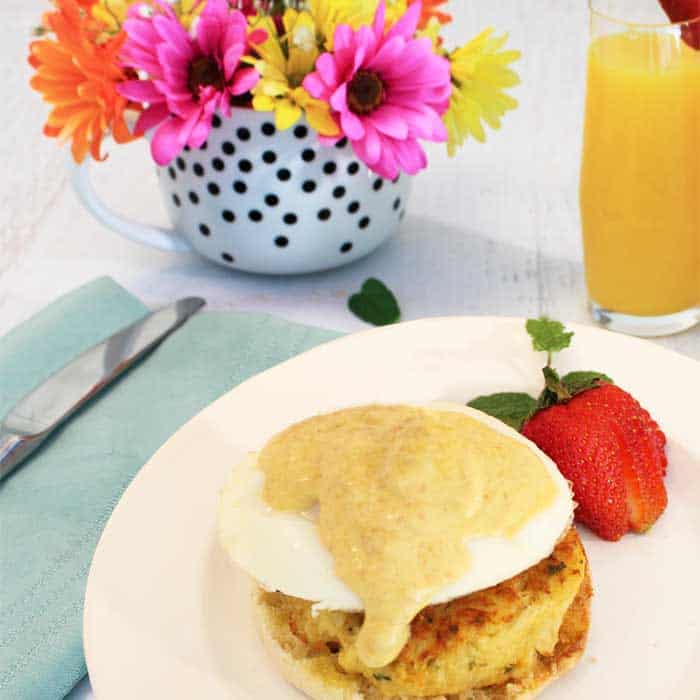 It's the perfect brunch for Mother's Day, an anniversary or that special someone's birthday. And I made it even easier by substituting homemade crab cakes for a store bought variety, Phillips Maryland Style Crab Cakes. These crab cakes are almost as good as my homemade version, full of lump crab meat and a minimal amount of filler. Then I whipped up a four ingredient Hollandaise Sauce, that takes about 2 minutes, in the blender and voila! A gourmet breakfast that is as delicious as it is easy!
Just look at how simple this is to put together. First toast the muffin & give it a good swipe with butter.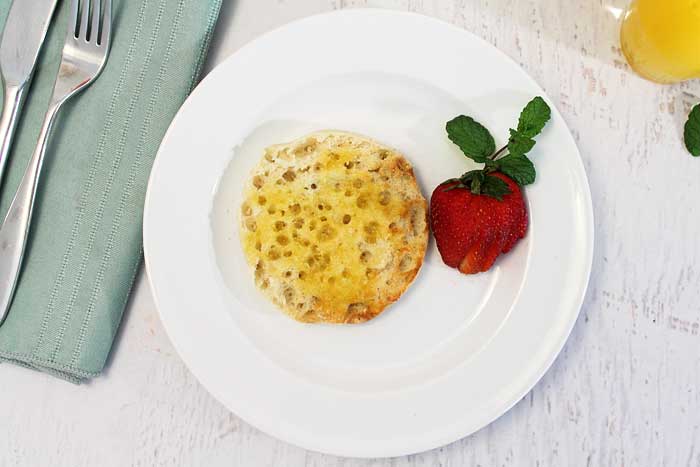 Place cooked crab cake on top.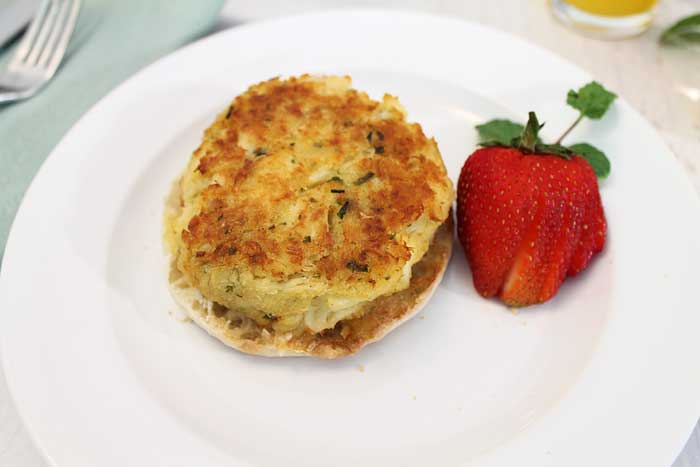 Cover with a soft poached egg.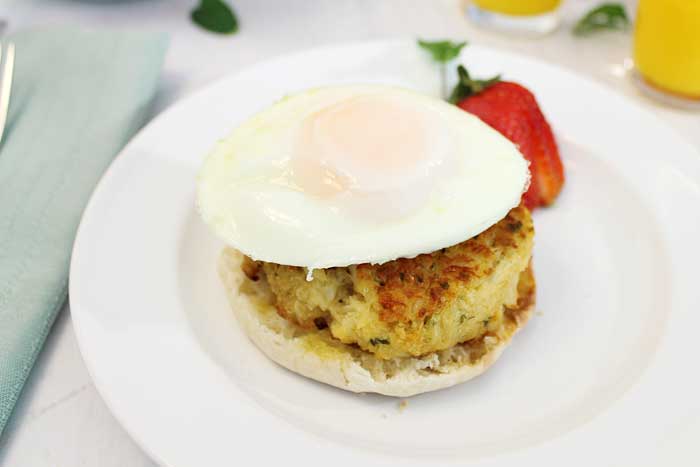 Drizzle with Hollandaise Sauce.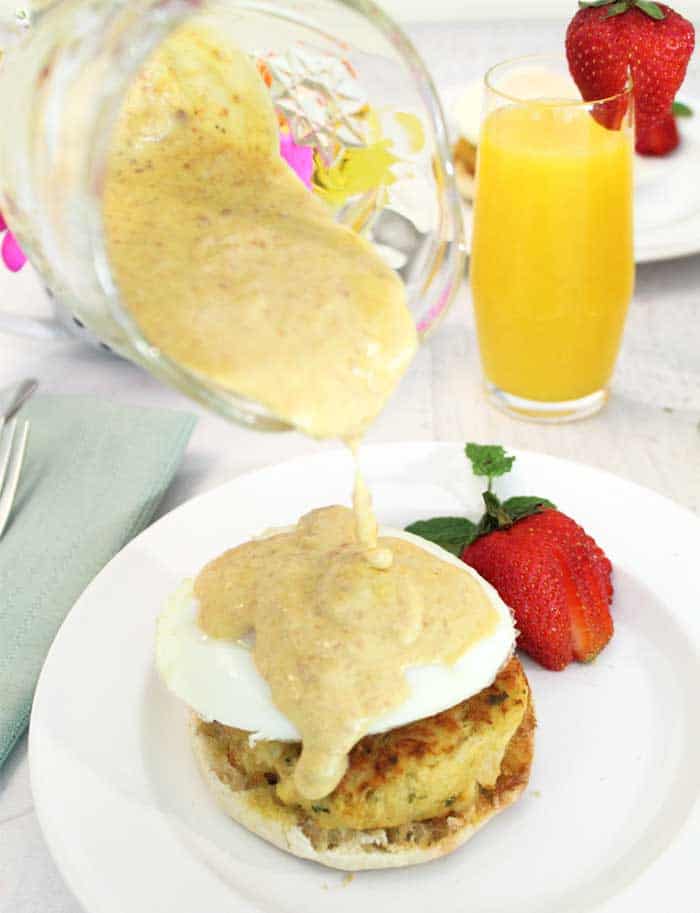 Now take a bite. The flavor of the crab cake paired with the rich yolk as it drips down and gets absorbed by the muffin is just out of this world!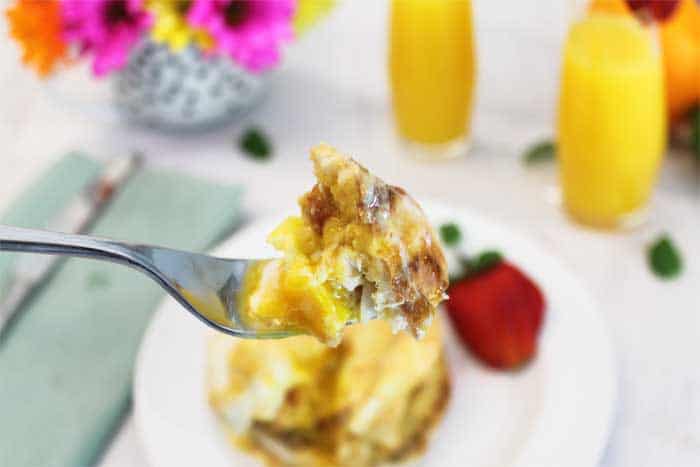 This breakfast brings back so many memories. We always ordered this breakfast whenever we visited the Florida Keys at a place called Snappers. Their Sunday brunch is one of the best around. Serve it with a side of fruit and a mimosa and you're good to go!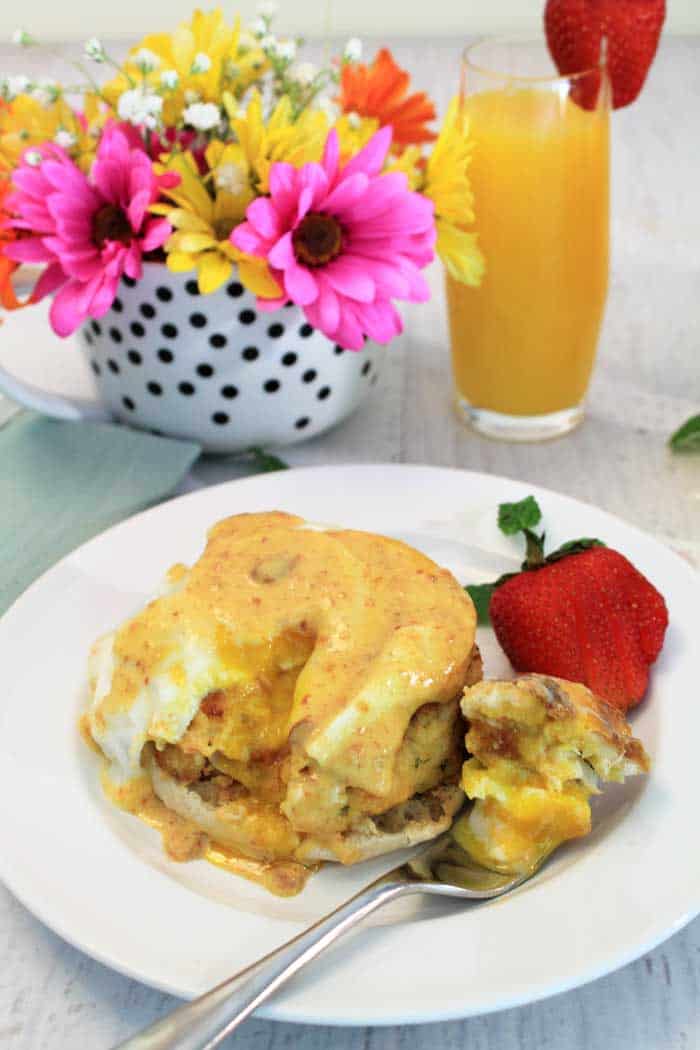 Enjoy!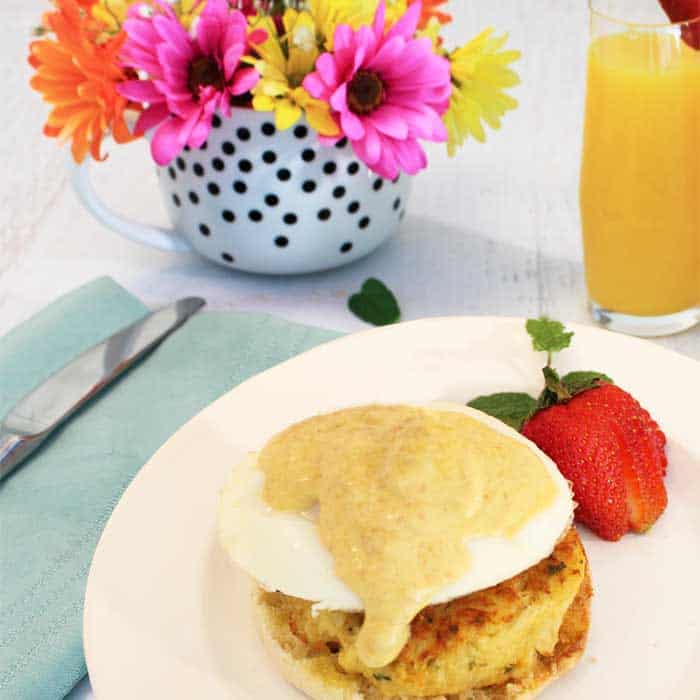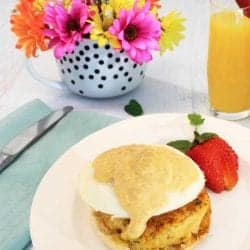 CRAB CAKE EGGS BENEDICT with EASY HOLLANDAISE SAUCE
A delicious & easy way to fix Eggs Benedict that takes less than 20 minutes. Whip up the super easy Hollandaise sauce, add a store bought crab cake & believe me, breakfast never tasted so good! Oh, and add a mimosa for a special treat!
Print
Rate
Ingredients
2

frozen crab cakes

(I used Phillips Maryland Style)

2

eggs

1

English muffin,

divided or 2 pcs toast (gluten-free if needed)
Hollandaise Sauce
3

strips bacon

2

egg yolks

2

Tablespoons

butter

1

Tablespoon

lime or lemon juice

Pinch

cayenne

Garnish: sliced green onion
Instructions
In medium skillet, cook bacon until crisp. Place on paper towel to absorb extra fat and let cool. Crumble and set aside.

Place crab cakes in skillet and cook according to package directions.

While crab cakes are cooking, make Hollandaise Sauce. Place crumbled bacon in blender along with egg yolks. Blend until bacon is all crumbs.

Melt butter and, while blender is still on, add slowly to bacon-egg mixture.

Add lime or lemon juice and pinch of cayenne and blend for just a few seconds. Done.

Lastly, poach the eggs. If you have an egg cooker they are perfect for making poached eggs, if not, place a small skillet on the stove and fill halfway with water and bring the water to a boil. Crack an egg into a small bowl then carefully slip the egg into the boiling water. Gently spoon the whites closer to the yolk so it stays in somewhat of a circle then turn off the heat and let sit, covered, for 4 minutes.

While eggs are cooking, toast muffin, or if using bread, toast, then using a wide-mouthed glass, press into bread to cut out a circle. Place on plate and top with cooked crab cake.

When eggs are done, scoop out carefully with slotted spoon, let drain, then place on top of crab cake.

Garnish with sliced green onion and a side of fruit.
Notes
Tip: Make it gluten-free by eliminating the muffin or toast or by replacing with a gluten-free muffin, such as Ener-G Foods Brown English Muffin, or bread such as Udi's Whole Grain Bread. Use a gluten-free brand of crab cakes such as Handy Certified Gluten-Free Crab Cakes.
Wine Pairing: For a special occasion, serve with a mimosa, champagne or prosecco.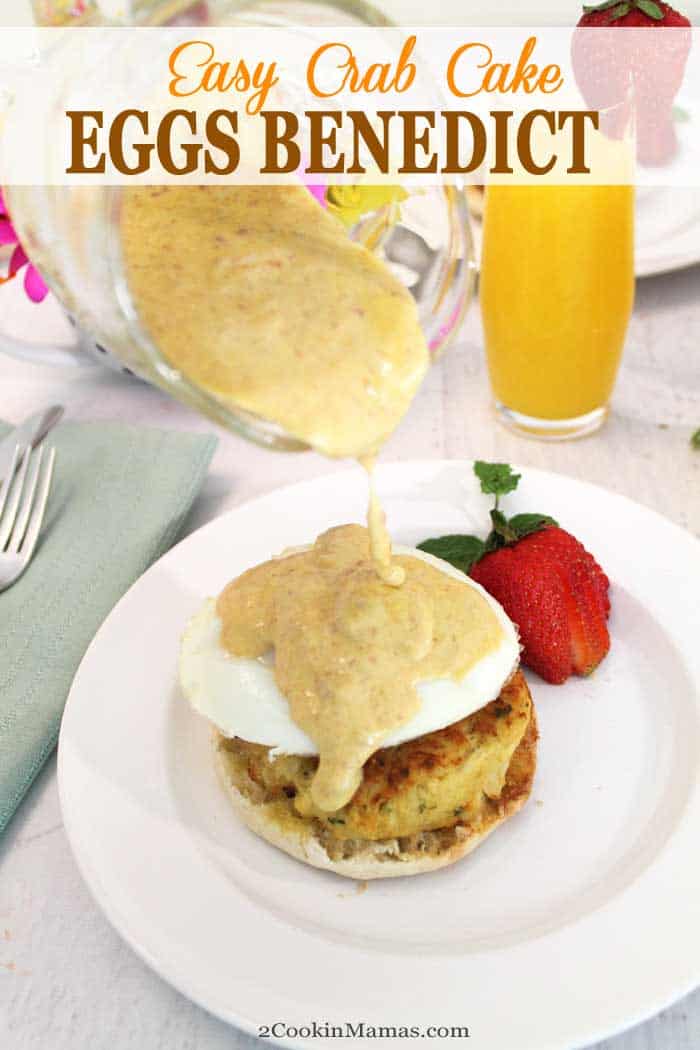 DON'T MISS A RECIPE!