A delicious & easy way to fix Crab Cake Eggs Benedict that takes less than 20 minutes. Whip up the super easy Hollandaise sauce, add a store-bought crab cake & believe me, breakfast never tasted so good! Great for special occasions like Mother's Day, anniversaries, or just a lazy weekend treat.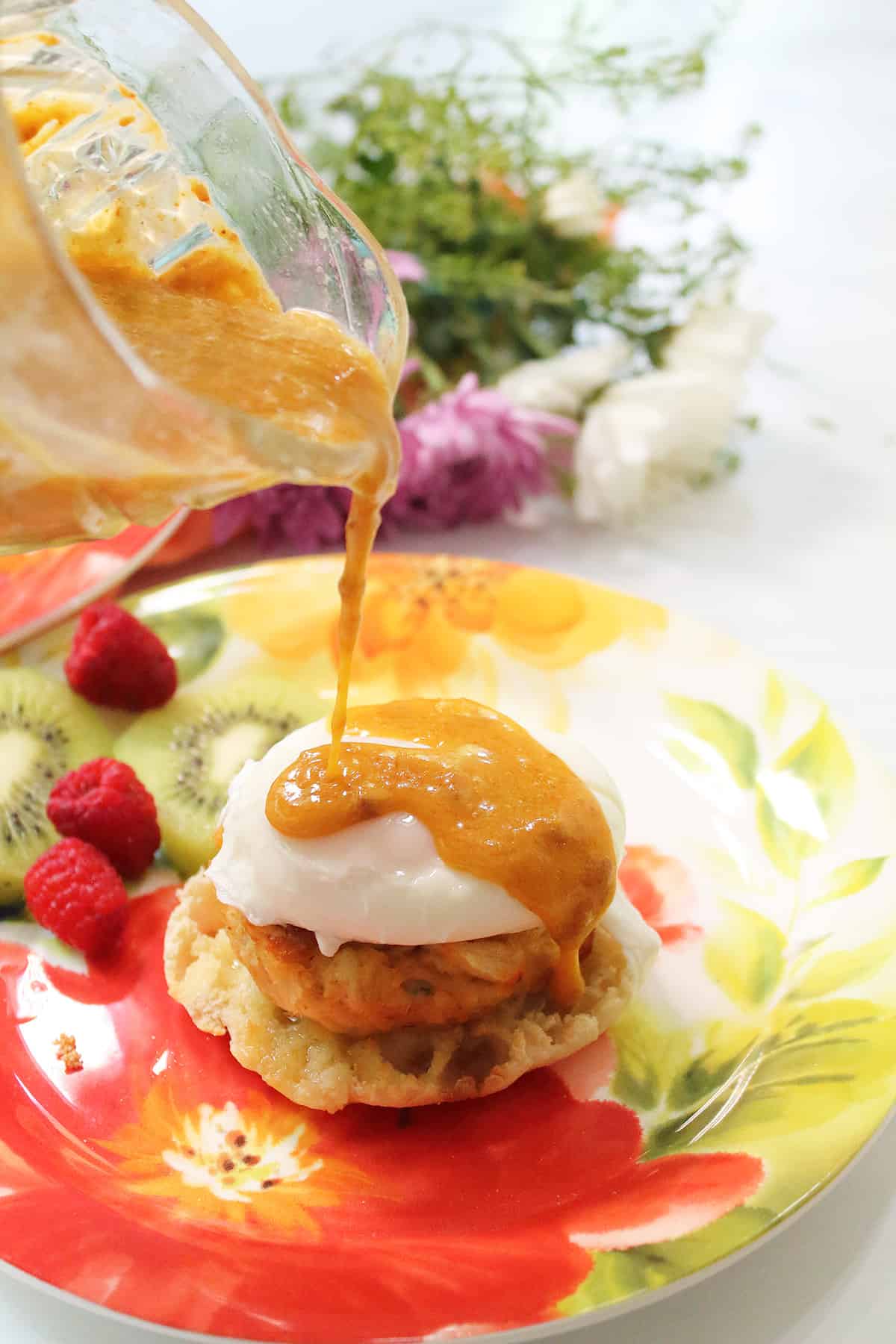 This Crab Cakes Eggs Benedict is an easy weekend favorite, not to mention great for Mother's Day brunches, anniversaries, or just a lazy weekend. It's a delicious uncomplicated way to fix a gourmet breakfast using a few store-bought items. And no one has to know but the cook.
I am all into breakfast treats, like Stuffed French Toast or Crispy buttermilk Waffles, but this crab cake benedict has to be at the top of my list for quick and easy. Store-bought crab cakes replace homemade, and a four-ingredient Hollandaise Sauce made in a blender makes this a simple 20-minute gourmet treat. It's easier than you think. Just follow my few simple tips and you've got this!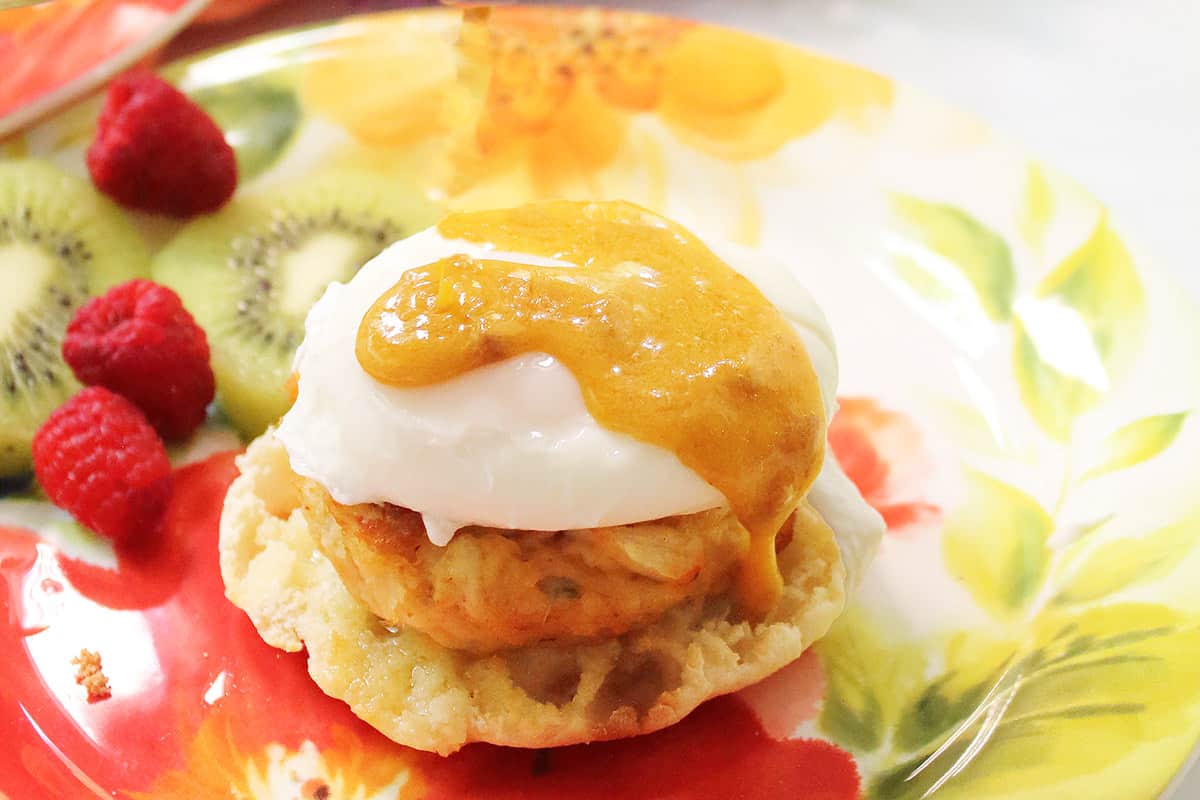 What is Eggs Benedict?
Eggs Benedict is an American breakfast or brunch that is comprised of a poached egg and ham, or in this case crab cakes, placed on top of a toasted English muffin and drizzled with Hollandaise Sauce.
FAQs
What type of egg is on a benedict?
A poached egg, one cooked in boiling water, is placed on top of a toasted muffin for this brunch treat and covered with Hollandaise Sauce.
What is egg benedict sauce made of?
Typically it is made of egg yolks, melted butter, lemon or lime juice, and salt and pepper.
Can I make Hollandaise Sauce ahead of time?
Yes, although I have to say it is much better fresh. Just make ahead and store it in the refrigerator. When ready to reheat, place in microwave for 10-20 seconds
Is it better to bake or fry crab cakes?
If you are using store-bought crab cakes, baking them is best. If making your own, either will work although baking is the easiest method.
Eggs Benedict Ingredients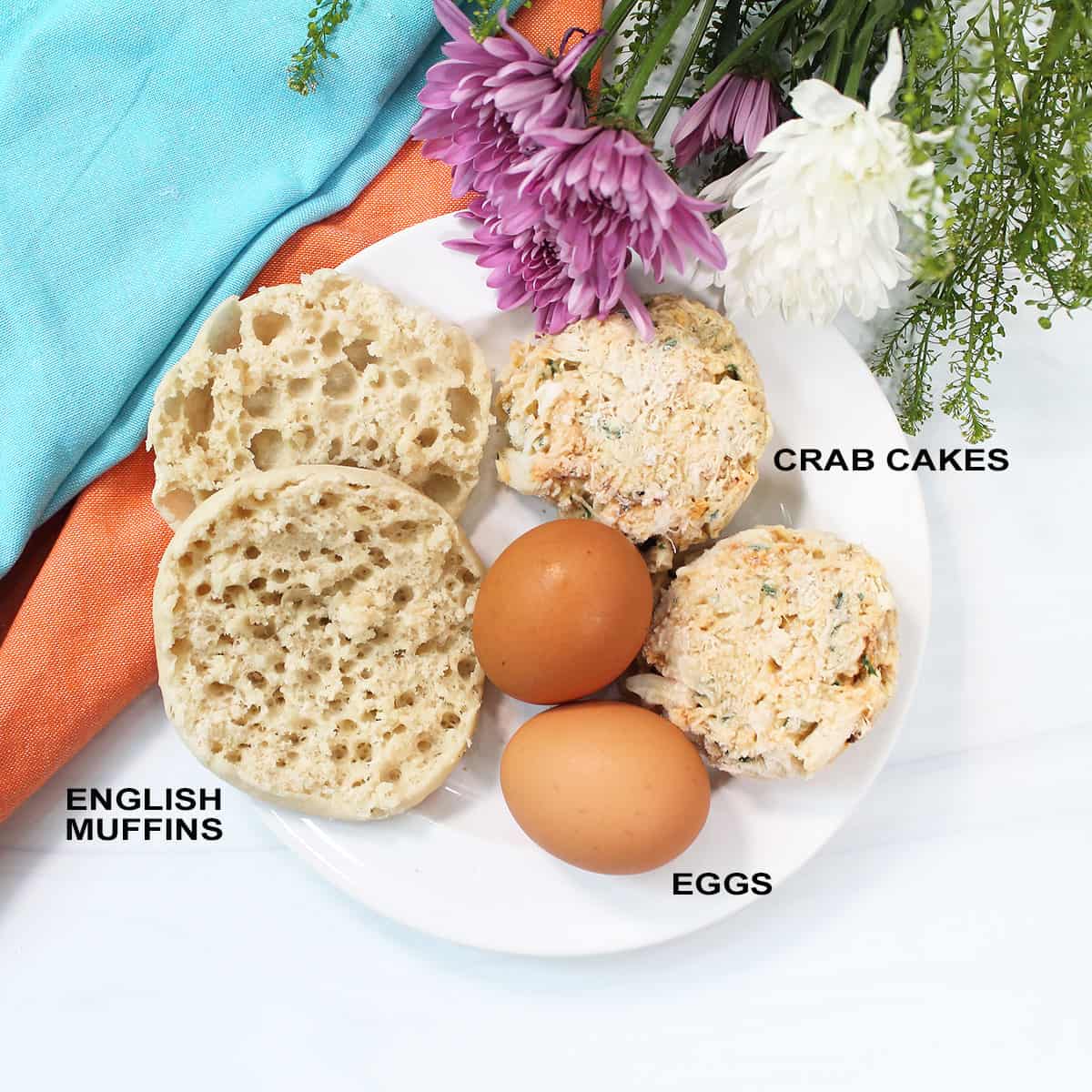 Eggs - use the freshest eggs for the best poached eggs
Vinegar - a tablespoon placed in the poaching water will also aid in keeping the eggs together
Crab Cakes - lump crab meat cakes, like Phillips Maryland Style Crab Cakes, are the tastiest but nothing says you can't make your own homemade crab cakes ahead of time
English Muffins - toast them up for a good solid base for the poached egg. Your favorite brand will work just fine.
How to Make Eggs Benedict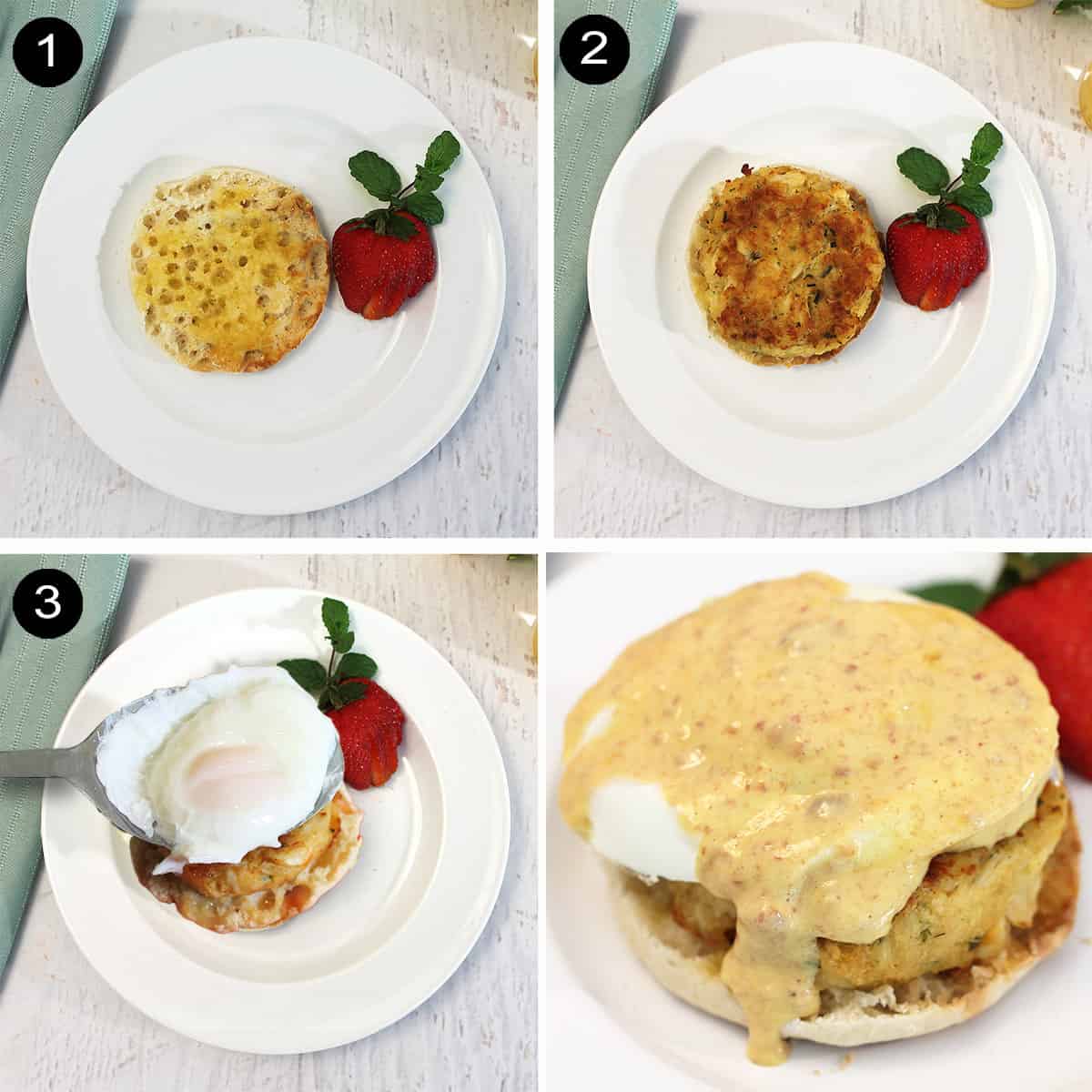 Toast half an English muffin, spread with butter, and place on a plate.
Place baked crab cake on top of the muffin.
Poach an egg and gently place on top of the crab cake.
Drizzle with easy blender hollandaise sauce. (see below for step-by-step directions)
Hollandaise Sauce Ingredients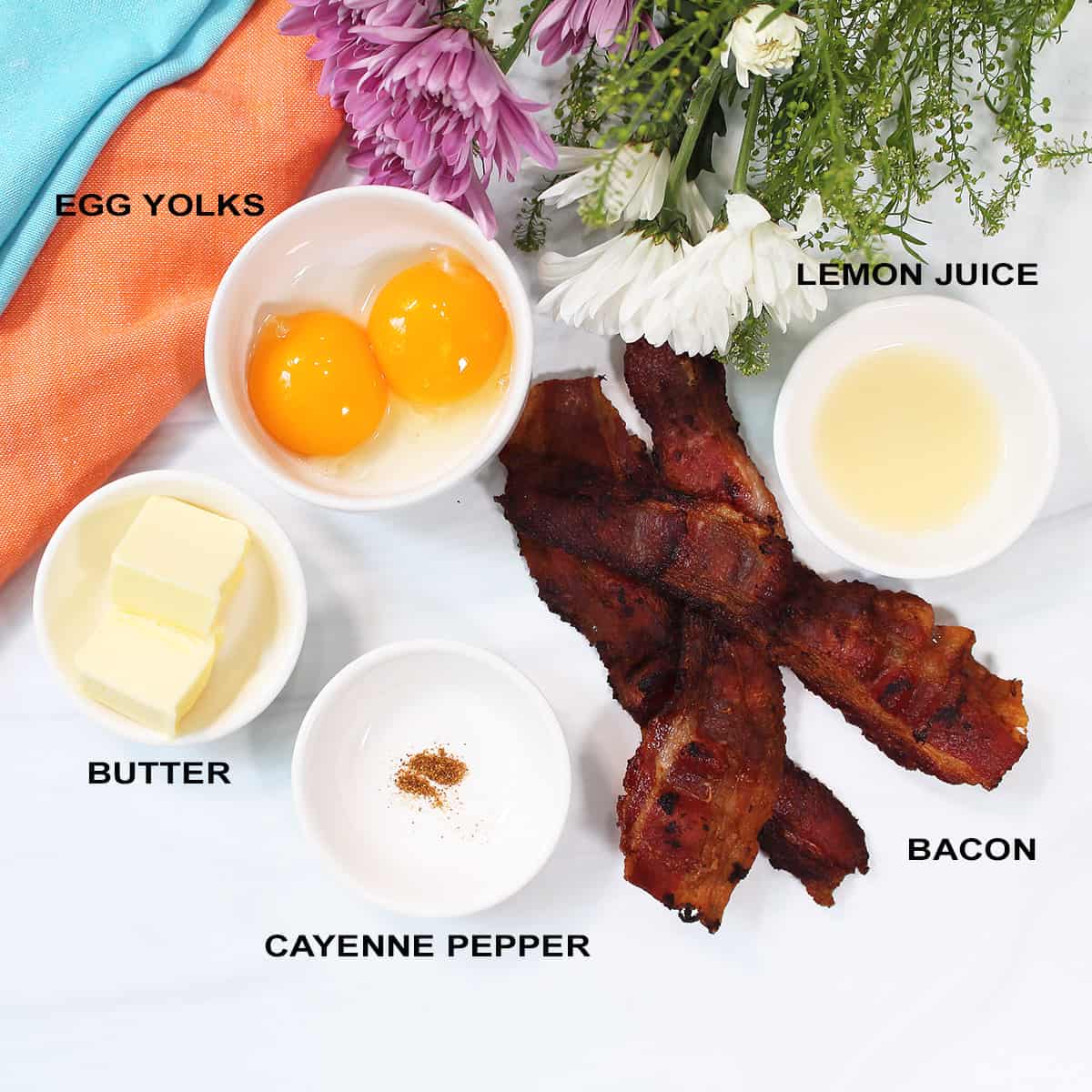 Egg Yolks – make the base of this rich custardy sauce
Butter – lends a richness and flavor to the sauce as well as some of the body
Lemon Juice – use fresh lemons for the zestiest, brightest flavor
Seasonings - salt enhances the flavors while the black pepper and cayenne adds a little kick. Season to your taste.
How to Make Blender Hollandaise Sauce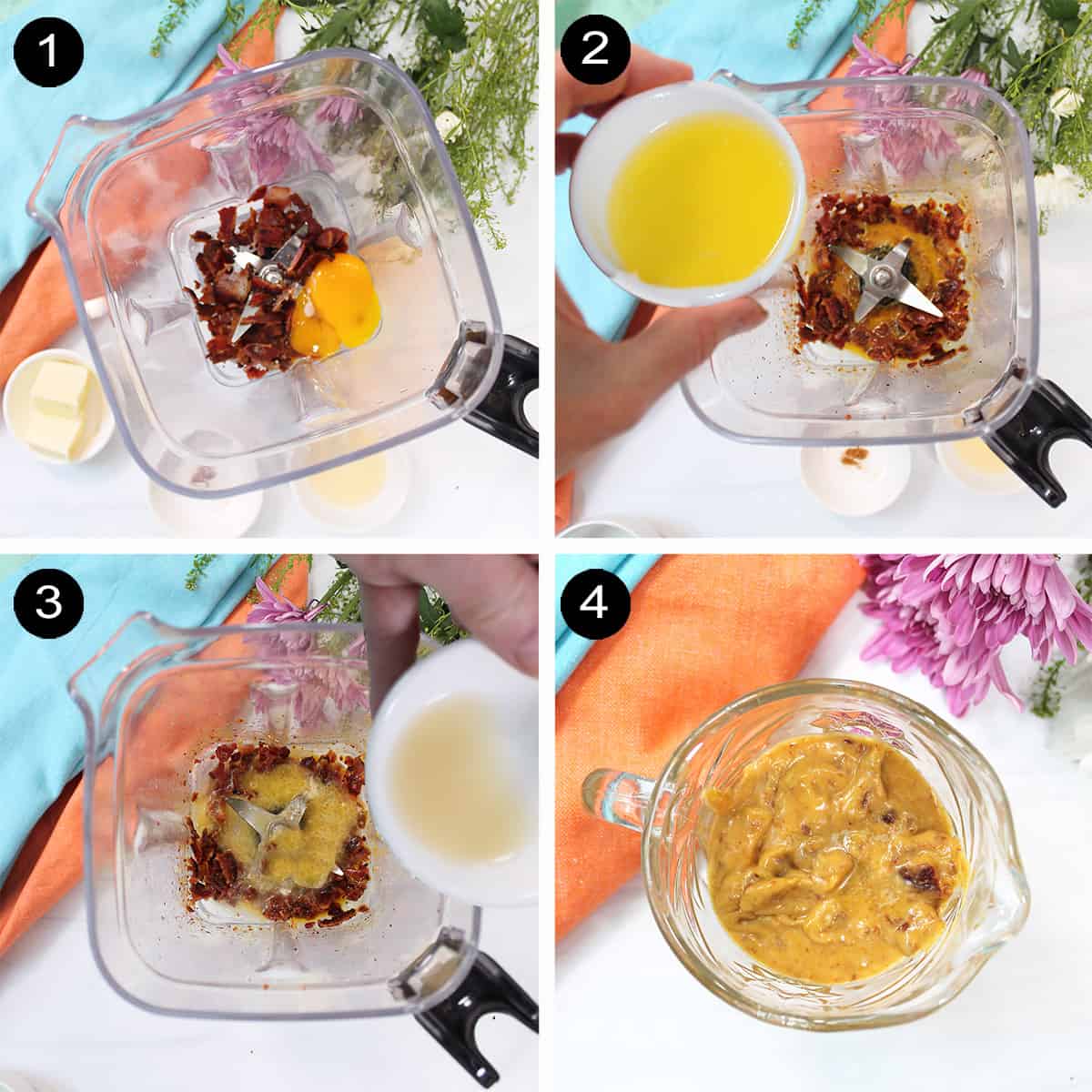 Place crumbled bacon and egg yolks in blender or small food processor.
Run blender to mix well then slowly drizzle in melted butter.
Add lemon juice, season with salt and peppers, and blend again.
Pour into pitcher.
Tips for Making the Best Blender Hollandaise Sauce
Blend the egg yolks and the bacon well
Make sure the butter is completely melted and, while the blender is running, pour slowly into the blender. This will prevent the eggs from curdling.
If the sauce is too thick you can heat using low heat in the microwave for a short burst or add a little more melted butter
How to Poach an Egg for Eggs Benedict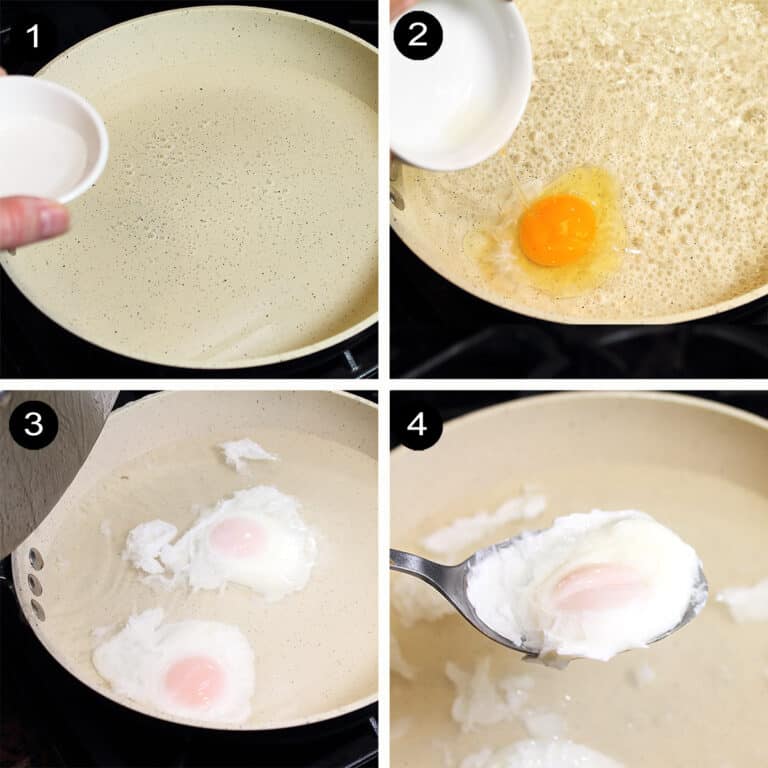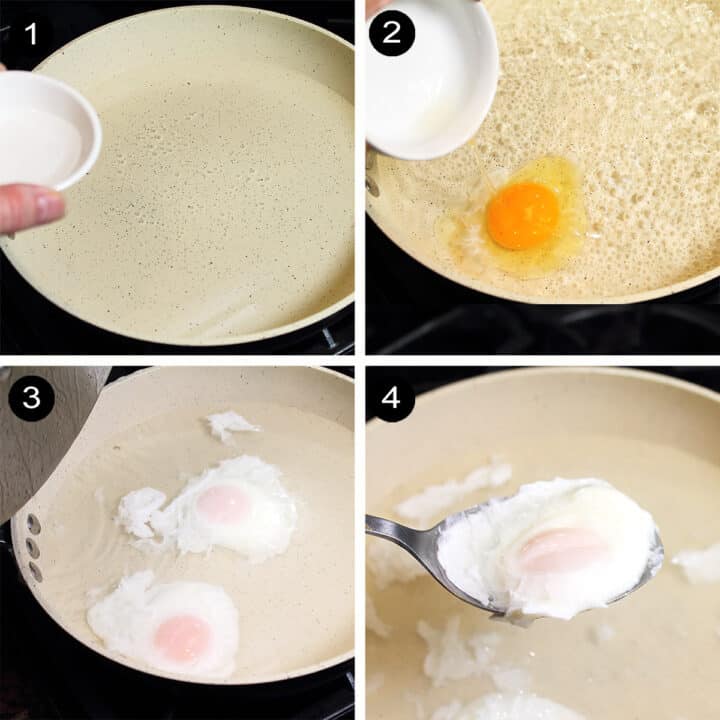 Bring water to a boil then lower the temperature so it comes to a more gentle boil. Add vinegar to the water to help eggs stay together.
DO NOT ADD SALT TO WATER AS THIS WILL MAKE EGGS SPREAD
Crack the egg into a bowl to make it easier to slip into the water.
Turn the heat off, cover and let sit for 4 minutes for the perfect runny egg.
Pick up with a slotted spoon to drain off the water.
Tip: Start with fresh eggs as they will stay together better when poaching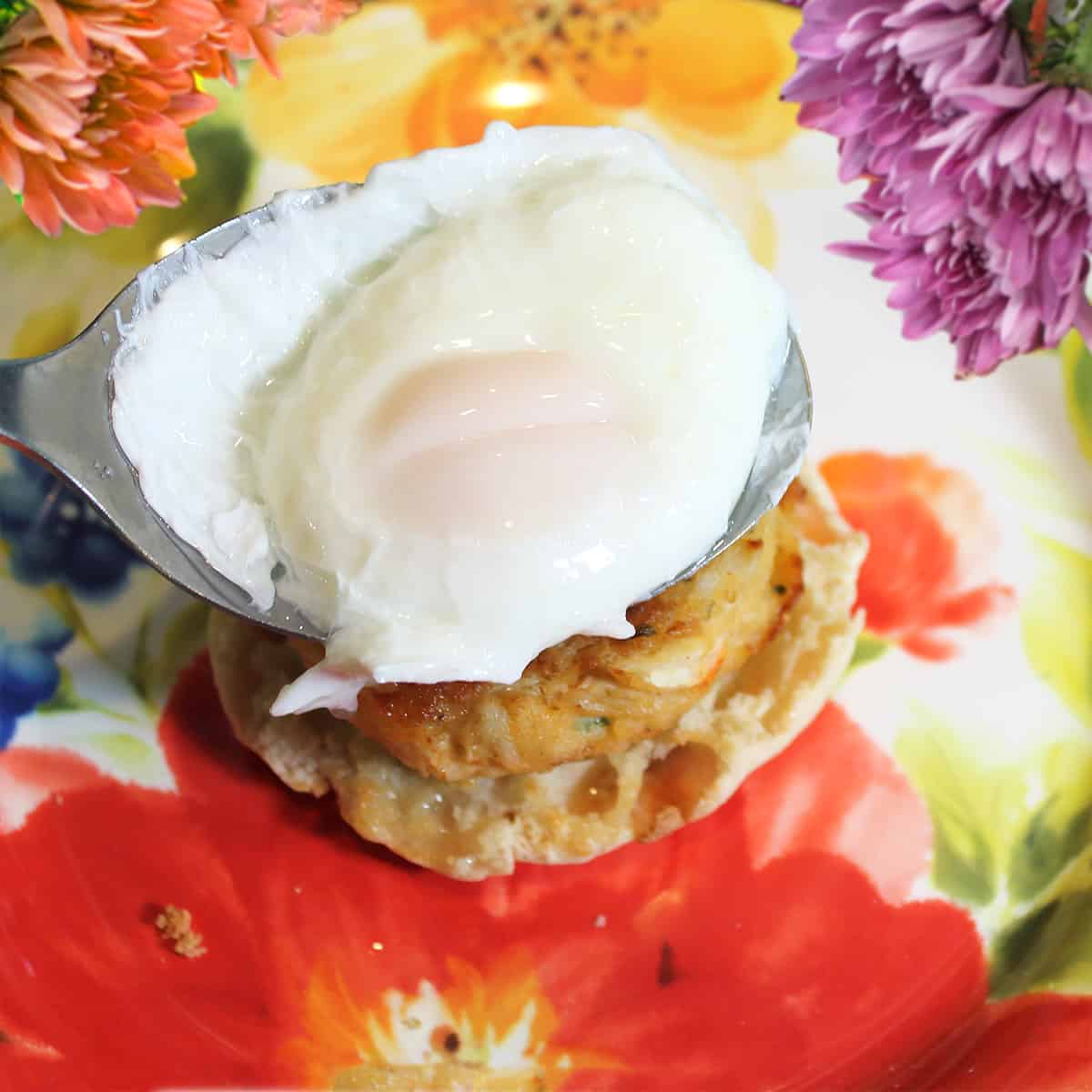 To finish assembling, place the poached egg on top of the crab cake.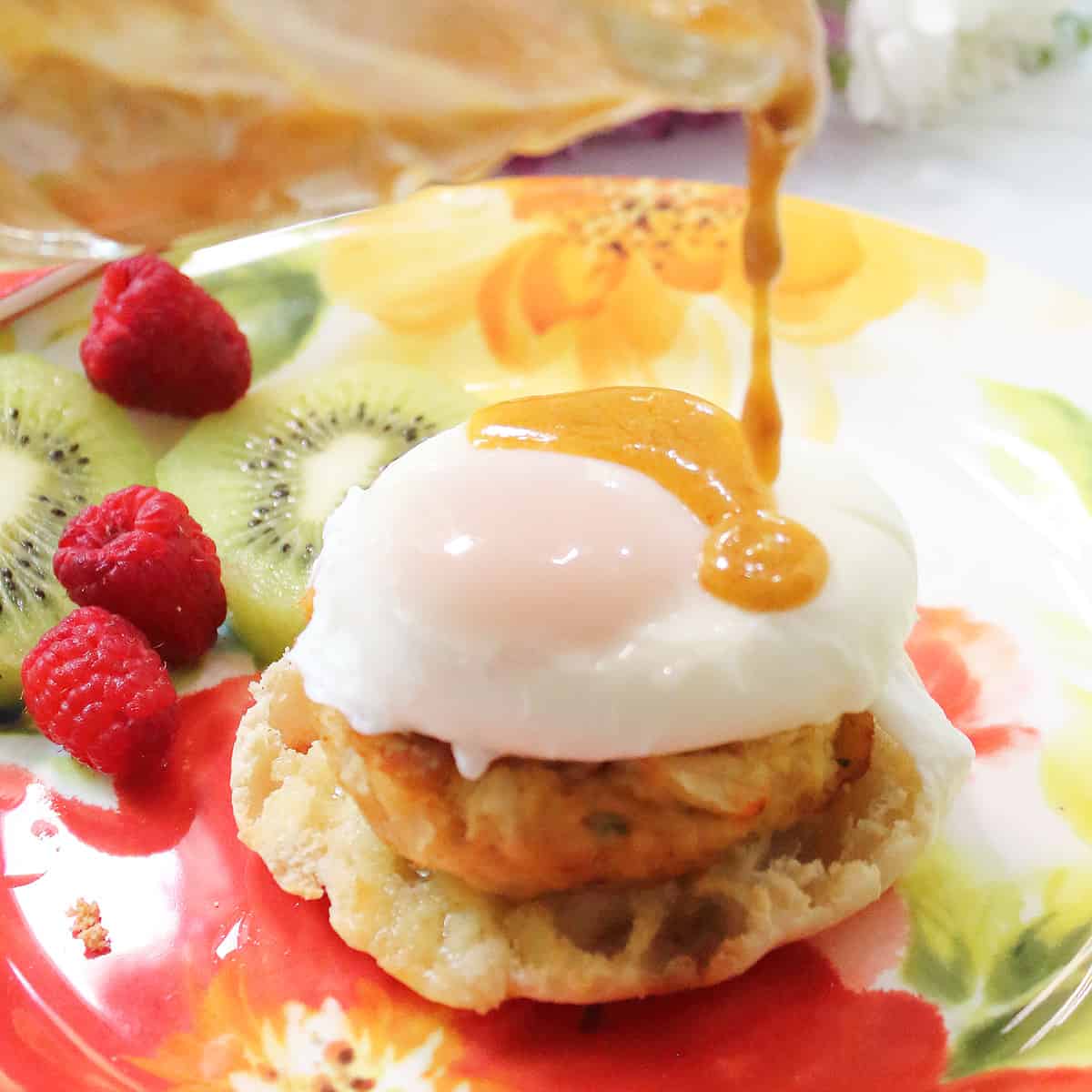 Drizzle that beautifully bacon-colored eggs benedict sauce over the crab cake eggs benedict.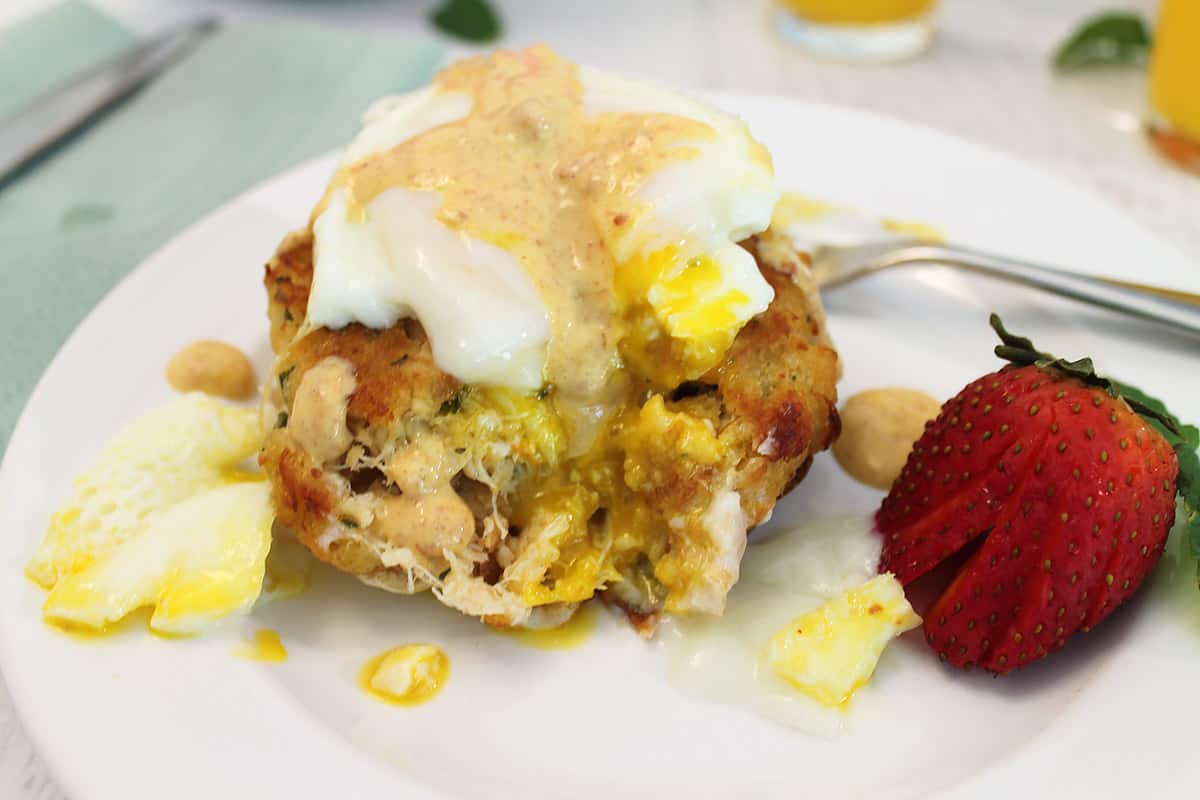 Now dig in while it's hot. The flavor of the crab cake paired with the rich yolk as it drips down and gets absorbed by the muffin is just out of this world! Enjoy!
How to Get Everything Done at the Same Time
Toast the muffins and keep them warm in a low oven
Cook the crab cakes then cover to keep warm
As you poach the eggs, which use a hands-off 4-minute method, blend the Hollandaise sauce
When the eggs are done, assemble by placing the toasted muffin on the bottom, followed by the crab cake, the poached egg, and finally drizzle with eggs benedict sauce. Easy-peasy!
What To Serve with Crab Cake Benedict
This easy crab cake benedict does not really need anything else as it is an entire meal all by itself. However, I do like to add some fresh fruit to the plate for breakfast or a tossed or Caesar salad as a side for lunch. And of course, a mimosa to celebrate the occasion.
Variations
Meat – you can substitute bacon, Canadian bacon, ham, Taylor ham, or salmon for the crab cake
Vegetables – add in lightly steamed asparagus or spinach with or without crab cake
Flavor – in lieu of lemon juice, lime juice can be used
Hollandaise Sauce can be made without the bacon for a more classic eggs benedict sauce
More Special Breakfast Recipes
Cloud Eggs are baked, puffy, light as air eggs that look like they're sitting on clouds! 
Spinach Artichoke Quiche is an easy 3-ingredient quiche that combines your favorite cheesy dip with high protein eggs all nestled in a flaky crust.
Blackberry Cheese Danish from Quiche My Grits is filled with lemon-thyme cream cheese, and topped with luscious blackberries on a buttery puff pastry crust. It's finished with a delightful sugar glaze.
Blueberry French Toast Bake - an overnight bake of croissants, maple-flavored french toast batter, and fresh blueberries all baked to perfection.
Find lots of breakfast recipes here on 2CM!
LOVE QUICK & EASY RECIPES? FOLLOW ME ON INSTAGRAM, FACEBOOK, & PINTEREST FOR ALL THE LATEST RECIPE INSPIRATION! PLUS JOIN MY EMAIL LIST AND RECEIVE A FREE E-BOOK.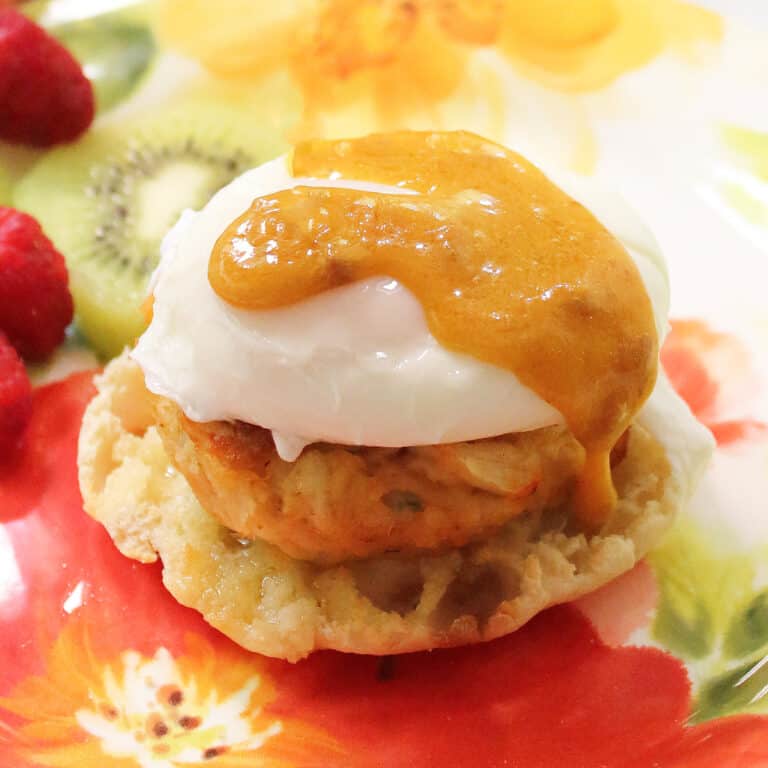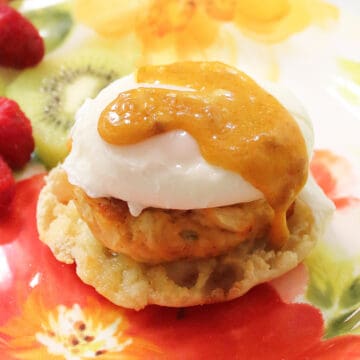 Easy Crab Cake Eggs Benedict with Easy Hollandaise Sauce
An easy Crab Cake Eggs Benedict that takes less than 20 minutes complete with a blender Hollandaise sauce. Great for Mother's Day, special occasions, or just a lazy weekend.
Print
Rate
Ingredients
2

frozen crab cakes

(I used Phillips Maryland Style)

2

eggs

1

English muffin,

divided or 2 pcs toast, buttered
Hollandaise Sauce
2-3

strips bacon

2

egg yolks

4

Tablespoons

butter

melted

1

Tablespoon

lime or lemon juice

Salt & pepper

to taste

Pinch

cayenne

Garnish: sliced green onion (optional)
Instructions
In medium skillet, cook bacon until crisp. Place on paper towel to absorb extra fat and let cool. Crumble and set aside.

Place crab cakes in skillet and cook according to package directions.

While crab cakes are cooking, make Hollandaise Sauce. Place crumbled bacon in blender along with egg yolks. Blend until bacon is all crumbs.

Melt butter and, while blender is still on, add slowly to bacon-egg mixture.

Add lime or lemon juice, salt, pepper and a pinch of cayenne and blend for just a few seconds. Done.

Lastly, poach the eggs. If you have an egg cooker they are perfect for making poached eggs, if not, place a small skillet on the stove and fill halfway with water and bring the water to a boil. Crack an egg into a small bowl then carefully slip the egg into the boiling water. Gently spoon the whites closer to the yolk so it stays in somewhat of a circle then turn off the heat and let sit, covered, for 4 minutes.

While eggs are cooking, toast muffin, or if using bread, toast, then using a wide-mouthed glass, press into bread to cut out a circle. Place on plate and top with cooked crab cake.

When eggs are done, scoop out carefully with slotted spoon, let drain, then place on top of crab cake.

Garnish with sliced green onion and a side of fruit.
Notes
HOW TO GET EVERYTHING DONE AT THE SAME TIME
Toast the muffins and keep them warm in a low oven
Cook the crab cakes then cover to keep warm
As you poach the eggs, which use a hands-off 4-minute method, blend the Hollandaise sauce
When the eggs are done, assemble by placing the toasted muffin on the bottom, followed by the crab cake, the poached egg, and finally drizzle with eggs benedict sauce. Easy-peasy!
Nutrition
Calories:
692
kcal
|
Carbohydrates:
21
g
|
Protein:
25
g
|
Fat:
57
g
|
Saturated Fat:
23
g
|
Polyunsaturated Fat:
4
g
|
Monounsaturated Fat:
14
g
|
Trans Fat:
1
g
|
Cholesterol:
493
mg
|
Sodium:
919
mg
|
Potassium:
281
mg
|
Fiber:
1
g
|
Sugar:
1
g
|
Vitamin A:
1205
IU
|
Vitamin C:
3
mg
|
Calcium:
123
mg
|
Iron:
3
mg
This post has been updated with new photos and easy-to-follow step-by-step instructions. It was first published on May 11, 2018.