This easy to make 2-ingredient magic chocolate shell is the most delicious way to take ice cream to the next level. It combines chocolate and coconut oil that magically hardens when it meets cold ice cream. A treat the kids (and big kids too) are sure to love!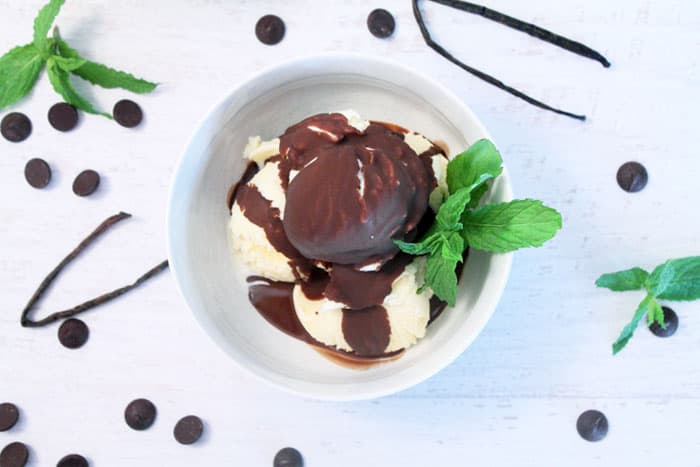 Remember when you were little and one of the biggest treats was getting a soft serve ice cream cone dipped in chocolate. I loved watching the chocolate harden quickly and couldn't wait to bite into that delicious hard chocolate shell to get to the creamy ice cream underneath.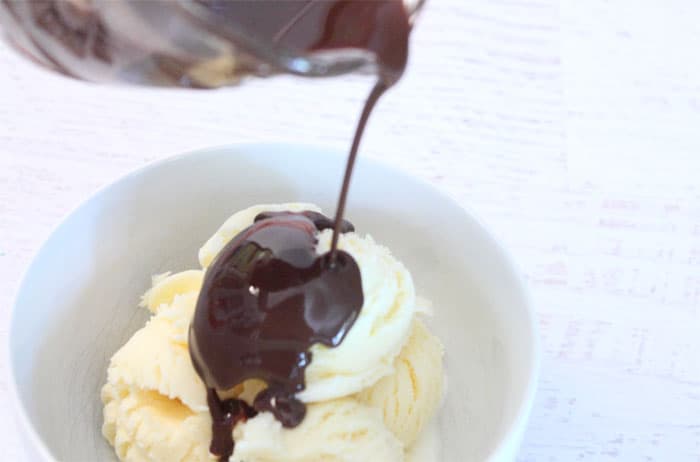 Well, now you can quickly and easily make your own chocolate hard shell topping with only 2 ingredients. Now I know you can buy bottles of chocolate hard shell in the store but did you ever read the ingredients list? It's a lot more than 2 ingredients and they add extra sugar and salt. So why not make your own, it only takes about 3 minutes. Yep, that's all! And it keeps on your shelf for up to 2 months.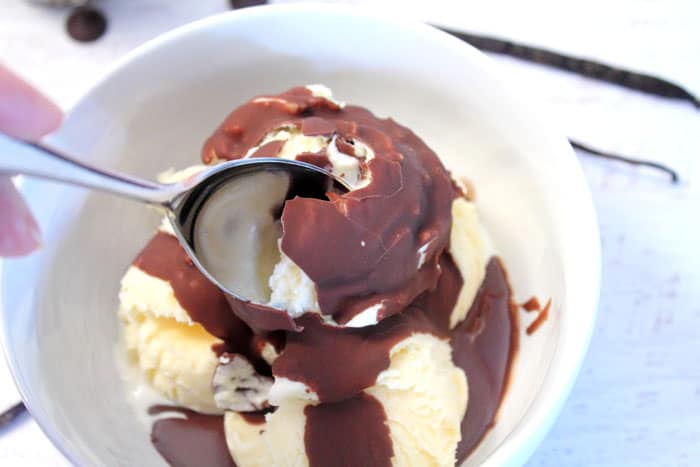 You can also duplicate the soft serve ice cream by just adding a little cream to your regular hard ice cream.
How to make Soft Serve Ice Cream
Soft Serve Ice Cream: Place scoops of your favorite flavor hard ice cream in a medium bowl. Pour cream over the top so that it pools slightly in the bottom. I used a vanilla flavored coffee creamer for added flavor, but any cream will do, then stir well to incorporate. Place in the freezer for about 2 hours, stirring at least twice during that time. When you are ready to serve, take out of the freezer and stir again. To get it extra creamy, blend with a hand or stand mixer. You can now scoop into serving bowls or place in a ziploc bag with a corner cut out and squeeze out into an ice cream cone. Add the delicious chocolate shell & scarf it down! Yum!

Want to know a secret? This hard shell topping doesn't only work on ice cream but on frozen sliced bananas (or any frozen fruit for that matter) for a treat more on the healthy side. Great for a mid-afternoon pick-me-up or an after school snack.
Enjoy!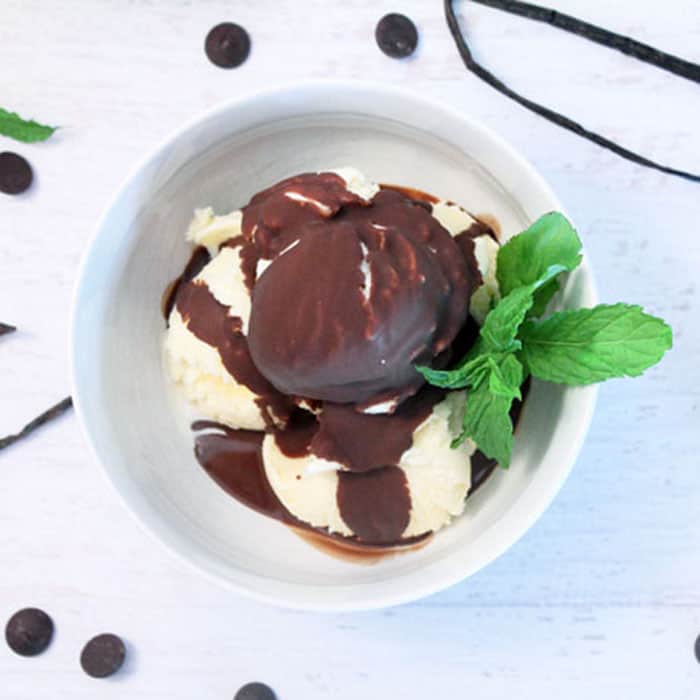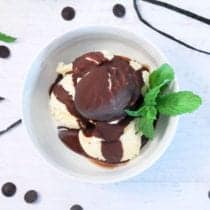 Easy Magic Chocolate Shell
This easy to make 2-ingredient magic chocolate shell is a delicious way to take ice cream to the next level. And it takes less than 3 minutes!
Print
Rate
Ingredients
¼

cup

coconut oil

½

cup

milk

semi-sweet or dark chocolate

Garnish: chopped nuts,

sprinkles (optional)
Instructions
Place both ingredients in microwave safe container, I used a 2-cup measuring cup. Microwave on high for 30 seconds. Stir. Microwave again for 30 seconds or until all chocolate has melted.

Let cool. Place in a squeezable plastic bottle, like an old ketchup or mustard bottle, or in an easy-pour pitcher until ready for use.

When ready, just pour slowly over ice cream, if you like, you can quickly add chopped nuts or sprinkles and watch it harden almost instantly.
Notes
Will keep on the shelf for up to 2 months.
Nutrition
Calories:
90
kcal
|
Fat:
9
g
|
Saturated Fat:
8
g
|
Cholesterol:
2
mg
|
Sodium:
8
mg
|
Potassium:
26
mg
|
Sugar:
1
g
|
Vitamin A:
35
IU
|
Calcium:
23
mg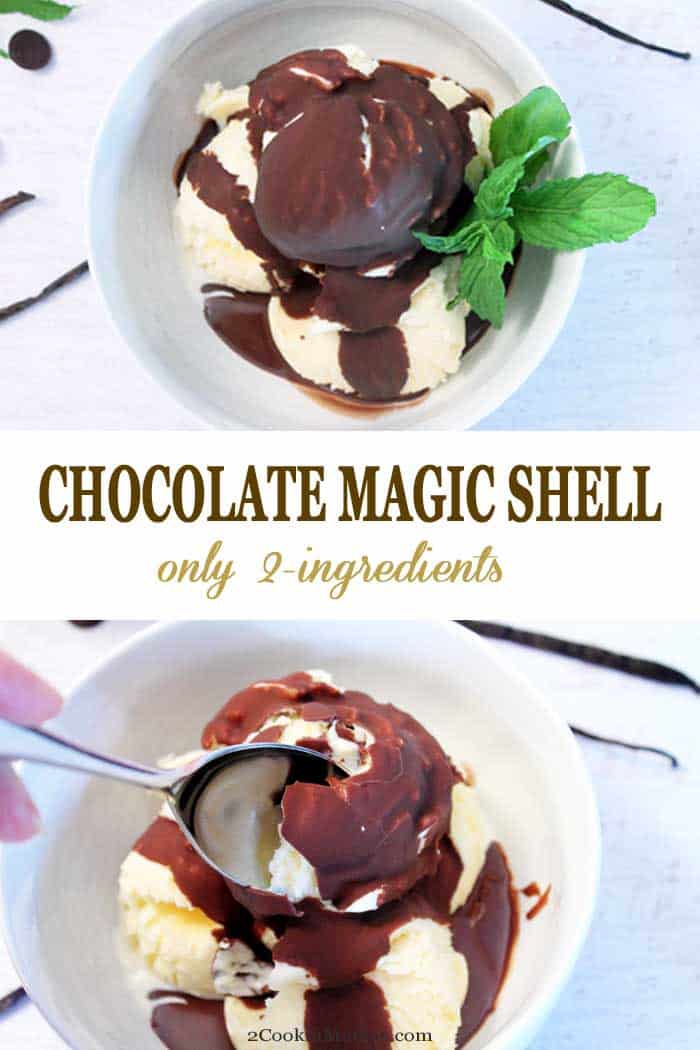 Find more delicious ice cream recipes on our "I Scream for Ice Cream" board.