I received complimentary samples of The French Farm products to create the easiest & tastiest grilled shrimp foil packet dinner ever! Just marinate, wrap in foil, grill & eat. No messy cleanup, great for home or camping & ready in just 15 minutes. And, as always, all opinions expressed in the post below are 100% my own.

This is such a fun week! I've paired up with 50 other bloggers to bring you tons of summer grilling recipes, from appetizers to entrees and sides to desserts that are sure to satisfy any palate.
Today I'm cooking up some grilled shrimp in foil packets. Now I've grilled some delicious shrimp recipes before like Cajun Shrimp over Quinoa Salad and Shrimp & Chorizo Skewers but this one is so easy with hardly any cleanup that you'll wonder why you never made it before! All you do is marinate, wrap in foil, and grill! And it just so happens that it can be grilled  in your backyard, over a campfire or even in the oven (gasp! I know blasphemy for our grilling week! 😮 )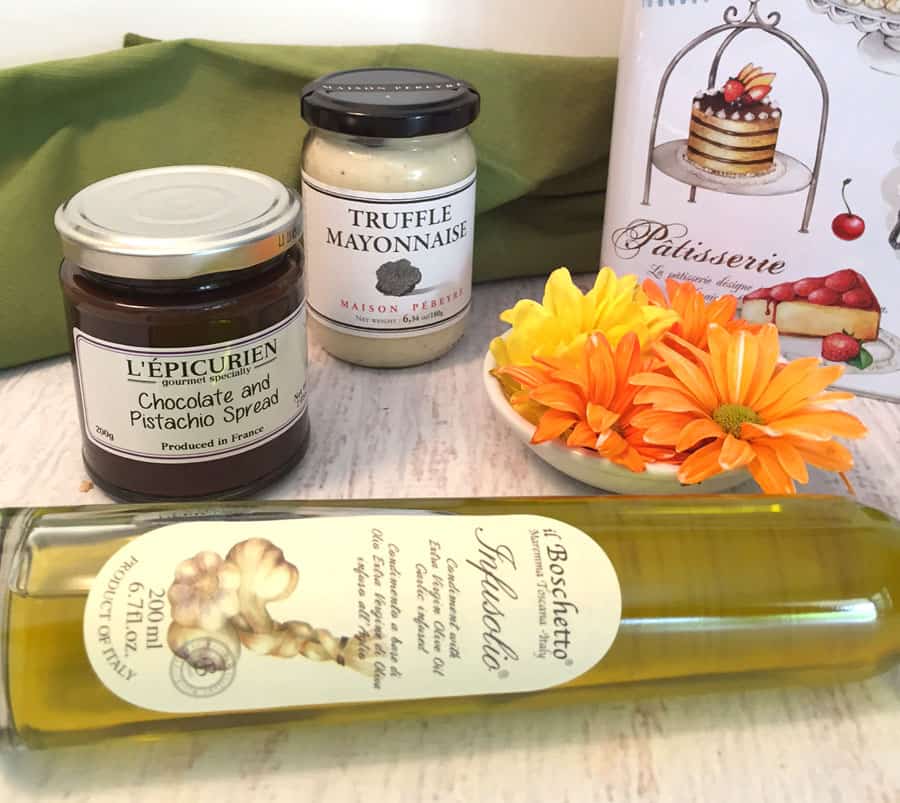 The star of this dish is the heavenly garlic infused olive oil that I received from The French Farm, one of our sponsors. This high quality olive oil has a rich infused garlic flavor that covers the shrimp and vegetables with the most delicious flavor. It is one of the best flavored olive oils I've tasted! And they didn't stop there! Nope, they generously provided me with a sample of their Chocolate Pistachio Spread, which is awesome, as you'll see with my popsicles coming up tomorrow, and their truffle mayonnaise, which is rich, smooth and delicious. If you want to see more of what The French Farm has to offer, check out their website here or visit their Facebook page here for all the latest news & recipes.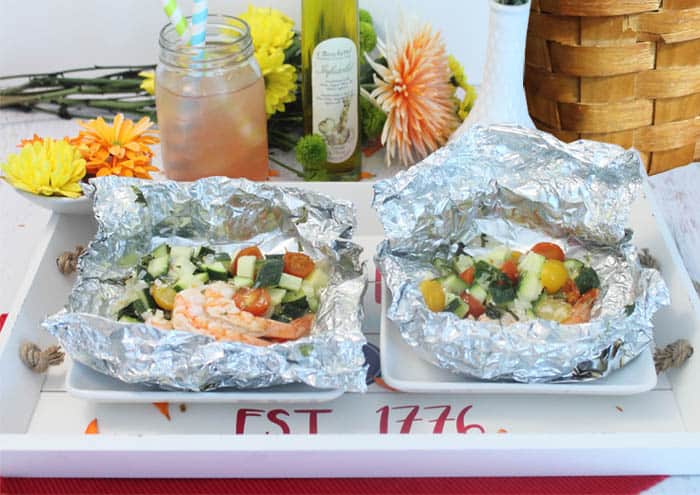 Now back to our dinner! This grilled shrimp dish is not only delicious but healthy for you too! The zucchini provides fiber, folates, Vitamins A & C and potassium, while the tomatoes add additional fiber, vitamin C and the all important antioxidants. All these benefits contribute to lowering lower blood pressure, reducing cholesterol and minimizing the risk of certain cancers. Add shrimp to that, which is an excellent source of protein, low in fat and high in antioxidants and anti-inflammatory properties and you've got a win-win dinner! What more could you want from one small packet? Wowzers!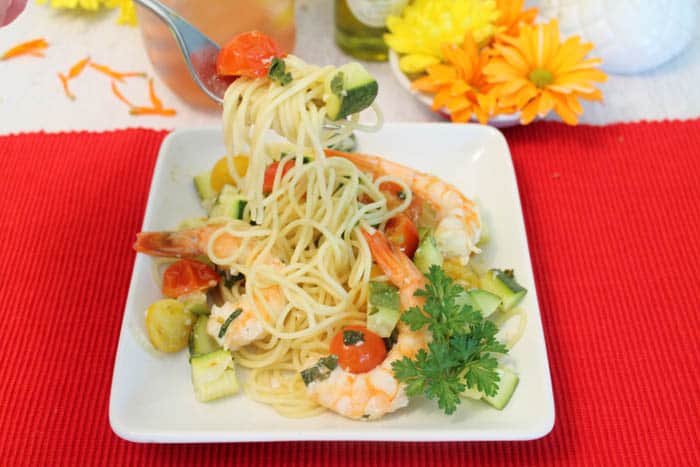 Another great thing about these packet dinners is that they can be prepared ahead of time, have little cleanup and can be grilled up quickly. When preparing them in my backyard, I love to pour this garlicky combination of shrimp and vegetables over a nice dish of pasta. When bringing with me on a camping trip, I like to include either cooked quinoa or a polenta patty on the bottom so everything is there for a complete dinner.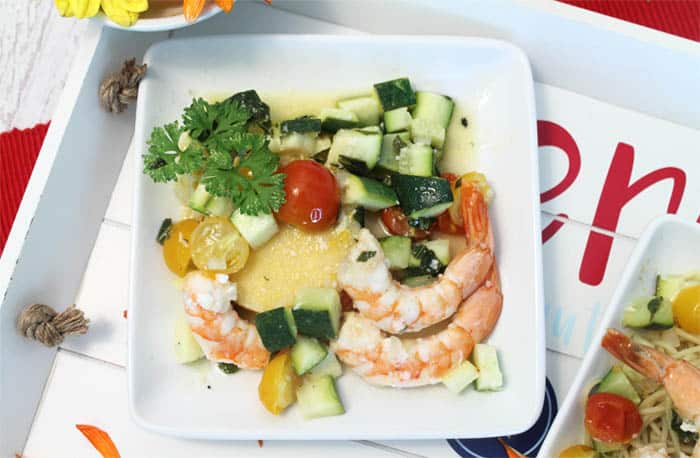 Happy grilling and don't forget to check out all the other summer goodies my blogging friends have created.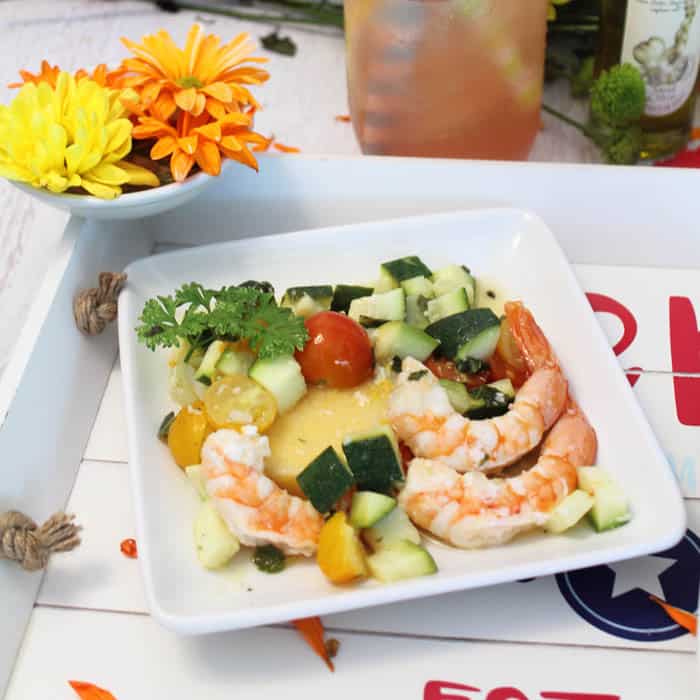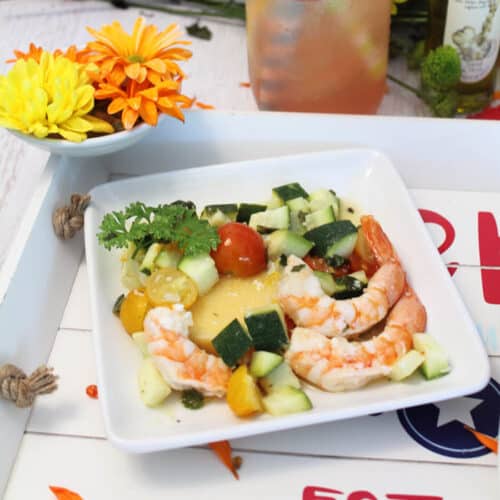 GRILLED SHRIMP FOIL PACKET DINNER
The easiest grilled shrimp foil packet dinner ever! Just marinate, wrap in foil & grill. No messy cleanup, great for home or camping & ready in 15 minutes.
Ingredients
1/4

cup

il Boschetto Infusolio

Garlic Infused Olive Oil

2-3

Tablespoons

butter

1/2

cup

white wine,

2 Tablespoons each packet

Juice of 1 lemon

1/4

cup

basil leaves,

chopped

1/8

teaspoon

red pepper flakes

Salt & pepper

to taste

1/2

cup

Pecorino Romano or Parmesan cheese,

grated

1

lb.

large shrimp,

about 16, peeled, deveined with tails left on

20

cherry tomatoes,

half red & half yellow

1

large zucchini,

diced

1

shallot,

chopped fine

Cooked quinoa,

cooked polenta or pasta (optional)

Garnish: chopped parsley
Directions
In a large bowl, combine garlic olive oil, butter, white wine, lemon juice, basil, red pepper flakes, salt, pepper and cheese. Add in shrimp, tomatoes, zucchini and shallot & toss to coat. Cover bowl and store in refrigerator until ready to use (at least 30 minutes or up to 2 hours).

Preheat grill to medium-high.

Place 4 large squares or rectangles of heavy duty aluminum foil on counter. They should be large enough to fit the shrimp and vegetables when folded over and sealed.

Here's where you can add your favorites. Place a polenta cake (a slice cut from a tube of polenta found at the grocery store works well here) or cooked quinoa in the center of each piece of foil. If serving over pasta do not add any extras to the packet, just cook mixture as is.

Remove mixture from refrigerator and divide equally among packets. If you have some younger children who don't eat as much you can place smaller amounts in some and make more packets. Seal by double folding over top.

Start cooking pasta, if serving, when packets are placed on grill.

Place packets directly on grill, close lid and cook 5-7 minutes per side, depending on size of shrimp. They can also be cooked at a campsite by placing packets directly in fire and cooking for about 6 minutes.

Carefully remove packets from grill. Pierce each with fork to release steam then open carefully. You can serve in the packet if camping or plate for dinner garnished with parsley.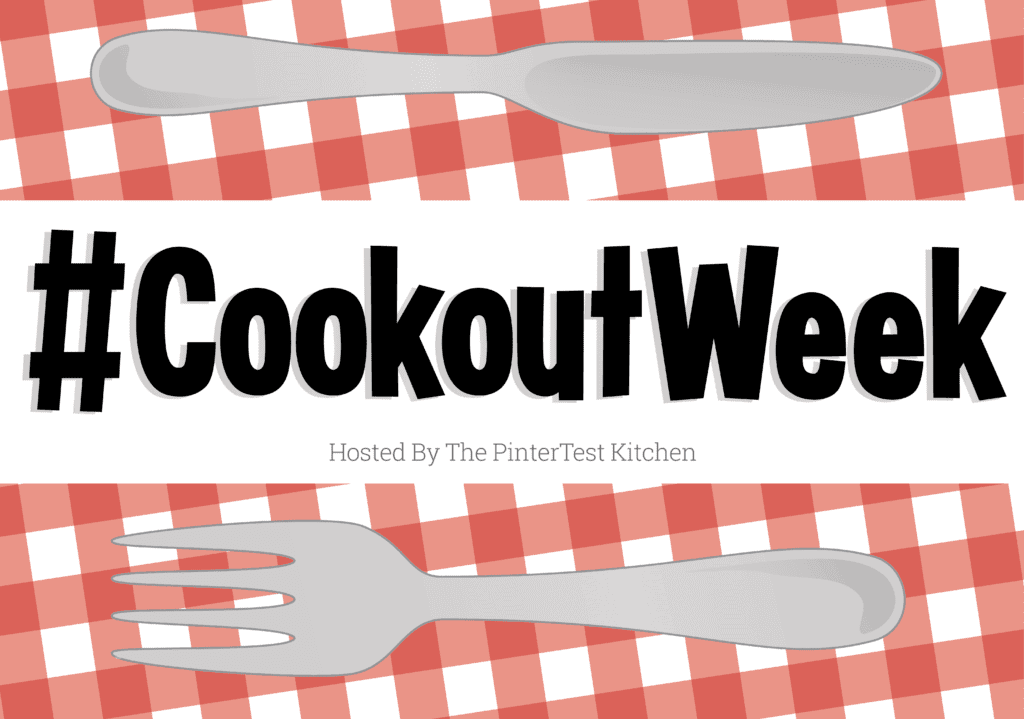 Loading InLinkz ...

DON'T MISS A RECIPE!