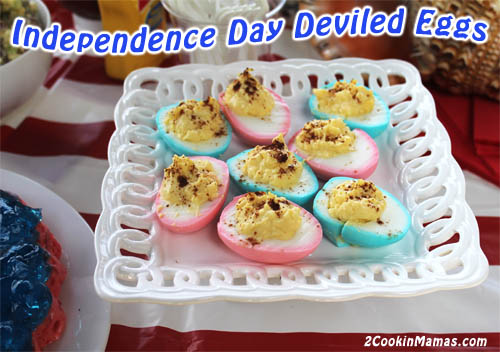 I love the 4th of July and whipping up red, white and blue dishes in my kitchen is just so much fun. I was wondering what to have with our hamburgers and potato salad and thought about my son's favorite side – deviled eggs. I remembered my daughter making Easter deviled eggs with food coloring and thought why not make something like that but keep the whites white and add just a little blue and red. Easy peasy! And because they were fun to make too I can see doing this with the kids for other holidays.
Independence Day Deviled Eggs
Cook hard boiled eggs then peel.
Prepare two bowls with warm water, adding red food coloring to one and blue food coloring to the other. Let eggs sit for at least 30 minutes, turning so all sides absorb color.
Cut eggs in half lengthwise and remove yolks to small bowl. Mash yolks with fork then add mayonnaise, mustard, salt and pepper. Use enough mayonnaise so that the mixture is smooth and creamy. The amount of mustard you use will give it a tang so that can also be adjusted to your preferred tastes. Set aside.
Fill the egg halves with yolk mixture and garnish with a sprinkle or two of paprika.
Makes 16 deviled eggs.