In the mood for dessert? Right away! Just whip up this sweet & slightly tart lemon mug cake. The recipe takes only 2 minutes start to finish & voila – instant dessert!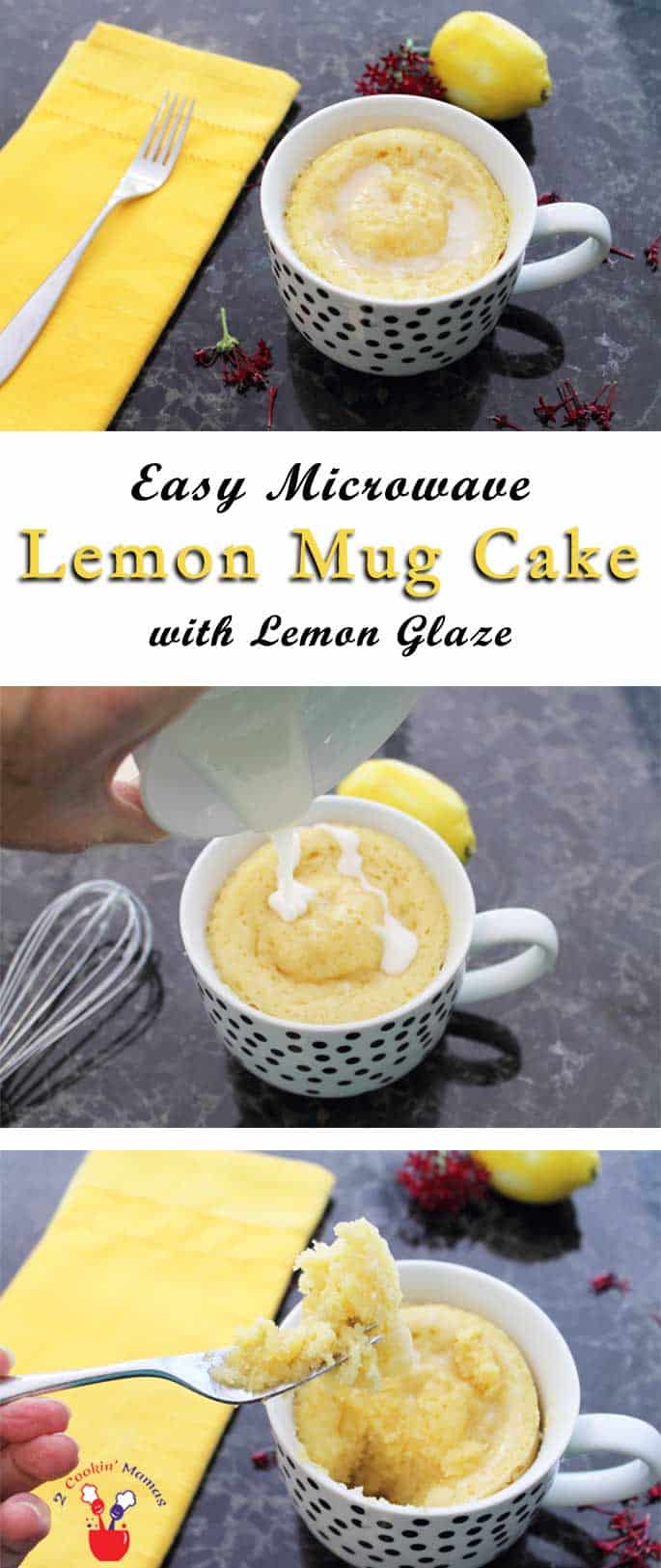 Sometimes you just want dessert and you want it right away! Problem is most desserts take a while to either bake or chill so what does one do when they have this craving for something sweet?
I'll tell you what I do. I make this easy, anybody can make this dessert, and it only takes me about 2 minutes total. I mean how can you beat that! Not only that but it makes enough to split between two people and there are no leftovers to worry about really blowing that diet you've been on. Of course, if you are really bad (or home alone) this cake can be for just one.  (ummm, wonder how I knew that?)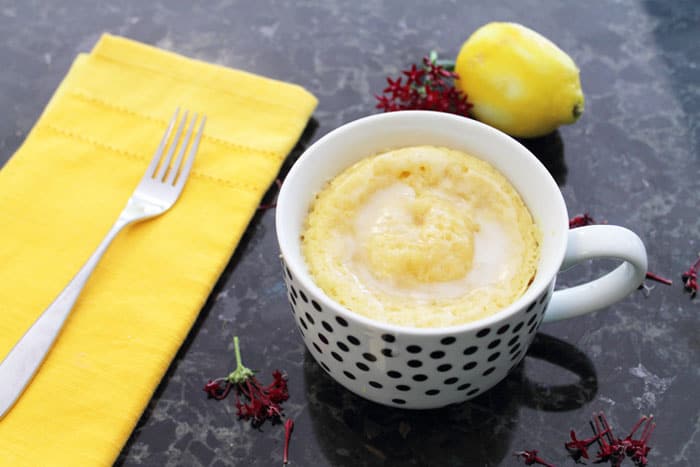 I had actually taken a video making this, my first try at it, and it's not as easy as it looks. For one thing, if you are right handed, do not put the camera on the right hand side. I got lots of great pictures of my hands. Bummer, right?!
But the good news is that I got this easy mug cake to curb my sweet tooth. And, if you love lemon, it's oh so good! Just mix all the dry ingredients in a very large mug, or adapt to 2 smaller mugs where you might have to adjust the cook time down to about 1 minute.
Next add the liquid ingredients, egg and lemon zest. Then stir in lemon curd. I had thought to add it to the center first, like a lemon lava cake, but the curd doesn't really melt the way chocolate does and it was way better mixed in.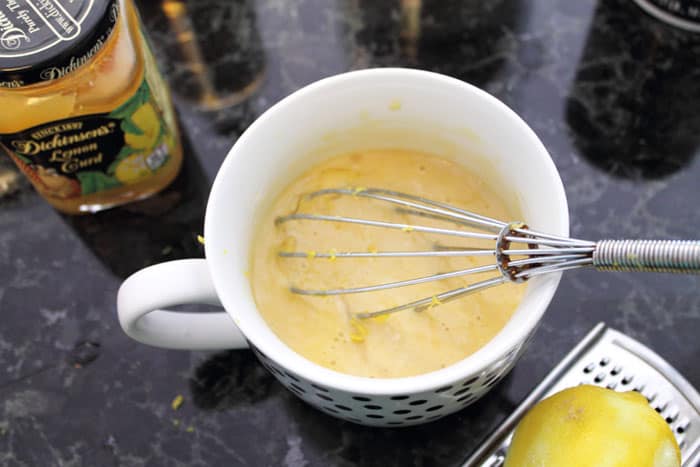 The pop it in the microwave for 1-1/2 minutes and voila! Instant Cake! Look how light and fluffy it looks!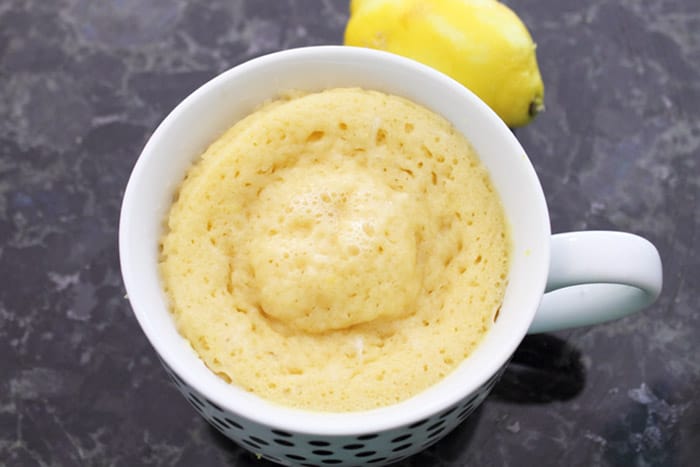 Now the crowning touch. Mix the lemon juice and powdered sugar together for the perfect lemon glaze. Drizzle over cake.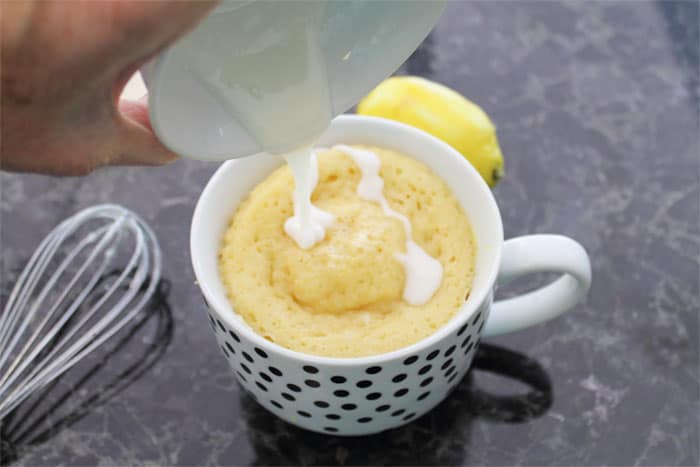 Just look at that scrumptious bite. Am I making you hungry yet?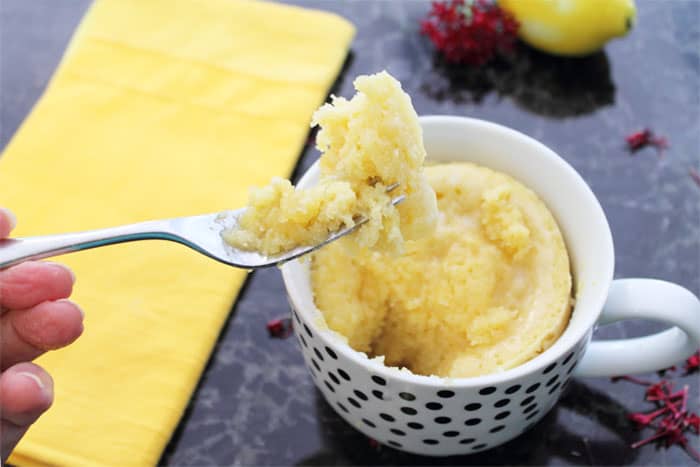 So next time you are in the mood for some yummy cake just think of this microwave lemon mug cake. Of course, if you're in the mood for chocolate, our chocolate lava mug cake is one of the most popular on our site, and I know from experience, it is simply awesome!
Enjoy!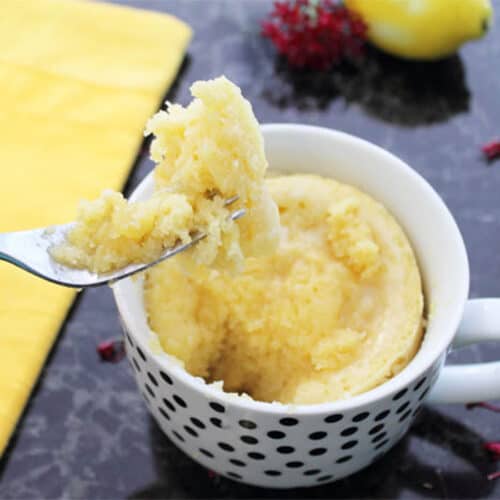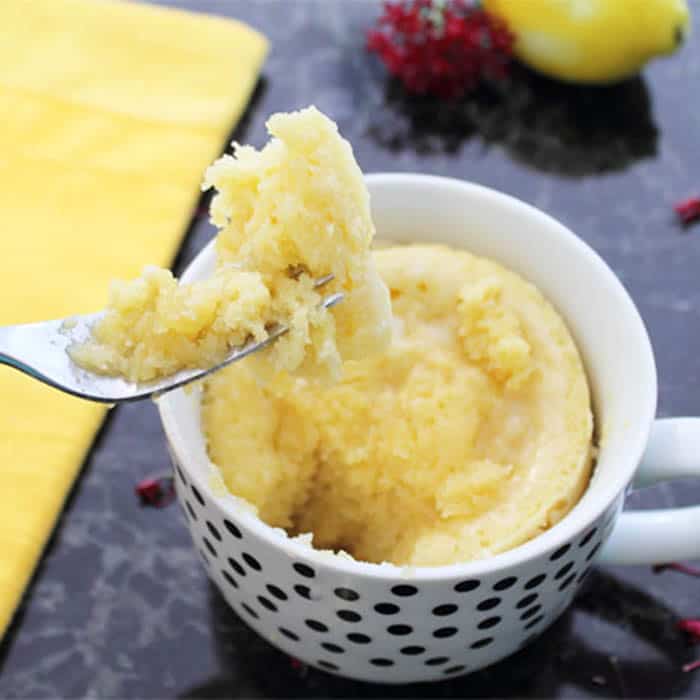 EASY MICROWAVE LEMON MUG CAKE WITH LEMON GLAZE
In the mood for dessert? Right away! Just whip up this sweet lemon mug cake. The recipe takes only 2 minutes start to finish & voila - instant dessert!
Ingredients
4

Tablespoons

all-purpose flour

2

Tablespoon

sugar

(can reduce to 1T if you like a little less sweetness)

1/4

teaspoon

baking powder

1/4

teaspoon

salt

1

Tablespoon

lemon juice

2

Tablespoons

milk

1

Tablespoon

oil

(I used canola + coconut oil)

1

egg,

either whole or divided where the egg yolk is added & the egg white is whipped, making the cake a little lighter

1

teaspoon

vanilla extract

1/4

teaspoon

lemon zest

1-2

teaspoons

lemon curd
Glaze
2

Tablespoons

confectioner's sugar

1/2

teaspoon

lemon juice
Directions
In a very large mug, mix together flour, sugar, baking powder and salt.

In a small bowl, combine lemon juice and milk to make a simple buttermilk.

Stir in lemon juice-milk mixture, oil, egg or just egg yolk if divided the egg and vanilla extract.

Add lemon zest & lemon curd & stir well.

Fold in beaten egg white, if divided the egg, otherwise go to next step.

Bake in microwave, on high, for 90 seconds.

While cake is baking, mix powdered sugar and lemon juice for glaze.

Take cake out of oven and drizzle with glaze.

Gobble it up yourself or share it with someone you love.
DON'T MISS A RECIPE!