This delicious almond butter mug cake was created from several complimentary product samples I received from Healthy Foods Online in return for my review. This Almond Butter Mug Cake is not only a super tasty dessert but healthy too and  it can be ready in less than 5 minutes. You can even have it for breakfast! Really!  As always, all opinions are 100% my own.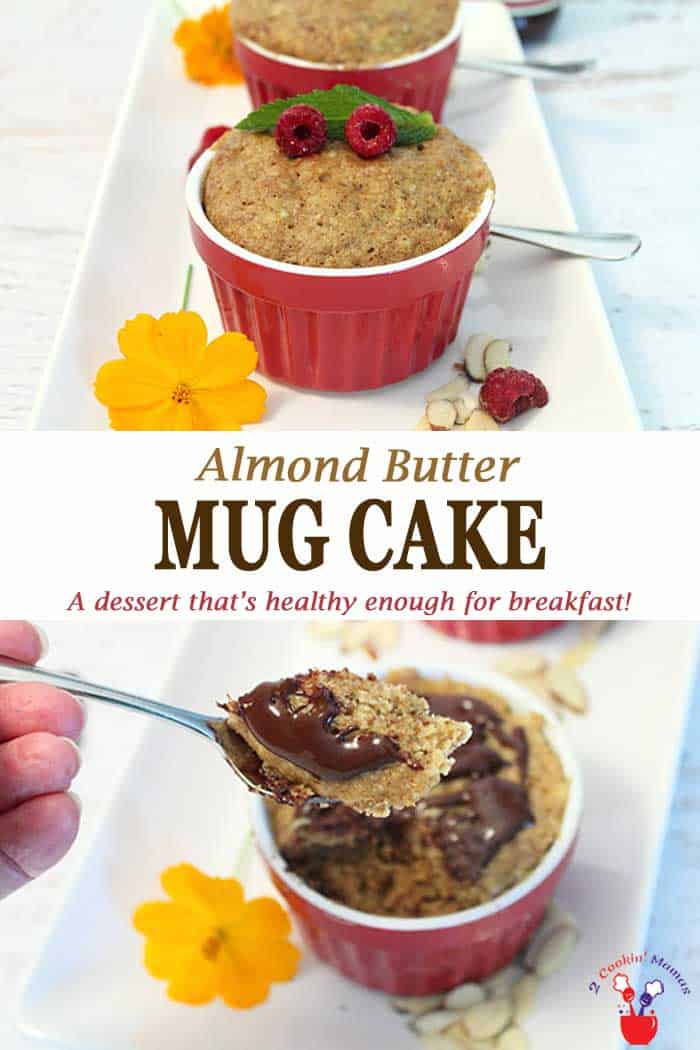 I love that companies are now striving to give us more healthy, organic and "free-from" products. It is so important in a world full of disease to at least try to give our bodies food that is free from chemicals, pesticides and hormones. One such company, Healthy Foods Online, based out of the UK, has a wide range of these types of healthy products. They approached me and asked if I would try several of their products and offer an unbiased review. Now how could I turn down that offer! The hard part was narrowing it down to just a few, they all looked so good!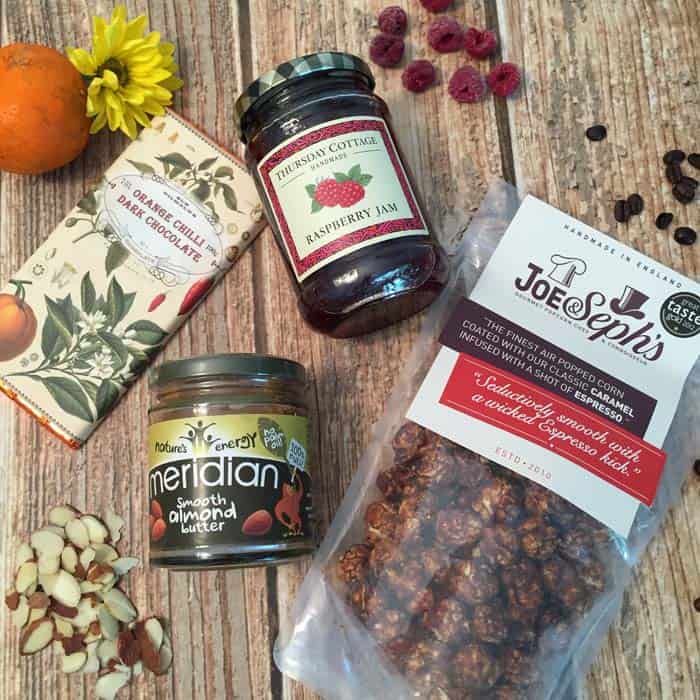 Their products cover a wide range, everything from cooking ingredients, beverages, chocolates and sweets to baby food, health & beauty and household products. Their "free-from" selection, including their new Vive Bio line, covers just about every type of diet; gluten-free, dairy-free, wheat, lactose, nut, egg and sugar free as well as vegan & vegetarian options. And the prices are reasonable for the quality of product you receive.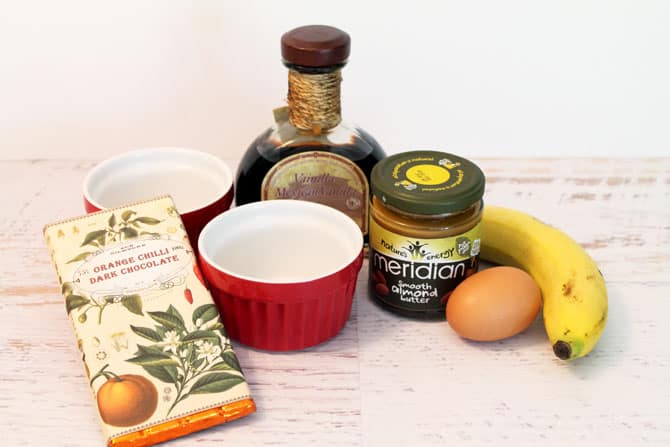 I tested 4 items and each one was flavorful and made out of the highest quality ingredients. My first choice had to be  Almond Butter since I use it in my smoothies almost every day. The Meridian Almond Butter is an organic product, made of almonds which have been roasted in their skin and crushed, and that's all! No extra fillers or palm oil and it tastes out of this world. It certainly made my mug cake over-the-top delicious! Check it out below, it tastes like a cross between an almond and banana cake, and it's made in less than 3 minutes!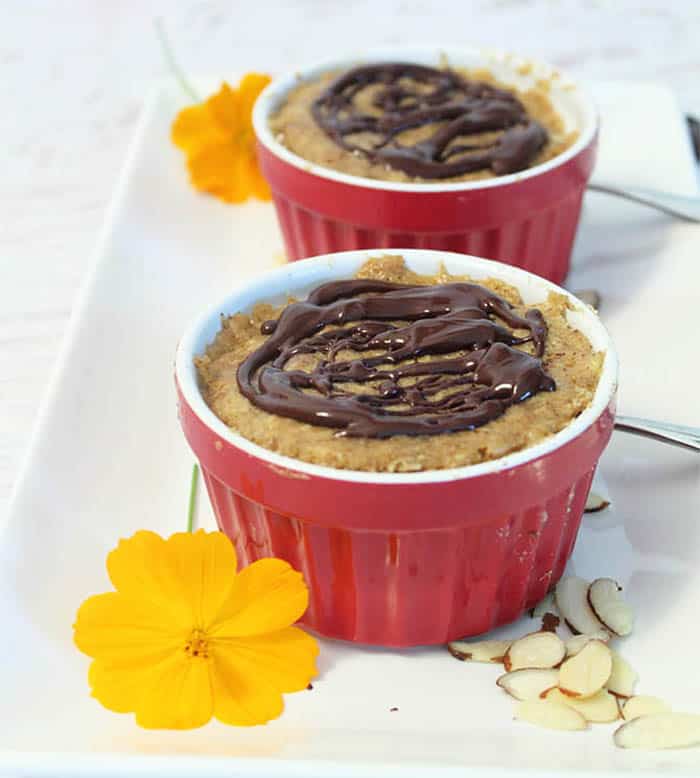 Of course, chocolate fanatic that I am, I had to top it off with a drizzle of Sue Gilmour's Orange Chili Dark Chocolate Bar. This chocolate is pure heaven, dark and rich, and I love the strong orange bite that you taste on the finish. I have to say that I didn't taste much chili flavor but the decadence of the Belgian chocolate certainly made up for it. Now I'm craving some of her other flavors like Dark Chocolate Ginger, Salted Lemon and Coffee.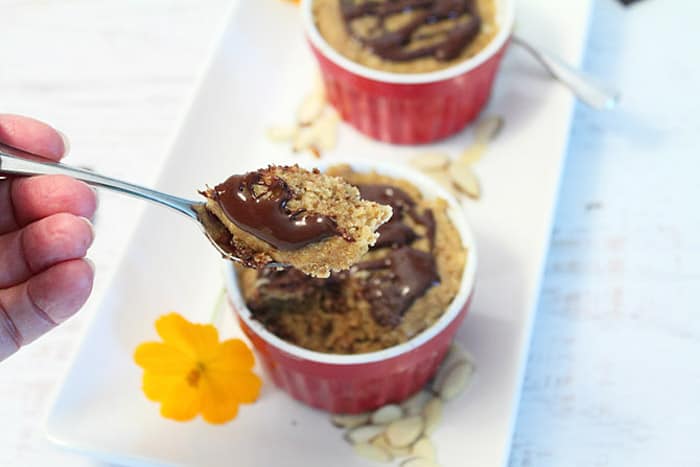 I also chose Thursday Cottage's Handmade Raspberry Jam. I am a sucker for a good jam to spread on my toast in the morning and this one is like eating raspberries out of a jar. (Psst - it's also great spread on the mug cake) Lastly, for a sweet kick, I tried Joe & Seph's Gourmet Caramel Espresso Popcorn. Different, right? Holy cow, was it ever good. You can savor the flavors with every bite, the salty caramel crunchy exterior followed by a kick of espresso. I think I need a big batch of this for sure!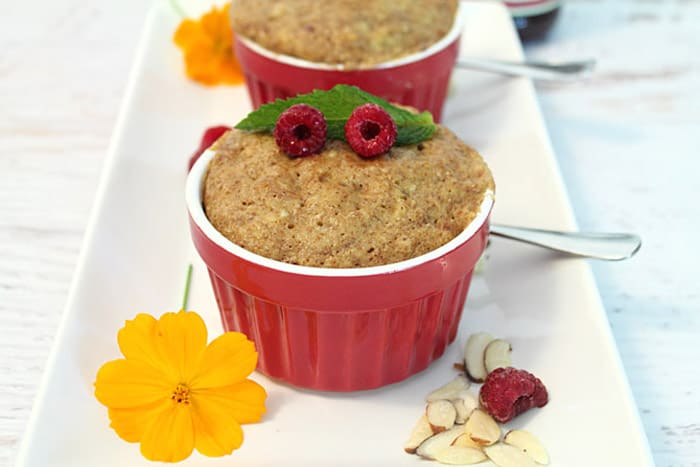 Now, being the food blogger that I am, I just couldn't pass up trying these products in a recipe. And what's better than a cake that is so easy you can whip it up in less than 5 minutes! And it's gluten-free too! Not only does it make a great dessert but a delicious and healthy, yes I did say healthy, breakfast too! Now that's a win-win!
Love mug cakes? Then you've got to try our Chocolate Lava Mug Cake when you get the chance. I'm sure it would be great with Sue Gilmour's Chocolate in the center.
Check out all Healthy Foods Online products on their website here and give them a try. Enter the code vivebio at checkout for a 15% discount on their new Vive Bio line of organic, gluten free products.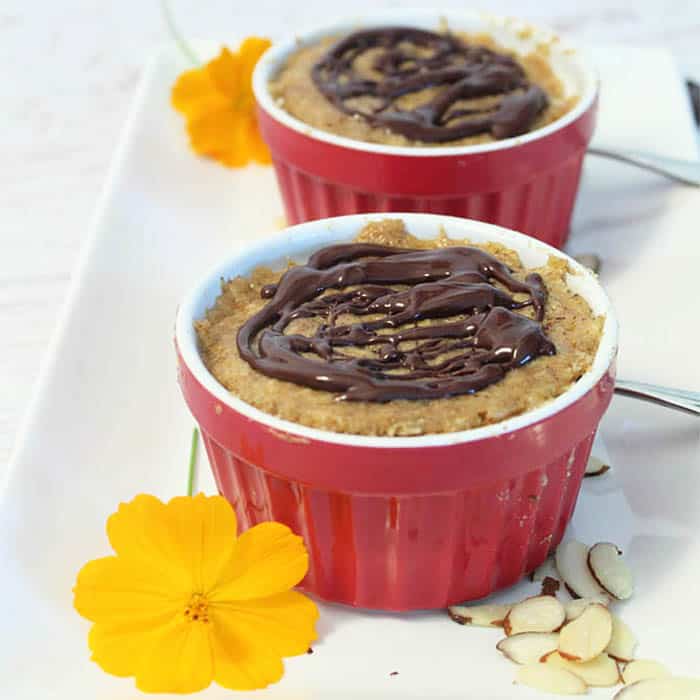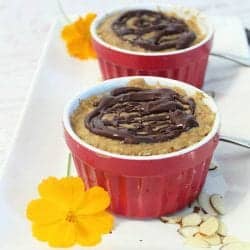 ALMOND BUTTER MUG CAKE
This Almond Butter Mug Cake is not only a super tasty dessert but healthy too and it can be ready in less than 5 minutes. You can even have it for breakfast! Really!
Print
Rate
Ingredients
1

small banana,

mashed

1

egg

3

Tablespoons

Meridian almond butter

1

Tablespoon

maple syrup,

agave or honey (I used maple syrup)

¼

teaspoon

vanilla extract

(you could also try almond or orange extract)

2

Tablespoons

almond flour

¼

teaspoon

baking powder

Garnish: 1 or 2-oz Sue Gilmours Orange Chili Dark Chocolate,

melted for drizzle or fresh raspberries
Instructions
In a medium bowl, combine mashed banana with egg, almond butter, syrup and vanilla extract, mixing well.

Stir in almond flour & baking soda until there are no lumps.

Spray 2 ramekins or mugs with nonstick spray. Divide mixture between them filling about ⅔ full.

Place in microwave and cook on high for 2-½ minutes. Remove and drizzle melted chocolate on top. Let rest for about 5 minutes before serving.

Note: To melt chocolate, chop & place in bowl. Microwave in 30 second increments, stirring in-between until melted.
DON'T MISS A RECIPE!