You'll never believe after tasting this strawberry sundae that it's actually good for you! Yogurt, fresh fruit and dark chocolate make this sweet dessert an indulgence you don't have to feel guilty about. Yay!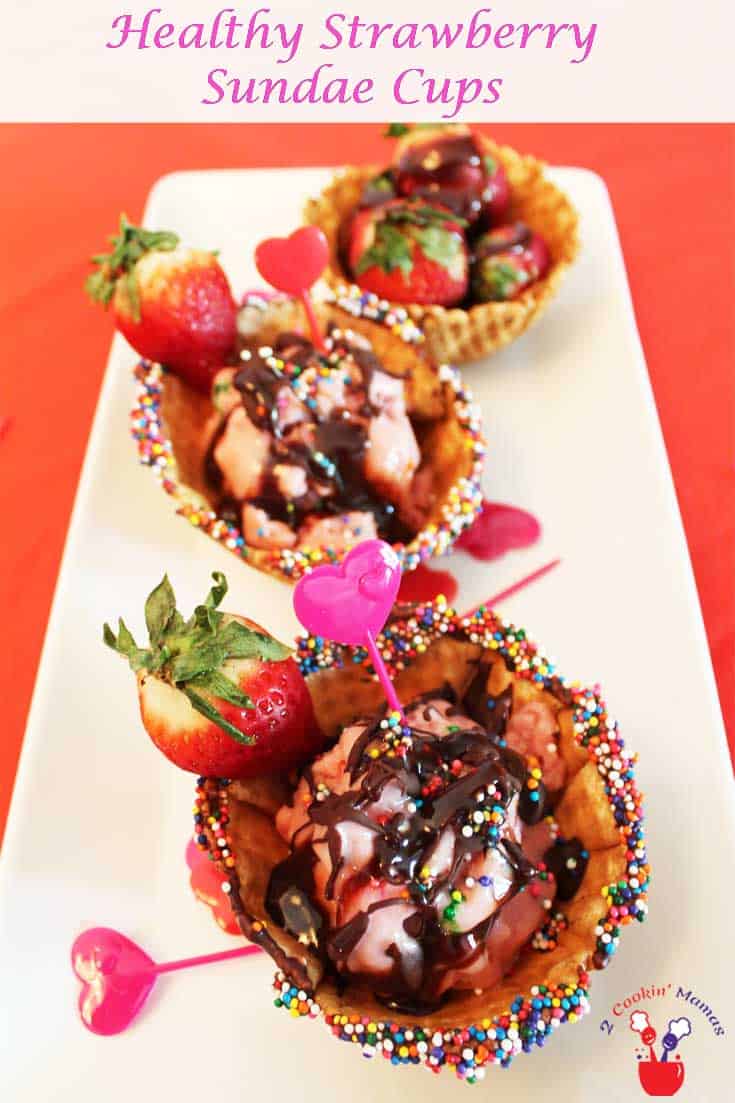 I thought since it was Valentine's Day I would post a day earlier than usual. And you know what that means - it's time for a little indulgence. But why does that indulgence have to be 500 calories that we'll regret eating the next day? Well, I for one, thought why not create something that was especially appealing to the little ones (and the big kids too) and make it healthy on top of that.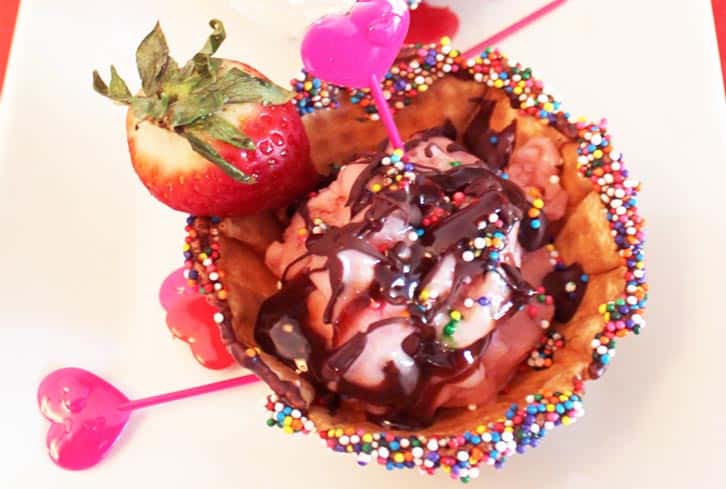 Umm, what better dessert than this healthy strawberry sundae that is made with a homemade fresh fruit yogurt and some organic dark chocolate sauce. Oh, and I did add a few extra calories with a waffle cone bowl but we are allowed a little leeway right?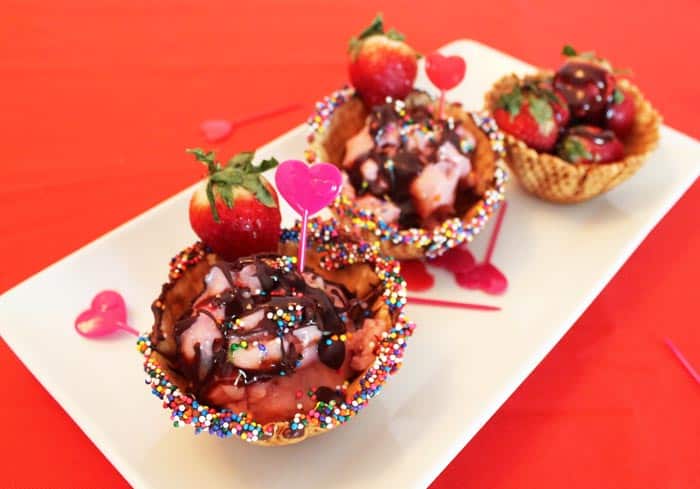 Holy cow! Just look at what this sweet little dessert provides in the way of healthy ingredients!
Strawberries, our main ingredient, are rich in vitamins C and A, potassium, folic acid and fiber. Just the ¼ cup of fresh berries per serving contains 40% of your daily vitamin C requirement all for only 12 calories. They are also full of antioxidants which reduce the risk of heart disease, certain types of cancer and diabetes.
Yogurt, whose probiotics can boost the immune system and promote a healthier digestive track, also contain a fair amount of calcium, vitamins B2 & B12, which maintains your red blood cells and potassium.
Bananas provide Vitamin C, potassium and folate which all aid in lowering blood pressure and reducing the risk of certain cancers.
Almond Milk is low in fat and high in protein and fiber. It can help with weight loss as 1 cup has only 60 calories and provides healthy fats that can aid in preventing high blood pressure.
Dark Chocolate! While the candy bar aisle is not the ideal place to find a chocolate bar that is good for you, the ones with more than 70% cacao are the best. Cacao is packed with plenty of healthy disease killing flavenoids which have great cardiovascular benefits and the ability to lower blood pressure. Just stick with the high cacao and less milk, sugar and butter and you'll be doing your body a favor. In fact, they say that a square of dark chocolate a day lowers the chance of a heart attack by 39%! So indulge a little!
So go all out and prepare this healthy strawberry sundae earlier in the day so that your last blend is right before serving. And if your loved ones don't want the frozen yogurt then adapt it and fill the waffle cone with fresh strawberries that can still be drizzled in chocolate. How is that for accommodating?
Want more healthy, low cal dessert options? Check out these recipes:
Almond Butter Cake in a Mug is a rich, nutty, and moist dessert you can make in 5 minutes.
Avocado Oatmeal Cookies with chocolate chips.
Chocolate Carrot Cake Cupcakes made with applesauce and freshly grated carrots.
Chocolate Cherry Popsicles for breakfast. Yes, really for breakfast.
Dark Chocolate Covered Strawberries for a classic treat everyone enjoys.
There's more! Take a look at my homemade dessert recipes to make for any occasion.
Happy Valentine's Day! Hope it's a sweet one!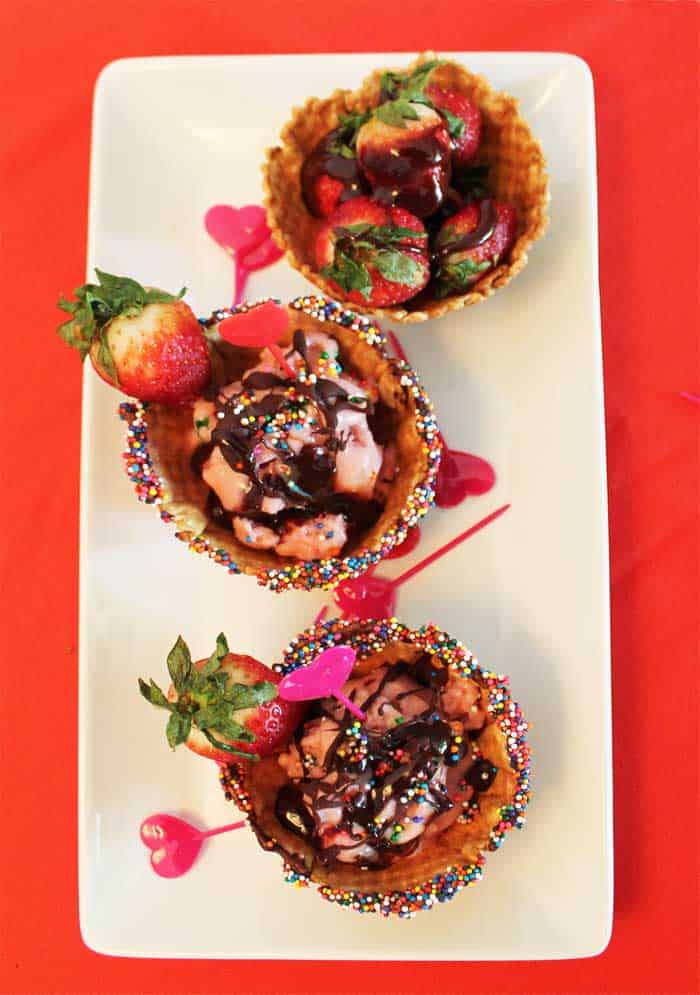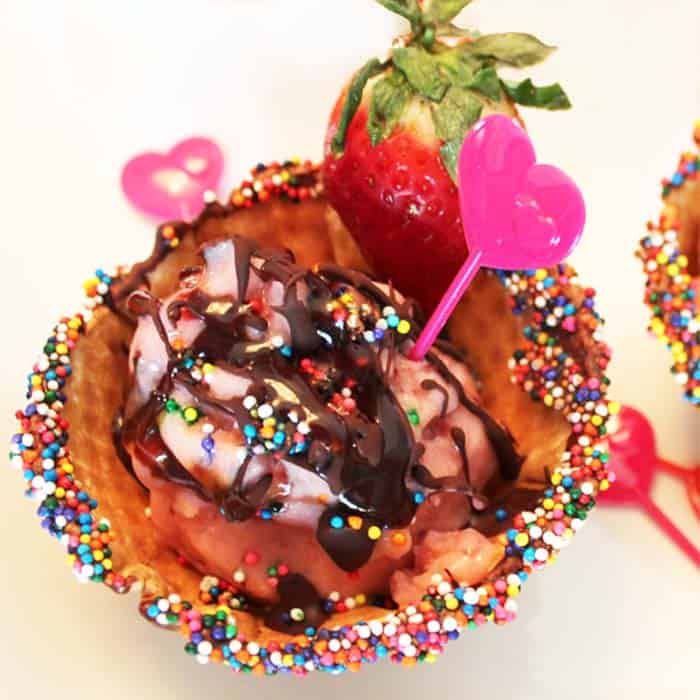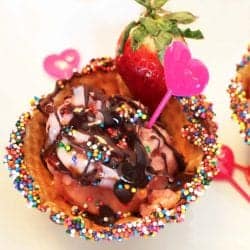 HEALTHY STRAWBERRY SUNDAE CUPS
You'll never believe this strawberry sundae is actually good for you! Yogurt, fresh fruit & dark chocolate make this tasty dessert a guilt-free indulgence!
Print
Rate
Ingredients
1

cup

almond milk

or milk of your choice

1

cup

low-fat Greek vanilla yogurt

1-½

cups

frozen strawberries

2

sliced frozen bananas

Colored sprinkles

Organic dark chocolate sauce or 2 3.5-oz dark chocolate bars

(I like Ghiradelli Intense)

6

waffle bowls

Fresh strawberries for garnish
Instructions
4 hours prior to serving:
Place milk, yogurt, strawberries and bananas into Ninja blender (or other blender). Blend until smooth and place in an 8" square glass dish. Cover and place in freezer. Wait 2 hours then blend again. Repeat once more in another 2 hours just before serving.
To prepare bowls:
Pour some sprinkles onto a small flat plate. Set aside.

In a microwave proof measuring cup, place chocolate bars, broken up, and heat in 30-second increments until chocolate is almost melted. Stir until completely smooth. Pour half onto small flat plate.

Take waffle bowls, one at a time, and dip edges into melted chocolate then into sprinkles. Let sit until firm.
To assemble:
Remove yogurt from freezer and place in blender one last time. Blend until smooth. Scoop out into prepared waffle cones and drizzle remaining chocolate over top. Garnish with additional sprinkles if desired and a fresh strawberry.
Notes
Prep time includes 4 hours of freezer time. Actual prep is closer to 15 minutes.

This post has been updated and was first published on February 14, 2017.