Our Mango Orange Smoothie has all the fresh flavors of summer in a glass. Mangos, orange juice and bananas are blended with peanut butter and protein powder to bring you the perfect get-in-shape smoothie for summer!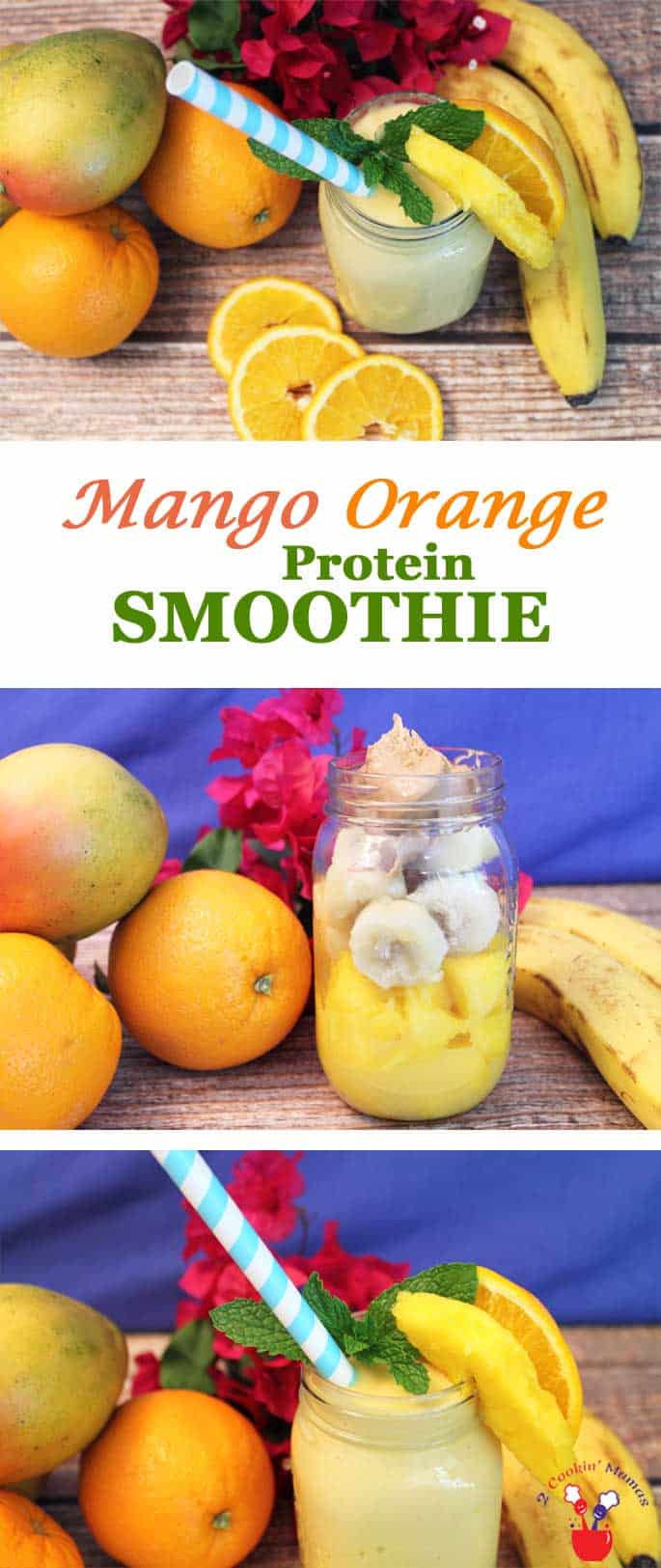 Summer in Florida means that all our mango and banana trees are producing more than we can eat. Or for that matter, more than we can share with the neighborhood. So learning to freeze the fruit from our trees is a necessity and one that we love because it means fresh fruit throughout the year. And this year is no exception! So I hope you'll join us often to see all of our  delicious fresh fruit recipes that will be coming your way.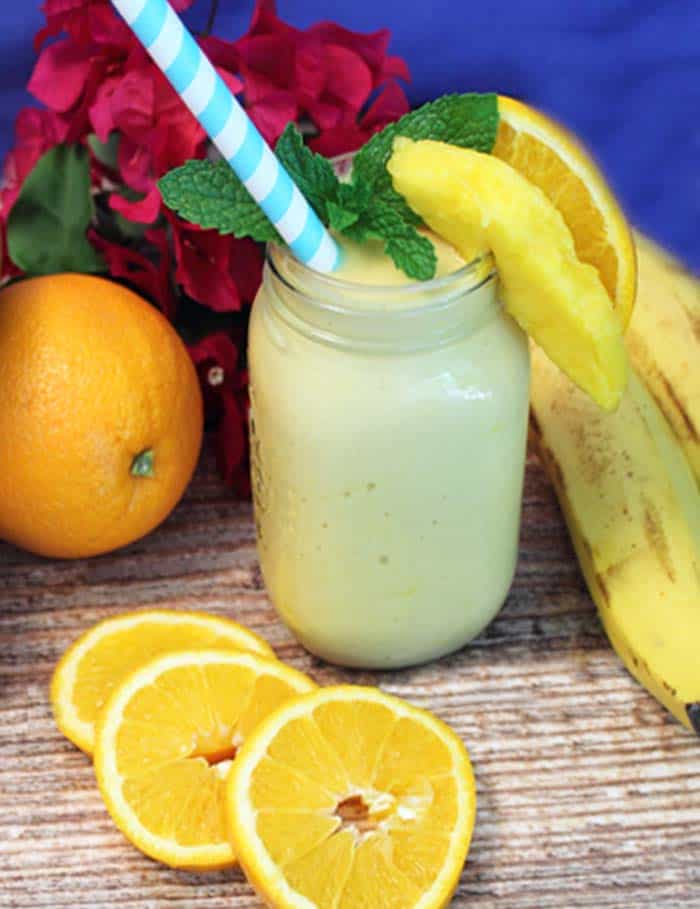 I think the first place I ever had a mango was when I was doing some work in the Philippines. Our hosts would serve slices of mango as a treat during the day to keep everyone cool and boost flagging energy. They are still some of the best mangos I've ever eaten. So we planted a mango tree and, I have to say, our Florida mangos are really delicious too and come in a close second to the Philippine variety. Now I'm looking forward to making all my favorites, like Mango Salsa to go on fresh fish or chicken, Mango Upside Down Cake and, of course, Mango Coladas, my husband's specialty.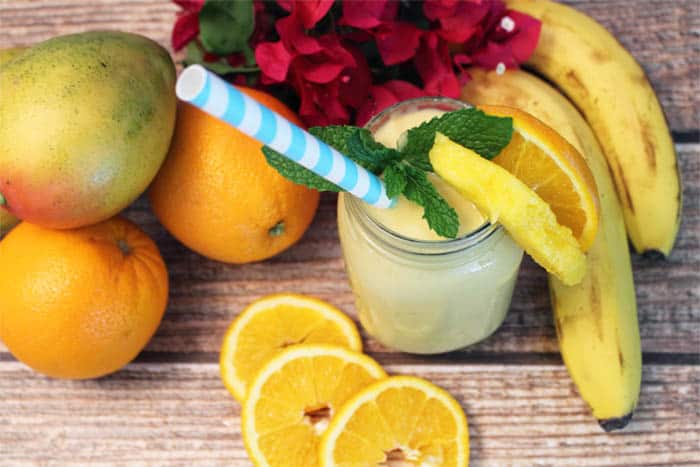 You can also use them in smoothies, and I do love my smoothies, hence today's recipe. Our Mango Orange Smoothie is full of ripe and delicious Florida fresh fruit as well as peanut butter and protein powder, or yogurt can be subbed for the powder, bringing a whole lotta health to your day. Just look at this impressive breakdown.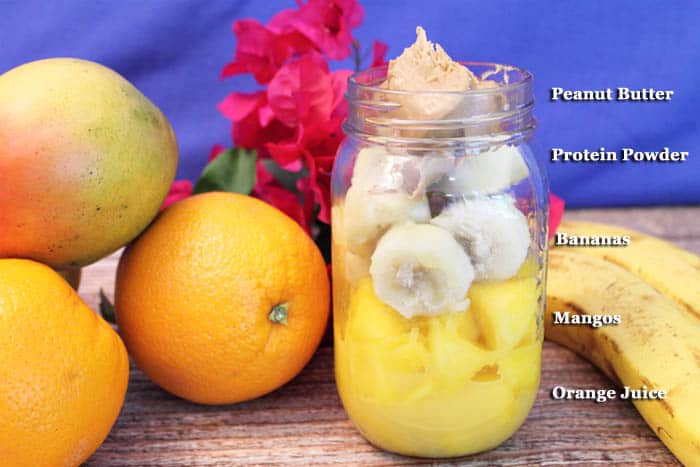 Peanuts/Natural Peanut Butter
•Rich in monosaturated fats that reduce cardiovascular disease •Good source of Vitamin E, B-complex & folate •A niacin-rich food which helps protect against Alzheimers •Rich in antioxidants & fiber •Contains 25% protein
Bananas
•Rich in potassium which aids in lowering blood pressure •Good source of Vitamin B6, Vitamin C, manganese, niacin & folate •Provides antioxidants & dietary fiber •Reduces the risk of kidney stones
Mangos
•Rich in Vitamin C which boosts the immune system •Good source of Vitamin A which improves eye health •High in antioxidants to help prevent cancer •High in dietary fiber to aid digestion •Helps fight heat stroke
Orange Juice
•One of the highest sources of Vitamin C which can boost the immune system & help protect against cancer •Good source of folate which aids in boosting metabolism •Antioxidant properties also help reduce inflammation thereby protecting the heart •Reduces signs of aging 
Protein Powder
•Source of high quality protein which helps promote growth of lean tissue mass •Protein found in whey powder is easily digestible •Helps prevent age-related muscle loss •Aids in moderating blood sugar levels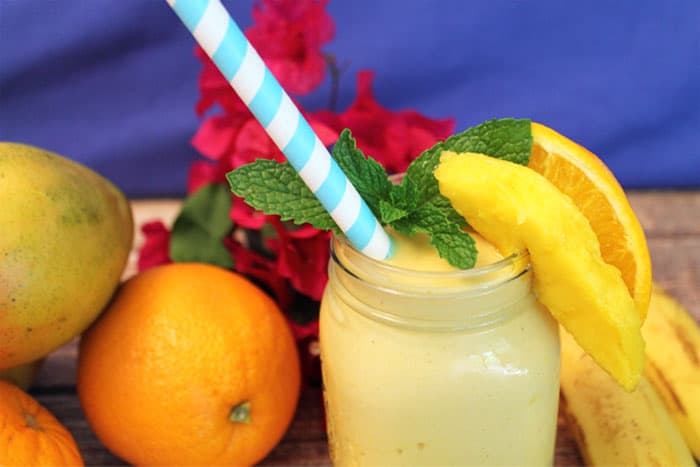 Don't you feel better already? 🙂  So go get that blender out and whip yourself up this healthy and powerful smoothie to start your day. It only takes a few minutes and will have you feeling good about yourself all day! Want more smoothie recipes? Check out our Smoothies & Beverages Index here.
Enjoy!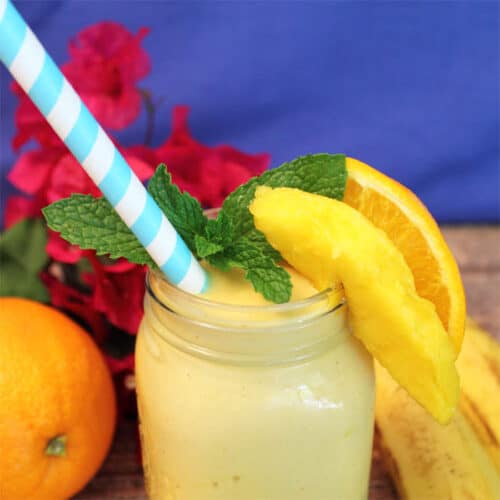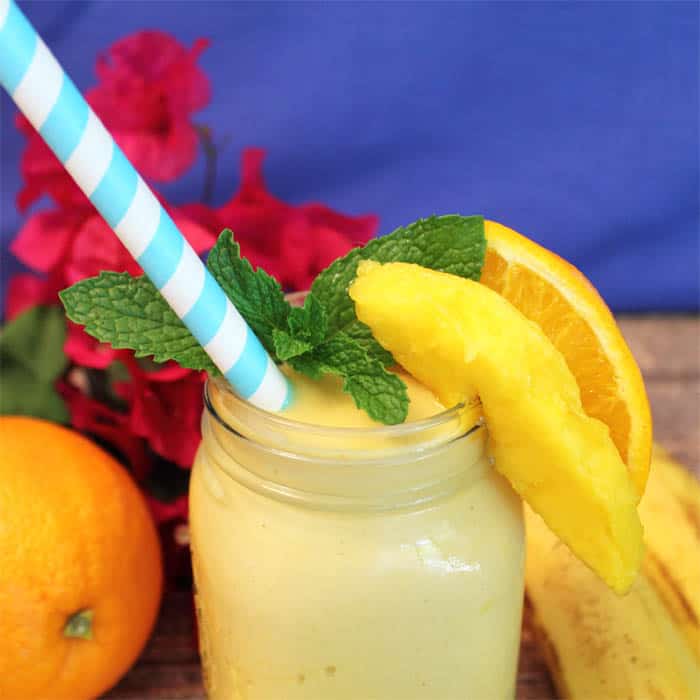 MANGO ORANGE PROTEIN SMOOTHIE
A tropical mix of mango, banana and orange juice that makes it easy to get healthy! Blend it up for a quick breakfast, lunch or snack for a nutritious glassful of protein, vitamins and minerals.
Ingredients
1

mango,

chopped

1

frozen banana

1/2

cup

orange juice

2

Tablespoons

peanut butter

1

scoop vanilla protein powder or 5-oz vanilla yogurt

(make it soy or almond based yogurt for a non-dairy treat)

Handful ice
Directions
Place all ingredients in Ninja blender (or your favorite blender).

Blend until smooth.

Pour into glass. Garnish with mango slice, orange slice and a sprig of mint.
DON'T MISS A RECIPE!
Want more healthy options? Click on the picture below and check out our cookbook for some delicious recipes that are easy to make and free of gluten, cow-dairy and GMOs.