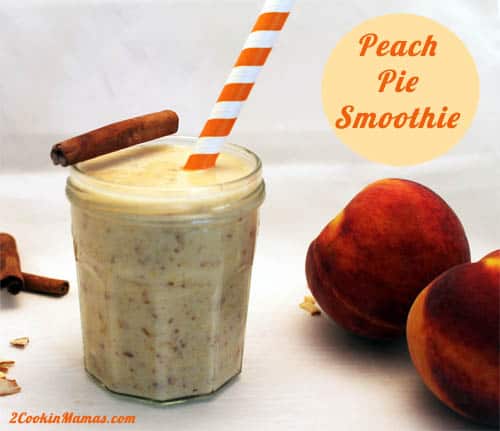 I love to make dishes that use the fresh fruit and vegetables of the season and peaches are one of my favorites. Just biting into a juicy peach has to bring a smile to your face. And I can still remember the smell of fresh baked peach pies when I came home from school. Mom would almost always bake a fresh dessert for after dinner and this one, when it was still warm, and Dad scooped some vanilla ice cream on top, was just heaven.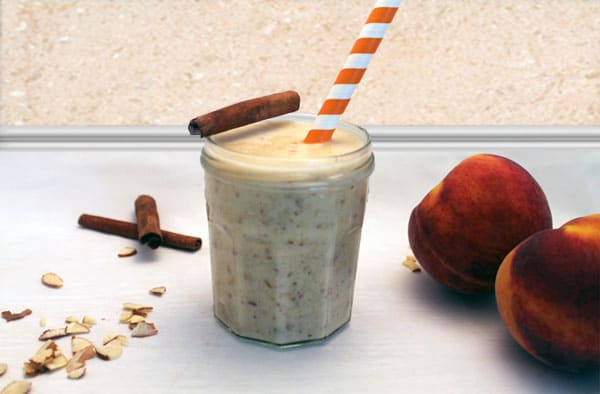 So, since it is always a battle to keep the pounds off, what better way of having your cake (oh I mean pie) and eating it to than to make a nutritional low cal smoothie with the same flavors as peach pie. And peaches are so rich in  antioxidants, Vitamins A & B-carotene, potassium, iron and flouride that you don't even have to feel guilty.
So enjoy your piece of pie in a glass and pat yourself on the back for starting your day out so healthy!



Peach Pie Smoothie
Ingredients:
1/2 cup almond milk
1/2 cup vanilla yogurt
1/4 cup sliced almonds
1/2 frozen banana
1 peach, cut up
1/2 scoop protein powder
1/4 teaspoon cinnamon
pinch of nutmeg
Directions:
Place all ingredients in blender and blend until smooth.
Makes 1.
Love smoothies as much as we do? Check out our Smoothies Pinterest board for more delicious and healthy choices.