Start your morning with a healthy & satisfying breakfast. Our Chocolate Caramel Smoothie Bowl is rich, delicious & packed with protein, fiber & greens.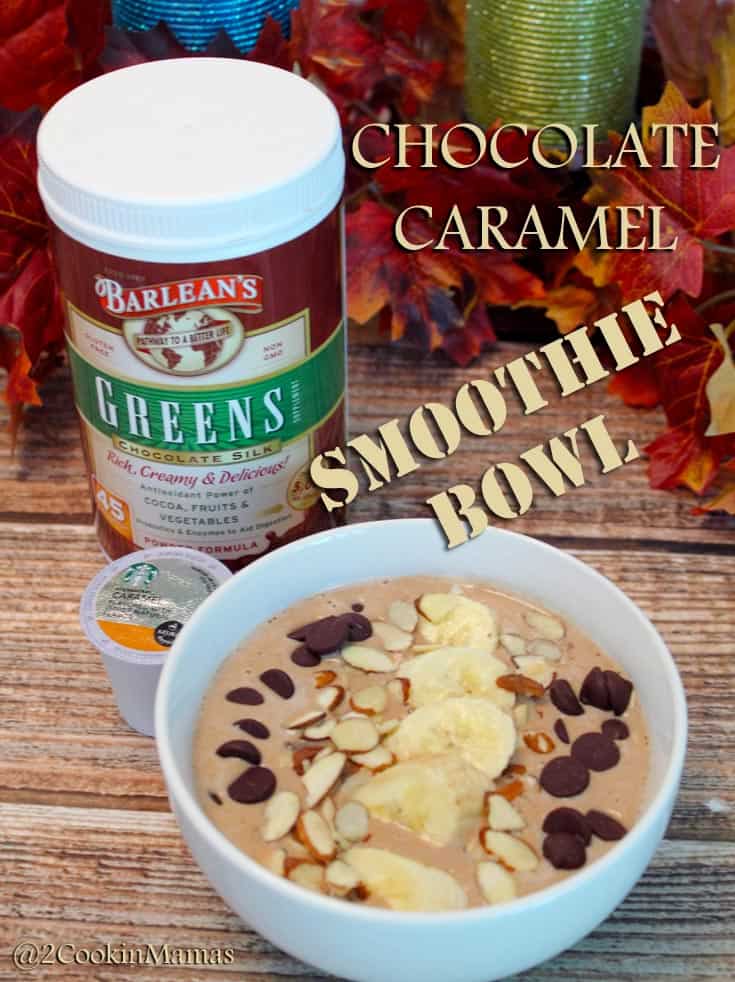 While participating in Choctoberfest I received a sample of Barlean's Chocolate Silk Greens, a high quality nutritional supplement, and ever since then I've been incorporating their products into many of my favorite recipes to up the health quotient in my diet. This one turned out so fantastic that I just had to share it with you. And, by the way, I am not getting compensated to review this product, I just like it that much!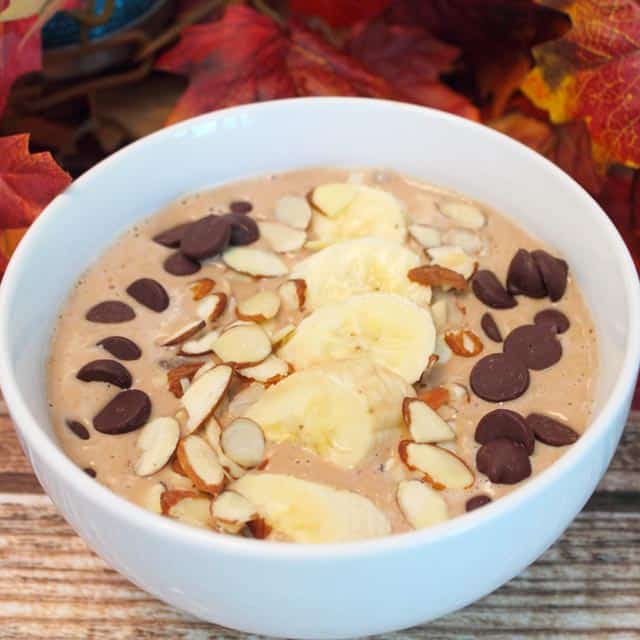 Barlean's Greens powder contains over 50 super foods from natural greens, fruits and vegetables, providing powerful antioxidants as well as fiber, probiotics and enzymes. Nutritionally it is designed to support a healthy digestive system, increase energy levels, enhance mental acuity and create a balanced body pH. It is also all natural, gluten free with no added sugars.
So I can't think of a better way to start your morning than with this healthy powder combined with this delicious smoothie.
Want more ideas for their Greens powder? Try it in milk, hot chocolate or even in baking when the recipe calls for cocoa (think Thin Mint Brownies). Your health will thank you for it!
Enjoy!
Chocolate Caramel Smoothie
Ingredients:
1 6-oz Vanilla Greek Yogurt
4-oz brew of Starbucks Caramel Flavored Coffee (frozen for smoothie bowl, fresh brewed for sipping through a straw)
2 Tablespoons natural almond butter
1 frozen banana, sliced
1 scoop Barlean's Chocolate Silk Greens
Garnishes: Almonds, sliced bananas, chocolate chips, granola
Directions:
Place everything in Ninja blender and blend until smooth. If you like Smoothie bowls, as I do, place freshly brewed coffee in freezer overnight or at least 2 hours prior to blending. If you like to sip your smoothie, simply add the coffee to the blender as is.
Garnish with your favorite toppings.
Makes 1 serving.
If you loved this smoothie you might want to check out more awesome smoothies.
DON'T MISS A RECIPE!