A cross between a cafe latte and a smoothie, this blueberry coffee protein smoothie is the best way to start your morning. Delicious flavors of blueberries, chocolate, and coffee make this a healthy, frozen breakfast treat.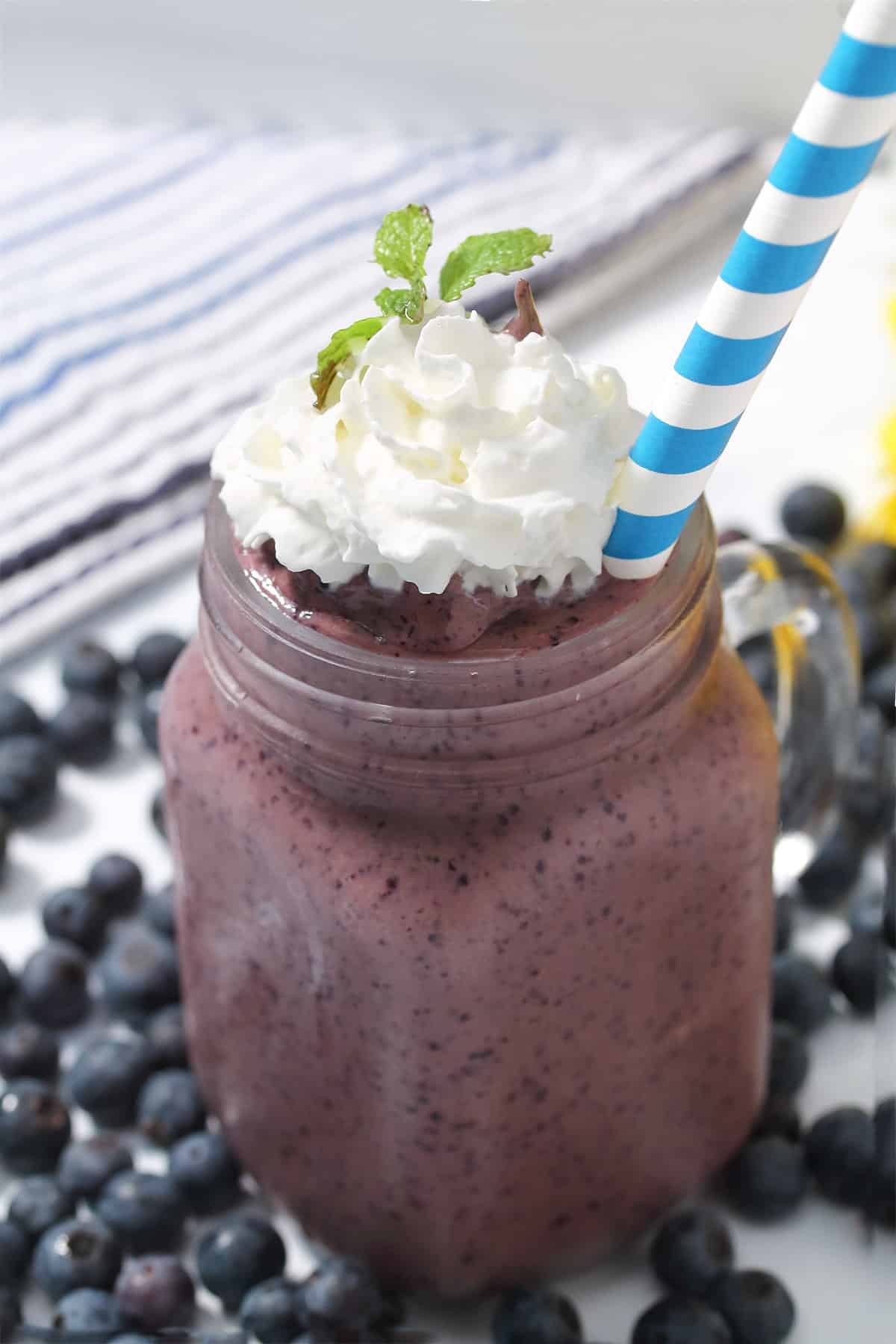 I love quick and easy breakfast smoothies but I also have to have my morning coffee. I mean, you really wouldn't want to see me before I take my first sip. Just kidding, maybe.
So I decided that it would make things much simpler if I just added the two together for a healthy fortifying breakfast. Plus it's great for those grab-n-go mornings!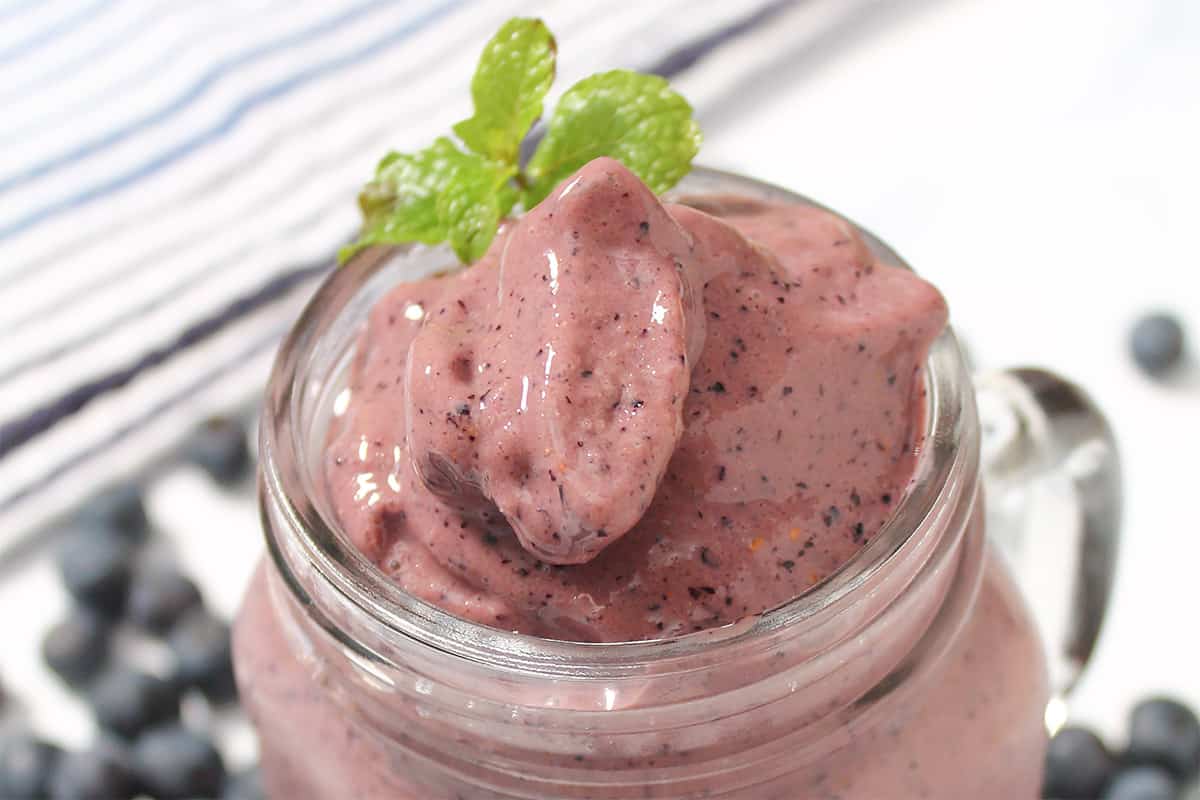 I have plenty of fruit smoothies in my repertoire, Strawberry Banana Smoothie, Mango Protein Smoothie, and even a Cherry Smoothie but, and I can't believe this, never one with blueberries! And they're my absolute favorite berry too!
So this coffee berry smoothie was born. And you won't believe how delicious coffee and blueberries are together. Add in chocolate and it puts this one at the top of my breakfast smoothie list.
Why You'll Love This Coffee Protein Smoothie
Quick & easy - breakfast can be on the table in 5 minutes!
Healthy - providing plenty of vitamins, proteins and anitoxidants as well as no refined sugar when using milk or half and half
2 in 1 - coffee and breakfast all in one is such a time saver!
Grab-n-go breakfast - Put your blueberry coffee shake in a capped container with a straw and sip it on the way to work, school or the gym
No bananas in sight! - The frozen blueberries and coffee ice cubes replace the need for frozen bananas for thickness.
Diary-free and gluten-free - options available.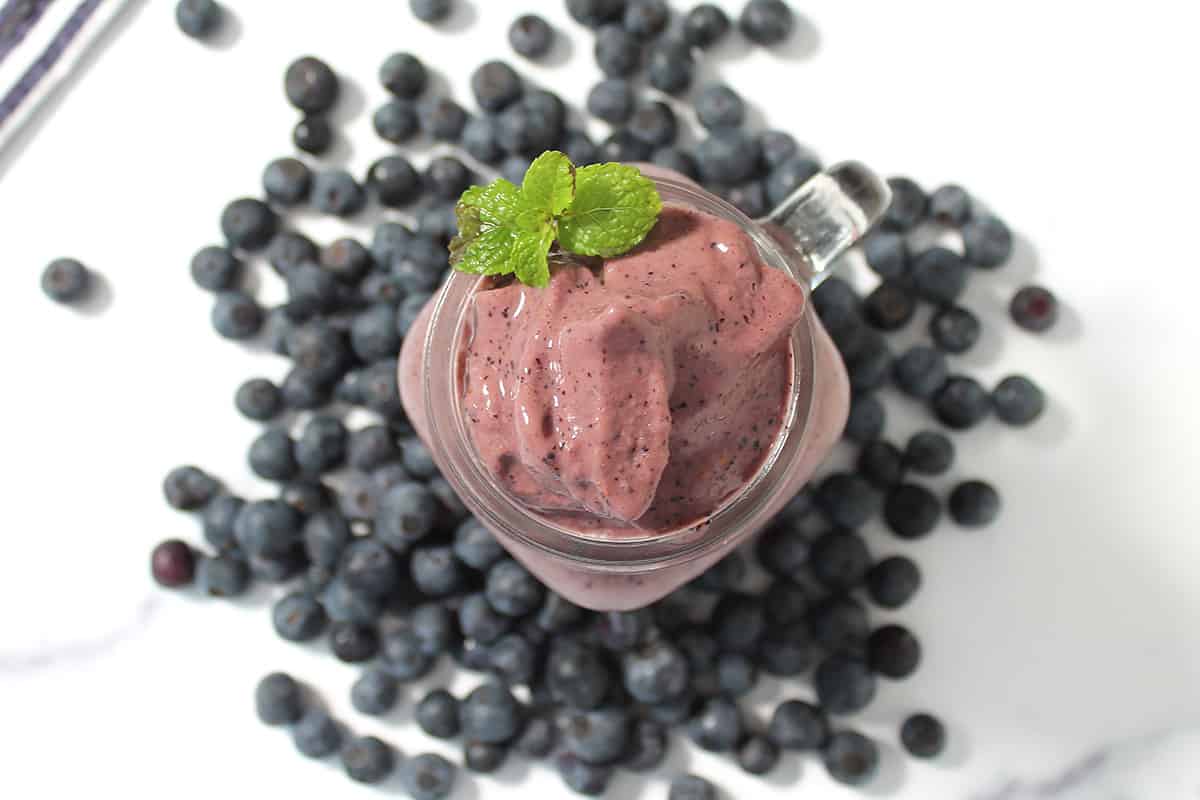 Ingredients
Greek yogurt - is high in protein, providing a positive impact on bone health, as well as calcium & potassium which help to lower blood pressure. It also contains probiotics to help keep your digestive tract healthy. You can also opt for a lactose-free or low-carb version.
Blueberries - are one of the most nutritionally rich fruits and make this blueberry yogurt smoothie even more healthy. They offer a high percentage of fiber, potassium, vitamin C, and phytonutrients, supporting heart health and aid in lowering cholesterol in the blood. Pretty powerful for a little berry!
Chocolate Protein Powder - made with a blend of dark cocoa powder and vanilla protein powder, has all the qualities of eating dark chocolate. Yep, how can you not like the fact that dark chocolate is good for you!
It's rich in antioxidants and said to improve heart health, cognitive functions, and lower blood pressure. Not to mention the added protein boost from the protein powder. That just makes this chocolate blueberry smoothie a winner in my book!
Coffee - why add coffee to this chocolate blueberry smoothie? Besides coffee providing a much-needed energy boost to get you moving in the morning it also contains riboflavin, niacin, magnesium, potassium, and antioxidants which may lower the risk of liver cancer, type 2 diabetes, and heart failure. And it tastes great with blueberries!
Coffee Creamer - gives this coffee protein smoothie its creaminess. It also adds a touch of vanilla flavor to the mix. Try different flavors such as caramel macchiato or white chocolate mocha to change it up. You can also use any type of milk for a dairy-free version or half and half.
Pro Tip: No need to buy vanilla and chocolate protein powders. Just make your own chocolate protein powder from the vanilla version. Combine 1 tablespoon of dark cocoa powder with 1-½ tablespoons of vanilla protein powder and mix well.
How to Make a Coffee Protein Smoothie
Collect the 5 simple ingredients, coffee, creamer, yogurt, protein powder and blueberries, to make this chocolate protein smoothie.
Place blueberries, creamer and coffee ice cubes into blender carafe.
Add yogurt and chocolate protein powder.
Blend until smooth.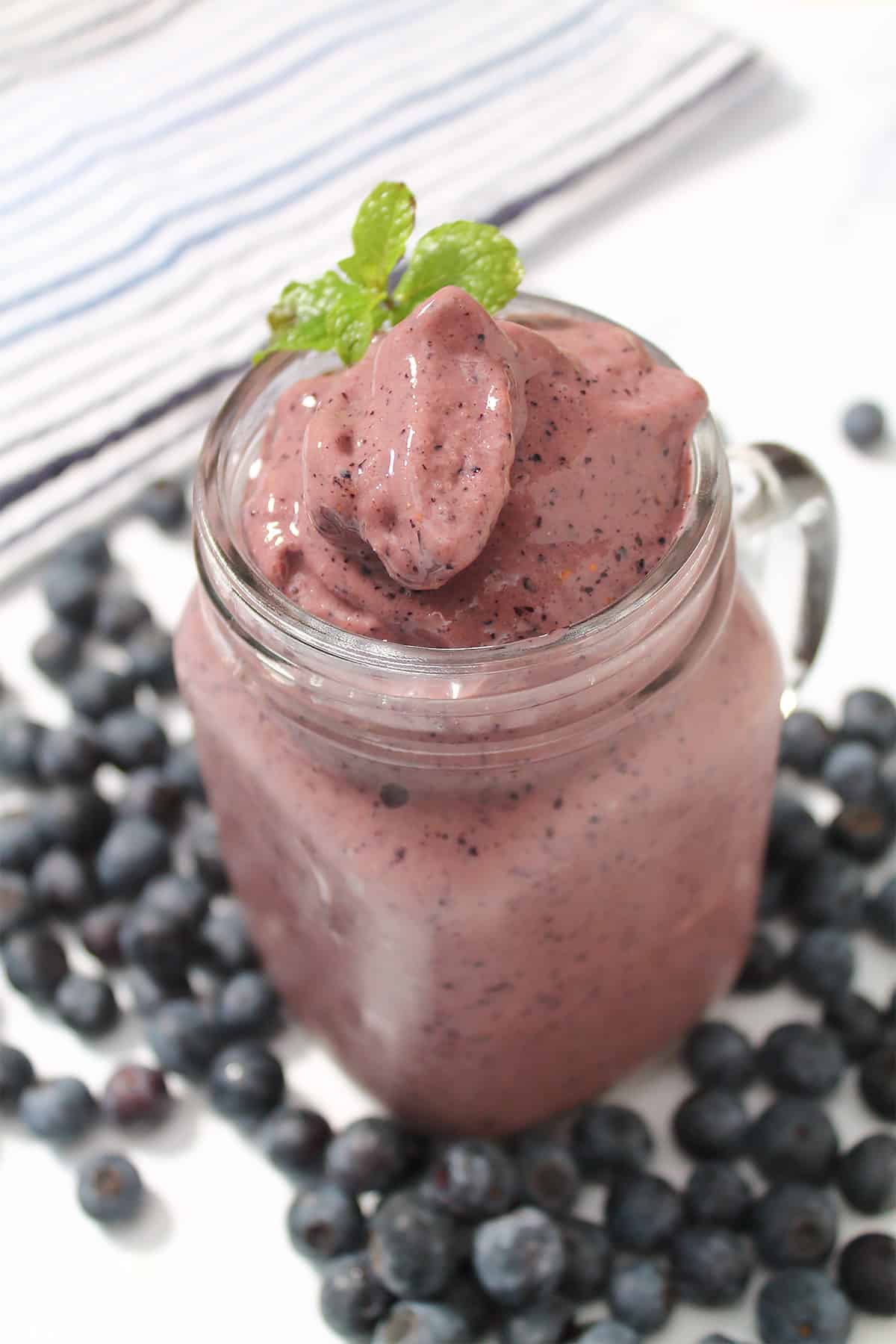 Pour into mason jar and garnish with a sprig of mint.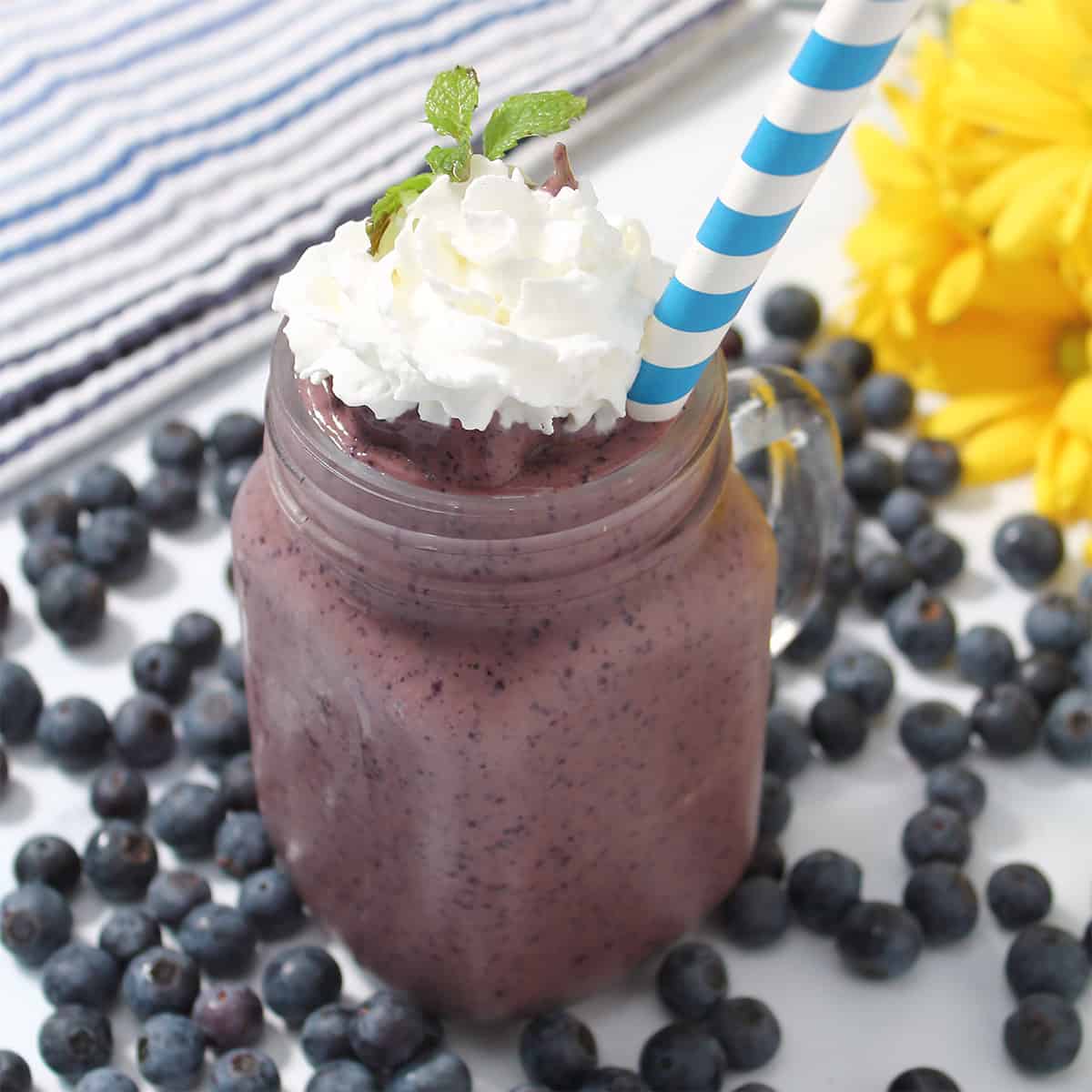 Of course, if you want to be a tad indulgent, just add some whipped cream to the top, a sprinkle of chocolate chips, or a few chocolate-covered espresso beans! 🙂 It's all good!
This is one powerful coffee breakfast smoothie or, as I like to call it, my blueberry blast smoothie. It will give you more energy than you know what to do with as well as a good caffeine boost for your morning wake-up call. I'd say it's exactly what we all need in the morning! Enjoy!
More Smoothie Recipes
Chocolate Almond Butter Smoothie is so good you'll think you're having dessert for breakfast! Quick, easy and full of good-for-you ingredients!
Coffee Lovers Smoothie is perfect for any and all coffee lovers. It's fast, it's delicious and it's healthy! Supplying your dose of coffee along with calcium, vitamins, and plenty of fiber.
Cold Brew Coffee Banana Smoothie from Babaganosh is a delicious and nutritious breakfast combining cold brew coffee with a smoothie all in one convenient drink.
Chocolate Caramel Smoothie Bowl is a rich chocolaty combination of yogurt, almond butter, bananas, caramel coffee, and a healthy serving of greens.
Find lots of healthy smoothie recipes here on 2CM!
LOVE QUICK & EASY RECIPES? FOLLOW ME ON INSTAGRAM, FACEBOOK, & PINTEREST FOR ALL THE LATEST RECIPE INSPIRATION! PLUS JOIN MY EMAIL LIST AND RECEIVE A FREE E-BOOK.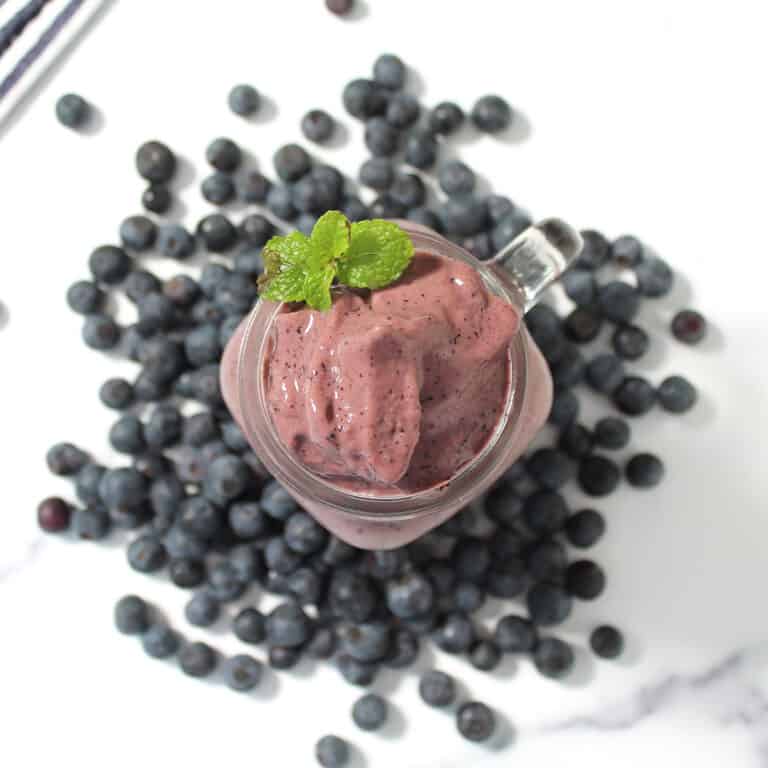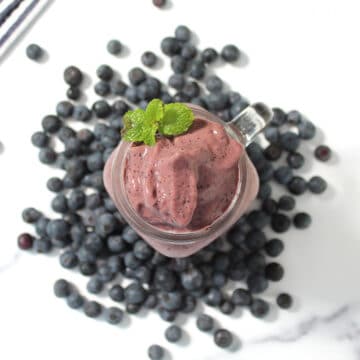 Blueberry Coffee Protein Smoothie
A cross between a cafe latte and a smoothie, this smoothie is the best way to start your morning. Delicious flavors of blueberries, chocolate and coffee make this a deliciously healthy breakfast treat.
Print
Rate
Ingredients
½

cup

vanilla coffee creamer, milk

or half n' half with ½ teaspoon vanilla extract

1

container

vanilla-flavored Greek yogurt

(about 5-½-oz.)

1

scoop

chocolate protein powder

(2 Tablespoons)

6

frozen coffee ice cubes

1

cup

frozen blueberries
Instructions
Put all ingredients in blender and blend until smooth.

Pour into a large glass, slip in a straw & you're ready to go.

Optionally, you can top with whipped cream & pop on a few extra blueberries.
Notes
How to make Coffee Ice Cubes - make a strong cup of coffee and pour into an ice cube tray. Freeze until solid.
How to make Chocolate Protein Powder - combine 1 tablespoon unsweetened dark cocoa powder with 1-½ tablespoons vanilla protein powder
Dairy-free - use almond, oat or cashew milk or creamer in place of dairy creamer and a non-dairy yogurt alternative
Gluten-free - make sure that the brand of protein powder and the coffee creamer used is labeled gluten-free
Nutrition
Calories:
403
kcal
|
Carbohydrates:
51
g
|
Protein:
36
g
|
Fat:
15
g
|
Saturated Fat:
1
g
|
Polyunsaturated Fat:
1
g
|
Monounsaturated Fat:
1
g
|
Trans Fat:
1
g
|
Cholesterol:
44
mg
|
Sodium:
309
mg
|
Potassium:
641
mg
|
Fiber:
8
g
|
Sugar:
37
g
|
Vitamin A:
87
IU
|
Vitamin C:
14
mg
|
Calcium:
601
mg
|
Iron:
1
mg
This post has been updated with more information and new photos. It was first published on July 16, 2017.