You'll never guess what the surprise ingredient is that makes this One Bowl Surprise Cake so moist & delicious. And when you taste this spice cake topped with a crunchy toasted coconut topping, you just might want to skip dinner and go right to dessert. Just sayin'!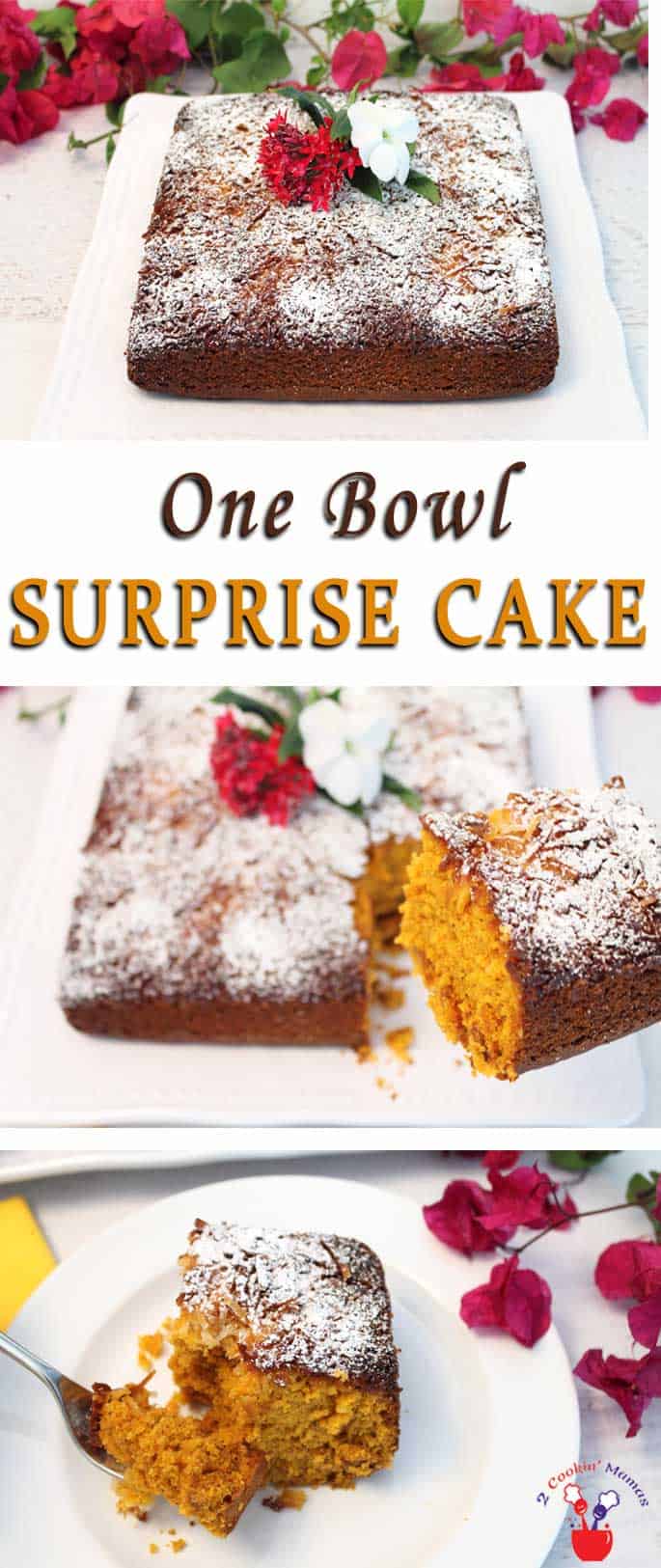 This recipe today has got to be at least 40 years old as I can remember writing it out when I was a young teen. In fact, it's still on an old index card that I keep in my recipe box. I know, I know, yes I still have one of those!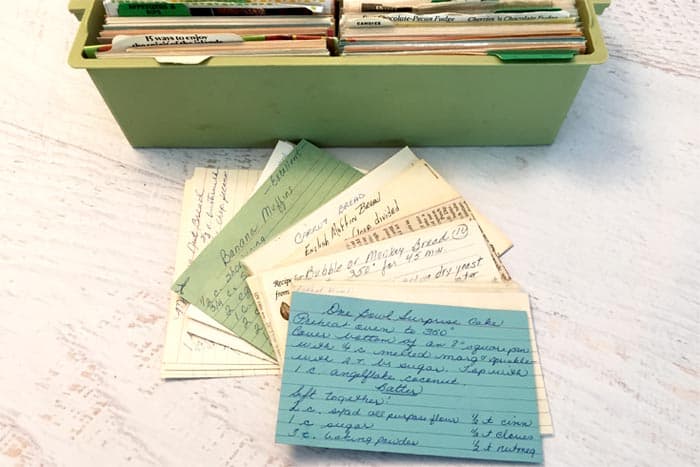 I just can't make myself get rid of them even though most of my recipes now reside on my computer. But I love looking back at all the old recipes especially the ones that my Mom had handwritten for me. It always makes me smile when I think of my beautiful, sweet Mom and how she loved to bake anything & everything.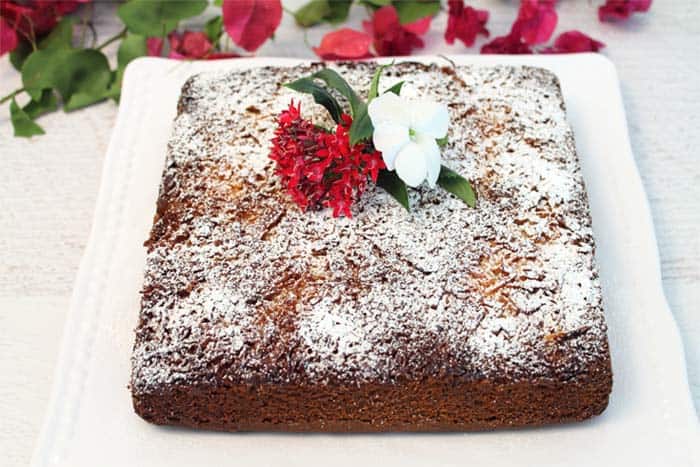 One of these days I am going to have to work my way through all the recipe cards and share them here. There are some delicious recipes that you just don't see any more. I remember when I first made this cake and thinking it was going to turn out awful with a can of our surprise ingredient in it. Did you peak at the next picture? Then you know –  it's a can of tomato soup! Who knew that could make such a moist and delicious spice cake!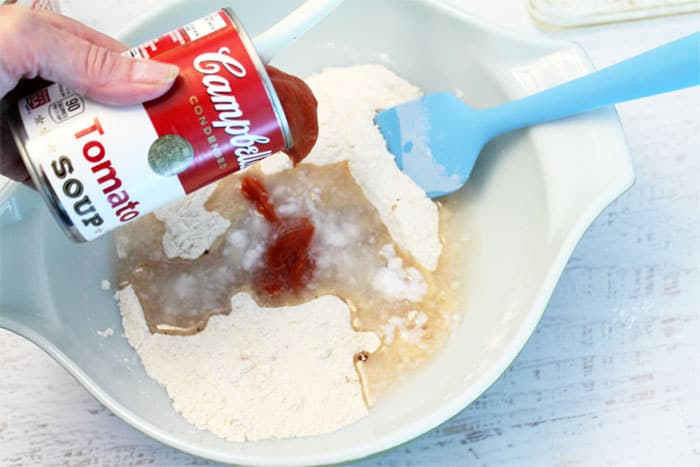 I love these easy recipes that don't dirty up half the kitchen bowls and utensils. This one uses just one bowl and the baking dish. Now how great is that?! Start by placing melted butter into the baking dish. If you are using glass you can just place the baking dish in your microwave for 30 seconds. Sprinkle brown sugar on top of butter then the coconut.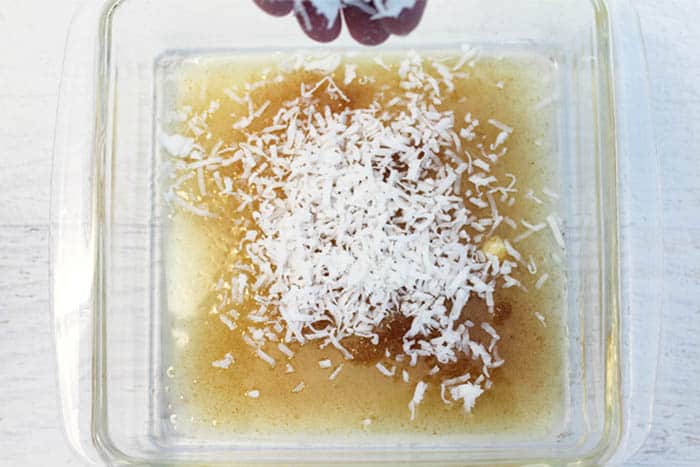 Next place dry ingredients in a large mixing bowl and add soup. Beat for 2 minutes, add eggs, and continue beating for 2 more minutes. Pour on top of coconut and bake.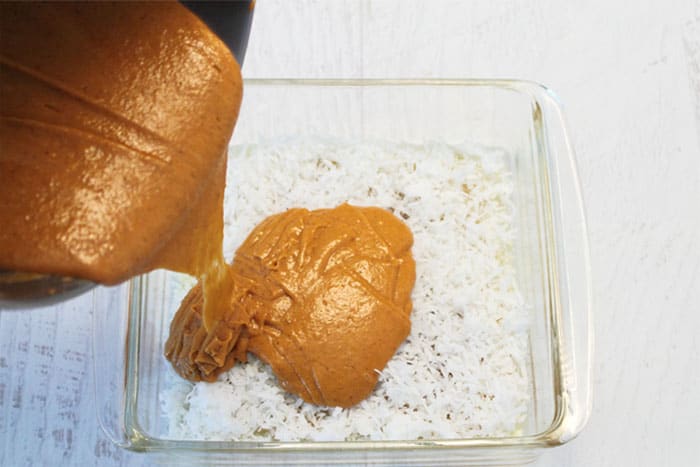 That's it! Now once it has cooled for 5 minutes, invert pan and leave it on cake for several minutes.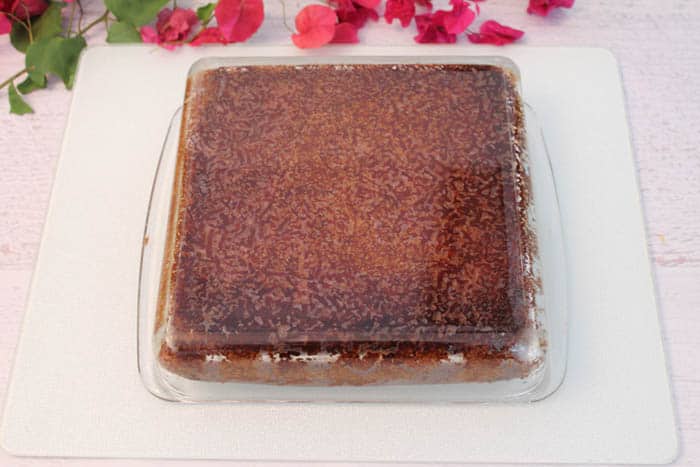 Remove and sprinkle with confectioner's sugar and flowers if you have any. Serve warm or room temp, if you can wait that long.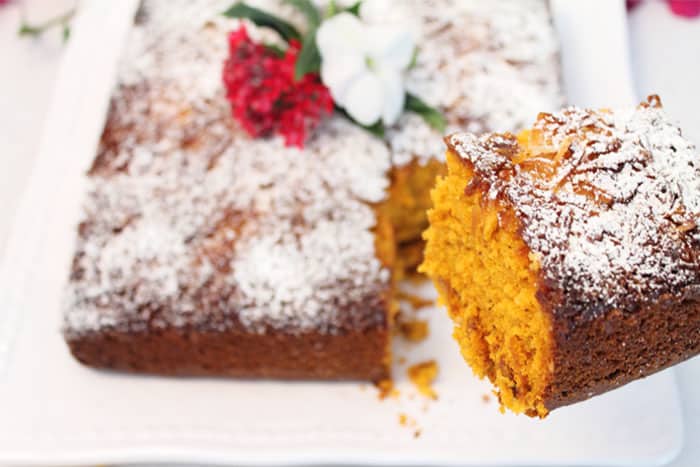 This makes a quick go-to dessert or afternoon snack. You might even be tempted to have a slice for breakfast (now I can't imagine why I thought of that!)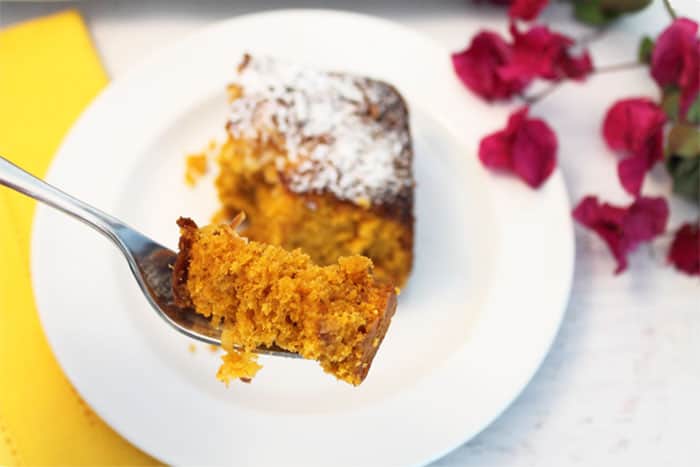 Enjoy!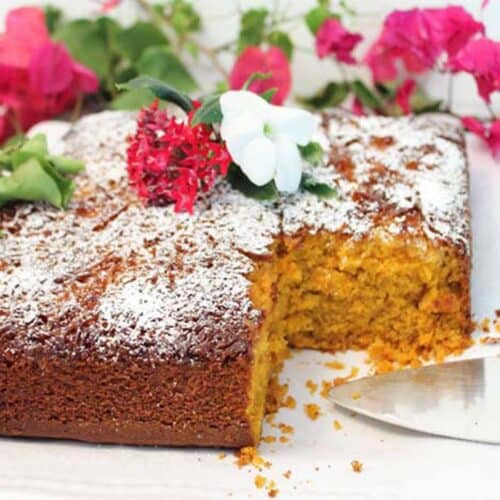 ONE BOWL SURPRISE CAKE
This easy one bowl surprise cake is a moist & delicious spice cake with a crunchy toasted coconut topping. You'll never guess the surprise ingredient.
Ingredients
Toasted Coconut Topping
1/2

cup

butter,

melted

4

Tablespoons

brown sugar

2

cups

flaked coconut
Cake
2

cups

all-purpose flour

1

cup

sugar

1

Tablespoon

baking powder

1/2

teaspoon

cinnamon

1/2

teaspoon

nutmeg

1/4

teaspoon

ground cloves

(optional)

1/2

cup

shortening

1

can condensed tomato soup

2

eggs
Directions
Preheat oven to 350 degrees.

Melted butter and pour into bottom of an 8x8-inch baking dish. Sprinkle with brown sugar then top with coconut.

In a large bowl, combine all ingredients except eggs. Beat with mixer for 2 minutes.

Add eggs to batter and continue beating for another 2 minutes.

Pour over top of coconut topping.

Bake in oven for 45 minutes or until toothpick inserted in center comes out clean.

Let stand on wire rack for 5 minutes then invert onto serving plate. Leave baking dish in place for a few minutes.

Lift off baking dish and allow to cool (or eat it warm if you can't wait!). Sprinkle with confectioner's sugar prior to serving.
DON'T MISS A RECIPE!