Don't let the name confuse you - tomato soup cake is perfectly moist with a balance of sweet and spicy flavors that makes you savor every single bite. And when you taste this spice cake topped with a crunchy toasted coconut topping, you just might want to skip dinner and go right to dessert. Just sayin'!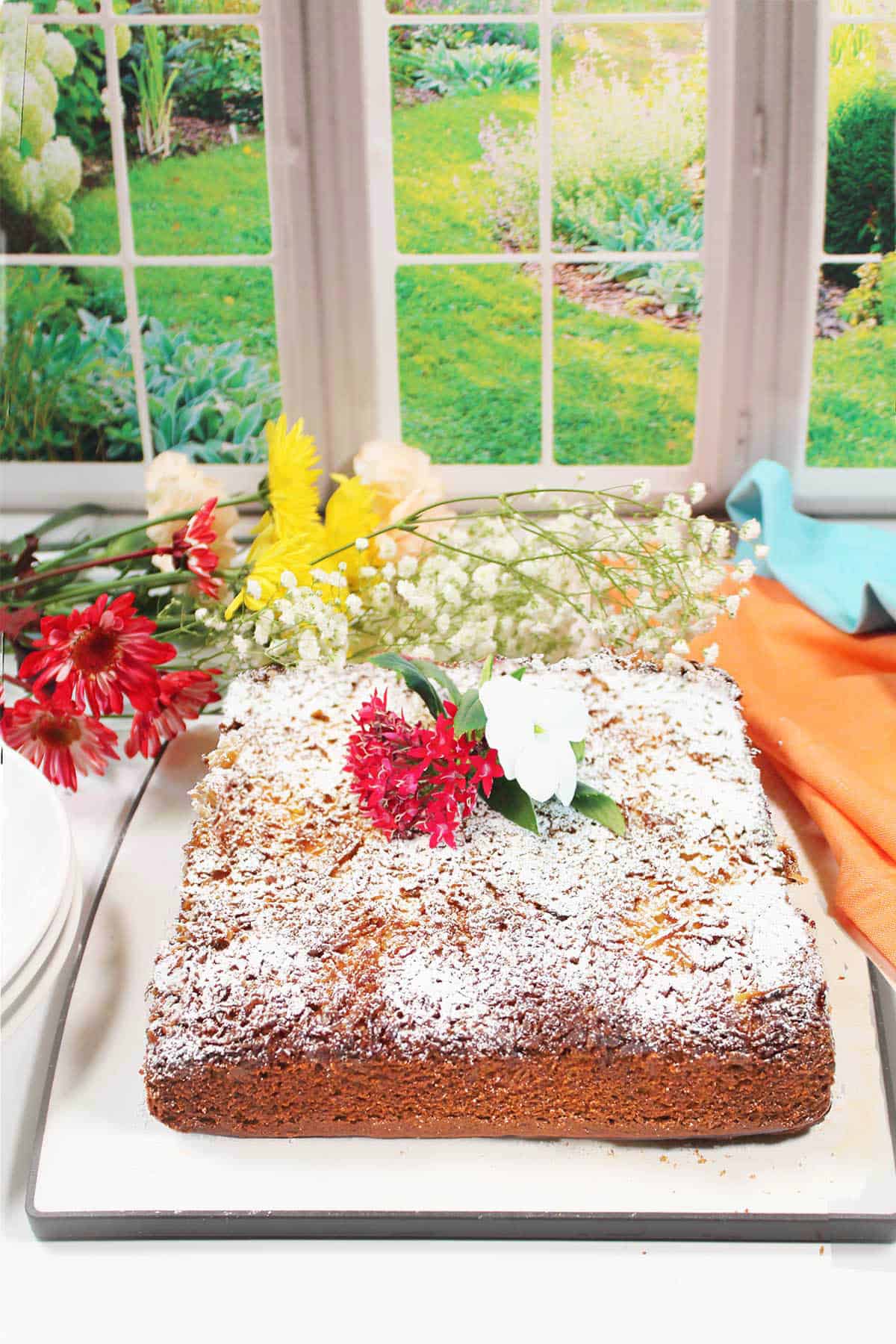 FYI - This post contains affiliate links. As an Amazon Associate, I earn from qualifying purchases. All links are products I use when making my recipes.
Vintage Cake Recipe
This vintage tomato soup cake recipe has been a family favorite for at least 40 years. We called it "One Bowl Surprise Cake". I can remember writing it out when I was a young teen. In fact, it's still on an old index card that I keep in my recipe box. I know, I know, yes I still have one of those!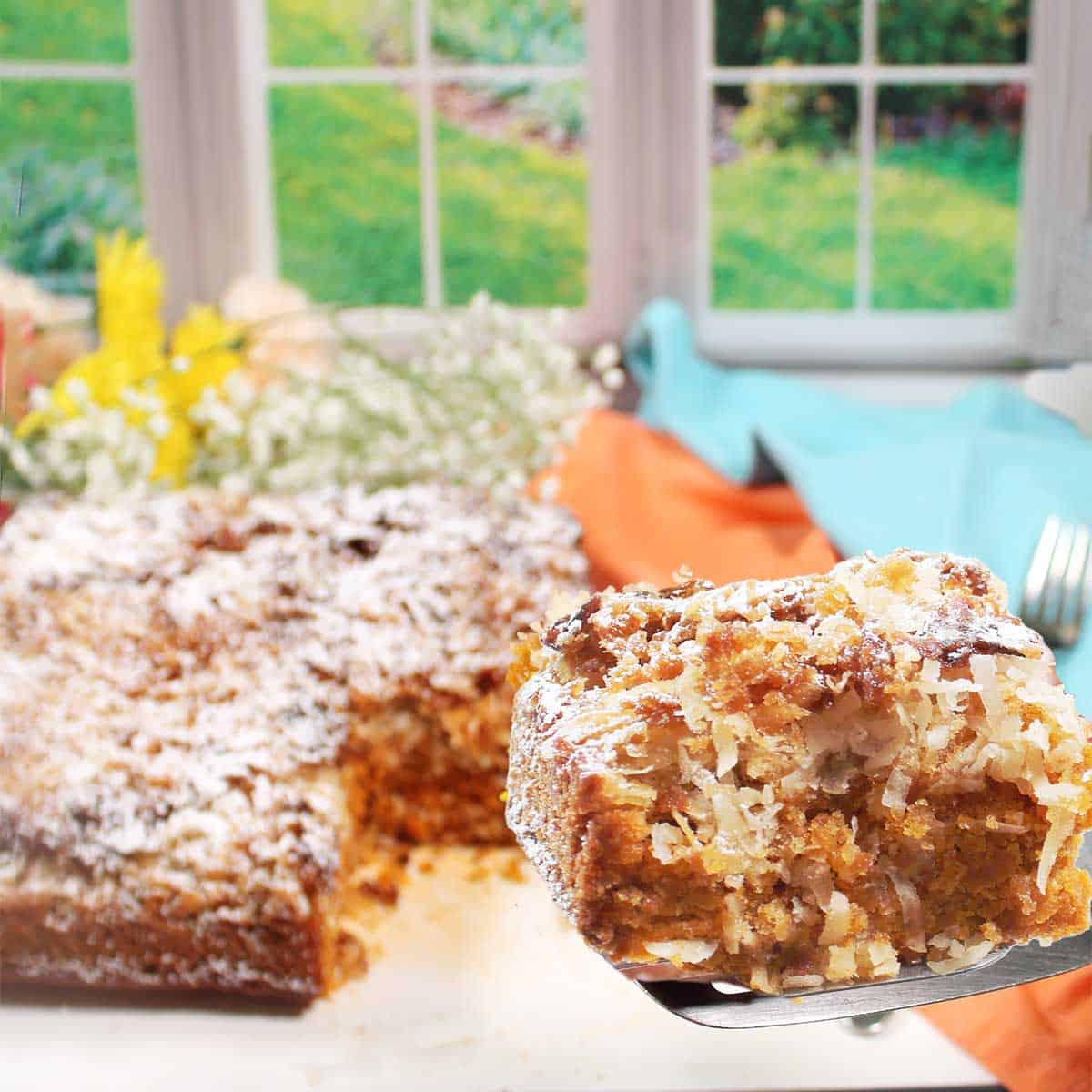 I just love easy recipes that don't dirty up half the kitchen bowls and utensils. This one uses just one bowl and the baking dish. How great is that?!
The first time I made this cake, I remember thinking, this is going to turn out awful! Especially with a can of tomato soup in it. Who knew that this pantry staple could make such an out-of-this-world, moist, and delicious spice cake!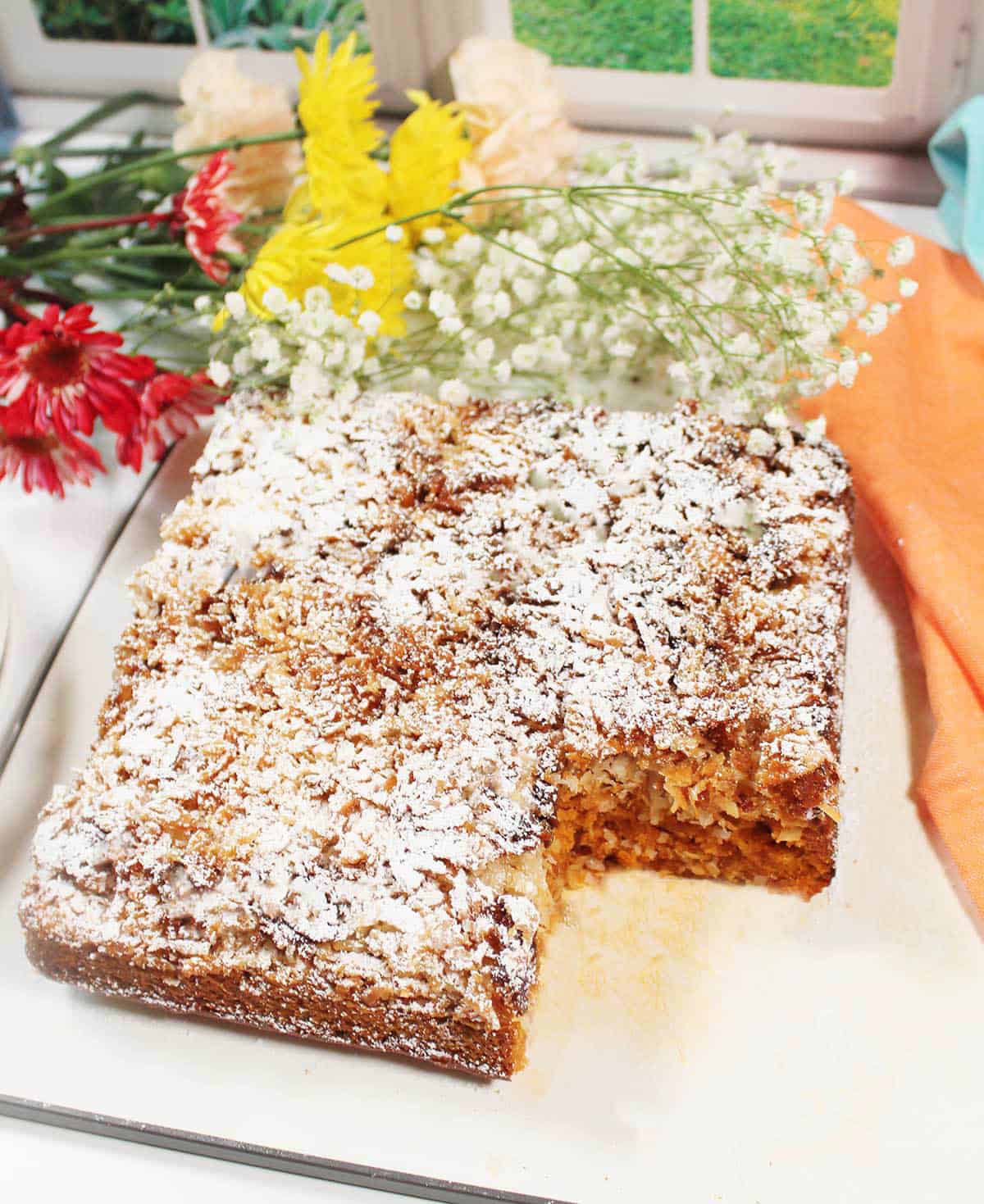 Tomato Soup Cake History
Believe it or not, tomato soup cake has been around since the early 1900s! It was first popularized in the United States during the Great Depression when resources were scarce and people had to get creative with the ingredients they had on hand. A version with no eggs became popular during wartime rationing during World War II.
The recipe quickly gained popularity in the 1950s, especially among housewives who were looking for a cheap and easy way to make a delicious cake. It was the first recipe to be on the back of a soup can.
The original recipe for tomato soup cake included flour, sugar, baking powder, baking soda, cinnamon, cloves, nutmeg, raisins, and of course, tomato soup. The tomato soup added moisture and a subtle sweetness to the cake, making it a unique and flavorful dessert.
Over the years, different variations of the recipe emerged, with some adding different spices or ingredients like nuts or chocolate chips. The recipe was also updated to utilize box cake mixes for convenience. Today, tomato soup cake remains a beloved classic in many households and bakeries.
What Does Tomato Soup Cake Taste Like?
No, this cake doesn't taste like tomato soup. In fact, all the tomato soup does for the cake is add a deeper flavor profile. All the spices and sugar mix with the tomato soup to create a cake that tastes more like a pumpkin cake than anything else.
In fact, we challenge you to try and see if you can taste the tomatoes at all! We bet you can't.
Why You'll Love This Tomato Soup Cake Recipe
This robust spice cake with tomato soup is moist and tender. Every bite melts in your mouth. As it bakes, your kitchen will fill with smells of cinnamon and nutmeg - it's better than any scented candle.
Plus, the cake is made in one bowl so there is less cleanup (I'm all about that!).
Instead of frosting, it has a simple coconut topping that bakes in the bottom of the pan with the cake. This makes it even easier and quicker - you don't have the time and effort involved with making frosting.
It makes a quick go-to dessert or afternoon snack and you might even be tempted to have a slice for breakfast (now I can't imagine why I thought of that!).
Ingredients for Tomato Soup Spice Cake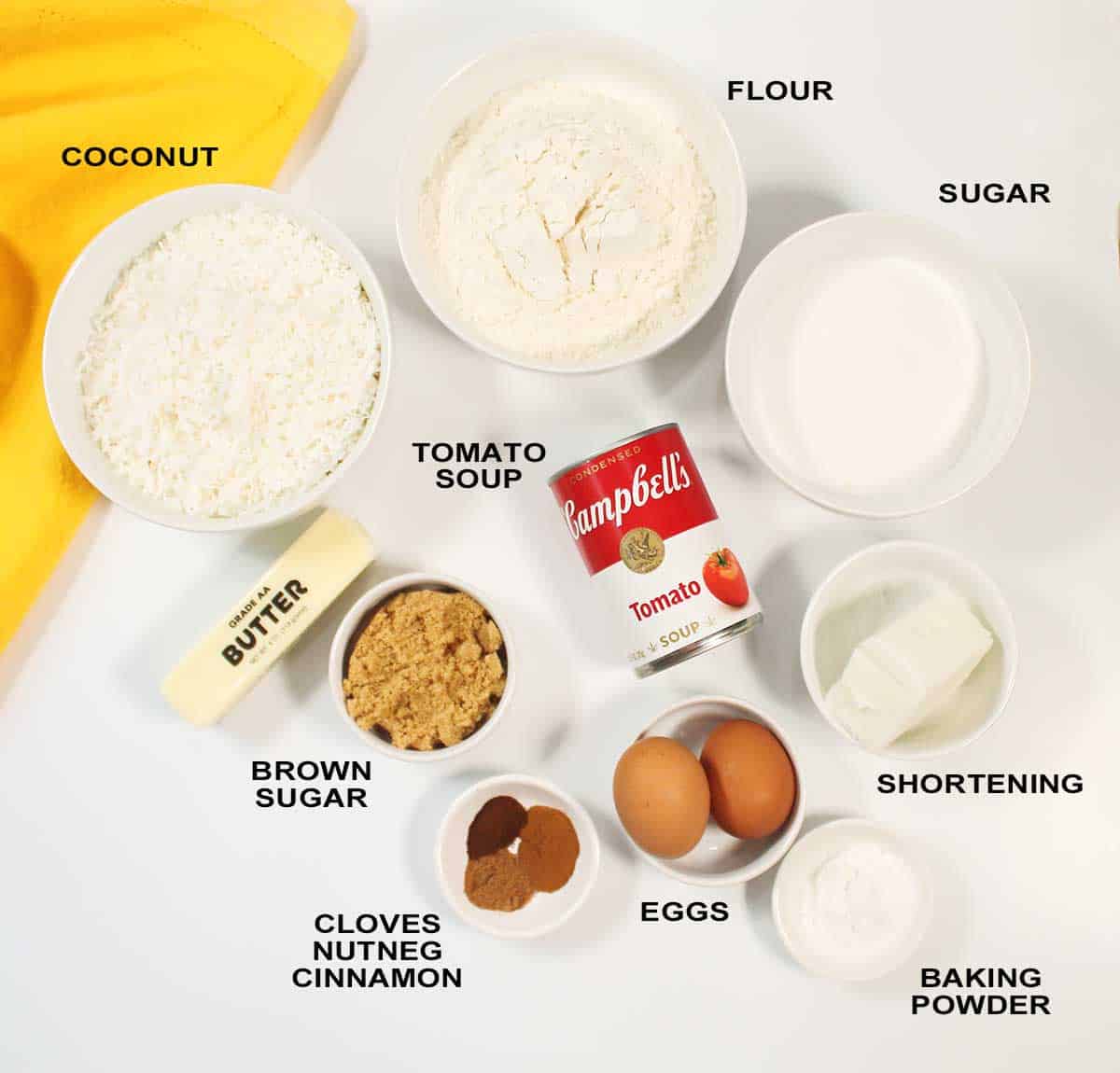 For the coconut topping:
Butter
Brown Sugar
Coconut Flakes
For the cake:
Canned condensed tomato soup
Shortening
Eggs
All-purpose flour
Sugar
Baking powder
Ground cinnamon
Ground nutmeg
Ground cloves (optional)
How to Make Tomato Soup Cake from Scratch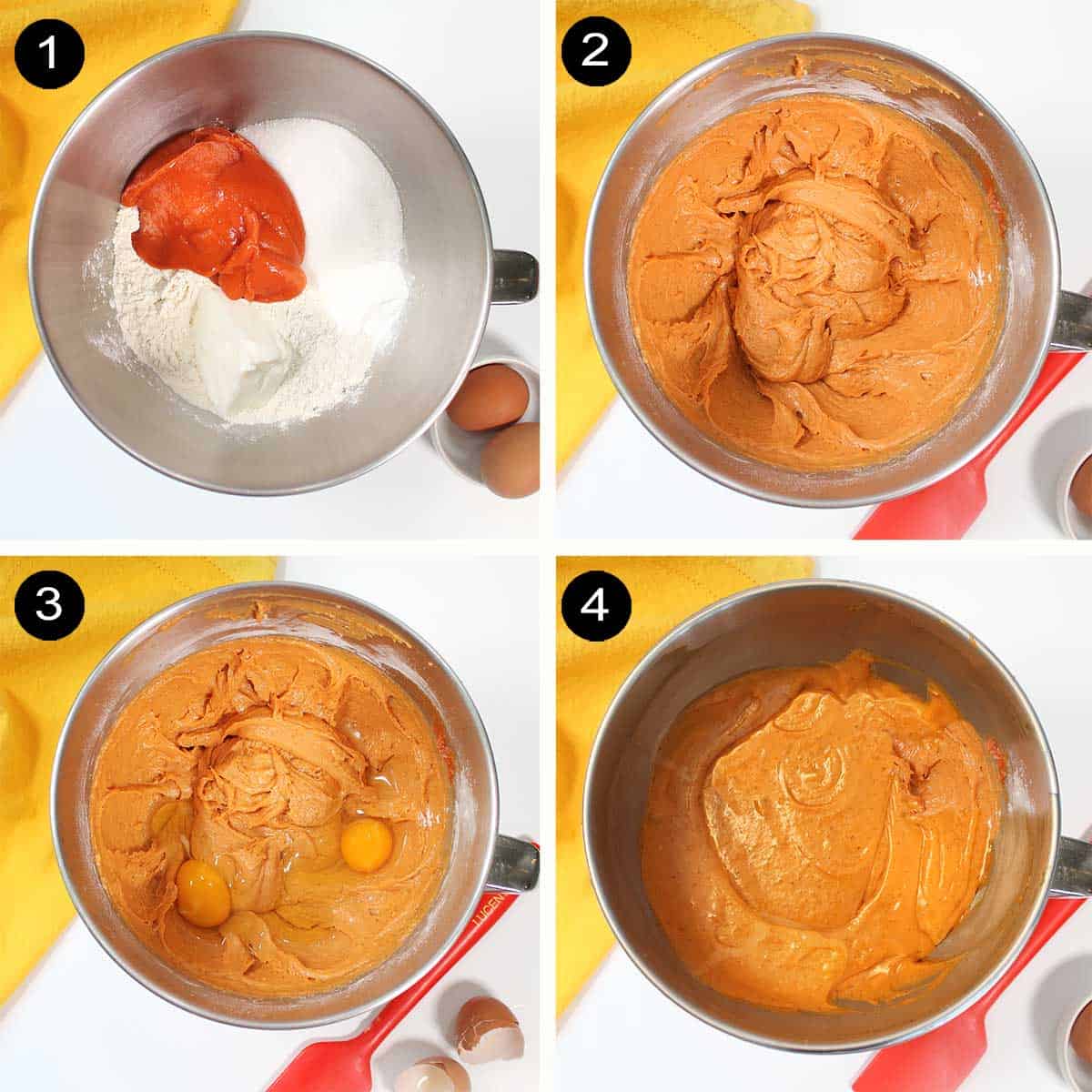 Place the flour, sugar, baking powder, spices, shortening, and tomato soup in a large mixing bowl.
Beat with an electric mixer for 2 minutes.
Add eggs, and continue beating for 2 more minutes.
The batter will be smooth and slightly thick.
Place butter in a microwave-safe dish and microwave on high in 30-second increments until melted. Pour into your baking dish. If you are using glass, you can just place the baking dish in your microwave for 30 seconds. 
Sprinkle brown sugar on top in an even layer.
Then sprinkle coconut over the sugar.
Pour the batter over the coconut.
Spread the batter evenly then bake at 350°F for 45 minutes.
Once baked, let cool in the pan on a wire rack for 5 minutes.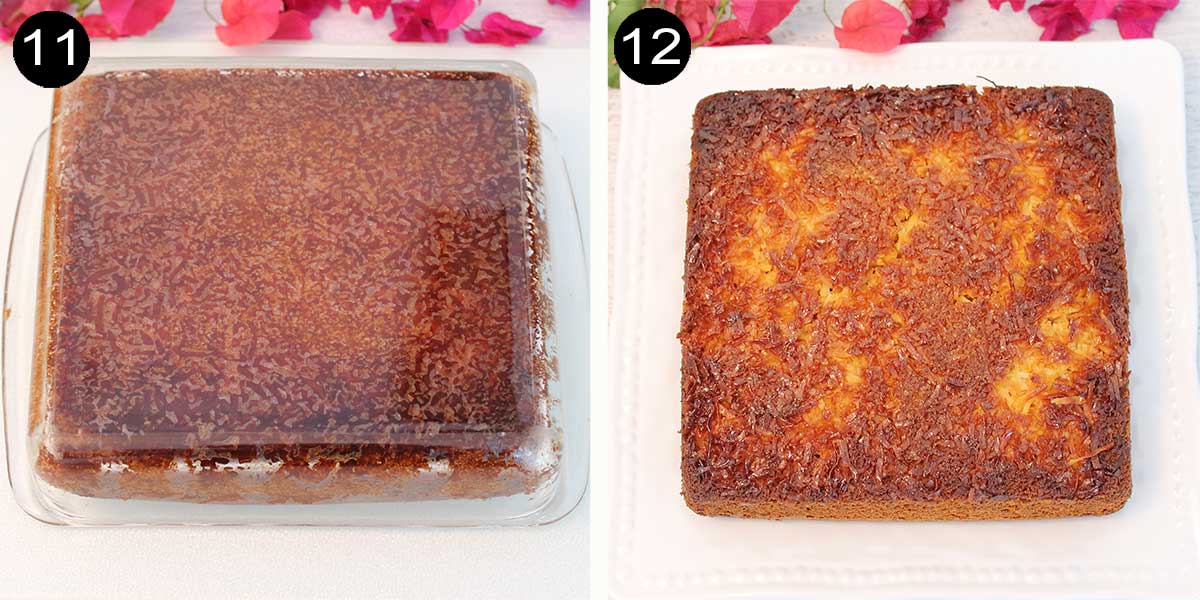 Invert the partially cooled cake onto a platter and leave the pan on top of the cake for several minutes.
Remove pan and let cool.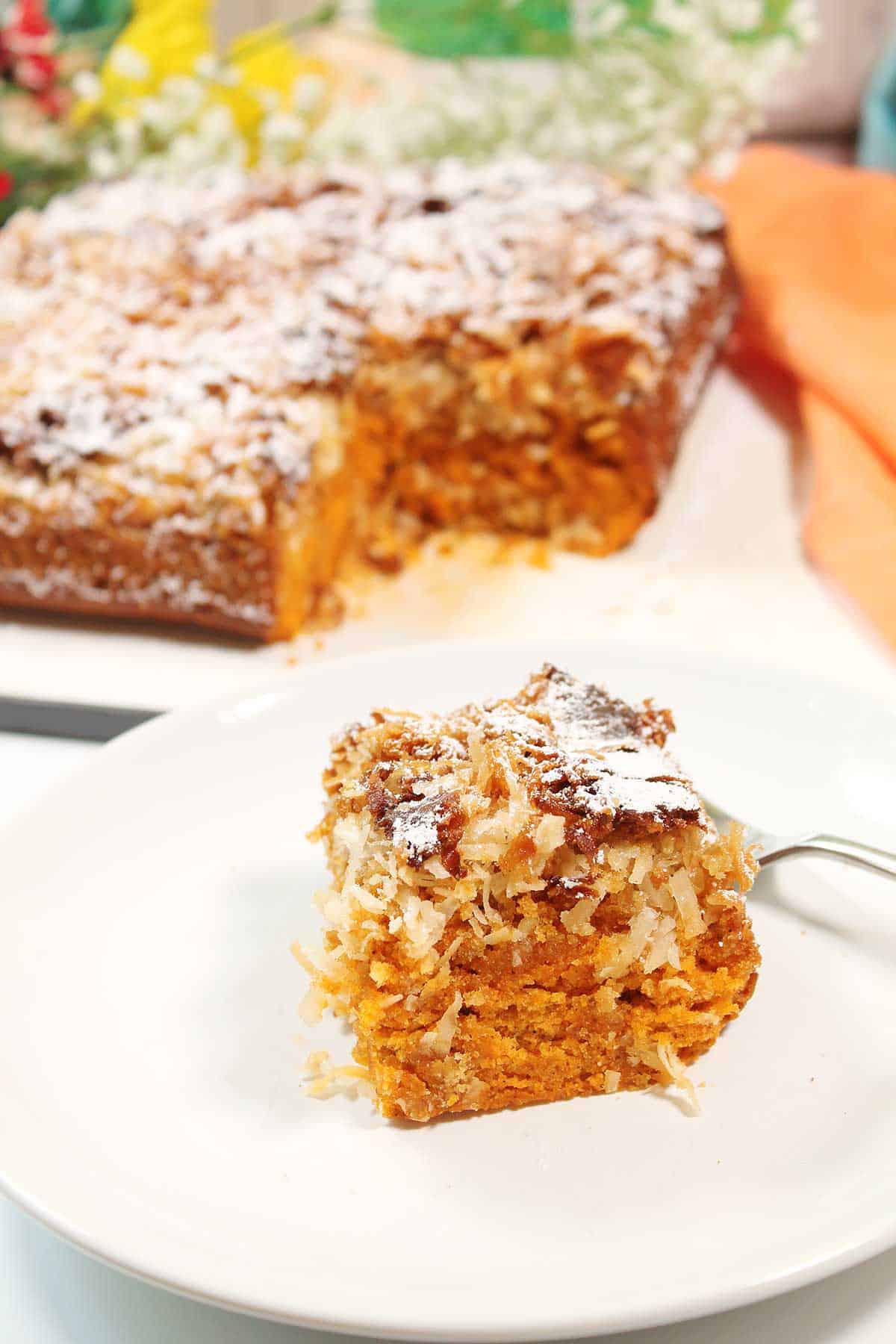 When the cake has cooled, sprinkle it with powdered sugar. For a special touch, top it with edible flowers. Serve warm or at room temperature, if you can wait that long. Enjoy!
Recipe Tips
Do not dilute the tomato soup. Use it straight from the can without adding water.
Be sure to let the cake cool in the pan for 5 minutes before inverting it onto a serving plate.
Once inverted onto the serving plate, leave the pan on top of the cake for a few minutes before removing it.
Recipe Variations
You can easily add some ingredients to change up the flavor to your liking:
Extra Spice - Add ½ teaspoon of ground ginger or ¼ teaspoon of allspice.
Fruit - Add ½ cup of raisins, dried fruit, or candied fruit.
Nuts - Add ½ cup of chopped almonds, pecans, or walnuts.
Veggies - Add ½ cup of shredded carrots or zucchini.
Frosting - Make the cake without the coconut topping and frost the cake with buttercream, caramel, or cream cheese frosting.
You can bake the cake in a different pan or make muffins:
Bundt Cake - Double the cake ingredients. Omit the coconut topping. Bake the cake for 1 hour or until done.
Loaf Cake - Reduce the ingredients for the topping in half. Use a 9x5-inch loaf pan and bake the cake at 325°F for 55 minutes or until done.
Muffins - Use a muffin pan and bake for about 20 minutes or until done.
The cake is done when a toothpick or cake tester inserted in the center comes out clean.
How to Store And Freeze
Cover the cake with plastic wrap and store it on the counter at room temperature for up to 4 days. If you opt to frost the cake, you'll need to refrigerate it.
To freeze, let the cake cool completely and wrap it in a layer of plastic wrap and another layer of aluminum foil or place the plastic-wrapped cake in a plastic freezer bag. Freeze it for up to 3 months. Thaw it at room temperature unless it is frosted then thaw it in the fridge overnight.
More Quick & Easy Desserts
Fruit Cocktail Cake - A sweet cake with yep, you guessed it, fruit cocktail in it, with a crunchy topping of pecans and coconut that takes only 10 minutes to whip up.
Louisiana Stranger Cake - Weird name but easy, delicious cake. Just a boxed cake mix, frosting, 3 other ingredients & bake.
Milky Way Bundt Cake - is like a candy bar in cake form! A deliciously moist, buttery cake with swirls of caramel and milky way candy bars then covered with a chocolate glaze.
There's more! Find the best easy cake recipes right here on 2CM!
LOVE QUICK & EASY RECIPES? FOLLOW ME ON INSTAGRAM, FACEBOOK, & PINTEREST FOR ALL THE LATEST RECIPE INSPIRATION! PLUS JOIN MY EMAIL LIST AND RECEIVE A FREE E-BOOK.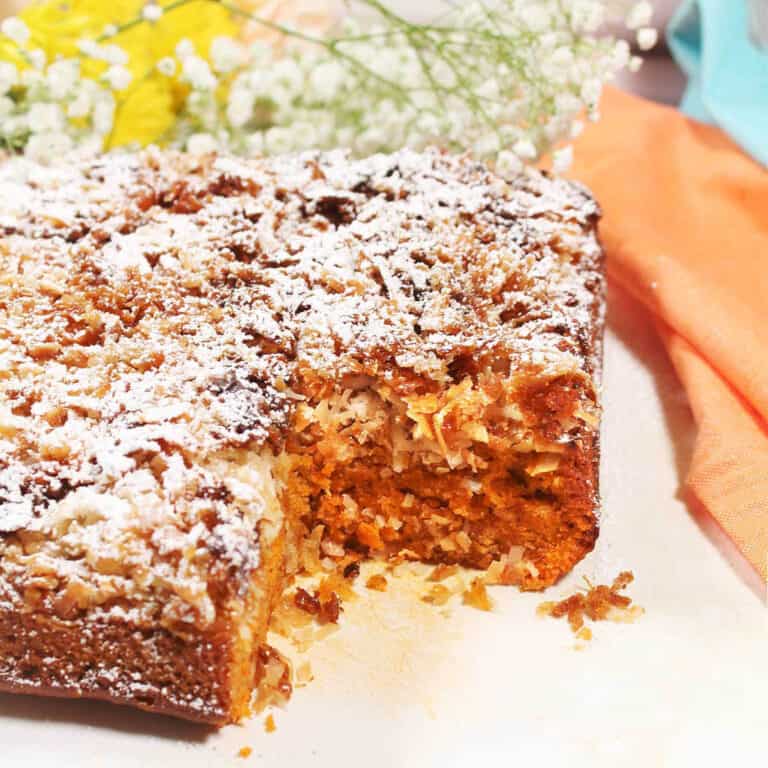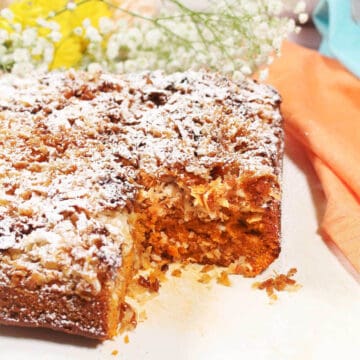 Tomato Soup Cake
This tomato soup cake is a moist & delicious spice cake with a crunchy toasted coconut topping. Top it with powdered sugar for the perfect easy snack or dessert.
Print
Rate
Ingredients
Toasted Coconut Topping
½

cup

butter,

melted

4

Tablespoons

brown sugar

2

cups

flaked coconut
Cake
2

cups

all-purpose flour

1

cup

sugar

1

Tablespoon

baking powder

½

teaspoon

cinnamon

½

teaspoon

nutmeg

¼

teaspoon

ground cloves

(optional)

½

cup

shortening

1

can

condensed tomato soup

2

eggs

Garnish: powdered sugar
Instructions
Preheat oven to 350 degrees F.

Melt butter in a microwave-safe dish in the microwave in 30-second increments. Pour into the bottom of an 8x8-inch baking dish. Sprinkle with brown sugar then top with coconut.

In a large bowl, combine all ingredients except eggs. Beat with mixer for 2 minutes.

Add eggs to batter and continue beating for another 2 minutes.

Pour over the top of the coconut and spread evenly.

Bake in the oven for 45 minutes or until a toothpick inserted in the center comes out clean.

Let stand on wire rack for 5 minutes then invert onto serving plate. Leave baking dish in place for a few minutes.

Lift off baking dish and allow to cool (or eat it warm if you can't wait!). Sprinkle with confectioner's sugar prior to serving.
Notes
STORE/FREEZE Store: Cover the cake with plastic wrap and store it on the counter at room temperature for up to 4 days.  Freeze: Wrap the cooled cake in plastic wrap and then aluminum foil and freeze for up to 3 months. Thaw it at room temperature unless it is frosted then thaw it in the fridge overnight.
Nutrition
Calories:
420
kcal
|
Carbohydrates:
44
g
|
Protein:
5
g
|
Fat:
26
g
|
Saturated Fat:
15
g
|
Polyunsaturated Fat:
3
g
|
Monounsaturated Fat:
6
g
|
Trans Fat:
1
g
|
Cholesterol:
48
mg
|
Sodium:
172
mg
|
Potassium:
357
mg
|
Fiber:
3
g
|
Sugar:
24
g
|
Vitamin A:
373
IU
|
Vitamin C:
3
mg
|
Calcium:
65
mg
|
Iron:
2
mg
This post has been updated with new photos and better directions. It was first published on April 12, 2017.