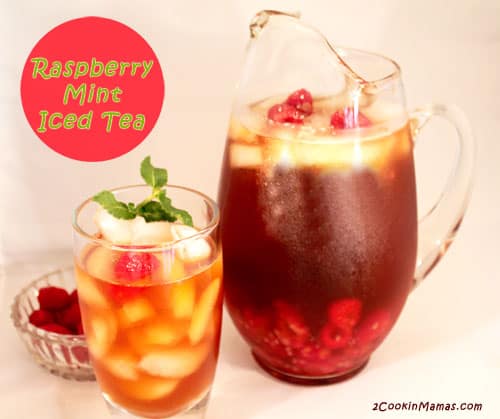 Summer time is almost here, well, it already is in Florida, and what is the best drink to have on a hot day? Iced Tea! And it's National Iced Tea Day today! What a coincidence! So I bring you this tastier and much healthier version of flavored iced tea than what you will find in the bottled version of flavored teas. The bottled versions have tons of sugar but when you make it yourself you can manage the amount of sugar you add. You can also use Stevia as a sugar replacement, just remember to start out with a little until you find the best proportion for you and your family.
When I make iced tea I usually use my Mr. Coffee Iced Tea Maker that I have had for years. And I have got to tell you a funny story about this tea maker. We enjoyed using ours so much that we gave my sister-in-law one for Christmas one year. She wasn't particularly thrilled about the present and put it aside for probably a year. One summer  she actually decided to it out and, to our big surprise, she became one of the strongest fans of the tea maker and couldn't image what she would do without it. It only took one in the family and the rest fell like dominoes.
Enjoy and have a fantastic summer!
Raspberry Flavored Iced Tea
6 tea bags
2 quarts water
1/4 cup sugar (more if you like sweeter tea)
2 cups raspberries
5-6 mint leaves
Directions:
Heat water to boiling in a large saucepan. Remove from heat and place tea bags in to steep. Add sugar and stir to dissolve. Allow the tea to steep for one hour. Pour into pitcher, add raspberries and mint leaves and return to refrigerator to allow the tea to be infused with the berry flavor, about two or more hours. For more intense flavor, just prior to serving, crush a few of the raspberries that are floating in the tea.
Iced Tea Maker instructions: Fix your tea as usual with the 6 tea bags and the sugar added into the top part of the brewer. As soon as the tea is done, as the ice cools it as it is made, add the raspberries and mint and refrigerate. See how much easier it is with the tea maker!
Makes 2 quarts.