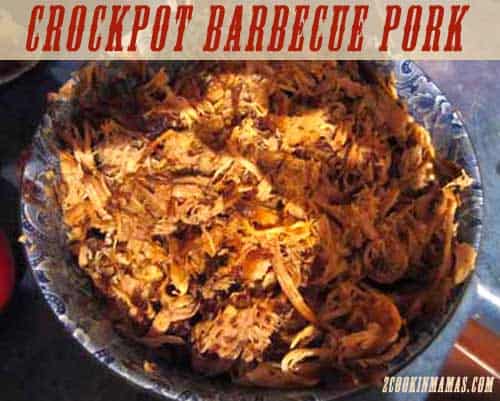 A quick and easy way to have dinner ready to put on the table when you have been busy all day, courtesy of my sister, – just drop a pork roast in the crockpot in the morning, pour in some of your favorite barbecue sauce, turn it on and you are all set. When you get home, the house will smell delicious and with a few sides, like mashed potatoes, rolls, cole slaw, corn on the cob or a salad, you have a dinner that the family will love.
Simple Crockpot BBQ Pork
Ingredients:
3-4 lb. pork roast (shoulder or butt)
16 oz. of your favorite Barbecue sauce (I used Sweet Baby Ray's Honey BBQ Sauce)
Directions:
Place all of the above in crockpot and cook on high for 6-7 hours. When done, shred the pork with two forks and serve with additional barbecue sauce.
Serves 6-8.
Wine Pairing: Even with a simple meal like this barbecue pork you can have a glass of wine that will complement the dish.  Opt for a nice full-bodied red wine such as a Zinfandel or go for something that is a little sweeter to complement the barbecue sauce such as the Cecchi Chianti Classico or a Rose. For white lovers, try the Chateau Ste. Michelle Riesling especially if the sauce is on the spicy side.