This grilled acorn squash is crispy, smoky, tender perfection. And this side dish wouldn't be complete without the last-minute honey glaze It's the perfect complement to the dish's warm, flavorful autumn spices.
This delectable squash recipe is surprisingly effortless to make and is a healthy side for every day but looks impressive enough for the holiday table.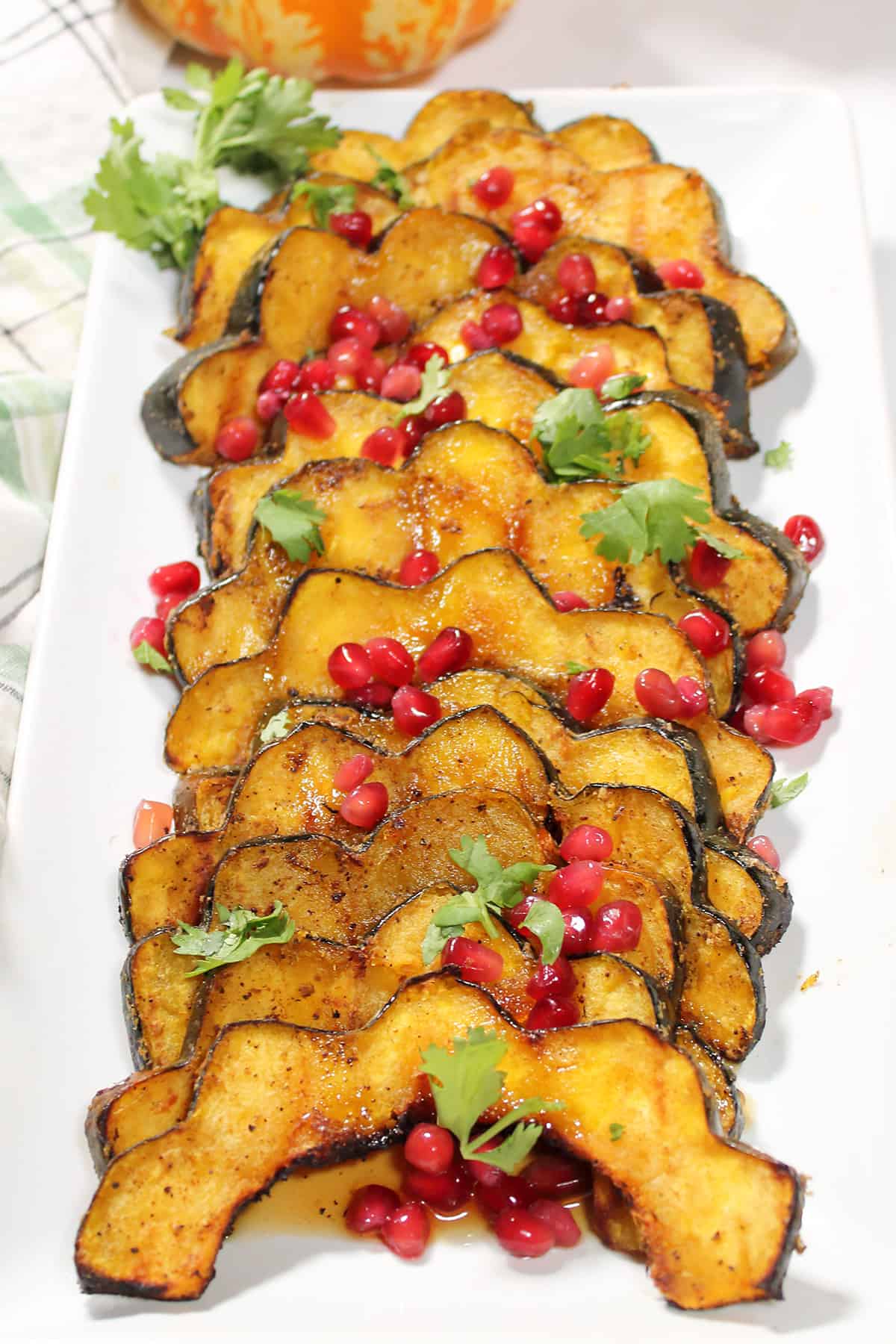 Delicious Fall Grilling
Grilling isn't just for summertime! This piquant acorn squash will draw everyone to the dining room table. The syrupy glaze and savory spices fill the air with enticing aromas. Every bite is a treat! It's the perfect fall side dish.
Winter squash is perfectly seasonal for holiday meals and there are so many different recipes you can make with all sorts of types of squash. Butternut squash quinoa pilaf is delightfully herbaceous. Pumpkin squash soup is sweet and creamy, and Italian stuffed spaghetti squash is an entire meal.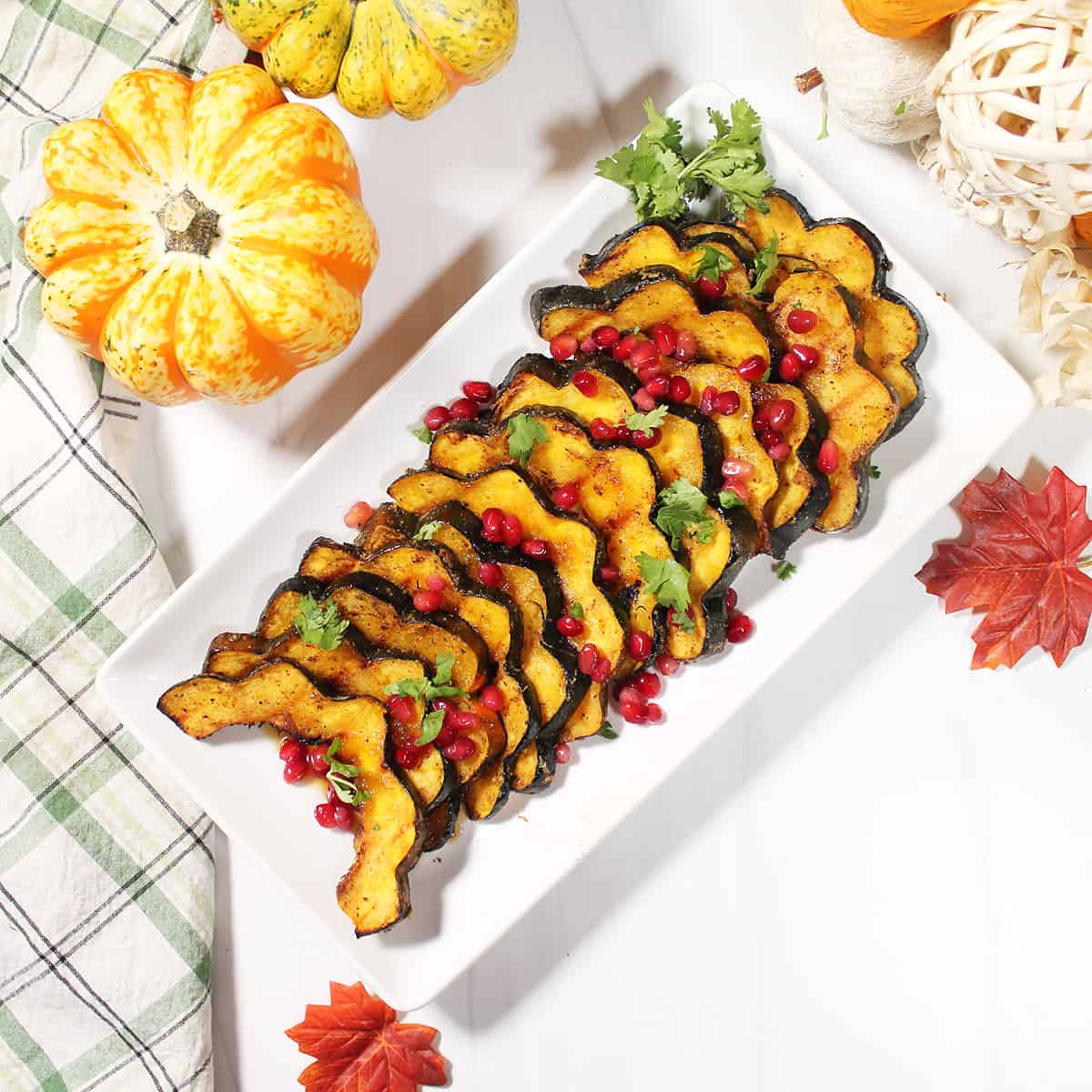 Benefits of Acorn Squash
Acorn squash is a super-healthy vegetable. Vitamin C boosts your immune system while the high vitamin A content aids vision. It also has its fair share of antioxidants that prevent cellular damage. And, of course, don't forget about the fiber which is amazing for your gut health.
Can You Grill Acorn Squash?
Yes, you most certainly can grill acorn squash! That's what this recipe is all about.
Why You'll Love This Grilled Acorn Squash Recipe
You'll adore this tasty grilled acorn squash recipe. It has both bold and spicy and sticky-sweet flavors at the same time. It tastes like a gourmet squash side dish but is a cinch to make, even for beginning cooks!
Ingredients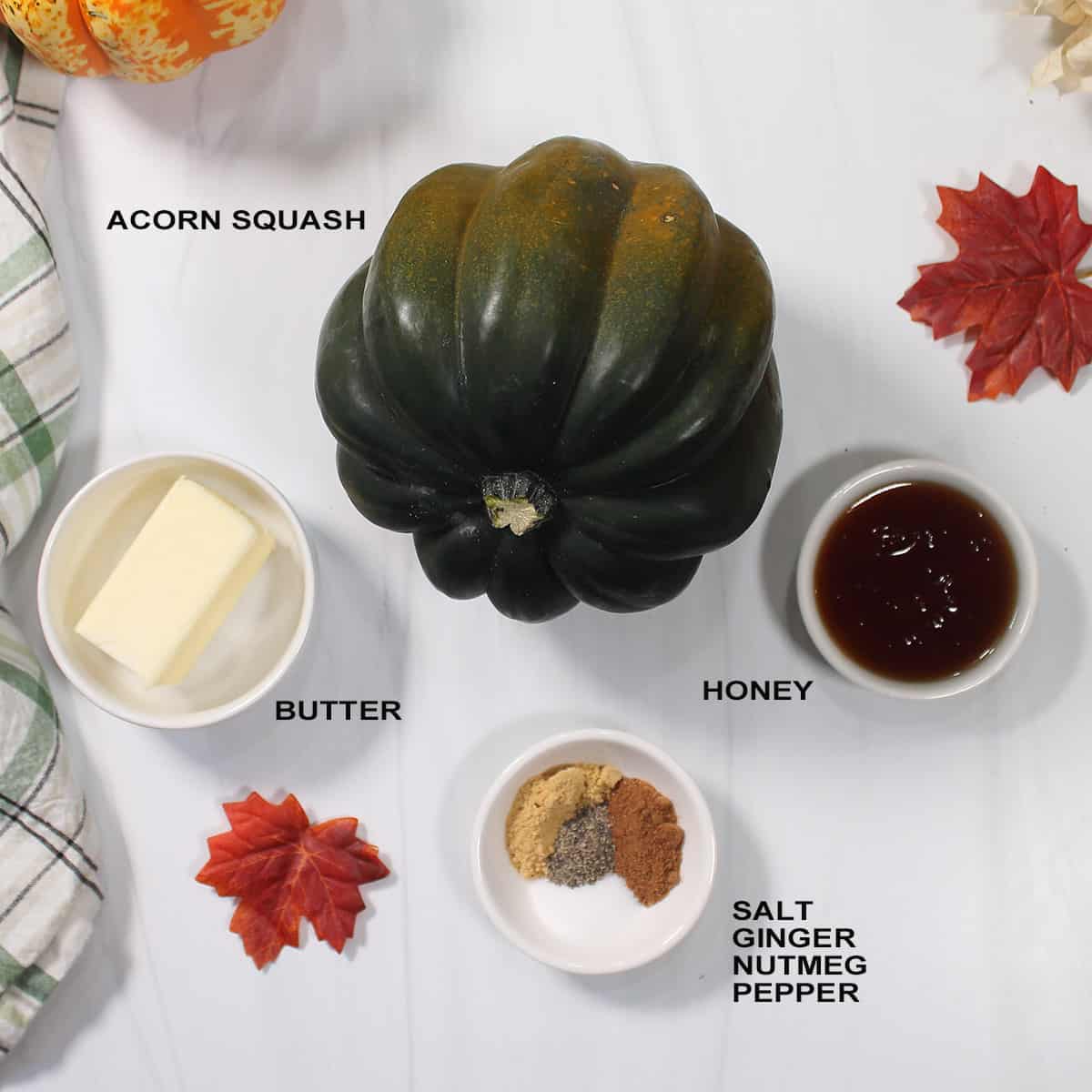 Acorn Squash - either the typical green or the golden variety (which is actually orange).
Nutmeg and Ginger - the warm spices of fall
Salt & pepper - for enhancing all the fantastic flavors
Butter
Honey - adds sweetness to the squash
How to Cook Acorn Squash on the Grill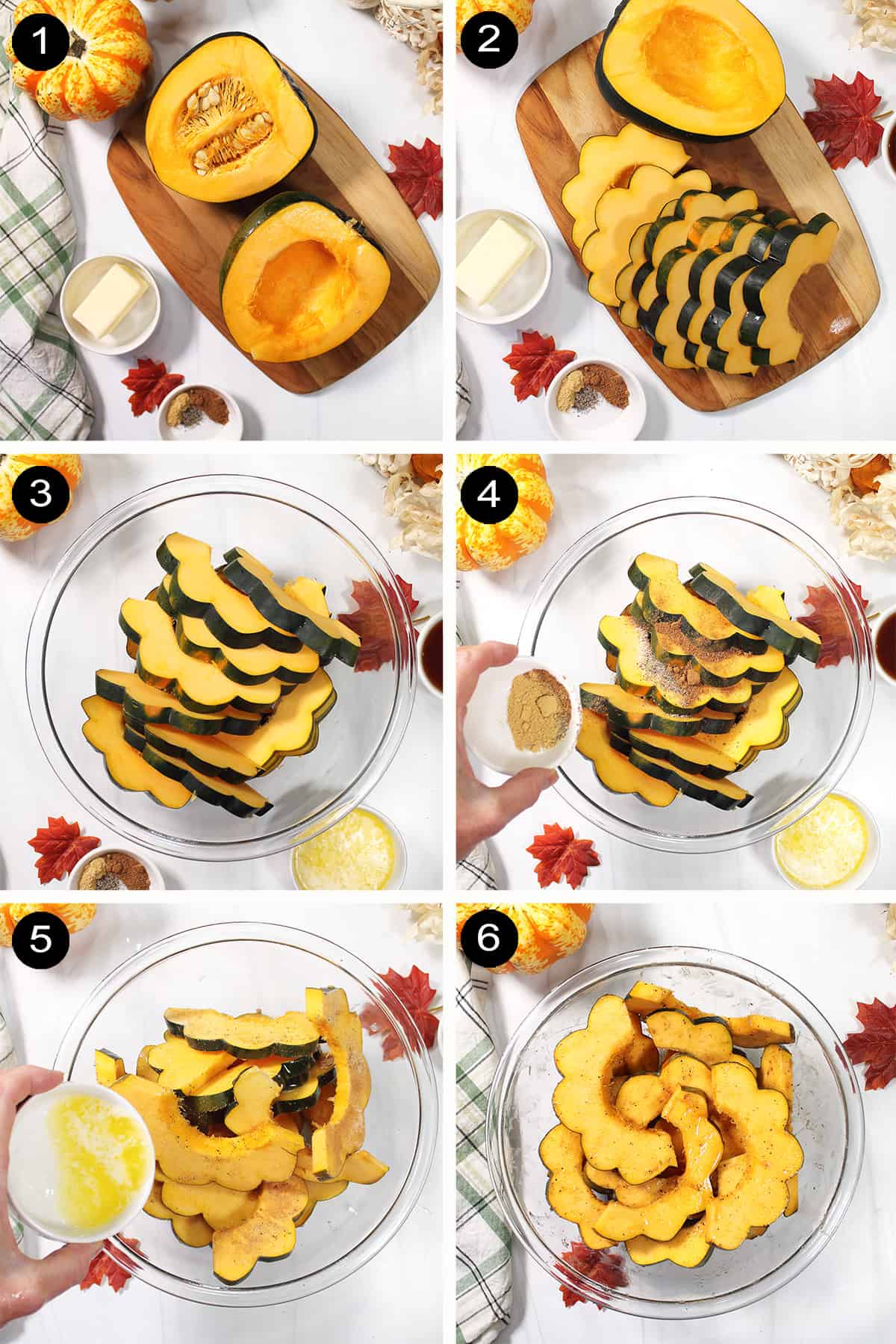 Halve acorn squash and remove pulp and seeds. There is no need to peel it.
Slice into ½-inch slices. They will resemble half moons.
Place slices in a large bowl.
Season the acorn squash slices with ginger, nutmeg, salt, and pepper.
Pour melted butter over the slices.
Toss to coat. Spray grill with nonstick spray and grill on medium heat (about 325 to 350°F) for 20 minutes, flipping halfway through.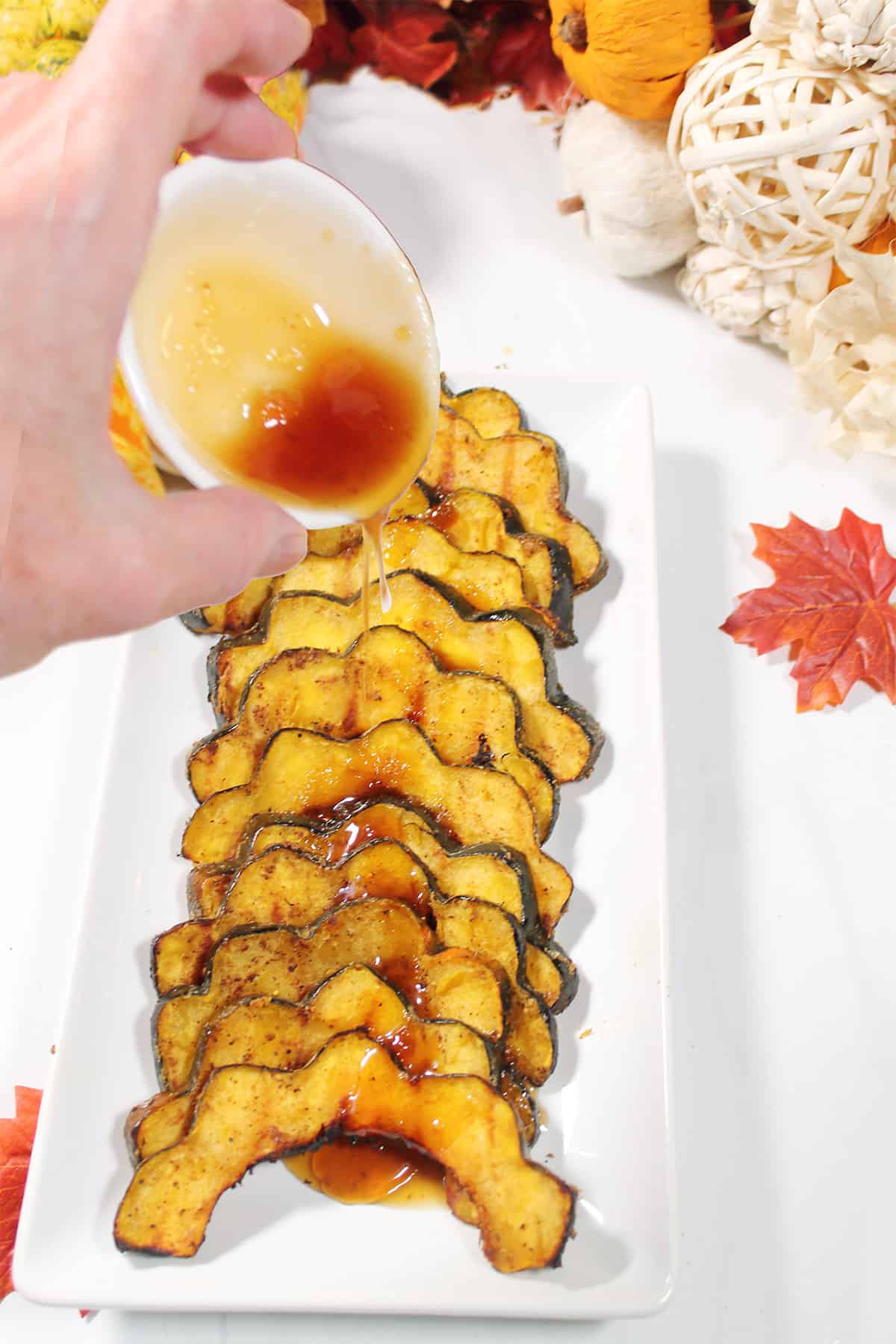 Remove the squash to a platter and drizzle with honey and a sprinkle of parsley and pomegranate arils.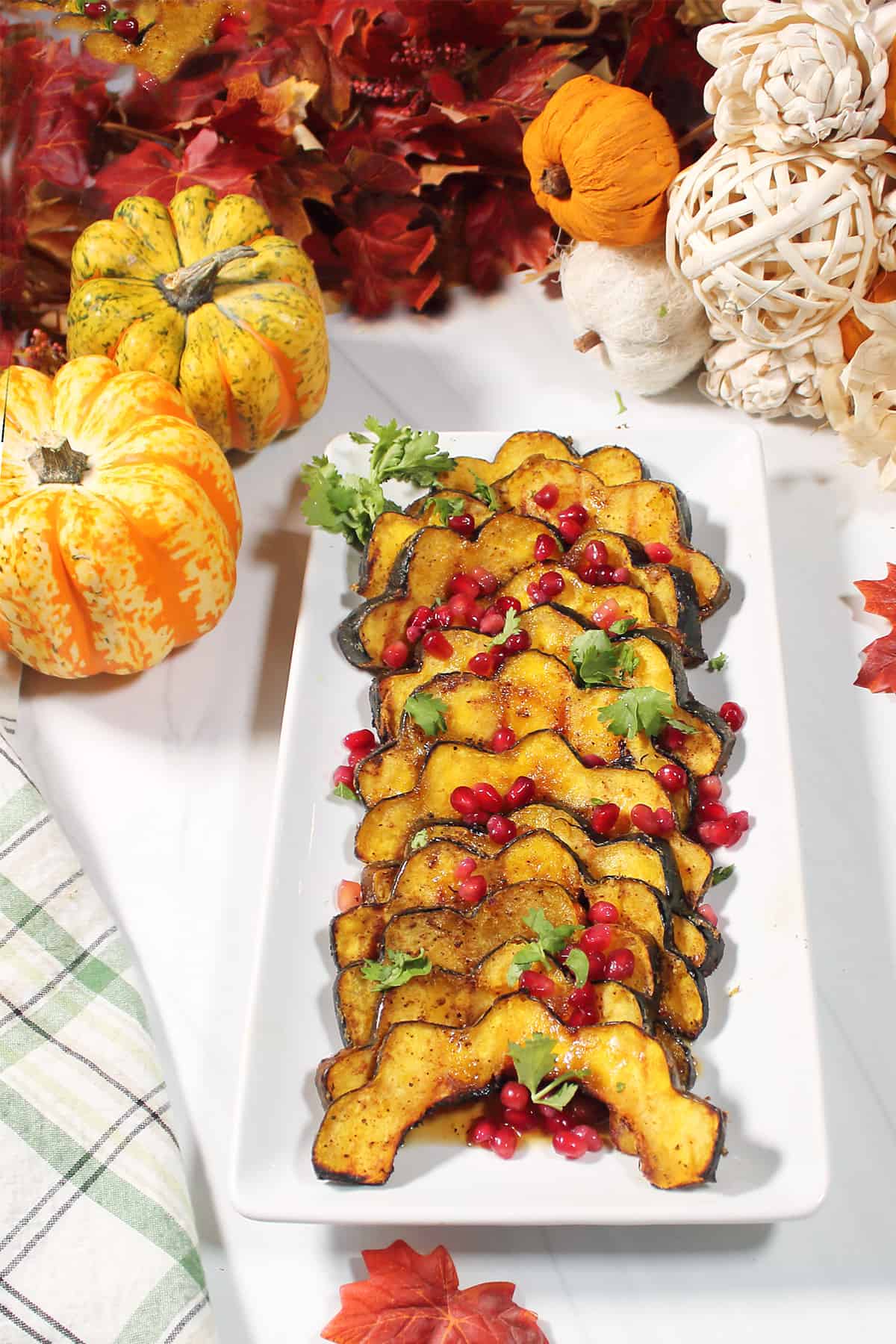 Recipe Variations
Add a little cinnamon to the mix of spices. About ½ teaspoon will do nicely.
Substitute honey with maple syrup.
Substitute honey with a mixture of 1 tablespoon of brown sugar and 1 tablespoon of melted butter.
Substitute nutmeg and ginger with pumpkin pie spice.
How To Store
Place the grilled acorn squash in an airtight container and store it in the refrigerator for up to 5 days.
Can you freeze acorn squash?
Yes, freezing acorn squash is simple. It can be frozen raw or cooked.
To freeze raw acorn squash you must peel it first and remove the seeds and stringy pulp. Cut the squash into bite-sized pieces and place them on a baking sheet with space between them. Freeze then transfer the frozen squash to a freezer-safe container or plastic freezer bag.
To freeze cooked or grilled acorn squash place it in a freezer-safe container or plastic freezer bag. Freeze for up to 2 months. Thaw in the refrigerator overnight. Note the texture won't be the same after freezing and thawing as it was after grilling.
Frequently Asked Questions
Do you leave the peel on when grilling acorn squash?
Yes, you will leave the skin on acorn squash when grilling it. The peel will become tender as it is cooking.
Can you eat acorn squash skin?
You can eat acorn squash skin after grilling, broiling, roasting, or baking it. The skin will be mild and tender. Cooked acorn squash skin will easily separate from the flesh.
What goes well with acorn squash?
Acorn squash pairs well with all types of meat and seafood. It also goes well with pasta, potatoes, and dark leafy greens.
How do you pick an acorn squash?
Choose an acorn squash that's heavy for its size, does not have soft spots, and has smooth dull skin. Green acorn squash should have an orange spot.
What does grilled acorn squash taste like?
Acorn squash has a sweet, buttery taste. Grilling gives it a slightly smoky accent.
LOVE QUICK & EASY RECIPES? FOLLOW ME ON INSTAGRAM, FACEBOOK, & PINTEREST FOR ALL THE LATEST RECIPE INSPIRATION! PLUS JOIN MY EMAIL LIST AND RECEIVE A FREE E-BOOK.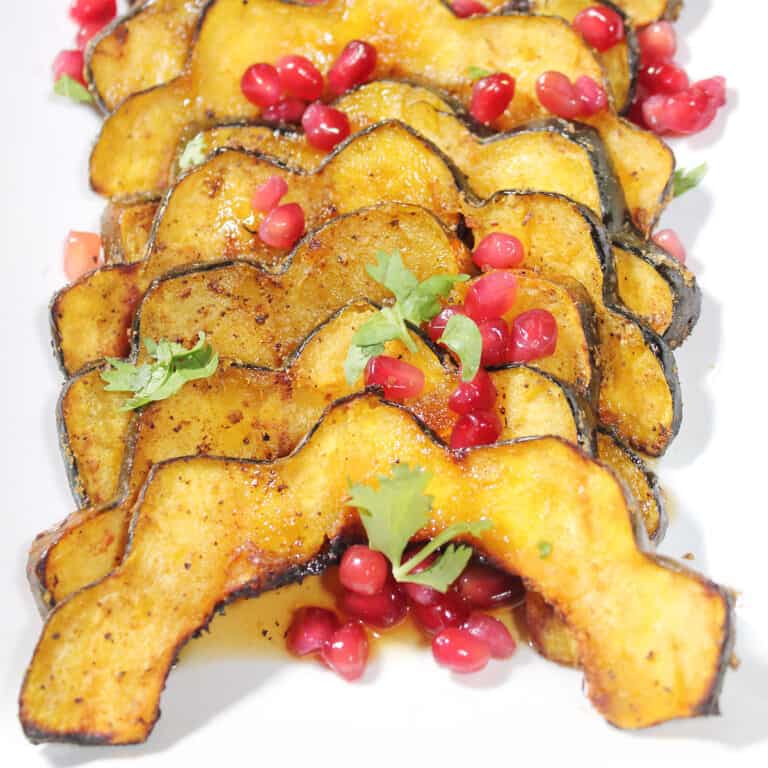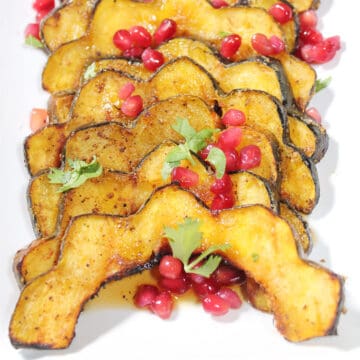 Ingredients
1

medium

acorn squash

halved and seeded

½

teaspoon

salt

¼

teaspoon

black pepper

1

teaspoon

ginger

1

teaspoon

nutmeg

4

Tablespoons

butter

2

Tablespoons

honey

Garnish: parsley, pomegranate arils
Instructions
Wash squash well. Cut in half from stem to bottom. Scoop out seeds then slice in ½" wide half moon shapes. You should get approximately 8 per half.

Place the squash in a large bowl. Season with salt, pepper, ginger, and nutmeg.

Drizzle with butter and toss to coat.

preheat grill to medium temperature. Spray the grill with nonstick spray.

Place the squash directly on the grill grates and cook for 20 minutes, turning halfway through.

Remove cooked squash to a platter and drizzle with honey.

Garnish with parsley and pomegranate arils.
Notes
To Roast in Oven: Place slices flat on a baking sheet, lined with parchment paper for easier cleanup) and roast for 20-30 minutes at 400 degrees or until tender.
Nutrition
Calories:
179
kcal
|
Carbohydrates:
20
g
|
Protein:
1
g
|
Fat:
12
g
|
Saturated Fat:
7
g
|
Polyunsaturated Fat:
0.5
g
|
Monounsaturated Fat:
3
g
|
Trans Fat:
0.5
g
|
Cholesterol:
30
mg
|
Sodium:
385
mg
|
Potassium:
388
mg
|
Fiber:
2
g
|
Sugar:
9
g
|
Vitamin A:
746
IU
|
Vitamin C:
12
mg
|
Calcium:
41
mg
|
Iron:
1
mg
This post has been updated with an improved recipe, new photos and step-by-step instructions. It was first published October 8, 2013.