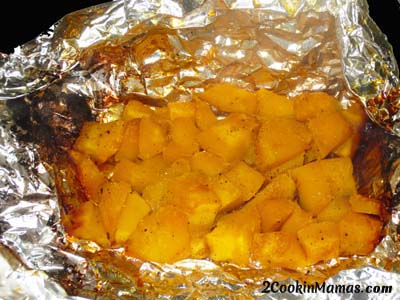 The last meal I made with acorn squash only used half of the squash so I needed to find something to do with the other half before it went bad. (and I hate to throw anything out!) And since we were grilling I decided to save heating up my kitchen by cooking everything on the grill.
I have made both vegetables and cubed potatoes on the grill by placing them in a tin foil wrap with spices and oil and cooking them along with the meat of the day so I decided to try something similar with the squash. And it turned out so delicious that my husband thought he was eating honeyed sweet potatoes! (Great way to get your kids and hubby to eat their veggies. lol)
Try this sweet take on acorn squash with a hint of ginger and nutmeg. Enjoy since it is low in calories, high in fiber and a good source of protein without cholesterol or saturated fat.
Honey Grilled Acorn Squash
Prep Time: 5 minutes  Cook Time: 30 minutes  Total Time: 35 minutes
Ingredients:
½ acorn squash, cut in chunks
1-2 Tablespoons honey
¼ teaspoon salt
Few twists of a pepper mill
¼-1/2 teaspoon ginger
¼-1/2 teaspoon nutmeg
2 Tablespoons butter
Directions:
Preheat grill to medium-high.
Cut off a large piece of heavy duty aluminum foil and place acorn squash in center. Drizzle honey over squash then sprinkle with salt, pepper, ginger and nutmeg. Cut up small pieces of butter and dot top of squash. Fold over edges of aluminum foil and seal well.
Place on hot grill and cook 15 minutes per side. Carefully open foil packet to release steam, place in bowl and serve immediately.
Serves 2.