Pumpkin Squash Soup brings the aromas and feeling of fall right into your home. A combination of butternut squash, pumpkin and apple cider are spiced up with cinnamon & nutmeg that will delight the palate and warm the soul.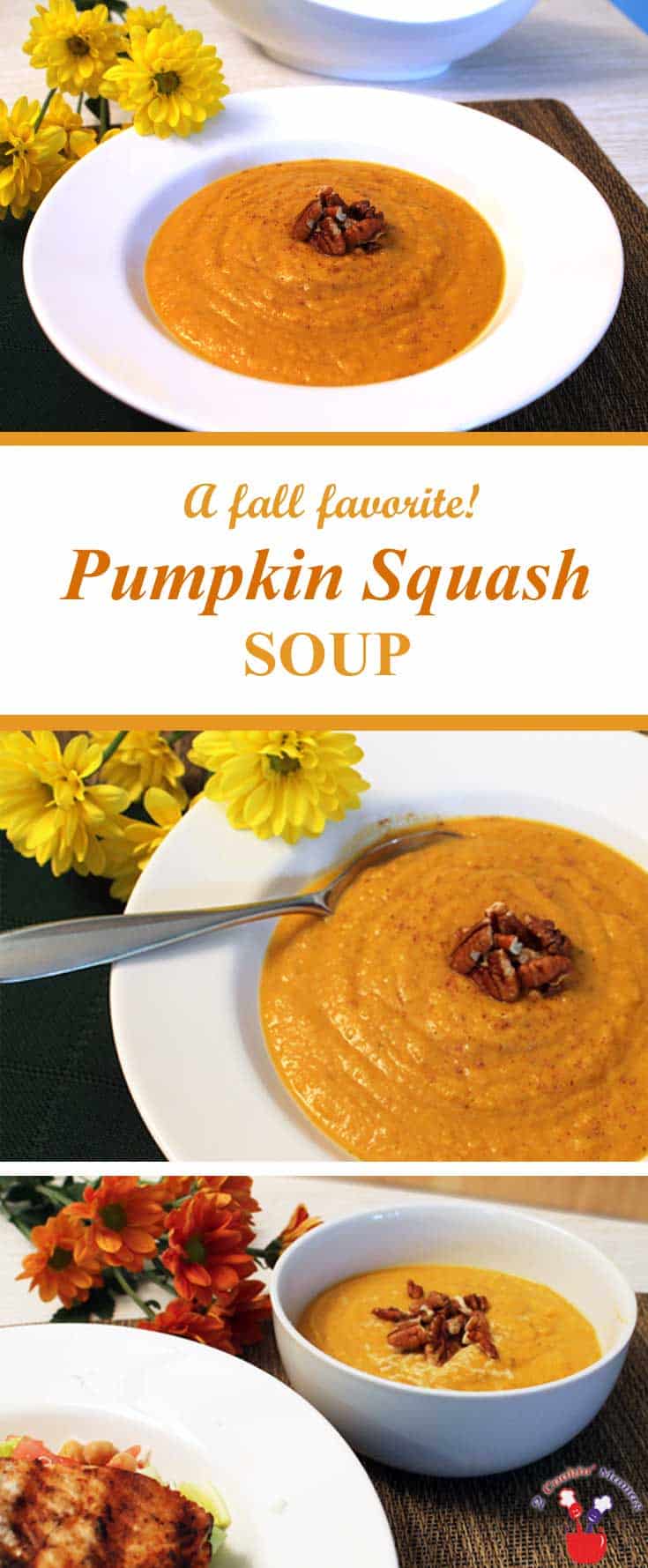 I love pumpkin and can't ever seem to get enough of it. It's such a wonderful fall flavor that bakes up into delicious sweet treats like Pumpkin Spice Cookies and Self Frosting Pumpkin Nutella Muffins but did you know that it also makes great lunches & dinners too! I went out to lunch at Panera Bread with my daughter last week and ordered their pumpkin squash soup – and fell in love with it! I knew I wanted to have more of this goodness at home so I had to try my hand at making something similar. Of course, never having made it before I didn't know where to start. Well, you can probably guess where I went to find some suggestions – Pinterest of course! There I found several recipes that I combined including one by Diane of Simple Living and Eating.
I like the fact that Diane used fresh butternut squash and opted for canned pumpkin but didn't like the idea of sage in my soup. I also liked the idea of adding chicken broth instead of vegetable broth, although the latter would be great for a vegetarian meal. I kicked up the spices and threw in some chopped sauteed onion.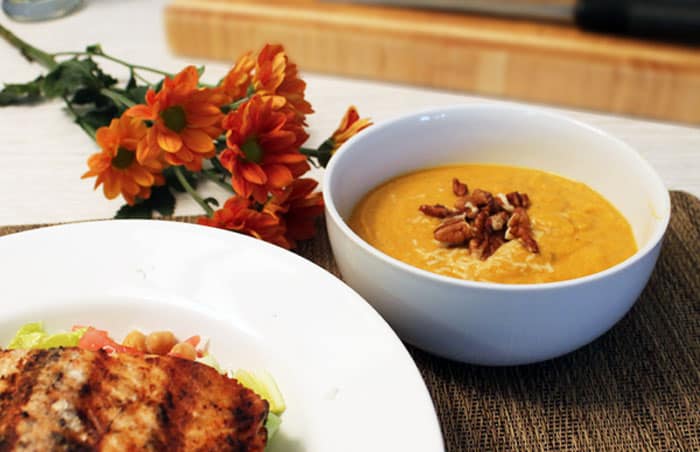 I served it for dinner with a small salad topped with a half portion of salmon and some warm french bread. My husband, who is not that keen on pumpkin, said it was fantastic! Yay for me! Now I know I'll be able to make it again in the cooler months ahead.

Butternut squash, aka butternut pumpkin, as well as canned pumpkin puree are excellent sources of anti-oxidants, Vitamins A & B-complex as well as rich in folates, iron, calcium and niacin. They  are low in calories, have no saturated fats or cholesterol and are commonly recommended by nutritionists as a ways of controlling both cholesterol and weight.
Enjoy!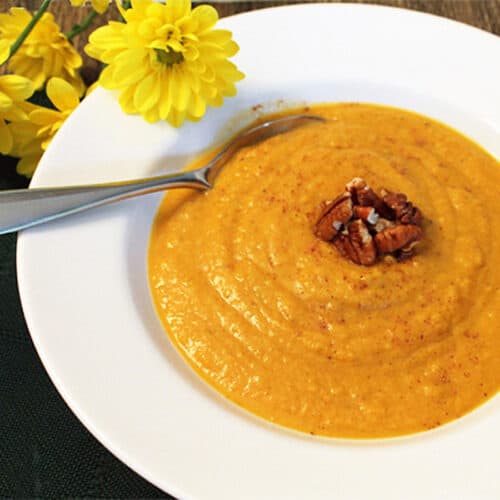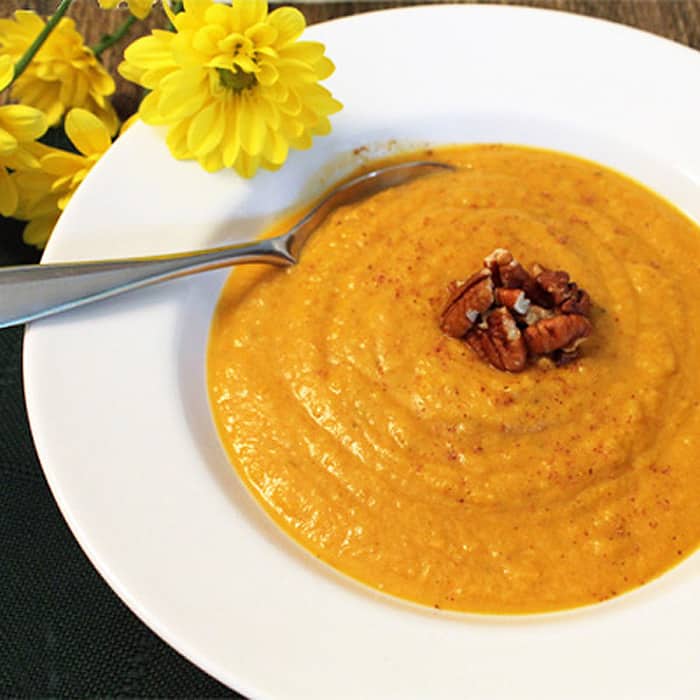 PUMPKIN SQUASH SOUP
Bring the taste of fall to your table. This creamy, delicious and easy-to-make pumpkin squash soup makes a hearty low calorie lunch or dinner.
Ingredients
Preparing butternut squash
3/4

large butternut squash,

chopped (or 2-12-oz frozen packages)(if using fresh, see note below for easier cutting)

2

Tablespoons

vegetable or coconut oil

Salt and pepper to taste
Soup
2

teaspoons

vegetable or coconut oil

1/3

cup

onion,

chopped

1 15-

oz

can pumpkin

1-1/4

cups

chicken stock

1-1/4

cups

apple cider

1

cup

fat-free half and half

(almond, soy or coconut creamers can also be used)

2-3

Tablespoons

honey

1/4

teaspoon

nutmeg

1/2

heaping teaspoon cinnamon

1/4

teaspoon

rosemary,

chopped (optional)

1 1/2

teaspoons

salt

1/4

teaspoon

black pepper

Garnishes: chopped pecans

roasted pumpkin seeds, Pecorino-Romano cheese
Directions
Preheat oven to 450 degrees.

If using fresh butternut squash, peel and seed. Then toss with oil, season and pour on large cookie sheet. Roast in oven for 25 minutes.

While squash is roasting, heat 2 teaspoons oil in a small skillet and sauté onions for 5 minutes.

In a large food processor, combine squash and pumpkin and pulse to blend. Add chicken stock and apple cider and blend until smooth.

Pour mixture into a large sauce pan over medium. Add remaining ingredients, bring to a slow boil, then lower heat and simmer for 20 minutes.

When ready to serve, garnish with chopped pecans or roasted pumpkin seeds, sprinkle of nutmeg and a little Parmesan or Pecorino Romano cheese.
Recipe Notes
To make it easier to cut a butternut squash, make 2-3 slits through skin to vent steam. Microwave on high for 3-5 minutes to soften skin. Remove and let rest for several minutes until it is cool enough to handle. Peel with a vegetable peeler and chop as desired.
DON'T MISS A RECIPE!