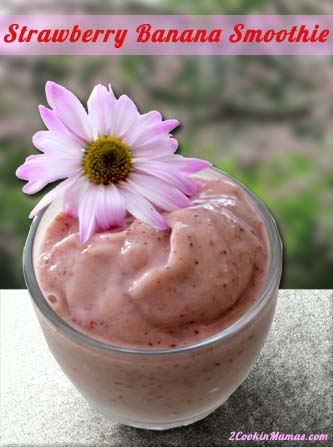 The Strawberry Festival starts today,Thursday, February 27th and runs through March 9th in Plant City, Florida. Not only do they have delicious, sweet-tasting, delectable strawberries fresh from the fields but plenty of entertainment, a midway with rides and games, an art show and even a strawberry eating contest.
Why go nuts over this fruit? Well, strawberries are rich in vitamins C and A, potassium, folic acid and fiber. Just one cup of fresh strawberries contains 160% of your daily vitamin C requirement and all for only 50 calories! They are also full of antioxidants which reduce the risk of heart disease, certain types of cancer and diabetes. Want healthy skin and hair and more energy? Eat at least 2 cups of fresh fruit and 3 cups of fresh vegetables every day and you are well on your way.
Now, besides the all important strawberries in this smoothie, you also benefit from its other ingredients. Yogurt, whose probiotics can boost the immune system and promote a healthier digestive track, also contains calcium, vitamins B2 & B-12, which maintains red blood cells, and additional potassium. The chia seeds, the new wonder health food, are rich in omega 3's helping to protect against heart disease and inflammation and also aids in reducing blood pressure and controlling blood sugars. Wow!
So in honor of strawberry season, here is a healthy and delicious smoothie to have for breakfast or lunch.
Strawberry Banana Smoothie
Ingredients:
1/2 cup frozen strawberries
1/2 frozen banana
1/2 cup orange juice
6-oz low-fat vanilla yogurt
1 Tablespoon Chia seeds
Combine all ingredients in blender and mix until smooth. Pour in glass and enjoy!
Note: I also added a little homemade granola to top it off and it took this smoothie over the top!
Check out Spectrum Essentials Chia Seeds on Amazon.com.