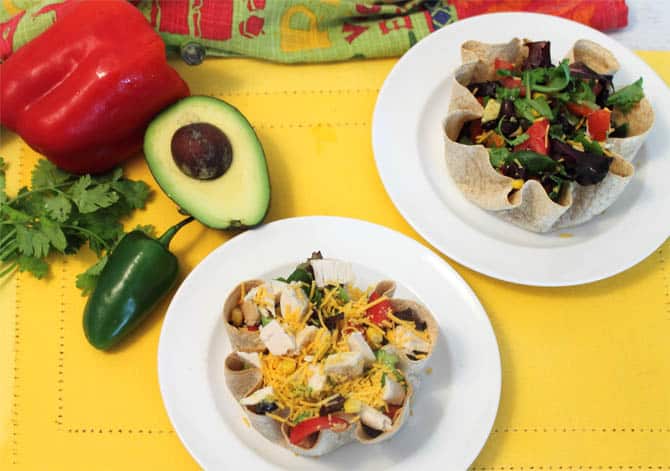 Well, Cinco de Mayo is right around the corner and I know our house will be full of our favorite Mexican dishes. So I started thinking ahead and thought this Taco Salad might be a good recipe to post today as it's the perfect way to use some of your Mexican ingredient leftovers the rest of the week. Of course, this salad is so delicious you'll want to make it again and again even if it's not Cinco de Mayo.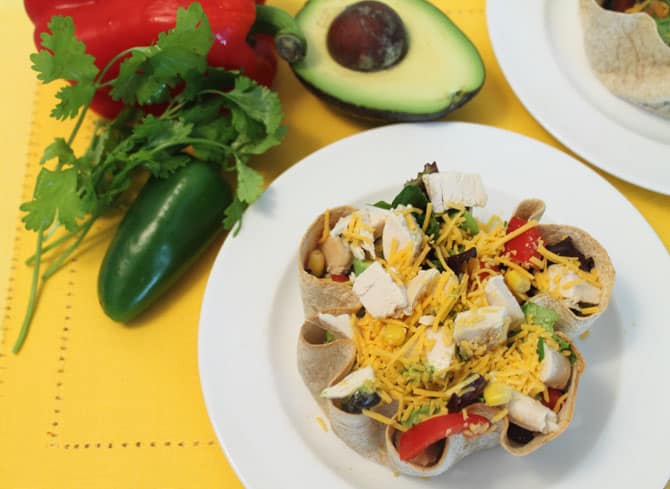 And it's so easy to make! All it takes is a rotisserie chicken (or leftover fajita chicken), canned ingredients, some fresh cilantro, an avocado and cheddar cheese. And the nice thing about it, it's a lot healthier than having enchiladas or tacos! I don't know about you, but when we have the latter we tend to make several (ok, maybe 3 or 4) tacos which tend to pile on the calories. Right? Or is it just me? And the dressing, well, it is so fresh and delicious it just brings the flavor of this salad up a notch. And it helps keep the calorie count down too! What more could you want? Except maybe a margarita or cold cervesa to accompany it.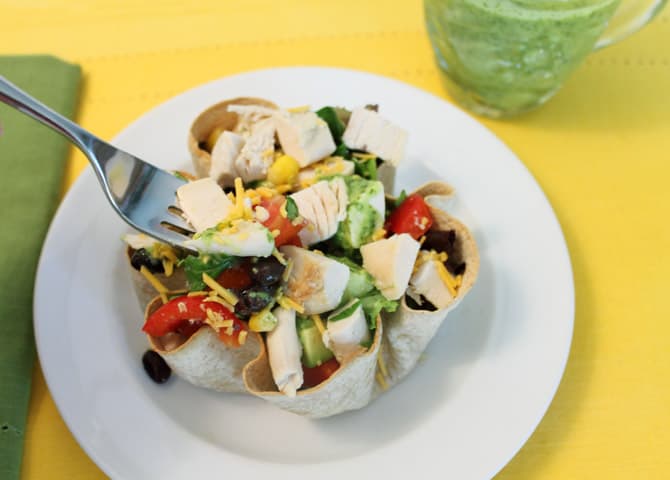 By the way, this salad is also delicious made with your leftover taco ground beef or even steak from carne asada.
So whatever you are having to celebrate, just remember that when Friday morning rolls around and you are wondering what to bring for lunch, make up this salad and enjoy all that Mexican deliciousness all over again.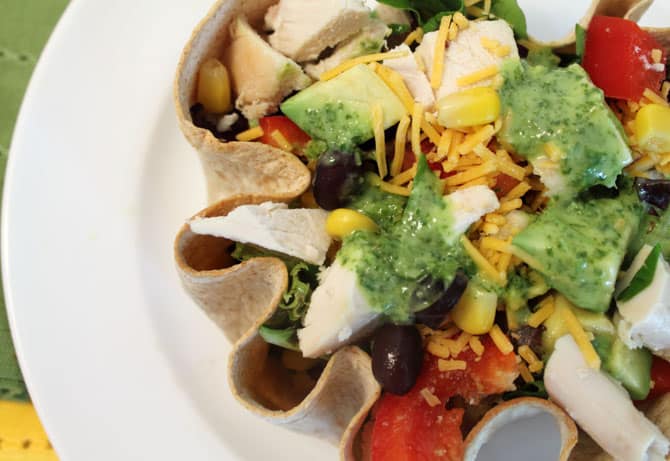 Happy Cinco de Mayo!
Taco Salad with Cilantro Lime Dressing
Ingredients:
Cilantro Lime Dressing
1/2 bunch cilantro
1/4 cup lime juice (about 2 limes)
1 clove garlic
2 Tablespoons rice wine, cider or sherry vinegar (I used rice wine vinegar)
1/2 cup olive oil
1/4 teaspoon salt
1/4 teaspoon pepper
Salad
Fresh Greens, chopped
1 tomato, chopped
1/2 red pepper, chopped
3 Tablespoons cilantro
1 avocado, diced
1/4-1/2 cup black beans, drained
1/4-1/2 cup canned kernel corn, drained
1/4-1/2 cup cheddar cheese, grated (save additional to sprinkle on top)
Black olives (optional)
1 cup cooked chicken, chopped
Taco shell bowl (optional)
Directions:
Cilantro Lime Dressing
Place all ingredients in a blender or food processor and puree until smooth. Pour into pitcher for serving.
Salad
In a large bowl, combine all ingredients through chicken. Add black olives if you like too. Toss with a little of the cilantro lime dressing then place in taco shell bowl or on a salad plate. Sprinkle with a little additional cheddar cheese. Serve additional cilantro lime dressing on the side.
All ingredients can be scaled up or down to accommodate your preferences. You can also substitute your favorite dressing or salsa in lieu of the cilantro lime dressing.
Note: Want to make a taco shell bowl? Just spray each side of an 8″ flour tortilla with nonstick spray, place in an oven-safe small bowl, forming little ruffles in the top, then bake in 425 degree oven for about 10 minutes or until crispy.
Makes 2 servings.
Wine Pairing: If not opting for an icy margarita or cold light beer such as Corona or Dos Equis, pair with a white wine that will enhance the citrus and cilantro overtones of the salad. Try a Sauvignon Blanc, Riesling, Pinot Gris or a Chenin Blanc.