These Air Fryer Chicken Kabobs make a quick, healthy, and easy dinner using a simple marinade, chicken breasts, and your favorite vegetables. No muss, no fuss, tender chicken skewers that take just 10 minutes to cook complete with easy cleanup. Options for keto and low carb too.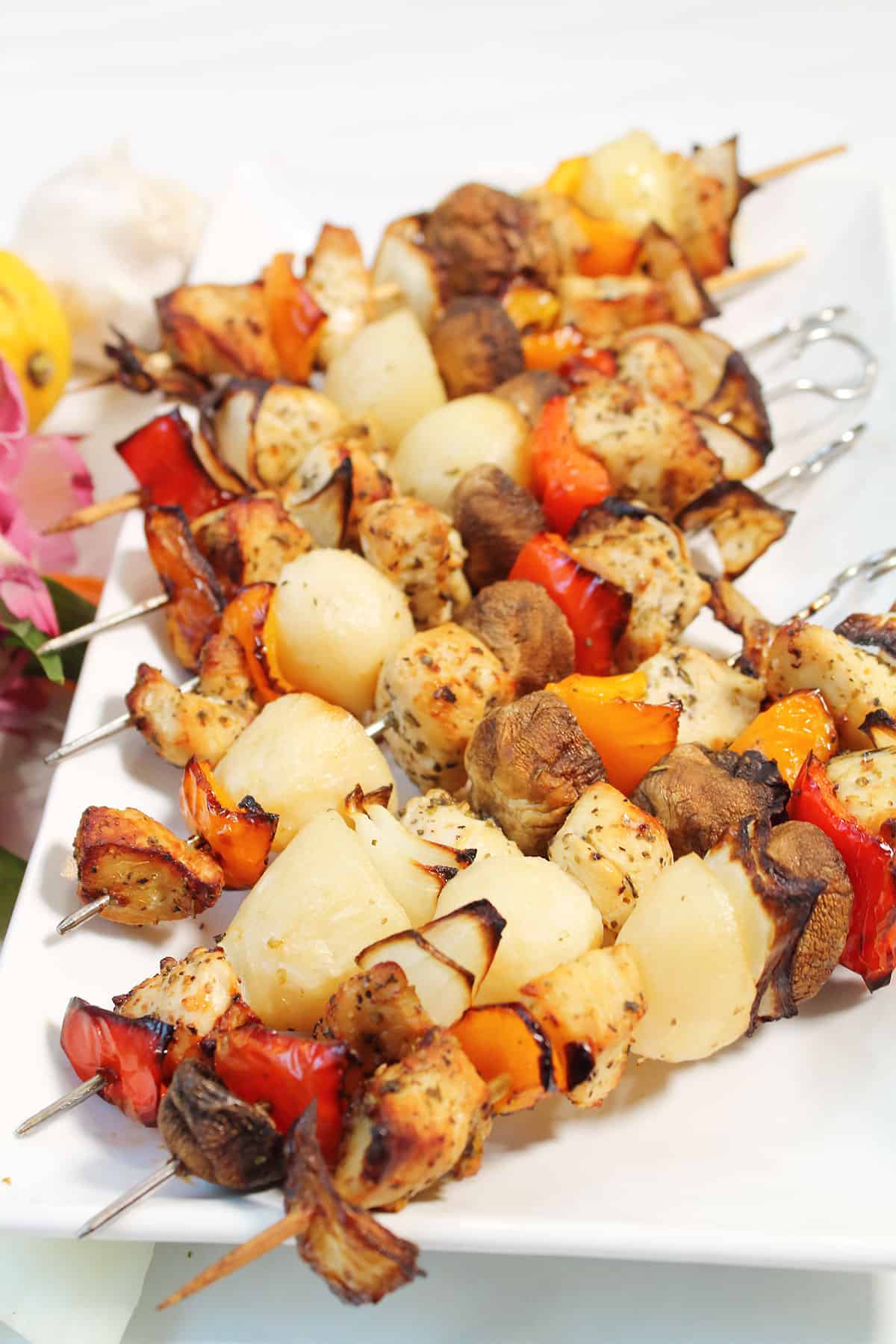 If you've ever wondered if you can make shish kabobs in the air fryer, let me tell you, you absolutely can! There is nothing better than your trusty air fryer for making a delicious dinner easily and quickly. And it's great for when the weather is rainy or too hot to cook outside and it won't heat up your kitchen either.
That's why I love my air fryer! Anything you can cook in the oven or on the grill you can cook in your air fryer. From appetizers to dinners to desserts, it's amazing! Favorites like Air Fryer Fried Shrimp, Air Fryer Pork Tenderloin, and Air Fryer Filet Mignon are always on the menu.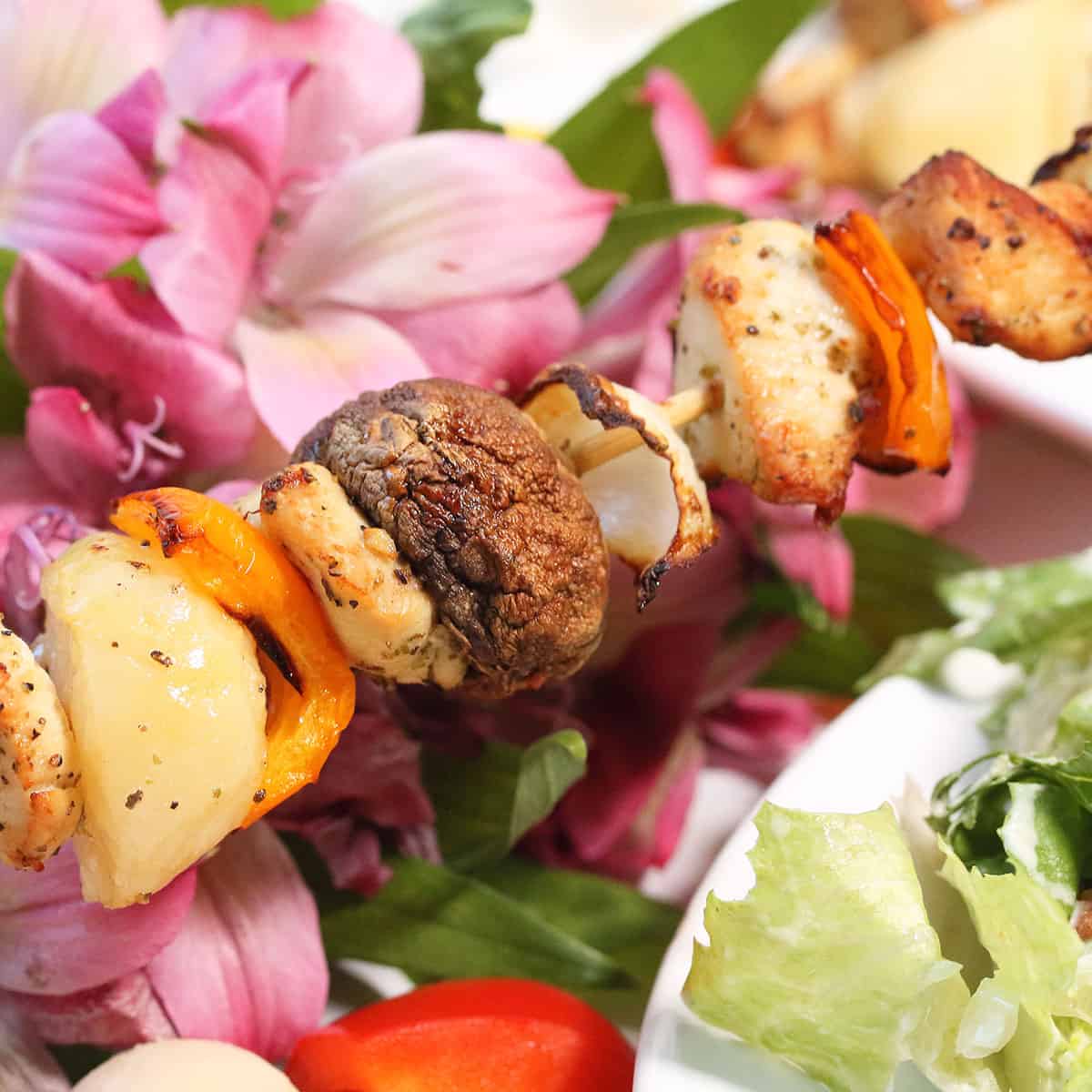 Believe me, these lightly marinated chicken air fryer kebobs with a lemon-garlic marinade are super tender, moist, and absolutely delicious. They make a tasty dinner for the whole family as well as a hearty appetizer for your next party.
What is a Chicken Shish Kebab?
A basic kebab, or in English kebob, literally means meat on a stick, in this instance chicken. The kabob can contain fish, chicken, or beef as well as vegetables and is either roasted or grilled.
What Goes on Shish Kabobs
Shish Kabobs can be made with any number of ingredients and can be suited for your family's preferences. Meats to use include beef, lamb, chicken, turkey, shrimp, or scallops while vegetables span the range from colorful peppers, tomatoes, zucchini, mushrooms, onions, and yellow squash.
Best Chicken for Kabobs
I prefer to use boneless chicken breasts, which are easy to cut uniformly, but chicken thighs can also be used.
Vegetables for Shish Kabobs
Use brightly colorful fresh vegetables for the most eye-appealing and delicious skewers. I love to use red, yellow and orange bell peppers, green will work too, baby mushrooms, and onions, either white, yellow, red or sweet.
Other options include cherry tomatoes, zucchini, yellow squash, corn and brussels sprouts. If you don't mind the carbs, parboiled or canned white potatoes or partially cooked sweet potatoes can also be added.
FAQs
How long does it take to cook chicken kababs in air fryer?
10 minutes is all you need to make this full meal on a stick.
What temperature do you cook chicken kabobs in air fryer?
I tried various temperatures and 380 degrees worked best, cooking the chicken but not drying it out.
Can I cook chicken kabobs from frozen?
Yes, you sure can! These kabobs make meal prep easy. Just add 8-10 minutes to the cook time and dinner is served.
Can I use wooden skewers in an air fryer?
Absolutely! Cut the skewers to fit your air fryer then soak them for 5 minutes or while the chicken is marinating. Skewer and follow directions as given.
Do I have to use a kabob rack to air fry?
No, the rack makes it easier but you can just spray the basket and place in the bottom of the basket, and cook as directed.
Ingredients
Chicken and Marinade for Chicken Skewers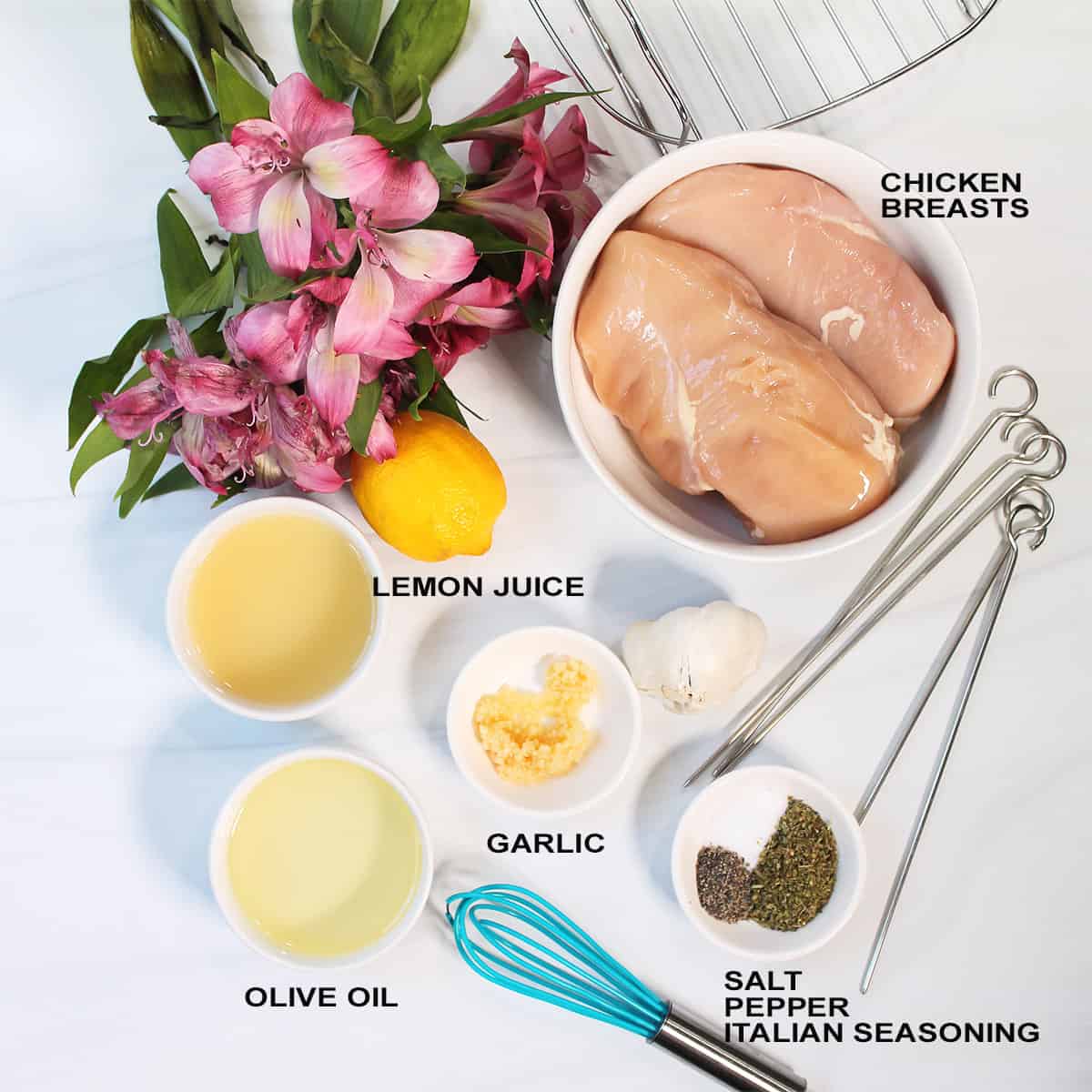 Chicken - 2 boneless, skinless chicken breasts should provide enough chicken for 8-10 skewers.
Lemon Juice - tenderizes the chicken as well as providing flavor and acidity
Olive Oil - helps keep the chicken moist and juicy
Garlic & seasonings - provide flavor
Shish Kabob Vegetables
Bell Peppers - I like to use red, orange, and yellow peppers but adding green bell peppers will give the chicken skewers a more vegetal flavor. You can also use small sweet peppers or hot peppers if you're into spicy.
Onion - Sweet onions are delicious on these kabobs but yellow, white, or red can also be used.
Mushrooms - baby white mushrooms fit well on these shish kababs but you can also cut up portobello mushrooms.
Potatoes - I used canned white potatoes for convenience but if you have the time, parboiled or partially cooked white or sweet potatoes can be substituted. The pre-cooking is necessary so they cook in the same timeframe as the chicken and vegetables.
How to Make Chicken Shish Kabobs
Chicken Kabob Marinade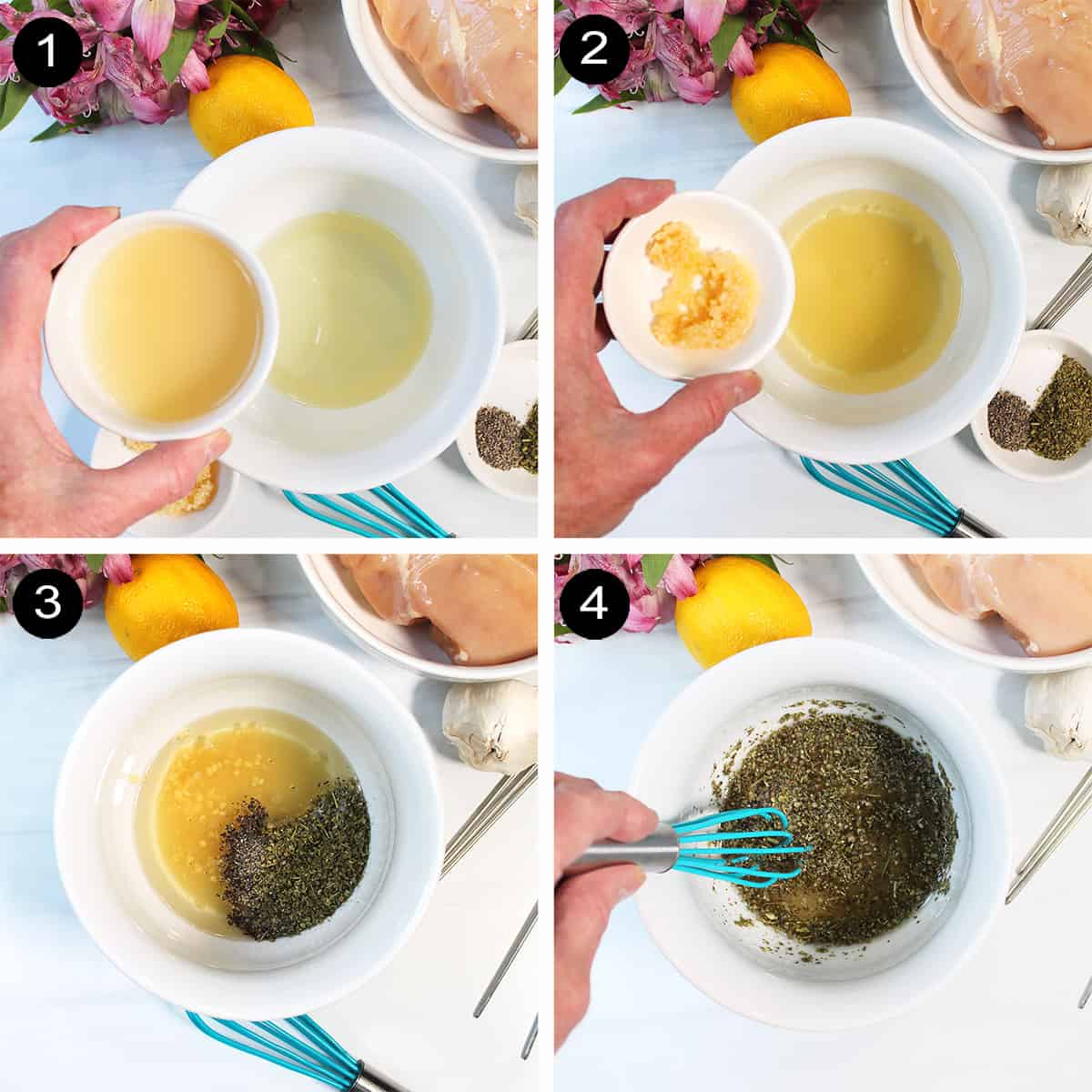 To make marinade, combine oil and lemon juice in small bowl.
Add minced garlic.
Sprinkle in seasonings - Italian seasoning, salt, and pepper.
Whisk well.
Marinate Chicken Kabobs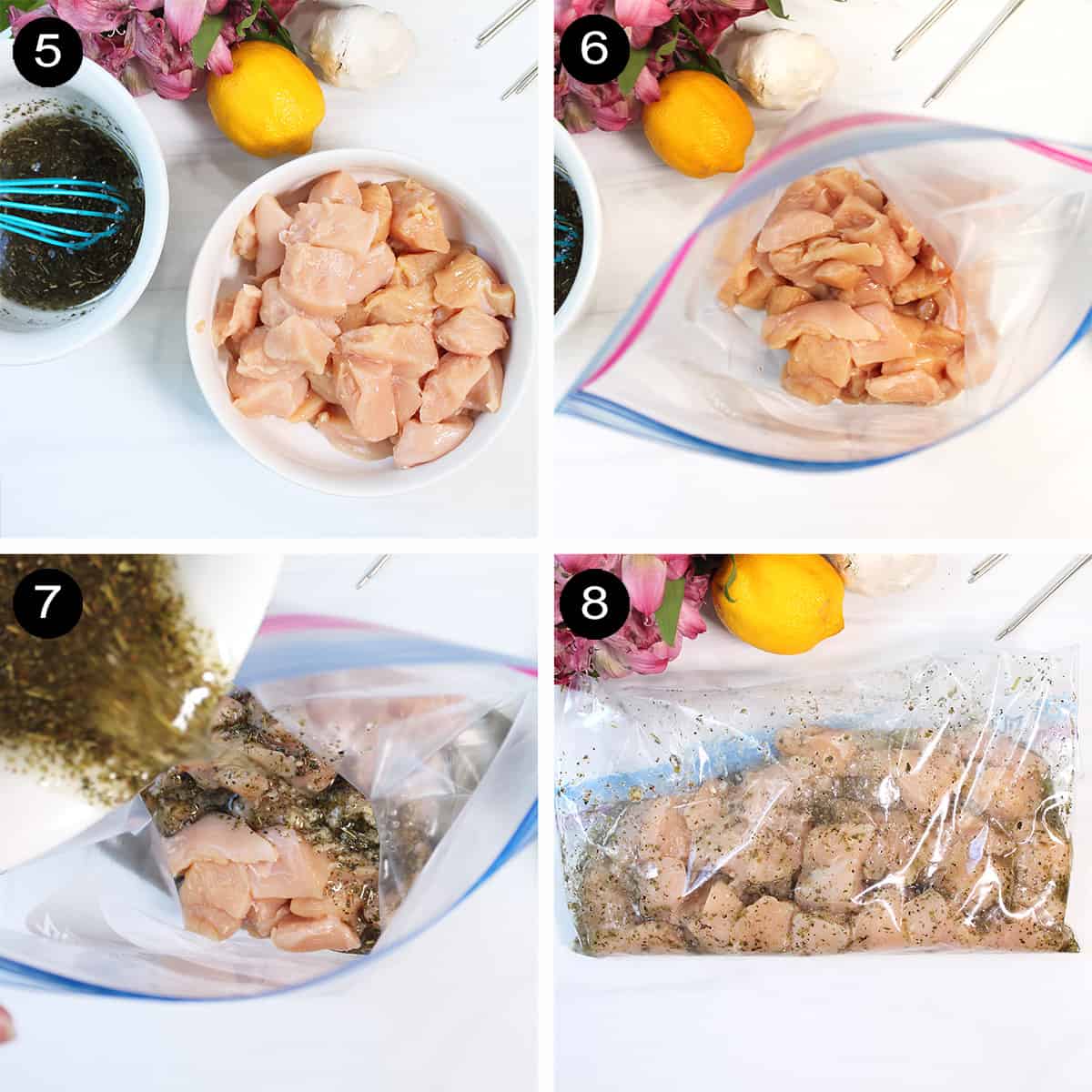 Cut chicken into 1" cubes. Try to make them a consistent size so they cook evenly.
Place chicken in a large resealable bag.
Pour prepared marinade over the chicken.
Lock baggie and turn several times to cover. Refrigerate for at least 30 minutes.
How to Assemble Chicken Shish Kabobs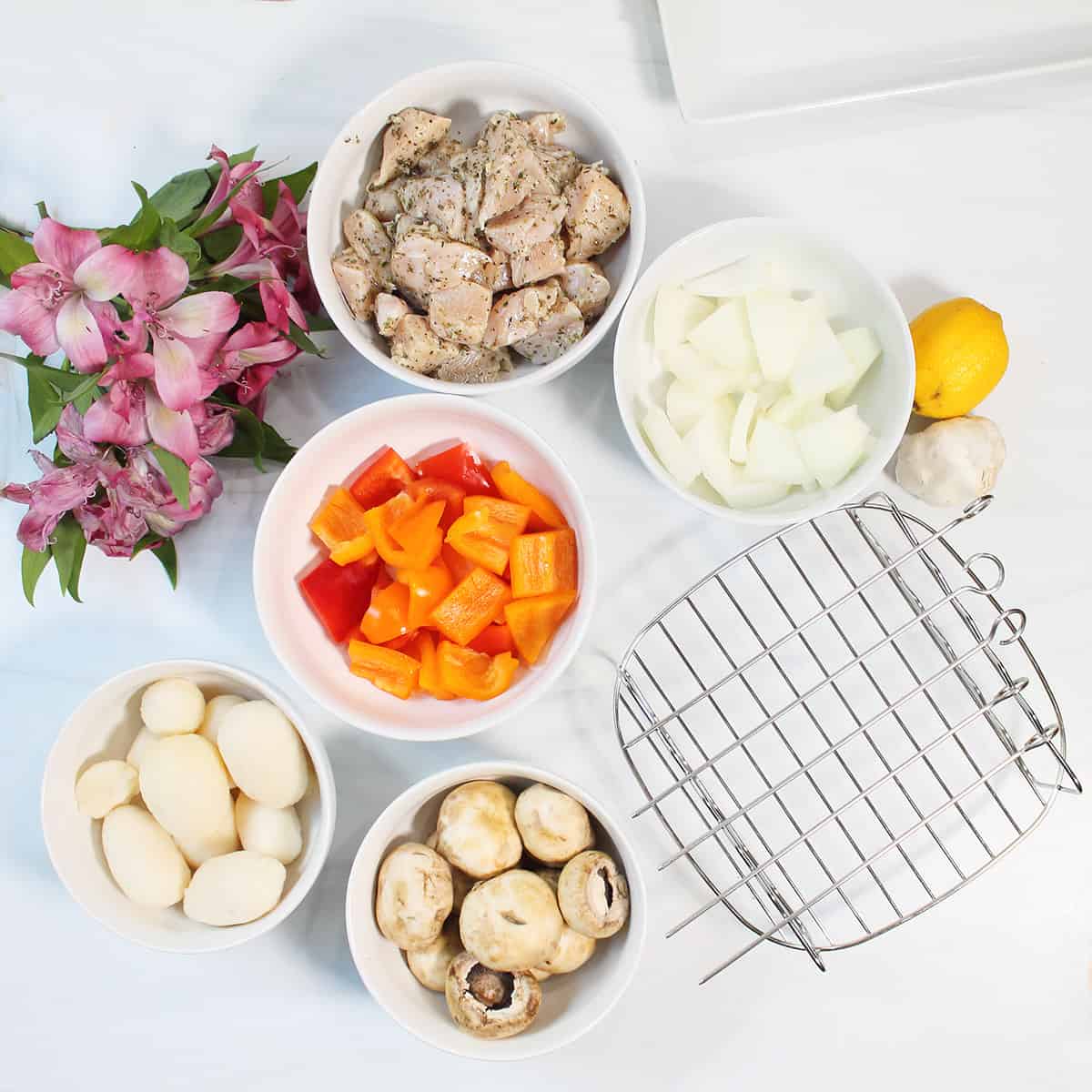 Cut up vegetables, making sure they are of equal size. Drain potatoes or parboil fresh potatoes, if preferred. Of course, feel free to omit for keto and low carb diets.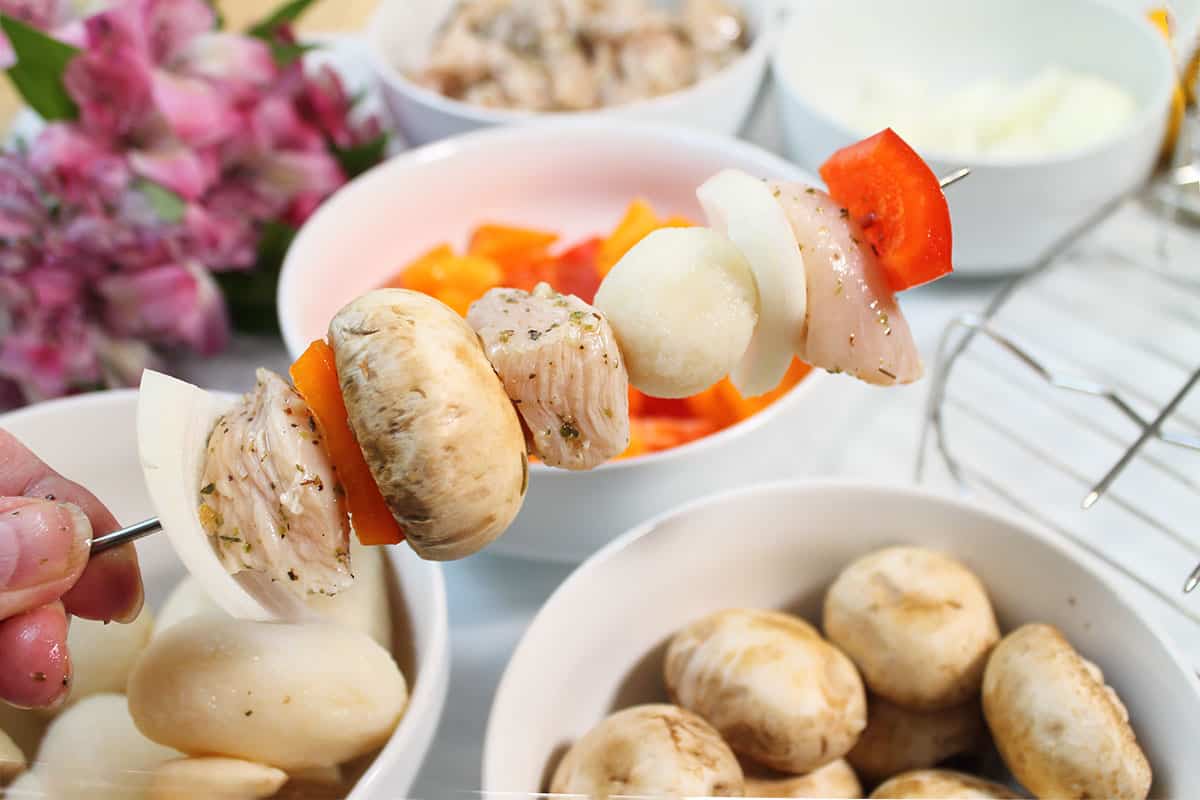 Skewer vegetables alternating between chicken, various vegetables, and potatoes.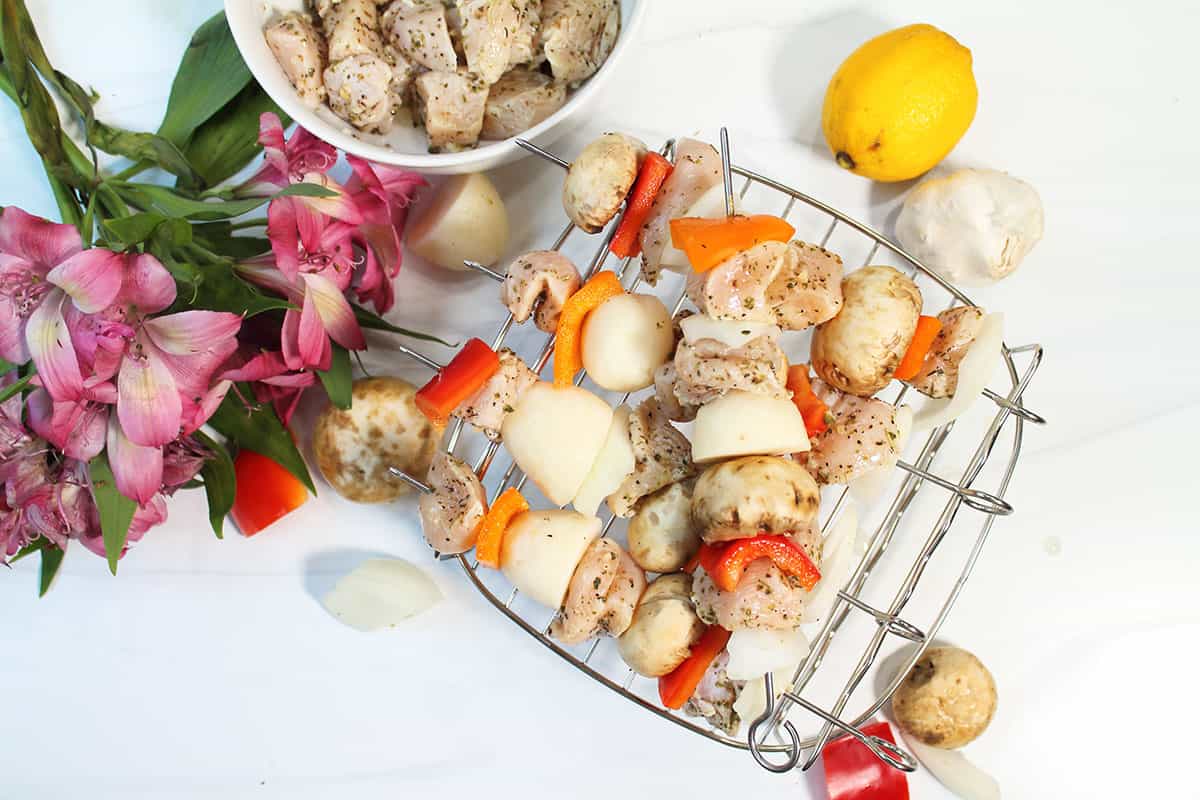 Place on sprayed rack in a single layer.
How to Cook Air Fryer Chicken Skewers
Preheat the air fryer for 4-5 minutes at 380 degrees. Spray rack and basket then lay the skewers on the rack. You can also cook directly on the basket in a single row. Spray the tops of the chicken and vegetables lightly with oil.
Air fry for 10 minutes, turning halfway through and spraying the tops again with oil. The chicken should be browned and the inside should be opaque in the center when done. If you have a digital thermometer the chicken should measure 165 degrees.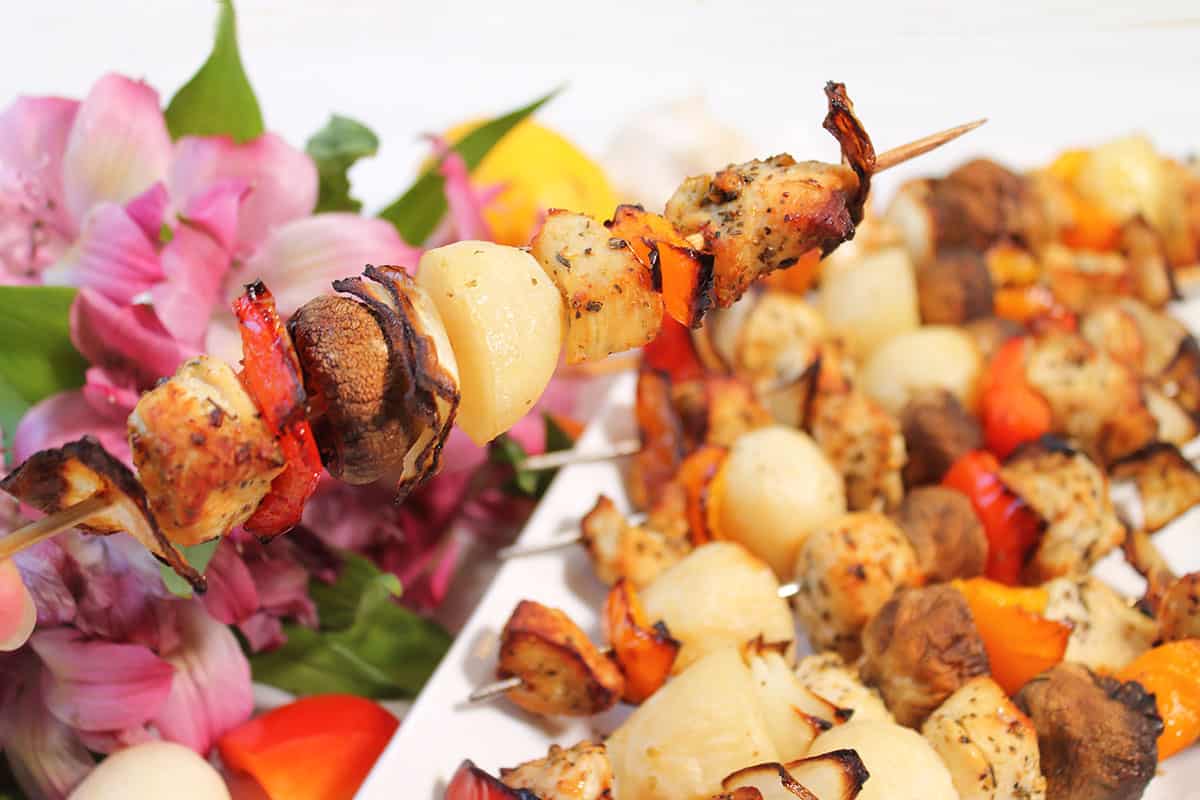 This easy and quick chicken shish kabobs dinner is perfect whatever the weather or day of the week. You can use whatever is in your fridge with little fuss and cleanup is a breeze. Just a few minutes to marinate then 10 minutes to cook and dinner is on the table. Enjoy!
More Chicken Skewers Ideas
Chicken Kebobs with Pineapple bring a tropical flair to dinner
Make Chicken and Shrimp Kebobs with the addition of peeled raw shrimp for a take on surf and turf
Chicken and Steak Kabobs are not only a hearty meal but eliminate the potatoes for a fantastic keto dinner as well
Grill these Chicken skewers or try my Grilled Korean Kabobs
Tips for the Best Chicken Skewers
Always marinate the chicken for a moist, tender result
Make sure to cut the vegetables as well as the chicken into similar sizes for even cooking
Spray oil on the chicken prior to cooking to aid in keeping the chicken moist
Make sure the skewers fit your air fryer. You can cut wooden ones down to size or purchase the skewers that go with your brand of air fryer
What to Serve with Shish Kabobs
Although these air fryer shish kabobs need little else to make them a complete dinner, I like to pair mine with a Caesar salad. Other side suggestions are grilled potato salad, baked potatoes, air fryer asparagus, rice, corn salad, or just some warm dinner rolls.
Storage/Freezing
Once cooked, these chicken shish kabobs will keep 4 days in the refrigerator. To reheat, just air fry for a few minutes until warmed.
You can freeze the kabob on wooden skewers prior to cooking as well as after cooking. Store in an air-tight freezer bag for up to 3 months.
LOVE QUICK & EASY RECIPES? FOLLOW ME ON INSTAGRAM, FACEBOOK, & PINTEREST FOR ALL THE LATEST RECIPE INSPIRATION! PLUS JOIN MY EMAIL LIST AND RECEIVE A FREE E-BOOK.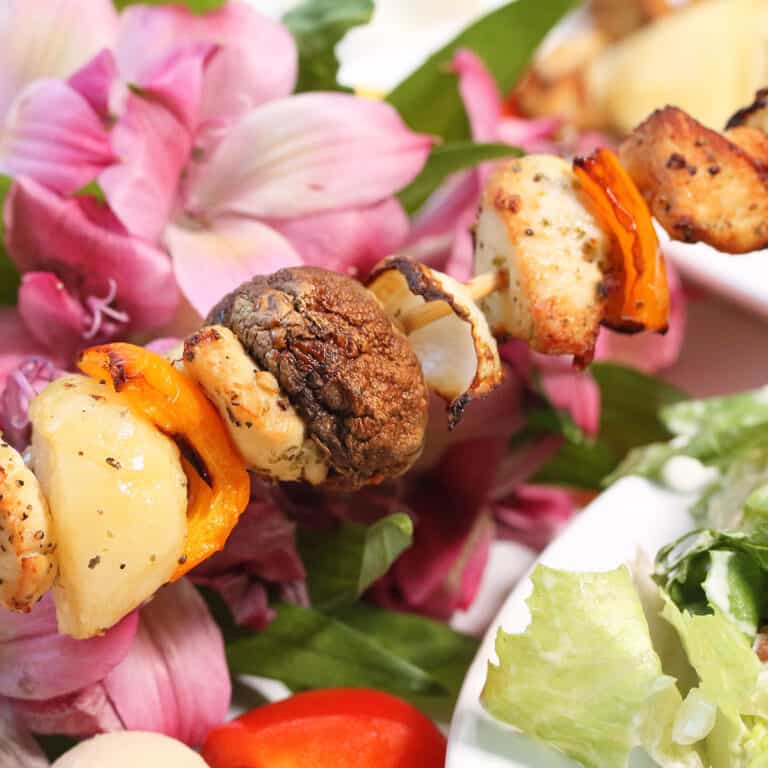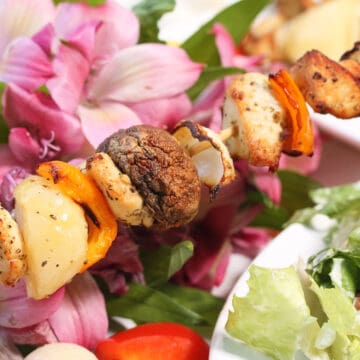 Ingredients
Marinade
¼

cup

olive oil

2

garlic cloves

minced

3

Tablespoons

lemon juice

1

Tablespoon

Italian Seasoning

1

teaspoon

salt

½

teaspoon

black pepper
Shish Kabobs
2

chicken breasts

cut in cubes

½

large sweet onion

cut in wedges

½

red bell pepper

½ orange or yellow bell pepper, cut in strips then thirds

8

oz

mushrooms

1

can

whole white potatoes (15-0z)
Instructions
Whisk together all ingredients for marinade.

Cut chicken into 1-½" cubes and place in bag with marinade. Place in refrigerator and marinate for at least 30 minutes.

To assemble, alternate chicken and cut vegetables and potatoes onto skewers. You can use the skewers and rack that comes with your air fryer or use wooden skewers cut to fit your air fryer. Soak the wooden skewers while cutting chicken and mixing marinade.

Preheat air fryer on 380 degrees for 5 minutes.

Place your skewers on the shish kabob rack or lay on the bottom on the air fryer basket that has been lightly sprayed with oil.

Spray the tops of the shish kabobs and cook at 380 degrees for 10 minutes, turning halfway through and lightly spraying again. Chicken should reach an internal temperature of 165 degrees. Cook a little longer if necessary. DO NOT CROWD THE KABOBS. It may take 2-3 batches to get all the kabobs cooked.

Remove when done and keep warm while cooking remaining kabobs.
Notes
TIPS FOR THE BEST CHICKEN SKEWERS
Always marinate the chicken for a moist, tender result
Make sure to cut the vegetables as well as the chicken into similar sizes for even cooking
Spray oil on the chicken prior to cooking to aid in keeping the chicken moist
Make sure the skewers fit your air fryer. You can cut wooden ones down to size or purchase the skewers that go with your brand of air fryer
Nutrition
Calories:
326
kcal
|
Carbohydrates:
17
g
|
Protein:
27
g
|
Fat:
17
g
|
Saturated Fat:
3
g
|
Polyunsaturated Fat:
2
g
|
Monounsaturated Fat:
11
g
|
Trans Fat:
1
g
|
Cholesterol:
72
mg
|
Sodium:
900
mg
|
Potassium:
864
mg
|
Fiber:
3
g
|
Sugar:
5
g
|
Vitamin A:
523
IU
|
Vitamin C:
28
mg
|
Calcium:
46
mg
|
Iron:
2
mg