All the delicious flavor of your favorite lasagna stuffed in a spaghetti squash. Lasagna Stuffed Spaghetti Squash is not only healthy but, when you use the squash as a bowl, cleanup is a breeze!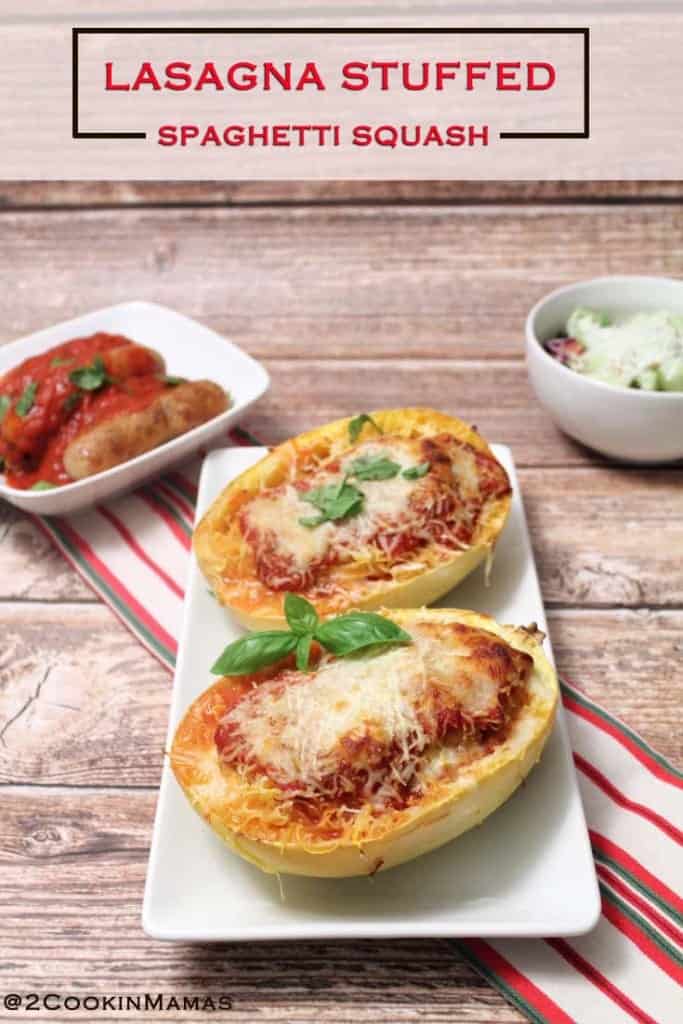 Day 10 of our new way of eating and we are seeing some progress. We have both lost some weight and I have gotten my workouts in every day this past week. And we're feeling good! (sounds like a song there somewhere?)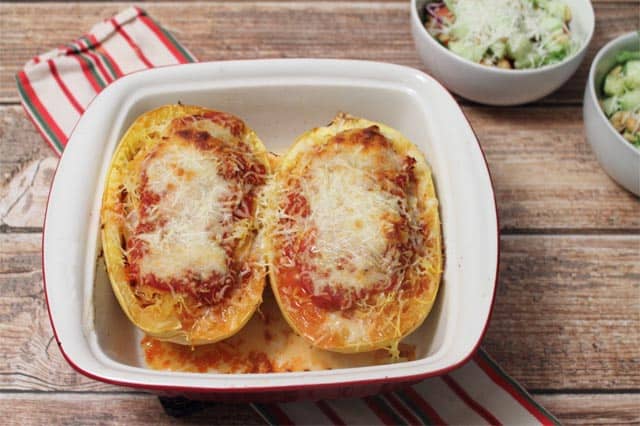 Today's dish of Lasagna Stuffed Spaghetti Squash came about when I spied spaghetti squash on our 30 Days To A New You menu plan. It was accompanied by a chicken breast but we had been having so much chicken lately, Chicken & Walnut Salad, Crockpot White Chicken Chili and Chicken with Avocado Salsa, that we wanted something a little different. One of our favorite meals is always something Italian or Mexican so we went with Italy and decided on a healthy lasagna made with spaghetti squash and a hot Italian turkey sausage. And why dirty an extra dish when you can use the squash itself as a bowl. I'm patting myself on the back for that one. 🙂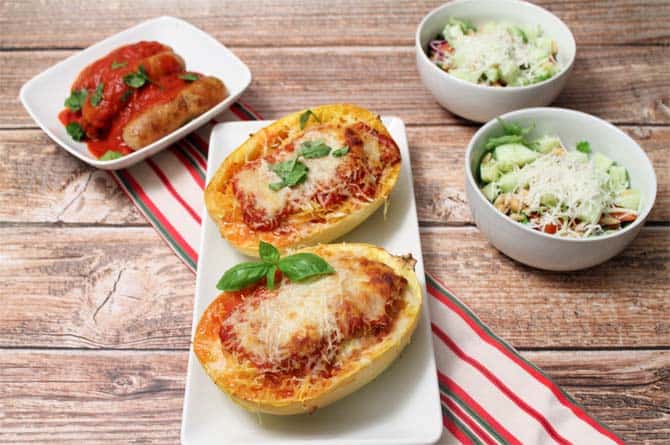 It's made pretty much the same way that a standard lasagna is made except spaghetti squash is used instead of lasagna noodles and we substituted the turkey sausage for the pork sausage. Easy peasy!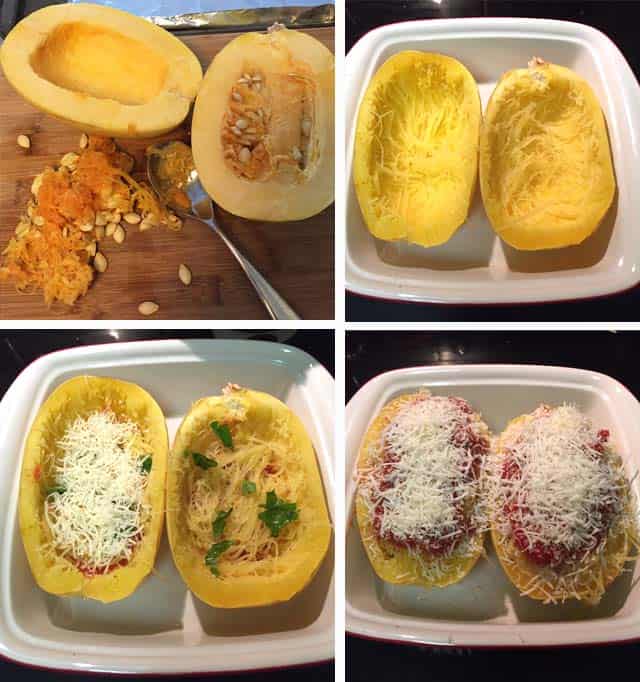 The pasta sauce and sausage make enough for you to use 2 large squash but, since I am only cooking for two, I saved the extra sauce for another spaghetti night. Next time I am trying some new pasta I found – edamame pasta. Keep in touch and you'll see what I thought about it when I used it in my Chicken & Pasta in Gruyere Cream Sauce coming up later this week.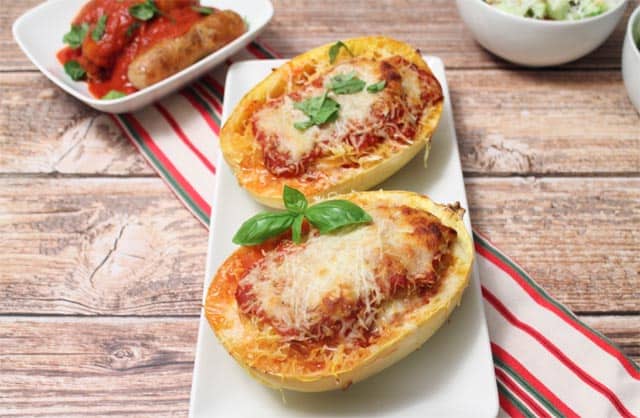 Enjoy or as the Italians say "buon appetito"!
Lasagna Stuffed Spaghetti Squash
Ingredients:
1 large spaghetti squash
1 32-oz. jar organic pasta sauce (no added sugars)
1-2 Tablespoons olive oil
1 lb. hot Italian turkey sausage, out of casing
1/2 onion, chopped
2 cloves garlic, minced
Pinch of red pepper flakes (optional)
Salt & pepper to taste
Handful of fresh basil leaves
4-6-oz. shredded low-fat mozzarella
1/4 cup grated Pecorino Romano or Parmesan cheese
Directions:
Preheat oven to 350 degrees. Line a cookie sheet with aluminum foil and spray with non-stick spray.
Cut spaghetti squash in half lengthwise, scoop out stringy pulp and seeds, then lay cut side down on prepared cookie sheet. Bake in oven for 40 minutes of softened. You should be able to insert a knife with minimal resistance.
Let cool slightly then carefully shred with a fork. Try not to damage the outer skin since you will be stuffing it with the lasagna ingredients. Place shredded squash in a large colander in sink, salt generously, and let moisture drain out of squash. This will make your lasagna less watery since spaghetti squash contains a lot of water.
While squash is cooling, heat oil in a large skillet and cook sausage, crumbling it as it cooks. Remove from pan. Saute onion, garlic and pepper flakes for 5 minutes or until onion is translucent. Combine onion mixture with sausage then toss with spaghetti sauce. (You will have about half of the pasta-meat mixture left over for another spaghetti meal.)
Preheat oven to 400 degrees.
To assemble: Place squash halves in an 8×8-inch square baking dish that has been sprayed with a nonstick spray. The square dish should be perfect for holding the halves upright. Put a little sauce in the bottom of each squash skin, followed by a handful of squash noodles, some mozzarella cheese, bits of basil, then sprinkle with Pecorino Romano. Repeat layering two more times ending with a nice topping of both cheeses.
Bake in oven for 25 minutes. If you like your cheese browned you can slip it under the broiler for last 2-3 minutes. Watch carefully so that it doesn't burn.
Garnish with additional basil if desired.
Serves 2.
Note: You can also leave the turkey sausage out and have a meatless meal or serve the whole turkey sausage, grilled or pan-fried, on the side.