Italian-style stuffed peppers are like a low-carb lasagna recipe prepared in their own dish. These Lasagna Stuffed Peppers are a delicious mix of ground beef, orzo & tomato sauce, all stuffed into tri-color peppers. A hearty dinner ready in 45! 
During the course of my normal day of hunting around the internet for interesting food blogs and health articles, I kept seeing delicious looking stuffed peppers containing mostly ground beef and rice mixtures. I wasn't really in a rice frame of mind, more an Italian mood, so decided to think up something with pasta that I could put in a pepper.
I love all things Italian, and my favorite has to be lasagna, well, maybe its pizza, no, maybe its my tortellini skillet – oh well, you get the idea – I'm an Italian food fanatic! In any case, I decided to try stuffing the peppers with lasagna. Now you know, those big fat lasagna noodles just don't fit into a pepper (duh!) so I had to figure out something else to use. I could use quinoa, that is also one of my favorite foods, but I had used it quite often during the week, or zoodles, those lovely zucchini noodles, maybe spaghetti squash or – BINGO, I got it! – orzo! It kind of looks like rice and it fits in a pepper, so that's a win-win right there!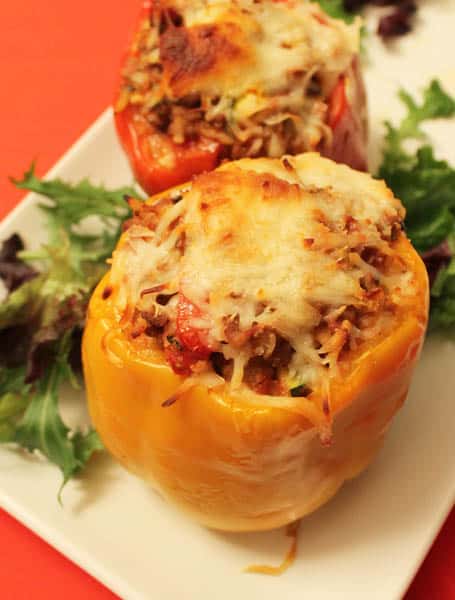 Once that was decided, the filling was pretty easy. A little pasta sauce, ricotta and mozzarella cheese, some cooked up ground beef and some zucchini and tomatoes to up our vegetable count for the day and voila! One great tasting and healthy dinner all wrapped up inside some sweet peppers.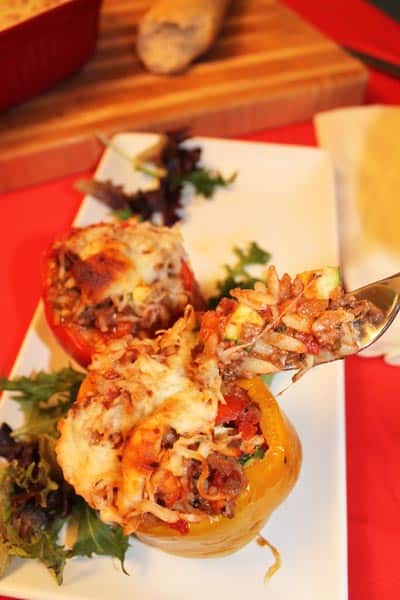 Not to mention, you can change it up to suit your family by adding spinach with the zucchini or leaving the zucchini out all together. It is really a forgiving versatile dish.
By the way, you can also cook it up in a casserole, which I did after I had filled our peppers for dinner. It even makes a great lunch to bring into work the next day.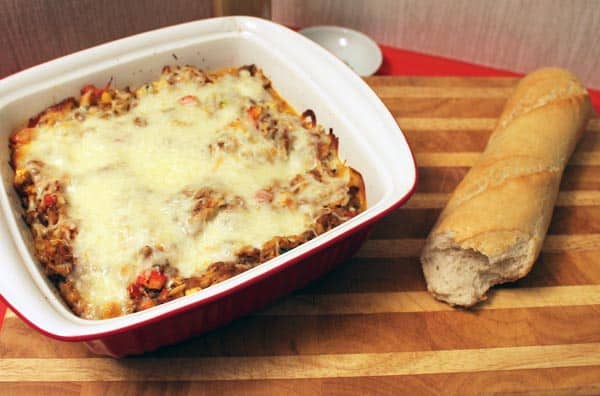 Enjoy!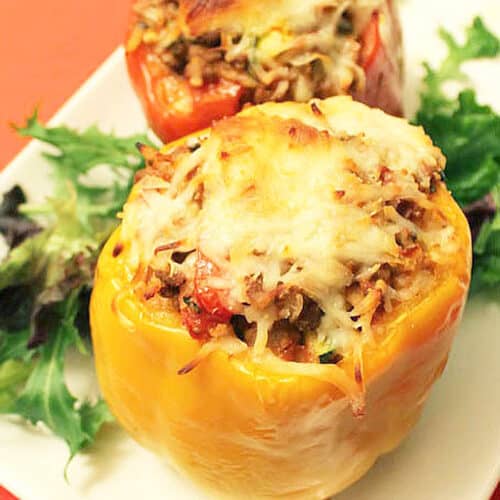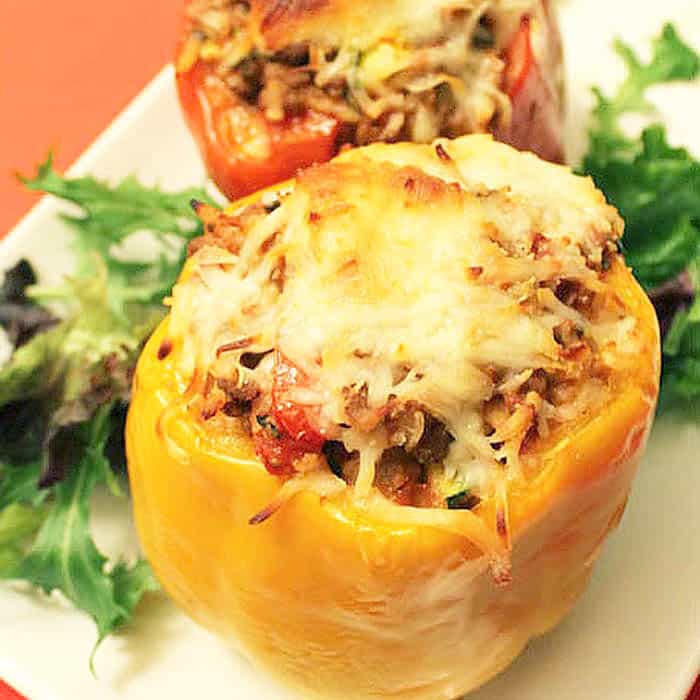 LASAGNA STUFFED PEPPERS
Keywords:
dinner, easy recipe, ground beef, orzo, stuffed peppers
Ingredients
6

large bell peppers,

red, yellow or orange

2

Tablespoons

olive oil

1/2

cup

onion,

chopped

1-2

cloves

garlic,

minced

1

lb.

lean ground beef

1

Tablespoon

basil

1

Tablespoon

oregano

1/2

teaspoon

salt

3/4

cup

uncooked orzo,

cooked according to package directions (quinoa or zoodles for gluten-free)

1/2

cup

ricotta cheese

8-

oz

mozzarella,

shredded

1/2

zucchini,

diced

3

tomatoes,

diced

2

cups

favorite pasta sauce

1/4

cup

Parmesan cheese,

grated (or Pecorino Romano)
Directions
Preheat oven to 350 degrees. Prepare a rectangular baking dish that will hold all the peppers by spraying with nonstick cooking spray. Set aside.

Wash the peppers then cut the tops off. Remove the membrane and seeds. Bring a large pot of water to a boil, drop in the peppers and parboil for 5 minutes. Remove and turn upside down to drain.

In a large skillet, heat olive oil and saute onion and garlic for 5 minutes. Add ground beef and spices and cook until meat is brown and cooked through.

Drain meat and pour into large bowl. Add cooked orzo, ricotta, half of the mozzarella, zuchini, tomatoes and spaghetti sauce. Stir to combine.

Stuff peppers and place in prepared baking dish. Sprinkle the tops with Parmesan cheese and remaining mozzarella cheese.

Bake for 25 minutes. Serve hot alongside some warm crusty bread.
Recipe Notes
If making this into a casserole, dice the peppers and cook with the onion and garlic. Then add to the orzo-cheese-spaghetti sauce mixture prior to putting into a casserole dish that has been coated with a non-stick spray. Bake as directed.