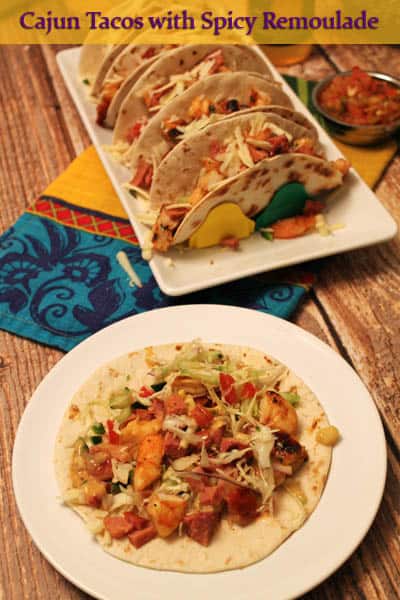 Disclosure: I received a package of Cajun Seafood Spice Blends from Healthy Solutions to participate in this contest. As always, all opinions are my own. 
I had so much fun this week! I was asked to be part of the Healthy Solutions Spice Blends 2015 Blogger Recipe Challenge and I just knew I was going to enjoy putting my creativeness to the test.
If you've never heard of Healthy Solutions Spice Blends don't feel too bad, I hadn't either. Who is this company and what type of products do they make? Well, it turns out they are a company after my own heart. As you know if you follow me, I am all for healthy cooking, so a spice blend would have to offer high quality spices without all the extra fillers and be more convenient than making my own. Well, guess what?! That is exactly what I found! The company was started by a busy Mom, just like you and me, who wanted to create a quick and tasty solution to enable busy families to cook up healthy, savory meals more quickly. She made the blends both salt and sugar free, with no fillers or MSG, and used only the highest quality spices. They are tasty and healthy and oh so convenient!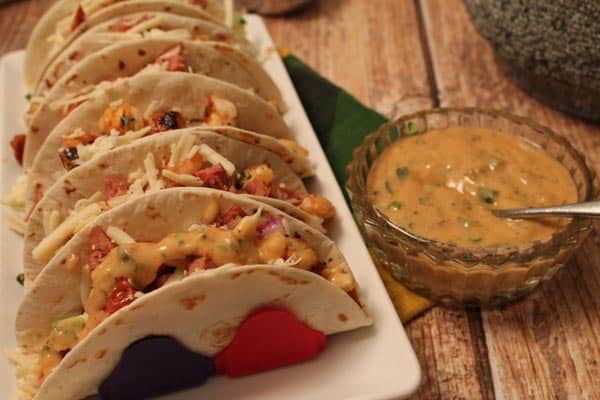 They have 16 different blends including beef, pork and poultry rubs, Italian Meatballs, Savory Meatloaf, Grilled Swordfish, Sesame Ginger Tuna, my choice of Cajun Seafood, and more.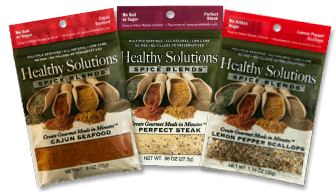 All come in convenient resealable bags to seal in the freshness. Can't wait to try the rest! By the way, you can find them at Whole Foods and a few other specialty stores.
For this challenge, Healthy Solutions sent me a packet of their Cajun Seafood Spice Blend, and asked me to create an original recipe. It was kind of a no-brainer to put a New Orleans take on it since Mardi Gras was still fresh in my mind. And what is most closely associated with this type of cooking? Well, shrimp, Andouille and spicy spices, of course! And living in Florida, cooking on the grill is always simpler, less clean up and super delicious. Hence my take on Cajun-spiced tacos from my grill to yours.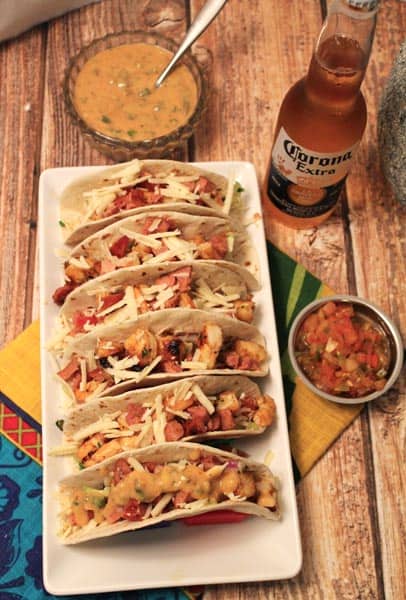 This recipe is really easy to get on the table quickly. Prepare the slaw and the remoulade (which is a healthier version made with yogurt) ahead of time then all you have left to do is marinate the shrimp for 30 minutes then grill away.
Hope you enjoy!
 Cajun Tacos with Shrimp, Andouille & Spicy Remoulade
Ingredients:
Slaw
1/2 cucumber, seeded and cut into matchstick-size pieces
1-1/2 cups shredded green cabbage (you can also use the cabbage & carrots mixture found in your grocer's produce section)
1/8 cup thinly sliced red onion, then cut in half
1 plum tomato, seeded & chopped
1/2 jalapeno, seeded and minced
1/4 cup orange juice
1 Tablespoon lime juice
pinch of salt
Marinade
1/8 cup honey
1 teaspoon balsamic vinegar
2 teaspoons vegetable oil
2 teaspoons water
1 teaspoon "Healthy Solutions" Cajun Seafood Spice Blends
1/2 teaspoon red pepper flakes
1 Tablespoon cilantro, chopped fine
3/4 lb. shrimp, shelled & deveined
1/4 lb. Andouille sausage
8 Small flour or corn tortillas
3/4 cup cheddar cheese, grated
Garnish: salsa & remoulade (see recipe below)
Directions:
Combine all slaw ingredients, cover, and place in refrigerator for 2 or more hours.
Mix all ingredients for marinade.
Rinse shrimp, remove tail, pat dry and season with a little salt & pepper. Place in a ziploc bag along with marinade and place in refrigerator for 30-90 minutes. Turn once or twice.
Heat grill. Spray with nonstick spray.
Place Andouille on grill and cook for 8-10 minutes over medium heat (350-450 degrees). Remove shrimp from marinade, place on metal skewers (if using wood skewers soak in water while shrimp is marinating) and, about 2 minutes after the Andouille was put on grill, add shrimp to grill for 2-3 minutes per side depending on size.
Remove meat and shrimp from grill and let cool slightly.
While shrimp & Andouille are cooling, brown tortillas in a dry skillet over medium-high heat. As each is cooked, place in TacoProper (a great little invention) so that they hold their shape or place in tortilla warmer.
Cut each shrimp into thirds and cube Andouille. Mix together.
To serve: Either serve ingredients separately and let everyone fix their own or assemble by placing slaw in bottom of each tortilla, followed by the shrimp & Andouille mixture then top with a little sprinkling of cheese. Serve spicy remoulade (see recipe below) and salsa on the side.
Serves 4. (2 tacos each)
Spicy Remoulade
Ingredients:
1 cup plain yogurt
1/4 cup sweet chili sauce
2 Tablespoons spicy or brown mustard
2 Tablespoons EVOO
1 Tablespoon sriracha
2 Tablespoons fresh lemon juice
1 teaspoon Worcestershire sauce
4 medium green onions, chopped fine
2 Tablespoons chopped fresh parsley
2 Tablespoons chopped green olives
2 Tablespoons minced celery
1 clove garlic, minced
1/2 teaspoon "Healthy Solutions" Cajun Seafood Spice Blends
Salt & pepper to taste
Directions:
Mix all ingredients together. Store in refrigerator.
Stay tuned for a tasty Cajun Shrimp and Quinoa Salad made with Healthy Solutions Cajun Seafood Spice Blends. Yummy!
Like this recipe? Click here so you don't miss any of our tasty recipes! You can follow us on Facebook, Twitter, Pinterest & Instagram too!