Grilled fish tacos are a delicious and healthy alternative to beef tacos. Fish is marinated in honey, balsamic vinegar and spices then grilled to perfection. Toss on a tortilla and top with our citrusy, spicy slaw for a fish taco you'll want again and again.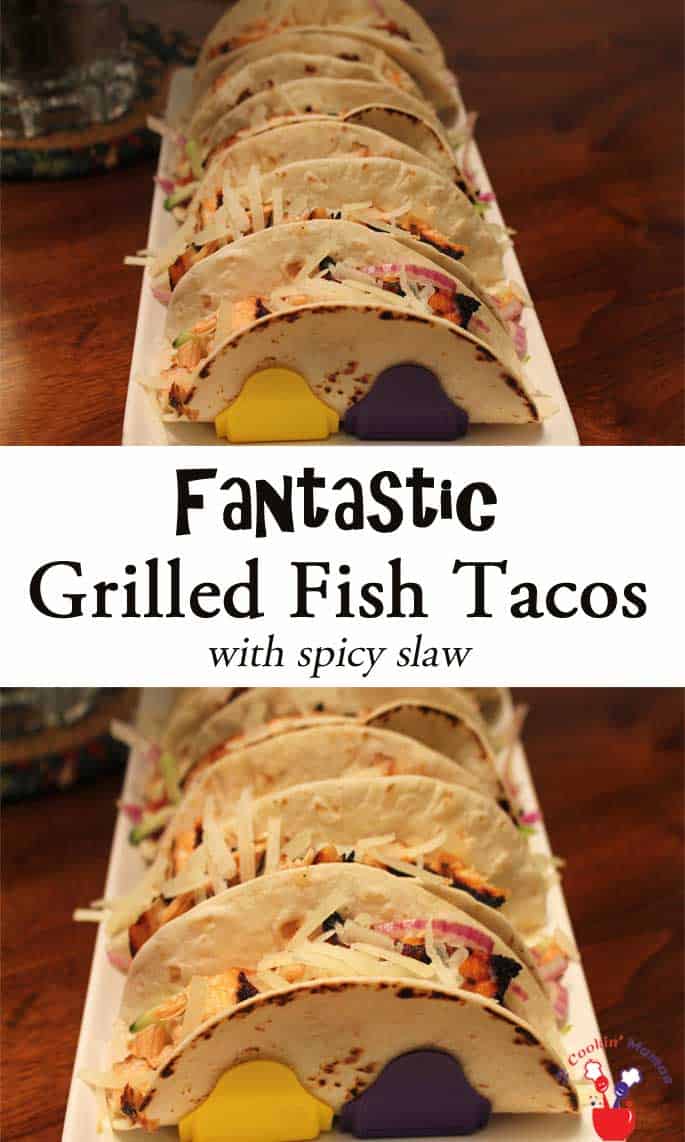 We make ground beef tacos in our family at least twice a month, yes, it is that popular, so, since everyone likes it so much, a healthier alternative to the beef sounded like a good idea.  Fish was my first thought. Now, I have had fish tacos at different restaurants but I just never thought about making them at home. Well, it turns out, it is very easy and really delicious. And it was a big hit!
And it made me feel better that they were getting a serving of fish, salmon in this case, which supplies iron, zinc, niacin and vitamins B6 and B12 as well as selenium for boosting their immune system, phosphorus to build and maintain their bones and teeth, potassium to support the function of their muscles and heart and a good serving of lean protein.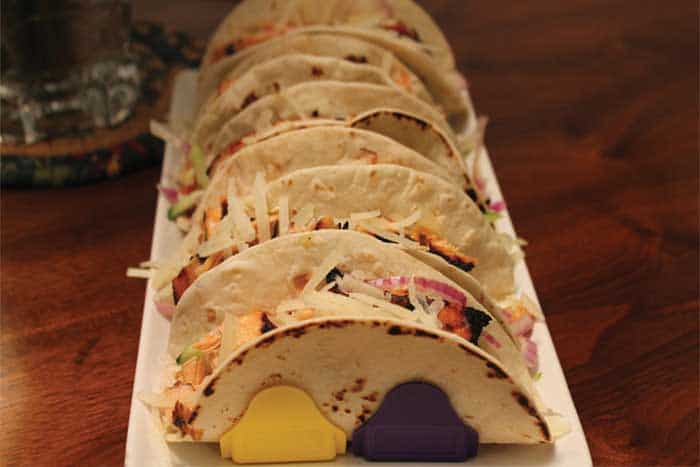 The cabbage in the slaw is also an important vegetable in that it plays a role in the function of  kidneys, heart and nerves and has cholesterol-lowering and cancer-preventive benefits. Now I feel like a really good Mom. 🙂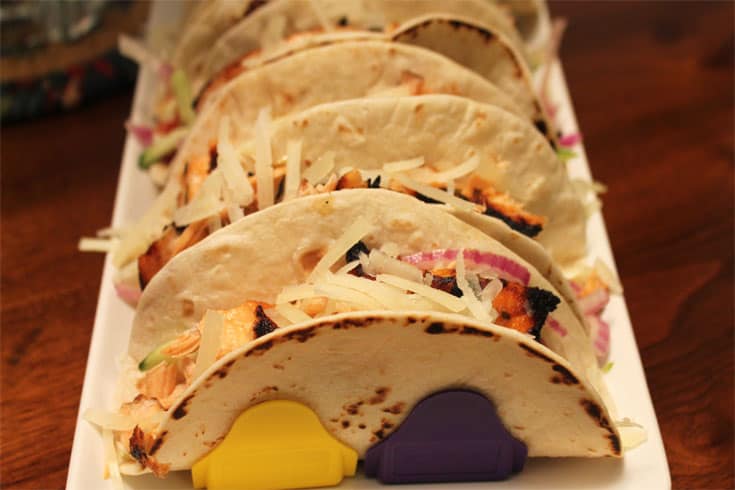 If you love tacos, you could opt for our Cajun Shrimp Tacos and our easy Slow Cooker Chicken Tacos for a change of pace. Enjoy!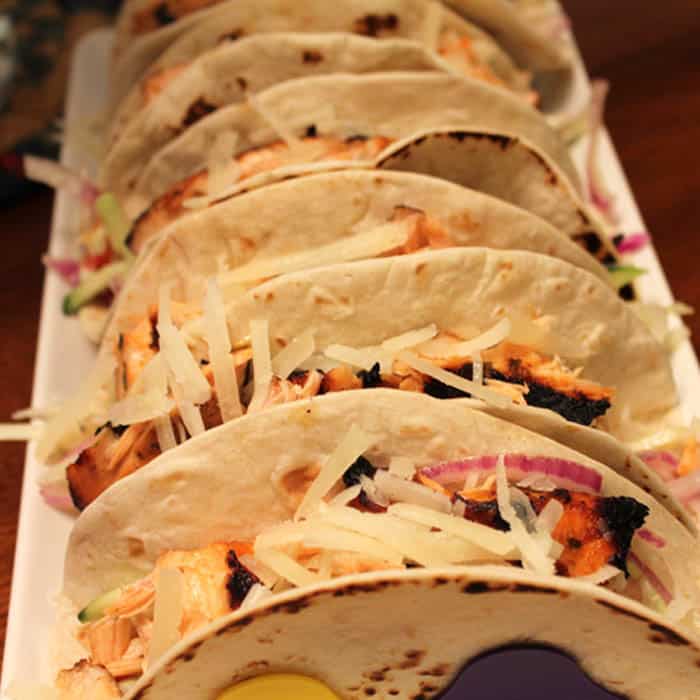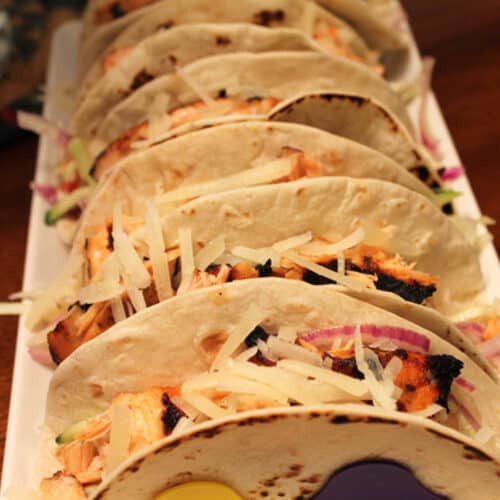 FANTASTIC GRILLED FISH TACOS
Change up beef tacos for a healthier alternative, grilled fish tacos. Marinated, grilled, loaded into a tortilla then topped with our special slaw. Yum!
Ingredients
Slaw
1/2

cucumber,

seeded and cut into matchstick-size pieces

1-1/2

cups

shredded green & red cabbage and carrots mixture

found in your grocer's produce section

1/8

cup

thinly sliced red onion,

then cut in half

1

small plum tomato,

seeded & chopped

1/2

jalapeno,

seeded and minced

1/4

cup

orange juice

1

Tablespoon

lime juice

Pinch

of salt
Marinade
1/8

cup

honey

1

teaspoon

balsamic vinegar

2

teaspoons

vegetable oil

2

teaspoons

water

1

teaspoon

cumin

1/2

teaspoon

red pepper flakes

1

Tablespoon

cilantro,

chopped fine

1

lb.

salmon fillets

(you can also use mahi mahi or other firm white fish)

Salt & pepper to taste

Small corn or flour tortillas
Directions
Combine all slaw ingredients, cover, and place in refrigerator for 2 or more hours.

Mix all ingredients for marinate.

Rinse fish, pat dry and season with a little salt & pepper. Place in a ziploc bag along with marinade and place in refrigerator for 30-90 minutes. Turn once or twice.

Heat grill. Spray with nonstick spray. Remove fish from marinade and grill for 6-8 minutes per side depending on thickness. Place on plate and break into pieces.

To prepare tacos:

Heat a dry skillet on medium-high heat. Place tortilla on skillet to brown on one side. Set tortilla in a tortilla warmer or in TacoProper Taco Holder (great little invention) and finish remaining tortillas.

Either let everyone fix their own or place slaw in tortilla followed by fish pieces. I like to serve with salsa and shredded cheddar or Monterey Jack cheese.
Recipe Notes
Two hours of prep time includes marinating slaw & fish. The slaw can be made the day before to save time.
DON'T MISS A RECIPE!