This Chocolate Covered Toffee with pecans is quick & easy to make. Toffee is cooked up quickly in the microwave then topped with chocolate, sprinkled with pecans and finished with a dusting of sea salt. It's a sweet & salty combination that's perfect for a snack or as a holiday gift.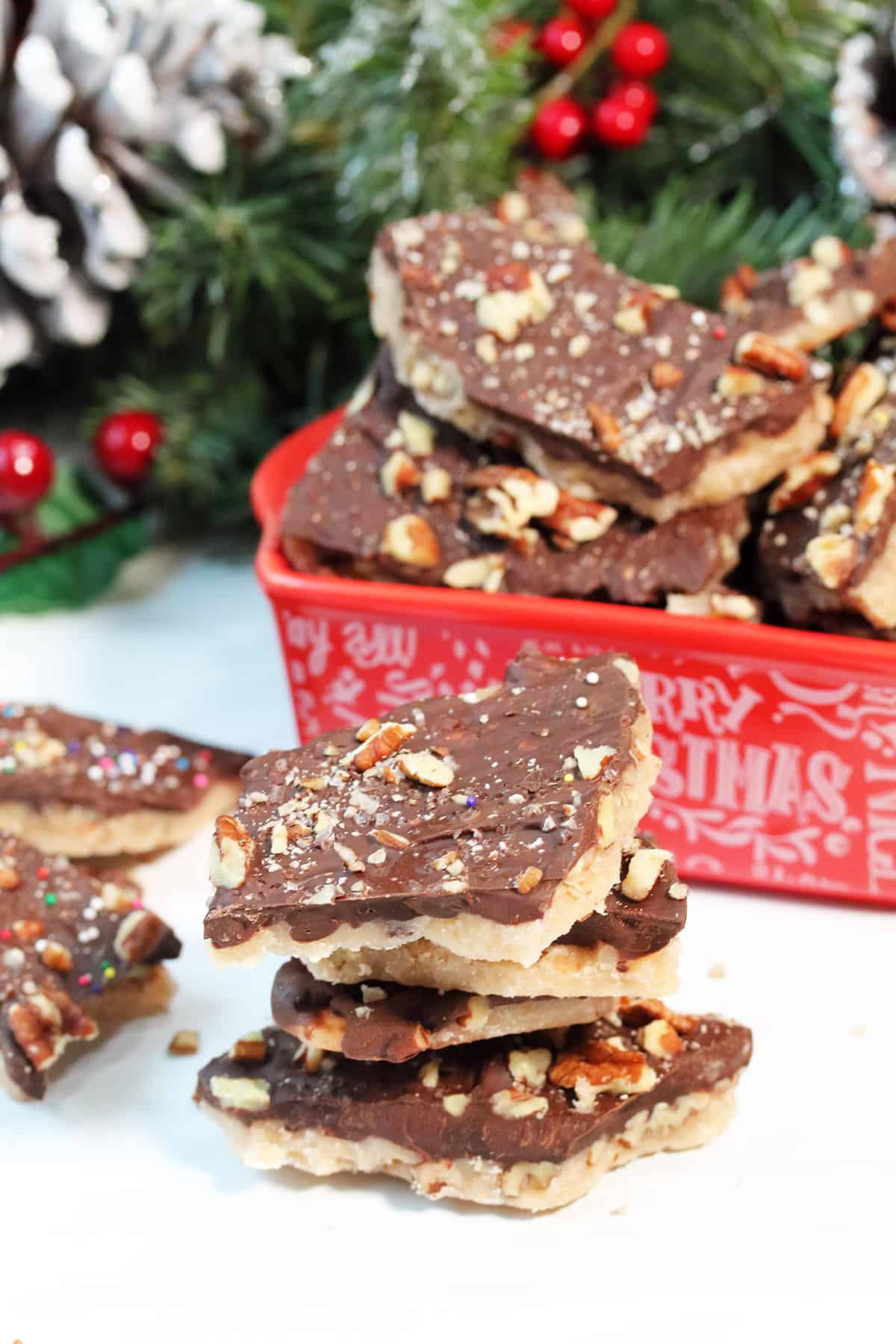 I love to make candy for Christmas! And there are so many great ones to make too, like Stroopwafel Fudge, Ohio State Buckeyes, and Gingerbread Truffles. But this Toffee Bark, a type of "crack" candy, is a favorite no matter what time of year.
I worked on this toffee with pecans recipe so it could be made in the microwave, much like my peanut brittle, and it made the process so much easier and almost foolproof. Believe me, even if you've never made candy, you can make this!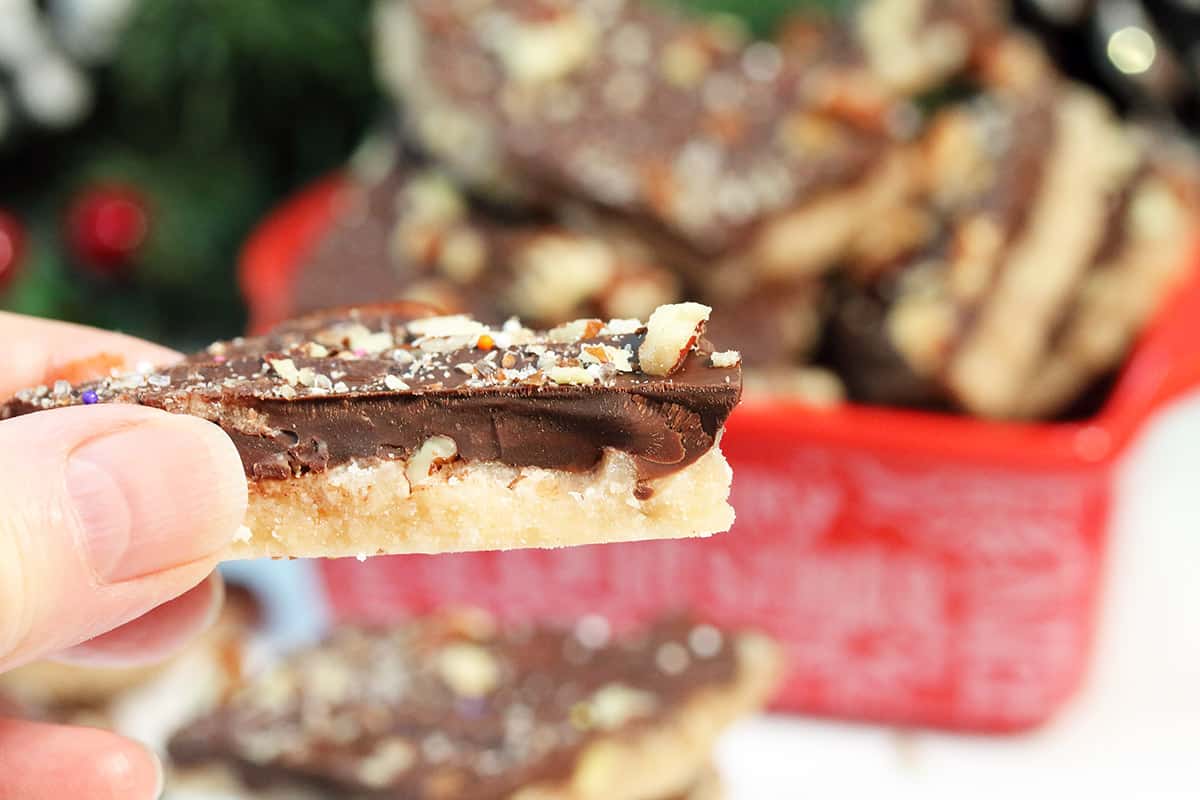 This easy Chocolate Covered Toffee candy recipe takes just 5 basic ingredients and 20 minutes to make. The resulting rich buttery homemade caramel toffee coated with rich dark chocolate and a sprinkling of nuts is not to be missed. It's perfect for Christmas snacking and holiday gift-giving too! Enjoy!
Frequently asked questions
Why is my toffee chewy?
Most likely it is because your humidity is too high. It could also be that the toffee did not reach the correct "crack stage" temperature. If you don't have a candy thermometer, check to see if the mixture is foaming and that it is turning a beautiful caramel color.
How do I get the chocolate to stick to the toffee?
Mine always sticks to the toffee if added when it is hot. If yours is not sticking you can either dust the top of the toffee with cocoa powder before topping with chocolate chips or, work fast, and dab off any excess butter on the top of the toffee then place the chocolate chips on top.
How long will my toffee crack last?
Store in an airtight container in the refrigerator for up to a month. You can also freeze it for 3 months.
How do I clean my bowl after the toffee hardens on it?
Just place the bowl in the sink and let really hot water sit in it until the mixture turns to liquid again then rinse.
Ingredients for Microwave Toffee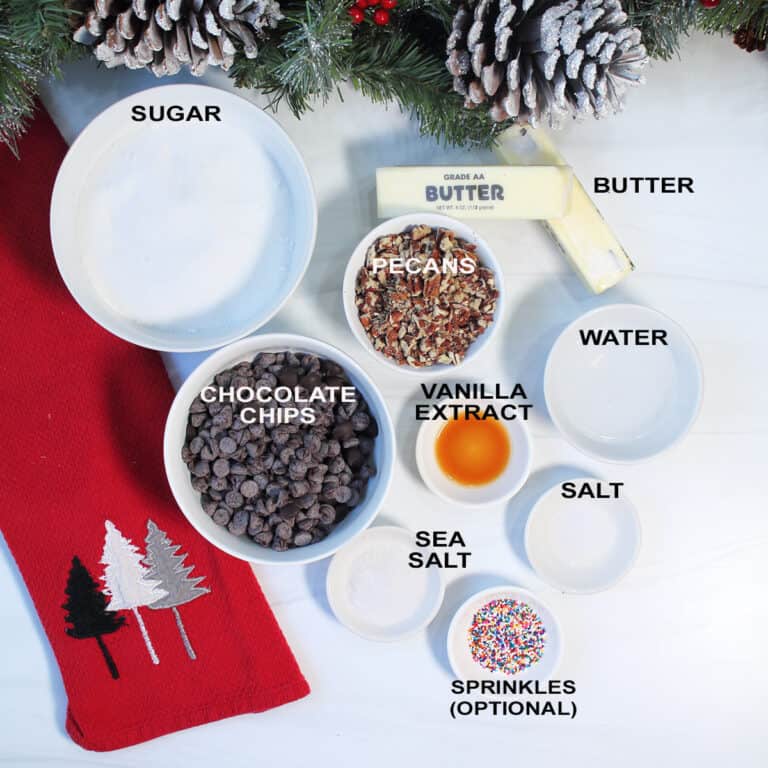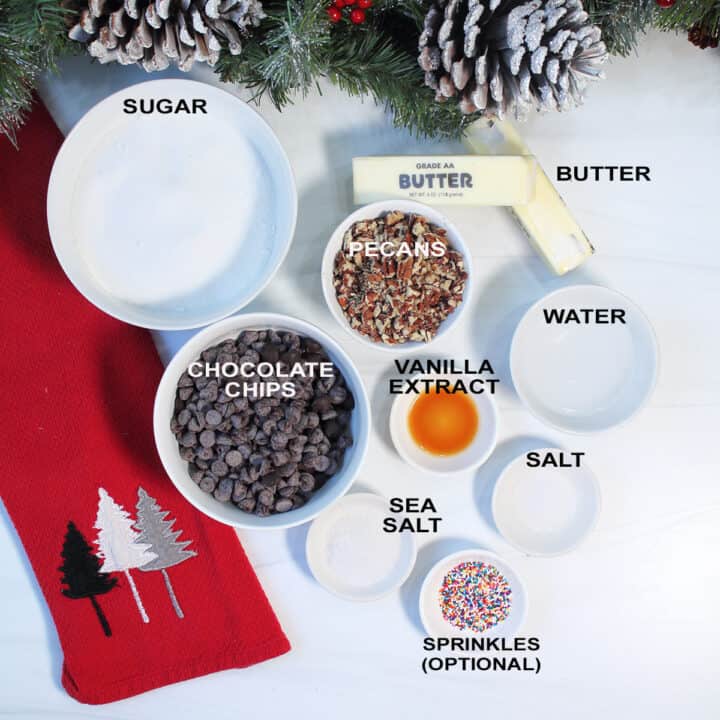 Butter – use salted butter to help stabilize the butter-sugar toffee mixture
Sugar – I use regular white granulated sugar for this toffee crack
Salt – enough to draw out all the best flavors
Vanilla – lends flavor to the toffee. Use a high quality pure vanilla extract for the best taste.
Dark chocolate chips – if you're not into dark chocolate you can also use semi-sweet or milk chocolate
Pecans – chop them roughly. You can also use more if you like a nuttier result
Sea salt – cause who doesn't love salted caramel?? If you prefer, you can leave this out.
How to make Chocolate Covered Toffee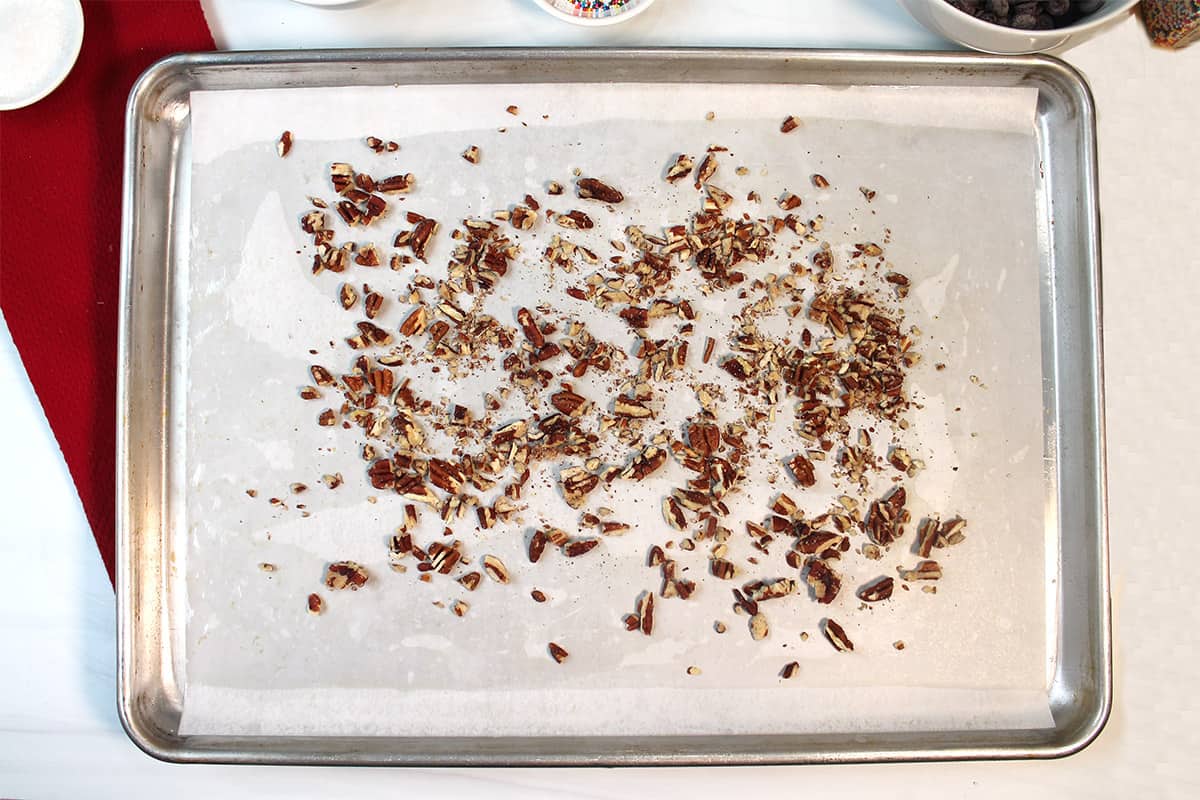 Line a cookie sheet with parchment paper, silicone mat or foil. Or spray the heck out of an unlined baking sheet to cover every nook and cranny.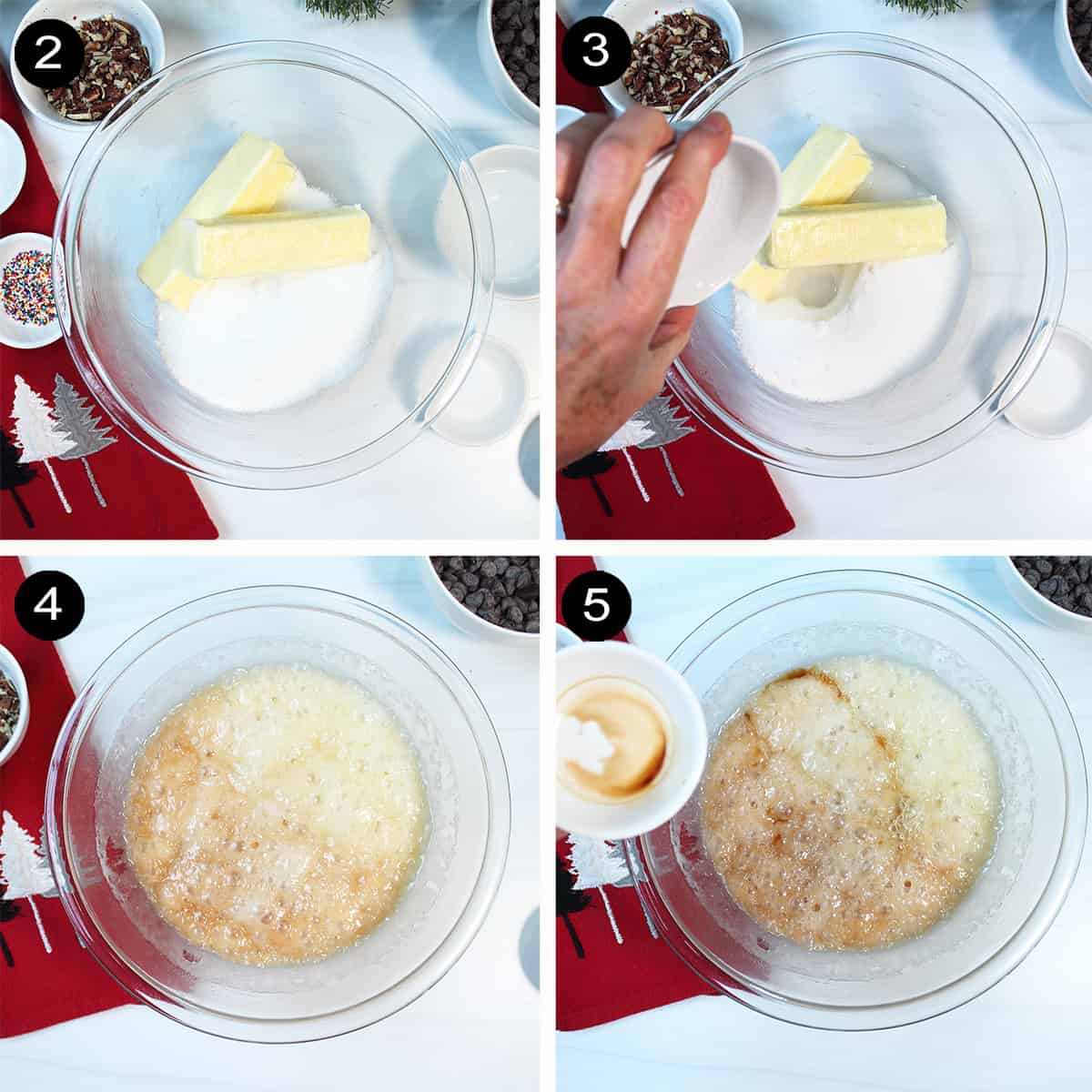 Butter a large microwave-safe bowl all over. Place sugar, softened butter and salt in bowl
Add water.
Set in microwave and heat on high for 8-½ minutes (this is based on a 1000-watt microwave) or until a candy thermometer registers 300 degrees, the crack stage.
When cook time is up, remove from mocrowave and stir in vanilla extract.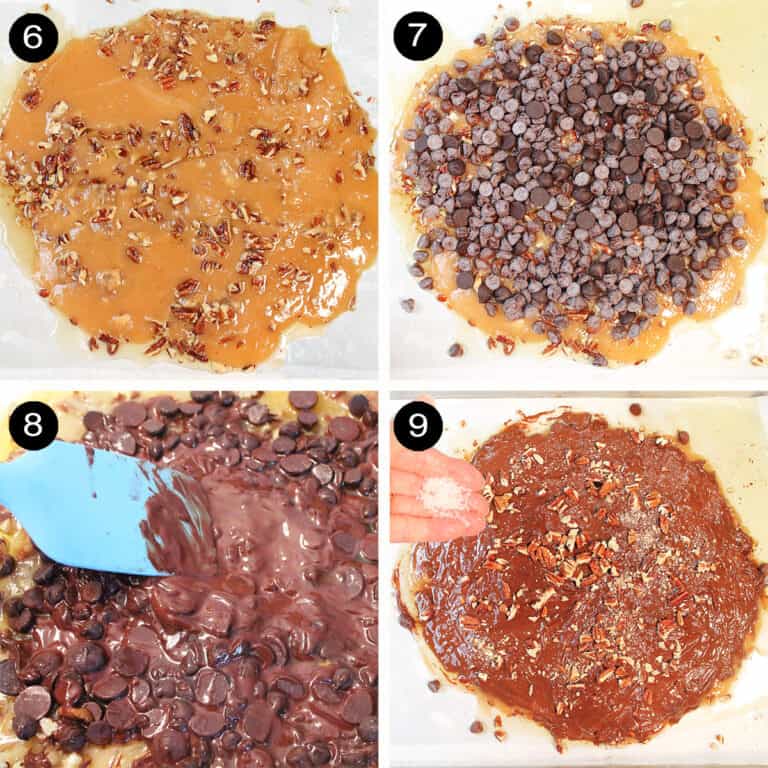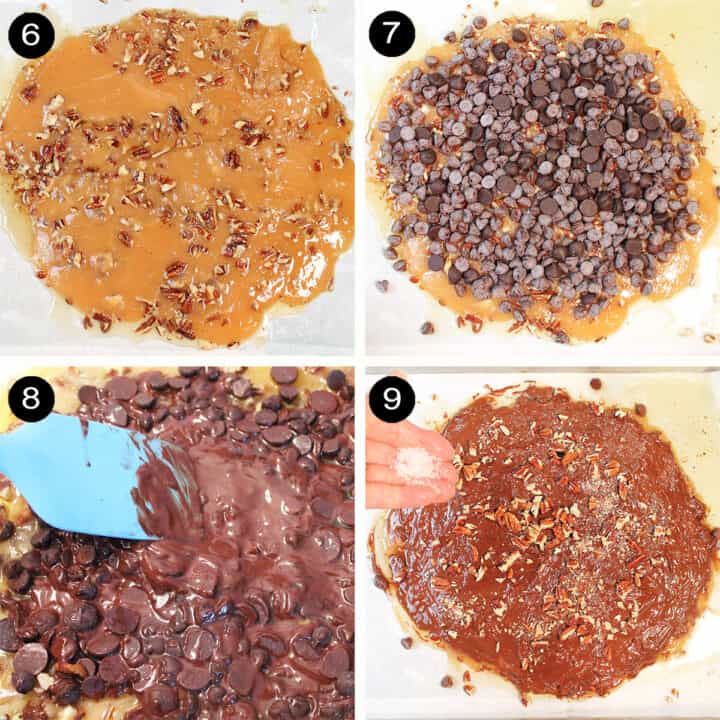 Immediately pour the hot toffee over the nuts on the prepared baking sheet.
Note: The butter separates slightly but doesn't hurt the toffee getting to the crack stage or the overall flavor at all.
Sprinkle the chocolate chips over the hot toffee.
Wait 1-2 minutes then spread the melted chocolate evenly over the toffee. Use a silicone spatula for easy cleanup.
Immediately sprinkle the remaining chopped nuts and sea salt over the warm chocolate. Let cool slightly then place in refrigerator to set.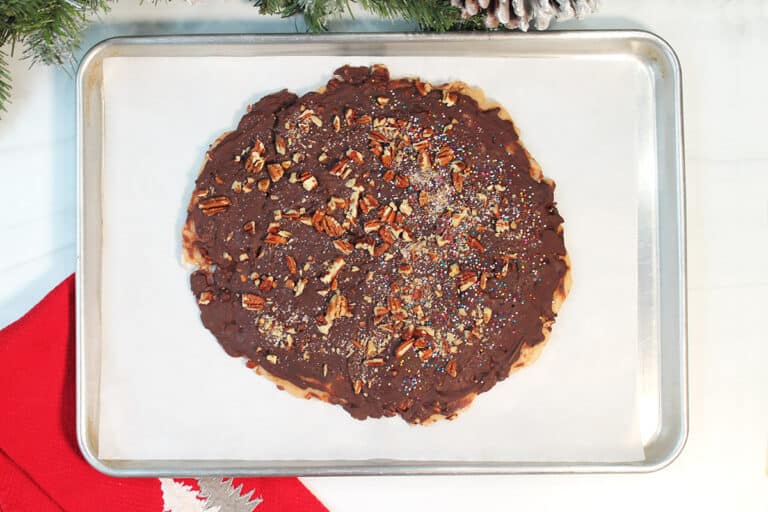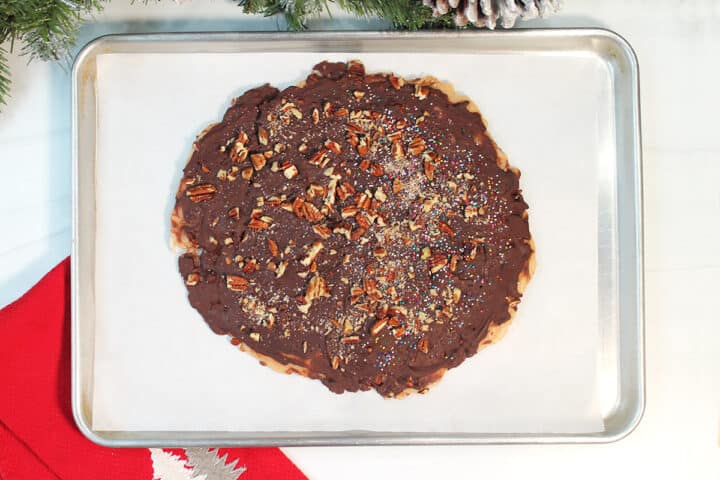 Once chilled and set, remove from refrigerator and crack into pieces. The toffee is nice and crunchy, the chocolate rich and smooth and the sea salt gives it that sweet-salty edge that will win rave reviews every time.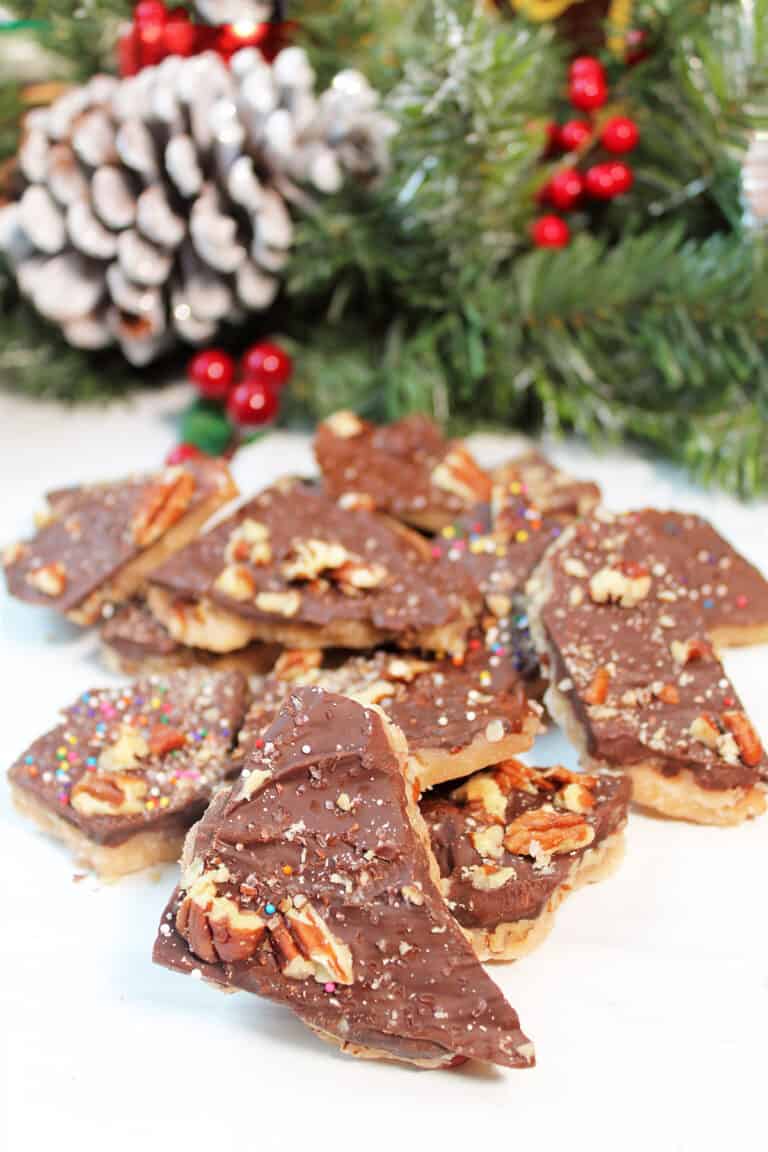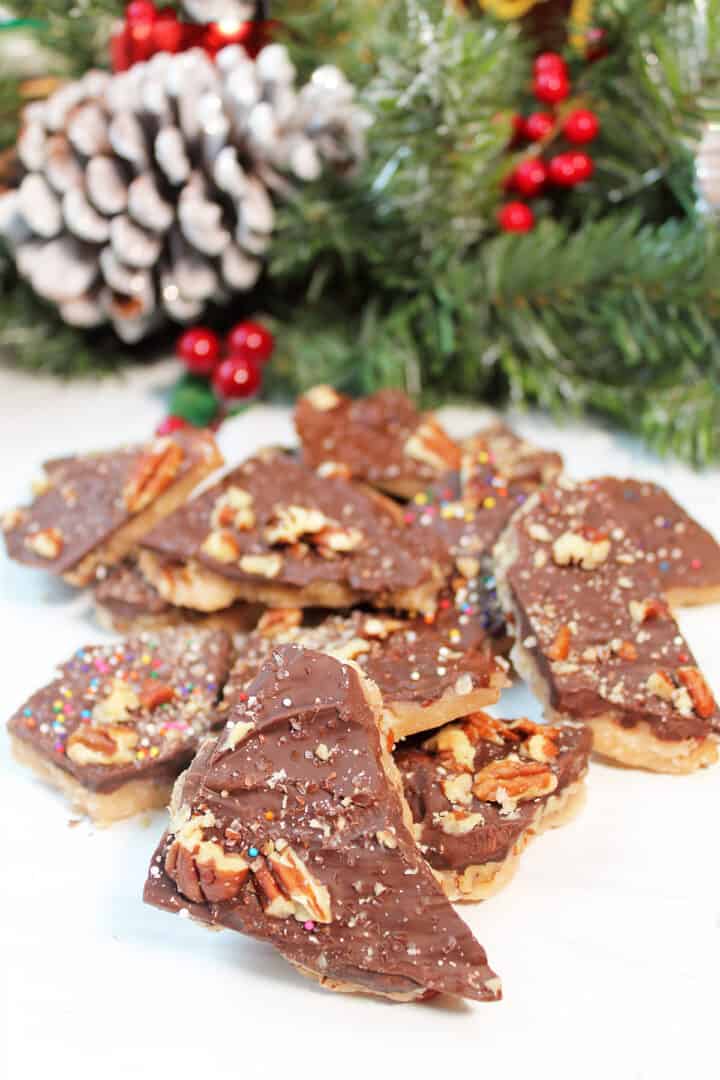 Variations
Nuts - use your favorites as almost any variety works. Try macadamia, mixed nuts, almonds, walnuts, or pistachios
Chocolate - not into dark chocolate? Try semi-sweet, milk chocolate, or even white chocolate. Want more chocolate? Just drizzle a different kind over the finished microwave toffee.
Other Toppings - omit the nuts or add dried cranberries, crushed candy canes, or pepitas along with them.
More Delicious Christmas Recipes
Turtle Cheesecake Cookies - soft cream cheese cookies filled with caramel and pecans and drizzled with chocolate just like your favorite turtle candy!
White Chocolate Cranberry Nut Cookies - are super-chunky buttery cookies stuffed with macadamia nuts, creamy white chocolate chunks & chewy cranberries.
Key Lime Truffles - are your favorite tropical cheesecake covered with rich chocolate.
Eggnog Creme Brulee from The Spiffy Cookie - is all dressed up with sugared cranberries and ready for the holidays!
Double Chocolate Mint Cookies - are rich chewy cookies filled with mint chocolate chips, dipped in chocolate, and sprinkled with crunchy peppermint pieces.
There are even more easy holiday recipes right here on 2CM!
LOVE QUICK & EASY RECIPES? FOLLOW ME ON INSTAGRAM, FACEBOOK, & PINTEREST FOR ALL THE LATEST RECIPE INSPIRATION! PLUS JOIN MY EMAIL LIST AND RECEIVE A FREE E-BOOK.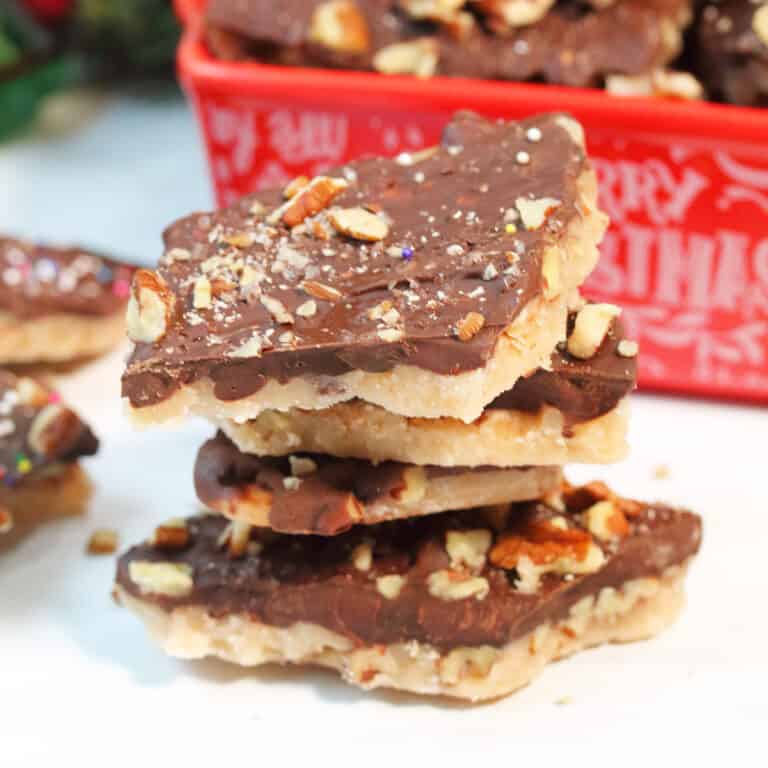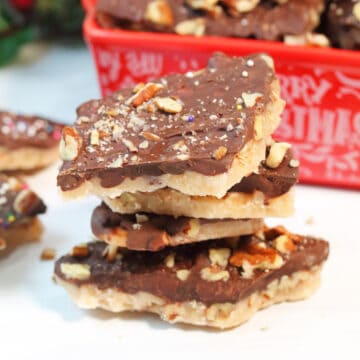 Microwave Chocolate Covered Toffee with Pecans
This toffee is quick & easy to make in the microwave. A layer of buttery toffee, covered with dark chocolate, then sprinkled with sea salt is the perfect sweet & salty crunchy treat.
Print
Rate
Ingredients
1 ½

cups

sugar

1

cup

butter (2 sticks)

room temperature

3

Tablespoons

water

¼

teaspoon

salt

½

teaspoon

vanilla extract

1 ½

cups

dark chocolate chips

⅔

cup

pecans,

chopped

2-4

teaspoons

coarse sea salt
Instructions
Line a large cookie sheet with parchment paper, silicone mat or foil. You can also just spray a cookie sheet with non-stick spray but make sure you cover every inch of it for easy cleanup.

Sprinkle half to ¾ of the nuts on the cookie sheet. Set aside.

Butter a large mixing bowl with butter, all the way up sides.

Place butter, sugar, water and salt in the bowl and cook on high in microwave for 8-½ minutes (based on a 1000-watt oven. Add more for lower wattage ovens) or until candy thermometer reaches 300 degrees (hard crack stage).

Remove from microwave and stir in vanilla. Immediately pour onto prepared cookie sheet covering nuts.

Put chocolate chips on top of the hot toffee and let it sit for 1-2 minutes then spread the chocolate evenly over the surface.

Add remaining chopped nuts and sprinkle with sea salt.

Let cool then place the cookie sheet in the refrigerator for an hour or so to set chocolate.

Take out and break into pieces.

Store in airtight container in cool, dry place.
Notes
VARIATIONS Nuts - use your favorites as almost any variety works. Try macadamia, mixed nuts, almonds, walnuts or pistachios Chocolate - not into dark chocolate? Try semi-sweet, milk chocolate or even white chocolate Other Toppings - omit the nuts or add dried cranberries, crushed candy canes or pepitas to them.
Nutrition
Calories:
294
kcal
|
Carbohydrates:
29
g
|
Protein:
2
g
|
Fat:
20
g
|
Saturated Fat:
12
g
|
Polyunsaturated Fat:
1
g
|
Monounsaturated Fat:
5
g
|
Trans Fat:
1
g
|
Cholesterol:
31
mg
|
Sodium:
447
mg
|
Potassium:
128
mg
|
Fiber:
1
g
|
Sugar:
25
g
|
Vitamin A:
359
IU
|
Vitamin C:
1
mg
|
Calcium:
58
mg
|
Iron:
1
mg
This post has been updated and was first published on October 14, 2016.