This delicious & healthy recipe for Roasted Corn Salad has been compensated by Collective Bias, Inc. and its advertiser. It's a quick & easy side dish featuring fresh roasted corn & a rainbow of vegetables topped with citrusy lime vinaigrette. Great to pair with any meal. And, as always, all opinions are 100% mine. #FreschEats #CollectiveBias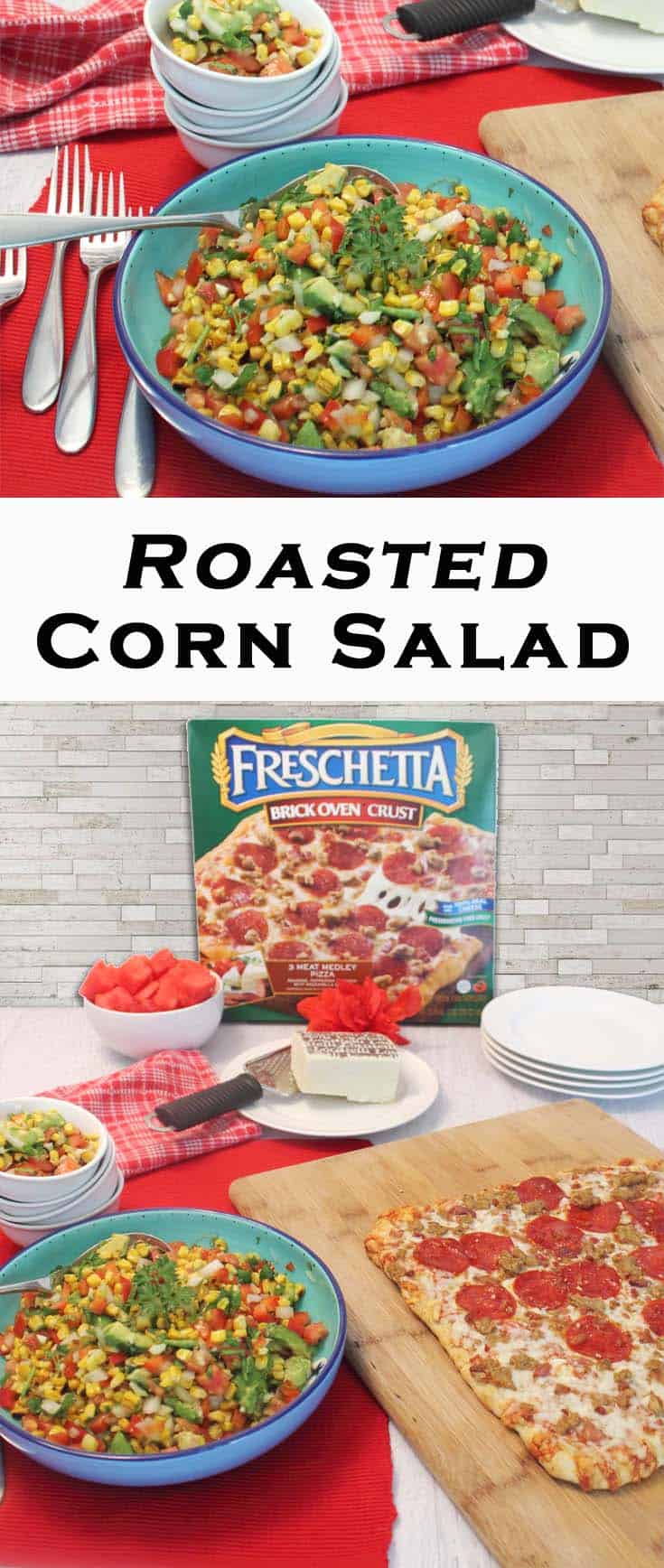 There are busy nights and then there are busy nights, know what I mean?! No matter how little time I have I know I want to put something good on the table for my family. And one of the things we love to have for those busy night dinners is pizza! It's quick, easy and the hardest part about getting it to the table is picking which one to get in the first place. I don't know too many people who can pass up all that delicious gooey cheese and pepperoni.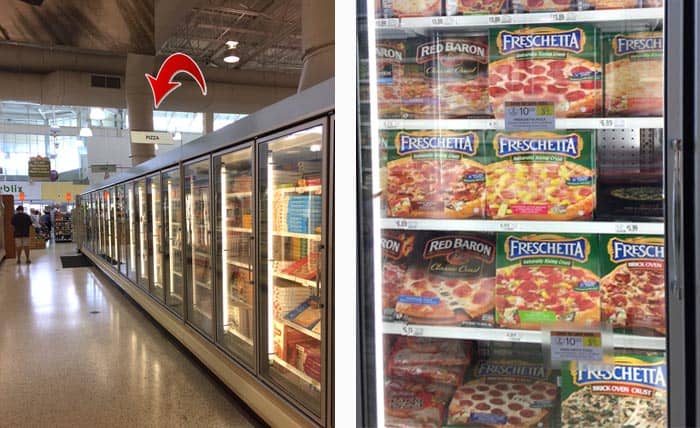 When time is short I stop by my local Publix on the way home, it's been my go-to grocery store for years, and pick up a pizza. I love their wide, brightly lit, well-marked aisles and their helpful & friendly personnel. To find the pizza, just make your way down the frozen food aisle until you spy the overhead sign that says pizza. See simple! Here there were a variety of Freschetta pizzas to choose between - Naturally Rising, Brick Oven Crust and their NEWEST, Artisan Crust. I'm loving the sound of their new product where they make the crust out of 3 of the top whole grains; whole wheat, brown rice and oat flour and, making it a win-win, it's preservative free too! And there are so many flavors that sound delicious like Freschetta ® Artisan Crust Pepperoni Pizza, Freschetta ® Artisan Chicken and Fire Roasted Vegetable Pizza (def trying this next time), Freschetta ® Artisan Four Cheese Pizza and Freschetta ® Artisan Margherita Pizza. It doesn't really matter which one you finally choose as they put all the top quality ingredients that moms love in every pie.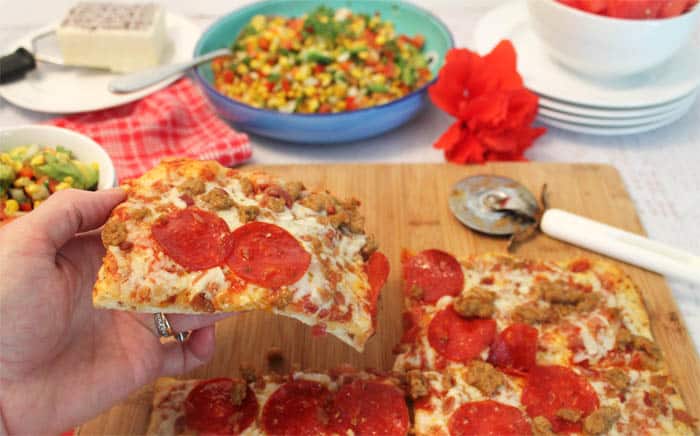 Along with our pizza, I like to round out the meal with a healthy homemade salad because, you know, it's a Mom rule that every meal has to have vegetables. (Don't look at me like that! It's our job to keep you healthy!) Just look at all those fresh and delicious vegetables! They say you should eat the rainbow to be healthy - I think this comes pretty close.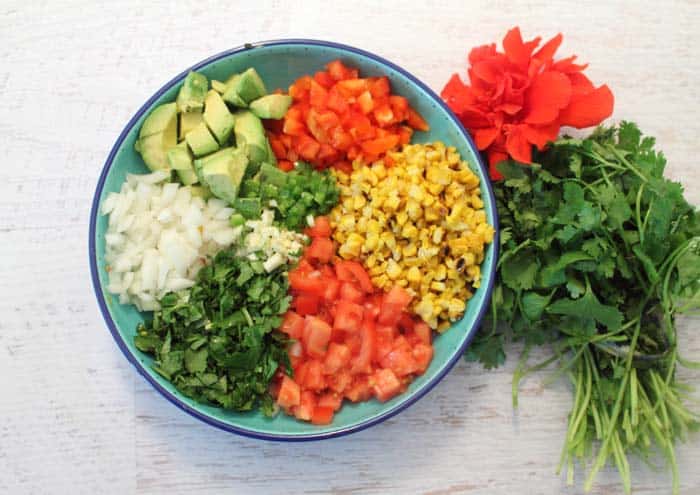 There are lots of salads I love to make like my Southwest Black Bean Salad or Watermelon Salad but I know everyone's favorite is my "hard-to-believe it's healthy" Roasted Corn Salad. So Roasted Corn Salad it is! If I know I am going to be making this salad ahead of time, I always grill 3-4 extra corn on the cobs with dinner the night before. If it is spur of the moment, I just use a can of whole kernel corn and roast it on top of the stove in a dry frying pan for about 5-10 minutes.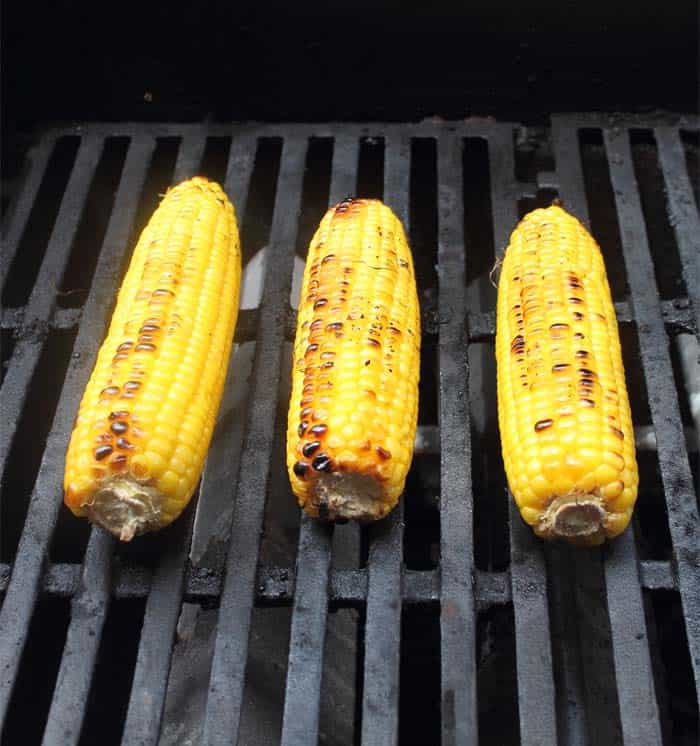 Once the corn has cooled I use a sharp knife to cut the kernels from the cob. Now it's a cinch to put the rest of the salad together.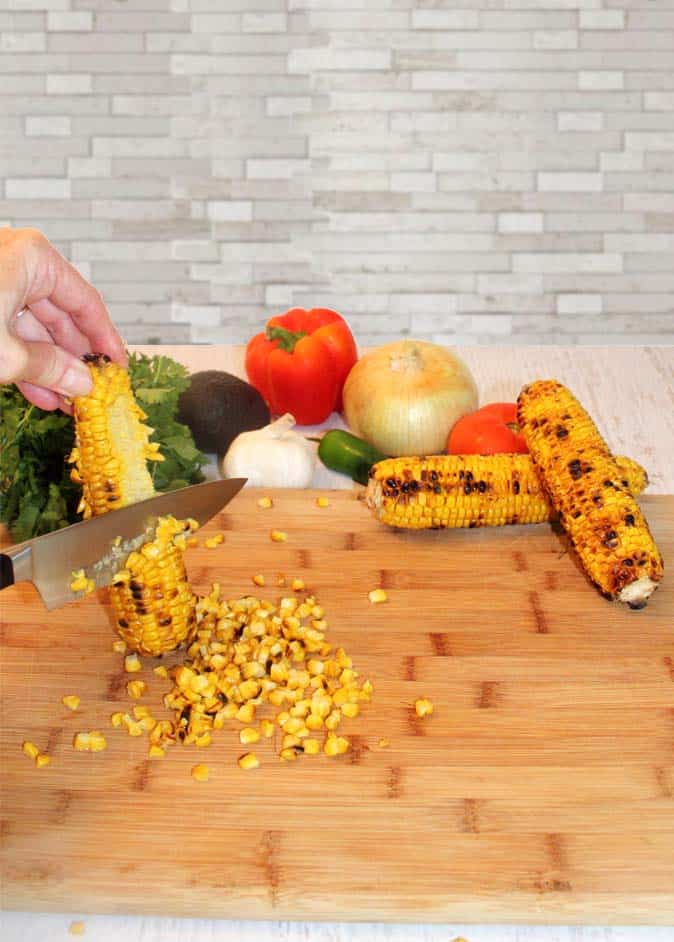 The remaining ingredients are ones that you probably keep in your refrigerator all the time - red pepper, jalapeno, onion, tomato, avocado, garlic, cilantro and lime. Chop all the veggies and place in a bowl.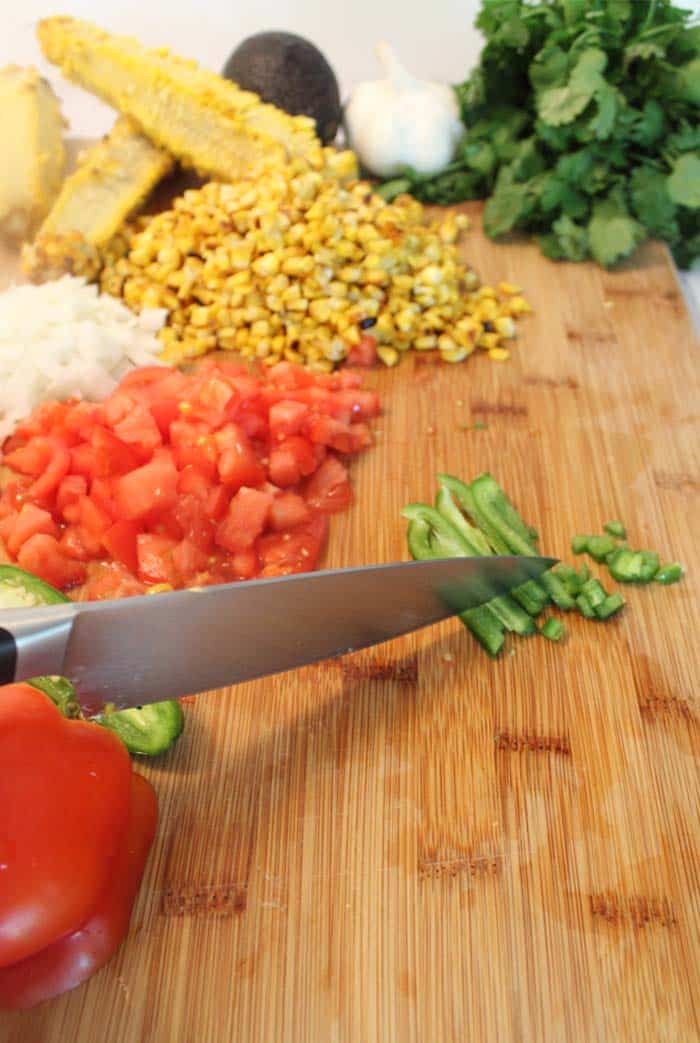 Here's a tip on an easy way to cut an avocado. Cut avocado in half, remove seed with sharp side of knife, then scoop flesh out with a cereal-sized spoon by starting at one end and working underneath to the other. Now dicing will be easy.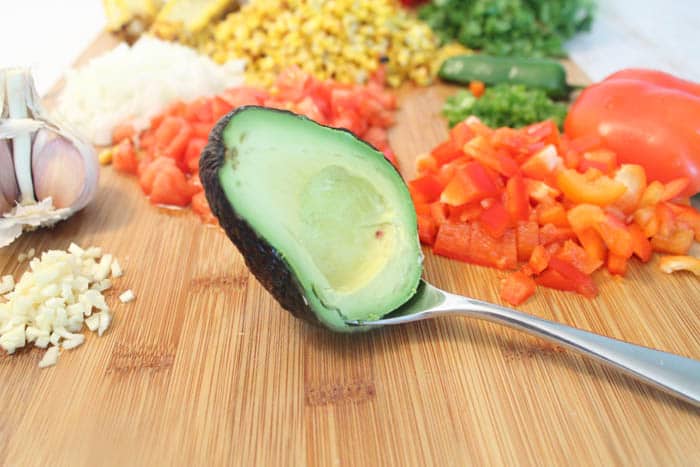 Next is the vinaigrette. Zest then juice a medium-sized lime and whisk all remaining vinaigrette ingredients together. Pour over vegetables and toss to coat. Let flavors marinate in refrigerator for at least 1 hour. This salad is best if served the same day it is made as the avocado can start to turn brown. However, it still tastes great the next day even though it might not look as fresh.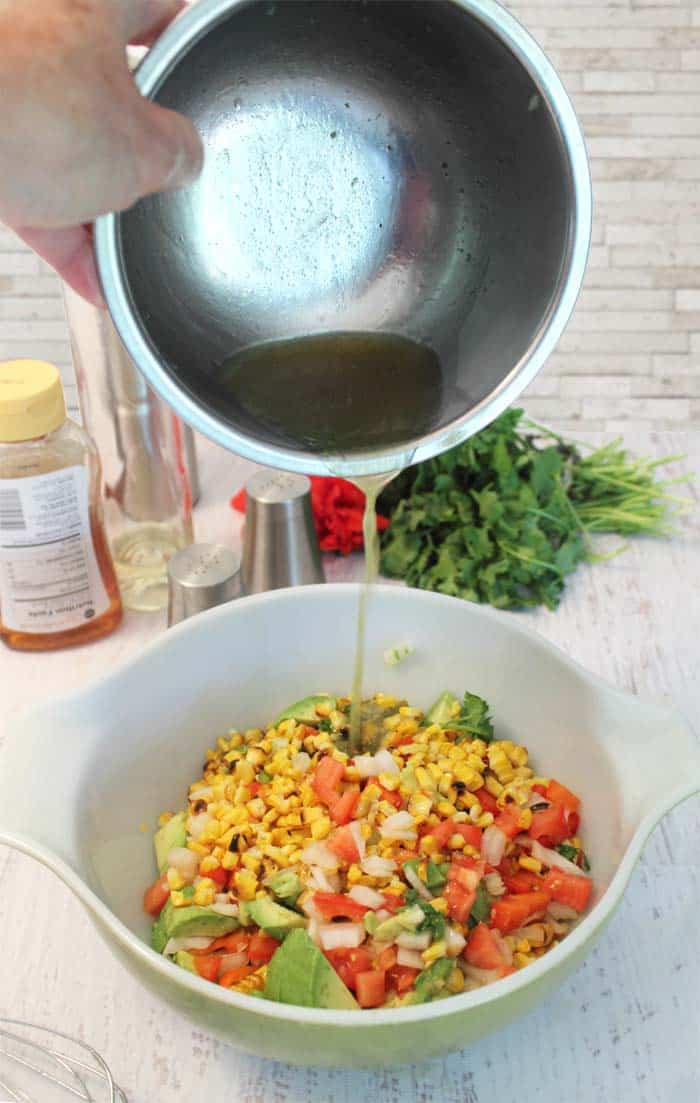 Serve as a side with your hot, fresh out of the oven, Freschetta pizza. I also like to add a bowl of fruit such as watermelon or berries for some added antioxidants.
So what are you waiting for? Check out all Freschetta's fantastic pizza varieties, Artisan Crust, Brick Oven Crust, or Naturally Rising Crust here or stay in touch through their social media: Facebook, Twitter, and Youtube.
Love corn on the cob? Try my Mexican Grilled Corn with Parmesan Chili Butter.
Find more easy salad recipes right here on 2CM.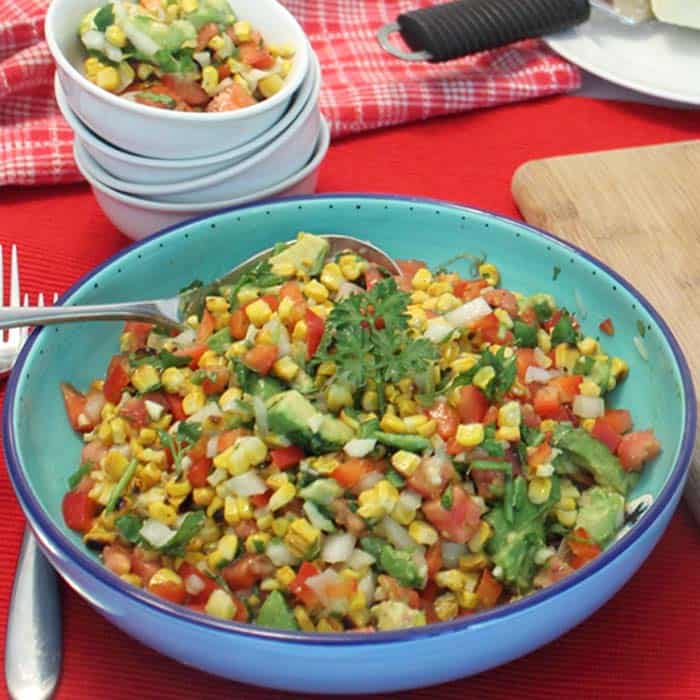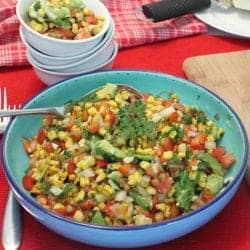 ROASTED CORN SALAD
Roasted corn salad is quick & easy. Fresh roasted corn, a rainbow of vegetables & lime vinaigrette. It's a healthy, delicious side for any meal.
Print
Rate
Ingredients
Salad
2

cups

(1 can) corn kernels, roasted or 3 ears, grilled

1

avocado,

diced

½

jalapeno,

seeded & chopped fine

½

red bell pepper,

diced

1

medium tomato,

diced

¼

cup

onion,

diced

¼

bunch cilantro,

chopped

½

teaspoon

minced garlic or

1 clove
Vinaigrette
1

lime,

zested & juiced (about 2 Tablespoons juice)

2

Tablespoons

olive oil

2

Tablespoons

honey

1

Tablespoon

red wine vinegar

Salt & pepper to taste
Instructions
Mix all ingredients for vinaigrette and set aside.

Rinse corn and pat dry.

Heat skillet over medium-high heat and pour corn in.

Roast for 5-10 minutes or until it starts to turn brown. You can also grill the corn on the cob and cut off to add to salad - makes it 100% better too!

In a large bowl, combine corn and remaining salad ingredients.

Toss with vinaigrette and refrigerate for at least 1 hour so that flavors can blend.
Notes
Tip: Measure out the olive oil in measuring spoon first then honey. The oil will make the honey slide right off the spoon. Total time does not include 1 hour chill time.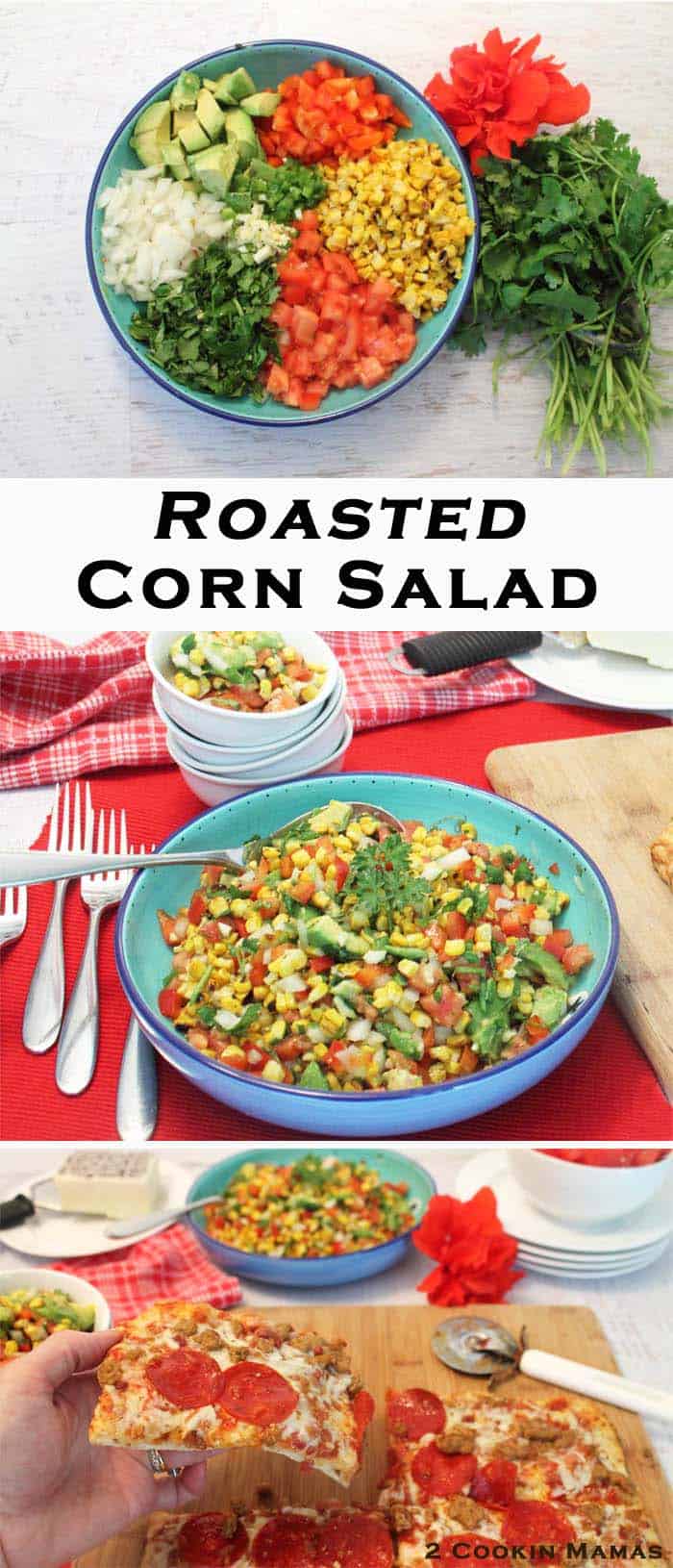 DON'T MISS A RECIPE!
This post has been updated and was first published on May 31, 2016.