This creamy classic guacamole is so easy to make & so delicious that it will be the only recipe you'll ever need! Ready for a party in less than 30.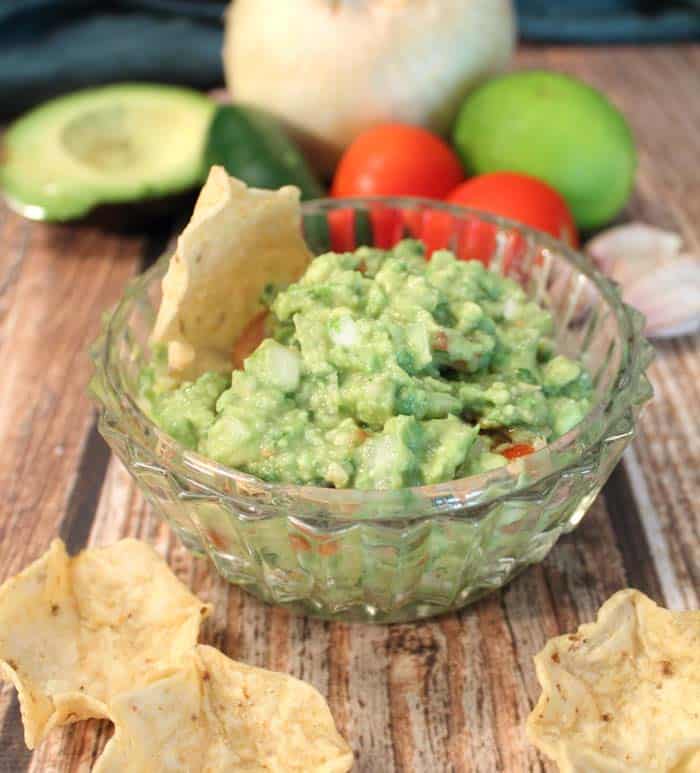 I'm going to shock you with this first sentence. Throw away all your old recipes for guacamole because this guacamole is so delectably good that it is the only recipe you will ever want to use again. What you say, no way! But I'm telling you, this really is the best recipe for a classic guacamole.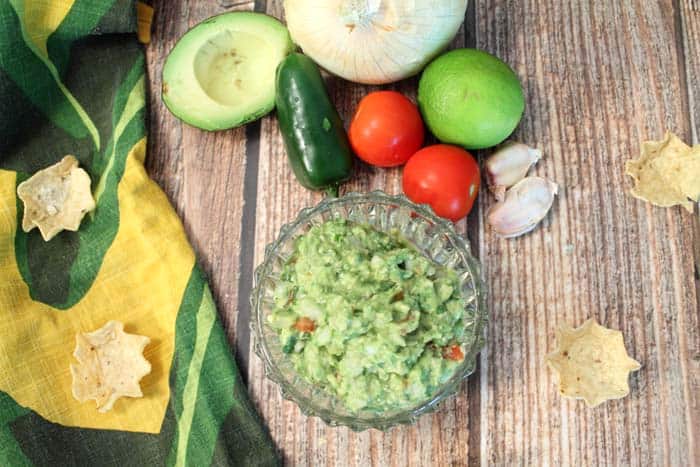 What is guacamole?
Now for all you guacamole newbies, or those not yet on the guacamole bandwagon, let me bring you up to speed and tell you exactly what a classic guacamole is. The dictionary says it is a Mexican dip comprised of mashed avocado, lime juice, seasonings, and often tomato and onion. But it's really so much more than that. Guacamole a mouthful of fresh goodness that goes on just about everything from chips to burgers to pizza. It can be used as a spread for sandwiches and makes a great substitute for mayonnaise in salads. And, believe it or not, it's actually healthy (when eaten in moderation), full of folate, protein, fiber and healthy fats and, needless to say, is over-the-top delicious. Just look at that creamy green goodness below. I mean, how can you resist?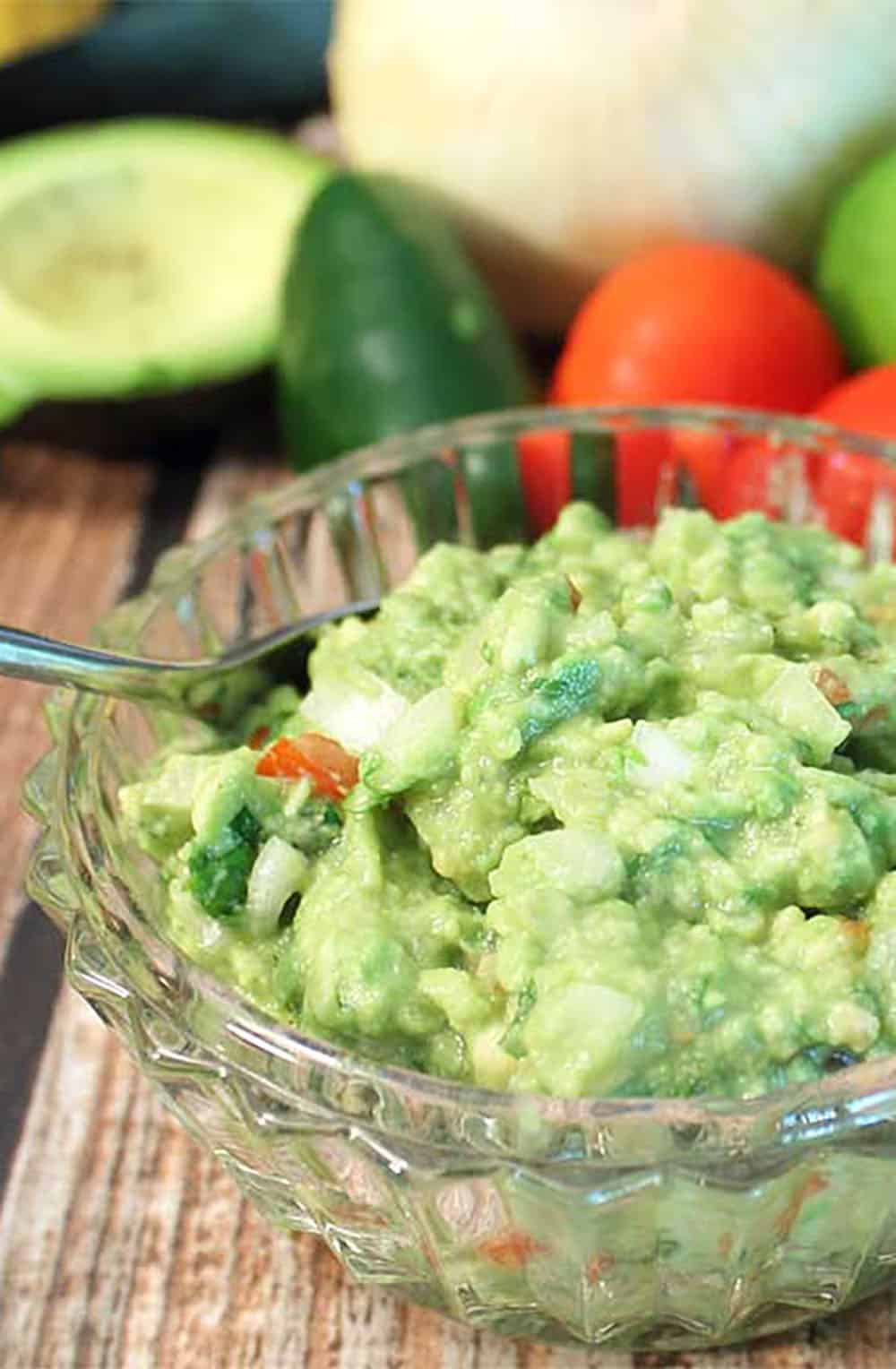 This classic guacamole is everything you've always dreamed of when you think of a great guacamole. It's creamy but has little chunks of tomato, onion and cilantro with an added dash heat from the jalapenos and pinch of cayenne pepper. Not too hot - just right! Once you get the basics down, you'll find you can change it up with versions ranging from mango pineapple guacamole to BLT and everything in-between. Check out our Guacamole Roundup for more inspiration.
You can even make your own homemade tortilla chips to go with this awesome dip. Go ahead, grab a chip or two, and dive in! This dip is perfect to accompany your favorite tacos, for tailgating and holiday parties or any time you get the urge for some cool avocado goodness. OK, just writing this post made me crave some guac so I'm off to get some right now! 🙂 Enjoy!
More delicious dips
Love quick & easy recipes? Follow me on Instagram, Facebook, Pinterest & Twitter for all the latest recipe inspiration! Plus join my email list here and receive a free e-book.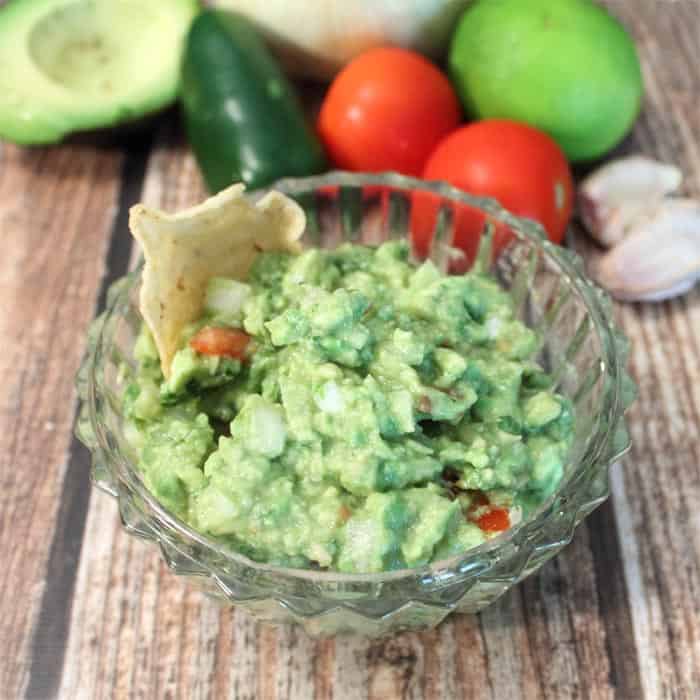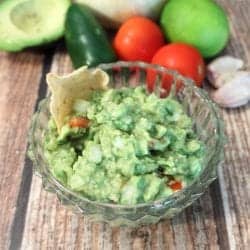 Classic Guacamole
This creamy classic guacamole is so easy to make & so delicious that it will be the only recipe you'll ever need! Ready for a party in less than 30.
Print
Rate
Ingredients
2

ripe avocados,

pitted & mashed

2

Roma tomatoes,

diced

½

cup

diced onion

3

Tablespoons

fresh cilantro,

chopped

½

fresh jalapeno,

seeded & minced

1

teaspoon

minced garlic

1

lime,

juiced (about 2 Tablespoons)

¾

teaspoon

salt

Pinch

cayenne pepper
Instructions
Cut avocado in half. Remove seed. Using a large soup spoon, run it under the flesh and remove from outer skin. Place in a bowl and mash well.

Chop tomatoes, onion, cilantro and jalapeno. Add to mashed avocado.

Season mix with garlic, lime juice, salt and cayenne pepper.

Mix well and serve cold. If not eating immediately, cover well and refrigerate.

Best if eaten the same day.
Notes
If you happen to have any avocado halves left over, you can keep them from turning brown by either squirting them with lemon or lime juice (which will work for about a day) or place in an airtight container with a slice of raw onion and seal well. The latter tip seems to work for slightly longer period, maybe 2 days.