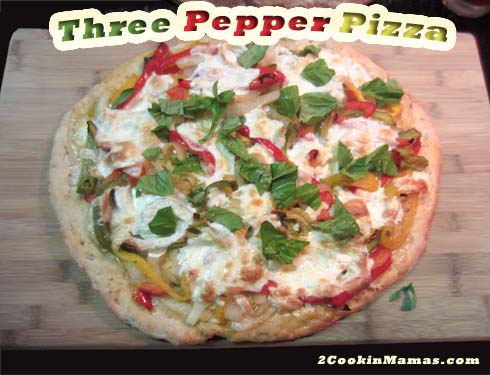 It's nice to go meatless once in a while and about a year ago I decided that in order to be healthier we would try to go meatless at least once a week. It seems the only way I could stay on this course was to pick a day and stick with it – and what better inspiration than Meatless Monday! So since I haven't been able to do much shopping since getting back from vacation I thought a pizza was the easiest meal to fix and one that is popular in our household. In fact, it would be hard to pick a time when anyone ever said "I don't want pizza"!
This pizza has no tomato sauce which makes it great for my daughter right now since tomatoes are on her allergy list but the juice from the peppers and onions make up for it. Believe me you will never miss it! Hope you enjoy and I'd love to hear your thoughts.
Three Pepper Pizza
Ingredients:
1 pizza dough (usually available at your supermarket bakery)
4 Tablespoons olive oil
1 large sweet onion, sliced thin
1 red pepper, cut into strips
1 yellow pepper, cut into strips
1 green pepper, cut into strips
4 garlic cloves, chopped or 2 teaspoons minced garlic
handful of basil, chopped
handful of parsley, chopped
small handful of thyme, chopped
salt to taste
cayenne, about 1 teaspoon (more if you like it hotter)
8-oz. mozzarella, sliced
Pecorino-Romano
Directions:
Take pizza dough from refrigerator and let sit out an hour prior to rolling out.
Half hour prior to cooking, place a pizza stone or cookie sheet in oven and preheat to 500 degrees.
In a large skillet, heat 2 tablespoons olive oil. Saute onions for 3-5 minutes then remove with slotted spoon. Add remaining 2 Tablespoons of olive oil and place peppers, garlic and half of herbs in pan. Season with salt and cayenne. Saute for 10 minutes. Remove and set aside.
Sprinkle cornmeal on flat surface. Take pizza dough and punch down then roll out to a circle slightly smaller than your pizza stone or a rectangle if using a cookie sheet. Sprinkle more cornmeal as needed so that dough does not stick to rolling pin. I also pick mine up and stretch the edges slightly to help with the shaping.
Some people put their pizza together on a pizza peel or paddle and then transfer it to the pizza stone but I have never had any luck with that. Instead, when I am ready to assemble, I take the pizza stone from the oven, sprinkle it well with cornmeal and carefully place my dough on the stone. If you are using a cookie sheet, carefully place your dough on that.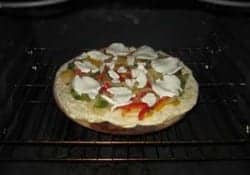 Spread onions on top of the dough, leaving about 1/2″-1″ on sides to prevent spills. Next spread pepper mixture on top of onions. Lay mozzarella cheese on top of peppers then grate some fresh Pecorino-Romano on top.
Carefully place pizza stone or cookie sheet back in oven and bake about 20-25 minutes or until cheese melts and crust is crisp.
Remove from oven, sprinkle with remaining herbs, cut and serve.
Makes 1 pizza or about 8 slices enough for 4 people.
Wine Pairing: I really like a a cool, crisp Sauvignon Blanc, like Slingshot's Sauvignon Blanc or Pinot Grigio with plenty of bright acidity that complements the variety of veggies. A dry rose wine, Chianti, Shiraz or medium-bodied Zinfandel would also work well with all of the competing flavors.
Try our other pizza favorite too:
Great pizza helpers: