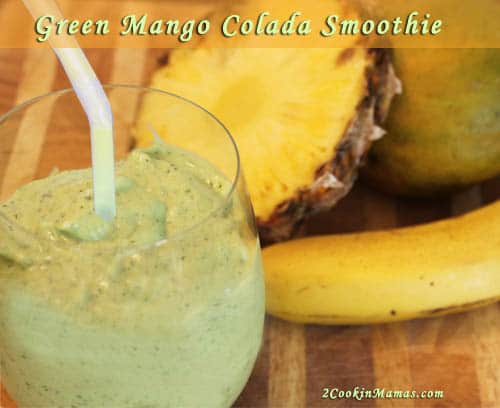 Here's to Sunday Smoothies! A healthy way to get your vitamins and nutrients quickly and deliciously before heading out for a fun-filled day.
This smoothie reminds me of the Florida Keys where my husband makes his famous Mango Coladas complete with dark rum toppers. Yum, I can taste it now! Well, this one is minus the rum (:-() but has the same tropical flavor as the drink but with added healthy ingredients like spinach and avocado. I know you are thinking, ewww, that doesn't sound good at all! But believe me, you won't taste any of the extra ingredients and you will be getting so many health benefits from them. So here's to your health!
Green Mango Colada Smoothie
Ingredients:
 2 Tablespoons cream of coconut or coconut milk
2 handfuls of baby spinach
1 cup frozen mango, cut-up
1/2 cup fresh pineapple
1/2 frozen banana, sliced
1/2 avocado
1 Tablespoon lemon juice
Scoop vanilla protein powder
Directions:
Place all ingredients in blender and blend until smooth.
Note: The coconut milk will make the smoothie less thick but still delicious.
DON'T MISS A RECIPE!