This healthy, super creamy Green Pina Colada Smoothie Bowl tastes like the sunshiny tropics in a bowl. Full of the flavors of mango, pineapple, bananas and coconut and enriched with spinach and protein powder, this powerful breakfast will give any day a great start. It's quick, it's easy, and perfect for breakfast, before or after a workout, a quick lunch or even a midday snack.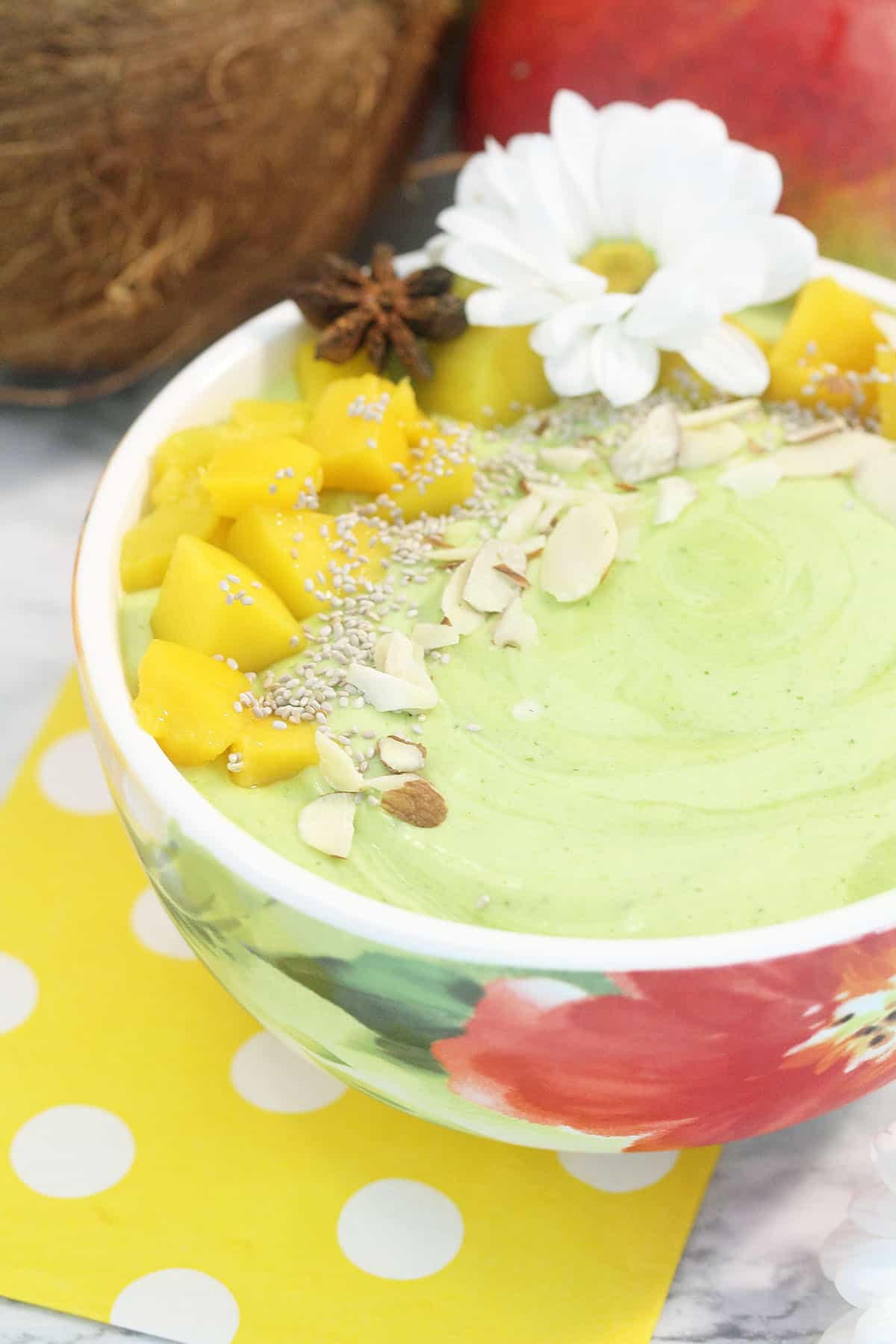 Who loves smoothies? Meeee! And what's not to like? They're easy to make, have loads of fresh fruits and vegetables, as well as protein rich yogurt or protein powder AND they're delicious! I make them almost daily and change with the season. Since it's still hot here, I love the cooler summer varieties that remind me of the tropics, like my Key Lime Smoothie, Coconut Mango Smoothie Bowl or this Pina Colada Smoothie.They're such a healthy way to get your vitamins and nutrients quickly and deliciously. They're also so versatile that you can have them for breakfast, lunch, an afternoon snack or to give an energy boost before or after a workout.
This mango greens smoothie reminds me of our trips to the Florida Keys where my husband makes his famous Mango Pina Coladas. Yum, I can almost taste one now! Of course, this one is minus the rum! But you can count on the same tropical flavor as the cocktail but with a few extra healthy ingredients, like spinach and avocado, added to the mix. I know you are thinking, ewww, that doesn't sound good at all! But believe me, you won't taste any of the extra ingredients and you will be sneaking so many health benefits into this smoothie.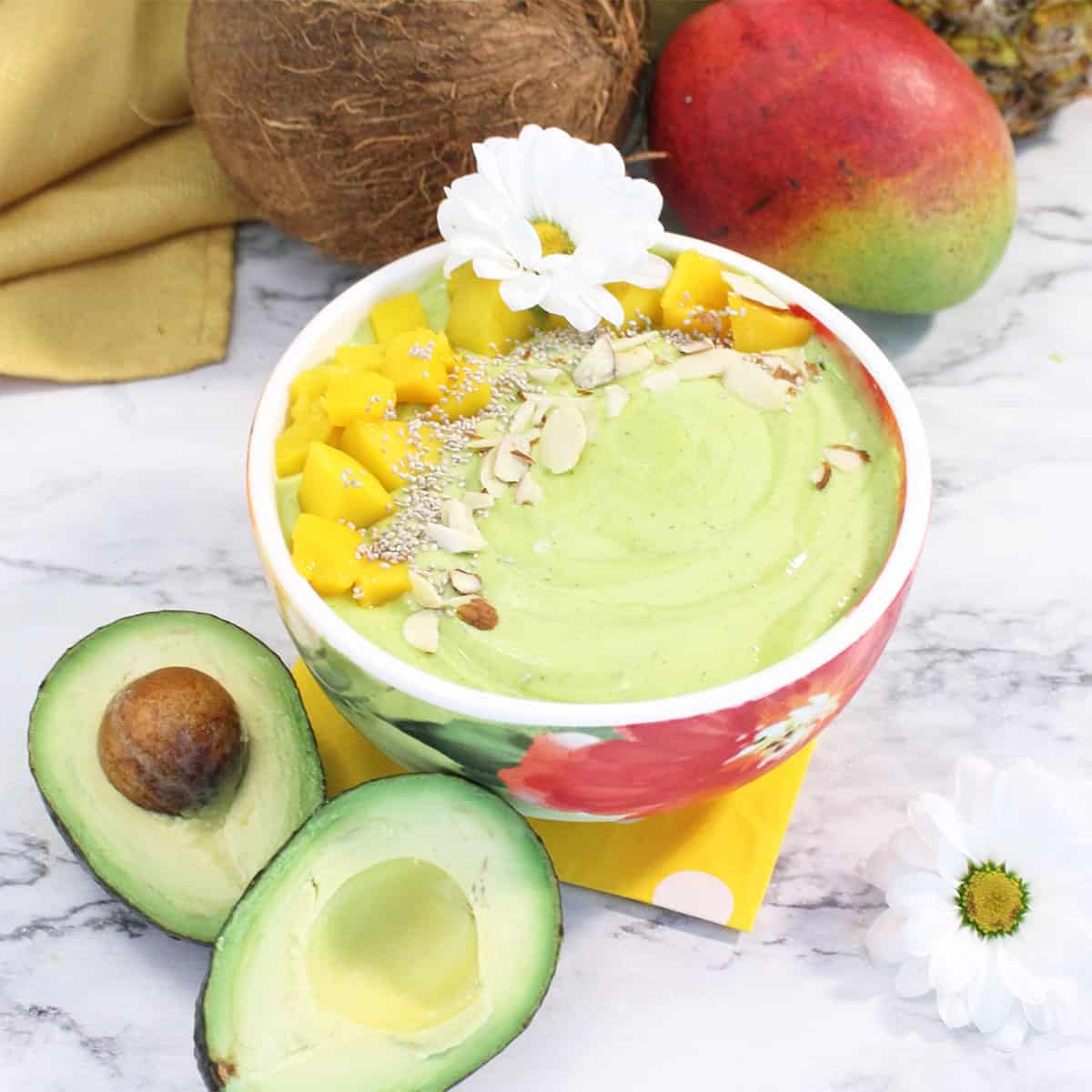 Just look at that fantastic green color! You just know it's packed with goodness and the tropical flavor will bowl you over. Ha ha, get it? It's served in a bowl. I know, I just had to say that. 🙂 Now check out all the healthy benefits below.
All about the ingredients
Cream of coconut - is comprised almost entirely of fats but these fats are considered healthier fats that are easier to convert to energy. A good energy boost to start the day!
Spinach - is packed with Vitamin C, iron, calcium and magnesium. It helps to maintain healthy skin, hair and strong bones and aids with digestion.
Mangos - contain plenty of Vitamin C, helping to boost the immune system, Vitamin A as well as fiber and antioxidants.
Pineapple - has an abundance of Vitamin C for boosting the immune system and aiding in absorbing the iron from the spinach. It also has its share of antioxidants, manganese for maintaining a healthy metabolism and an enzyme that helps to break down protein molecules so the energy is more accessible.
Bananas - are high in potassium, which helps maintain normal blood pressure, as well as fiber, which works at decreasing the risk of heart disease. A fact, only 4% of a banana's calories come from fat, and what fat they do contain, called sterols, help in blocking the absorption of dietary cholesterol and keeping the levels more stable.
Avocados - are a superfood that has more benefits than I can name here. They are high is healthy fats which help to reduce inflammation, high in fiber, contains more potassium than a banana, and chock full of Vitamins C, K and certain B vitamins.
Lemon juice - is a great source of Vitamin C, antioxidants, and can aid in digestion.
Protein powder - provides protein that helps reduce hunger and build lean muscle mass.
Most asked questions
Why drink green smoothies?
Like this spinach pineapple smoothie, they pack a ton of fiber which keeps you feeling full longer to help keep the dreaded snack attack at bay.
It fulfills one of your servings for both fruit and vegetables as well as adding plenty of Vitamins A, and C, folate and potassium. Great for an immune system boost which we can all use right now.
What if I don't care for spinach?
Spinach has such a mild flavor that you can't even taste it in this green smoothie. However, if spinach isn't your thing, here are some greens you can substitute. Most have a stronger flavor though so you will have to experiment to find out the amount to add.
kale
swiss chard
romaine lettuce
beet greens
carrot tops
celery
collard greens
Do I have to use frozen fruit?
No you don't. If you like to eat your smoothies with a spoon, the frozen fruit will make them thicker. Using fresh fruit will give you a thinner smoothie, perfect for drinking with a straw. Interesting fact, studies have shown that people are much more satisfied when eating something with a utensil than when drinking their meal.
Can a smoothie replace a meal?
Absolutely! It's a great way to pack protein, fiber, fruits/vegetables and protein into a drinkable meal. No more skipping a meal when you have to head out the door!
Directions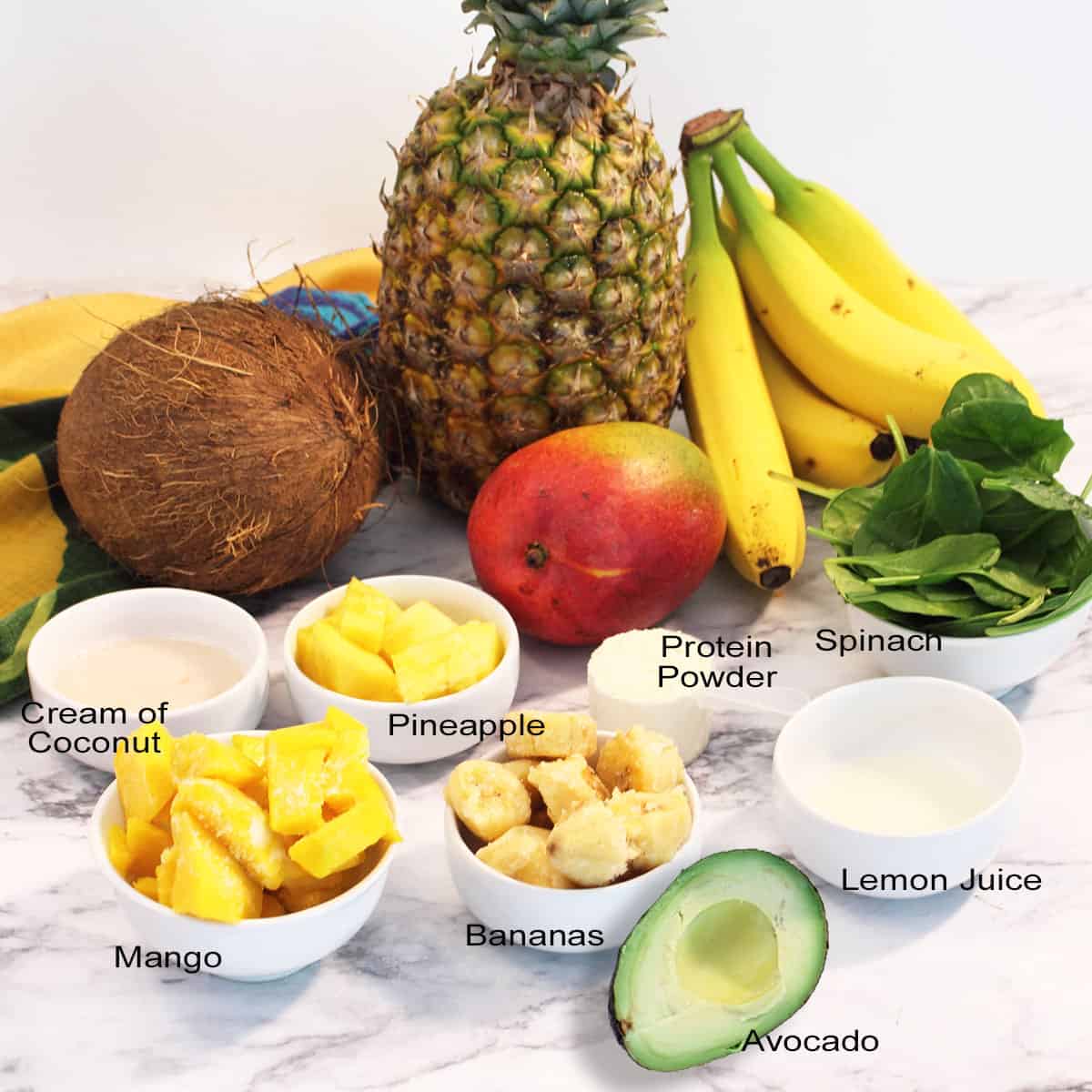 Gather ingredients.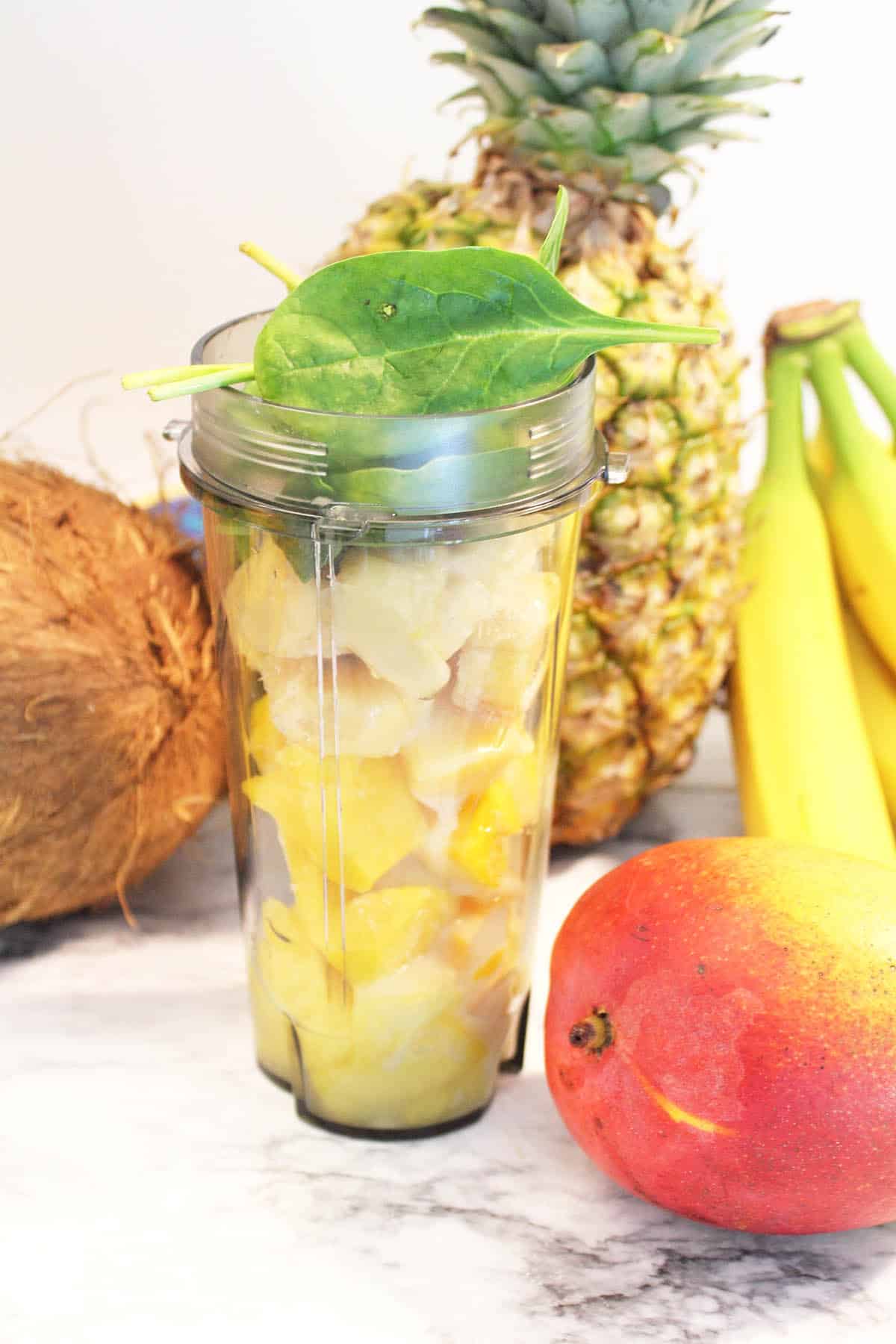 Place everything in blender and blend.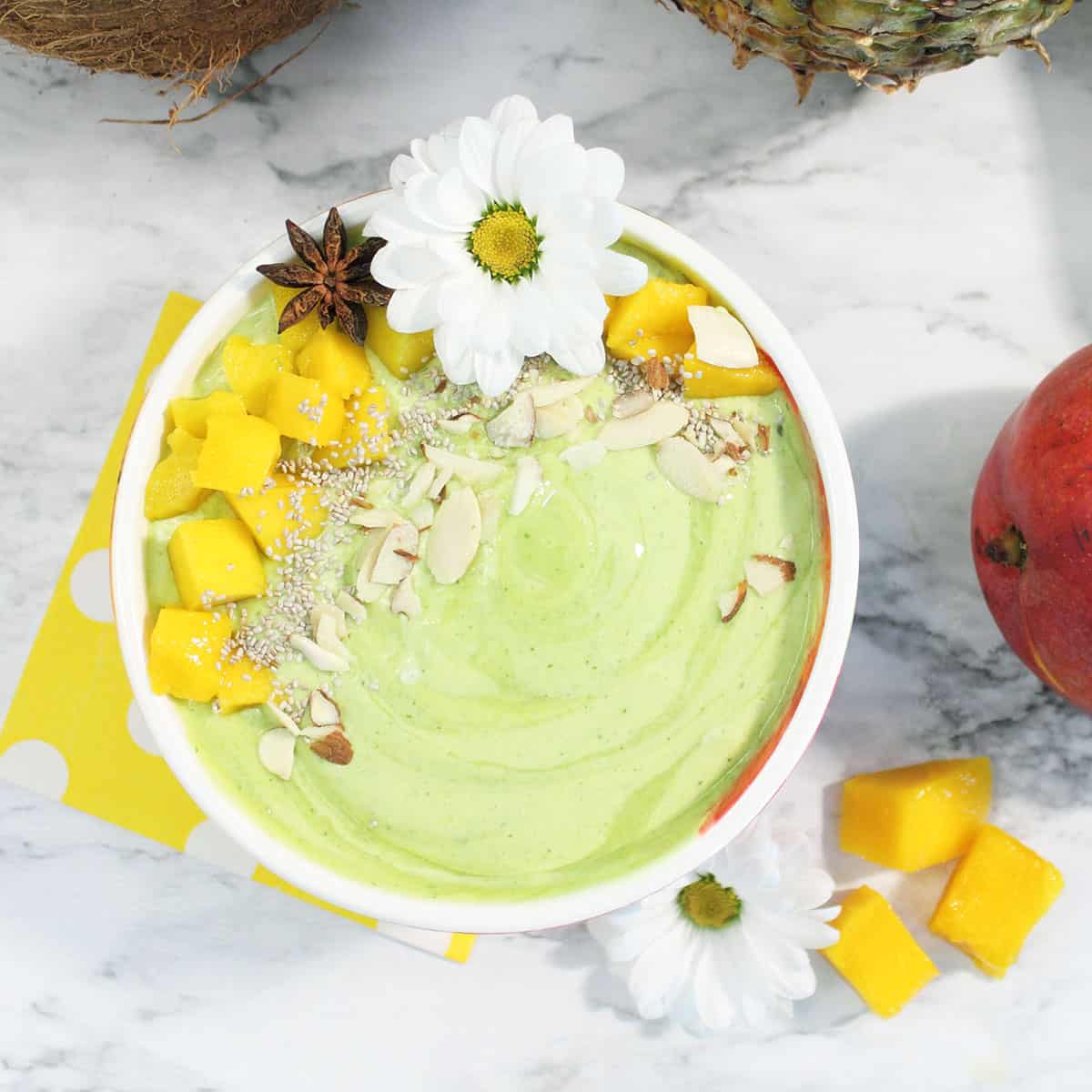 Pour into bowl and garnish with extra fruit, chia seeds and nuts.
More healthy smoothie recipes
Chocolate Blackberry Mojito Smoothie from 2CM - is a delicious, chocolate-flavored smoothie with a hint of mint that packs a healthy punch. Loaded with protein, greens, blackberries, chia seeds and yogurt, it's perfect for breakfast or after a workout.
Nutty Lime Smoothie from 2CM - is healthy, tart and delicious. If you like your smoothies with plenty of flavor this one is for you.
Chocolate Avocado Smoothie from Natalies Health - is a creamy, delicious easy to make smoothie that is full of chocolate flavor and packed full of superfoods.
Healthy Margarita Smoothie from 2CM - Yep, another cocktail wanna be! It turns your favorite cocktail, complete with lime juice and orange juice, into a healthy breakfast.
Love quick & easy recipes? Follow me on Instagram, Facebook, Pinterest & Twitter for all the latest recipe inspiration! Plus join my email list here and receive a free e-book.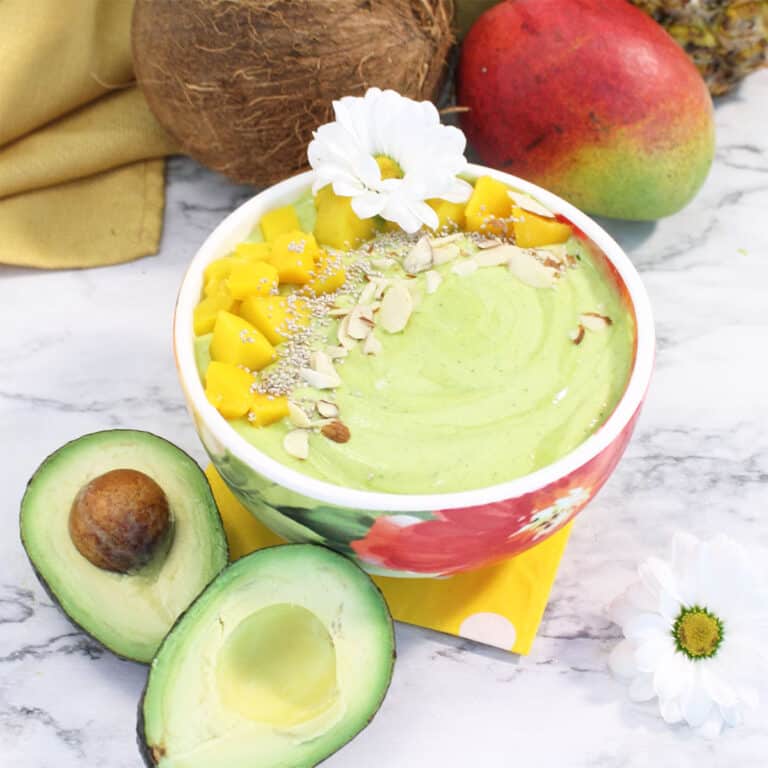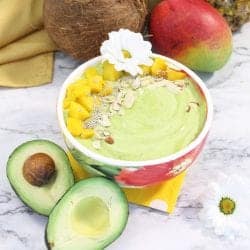 Green Pina Colada Smoothie with Spinach and Mango
This healthy Green Pina Colada Smoothie has the taste of the tropics. An easy, on-the-go treat with plenty of vitamins and daily serving of fruit & vegetables. A powerful breakfast, post workout or snack.
Print
Rate
Ingredients
2

Tablespoons

cream of coconut or coconut milk

2

handfuls of baby spinach

1

cup

frozen mango

cut-up

½

cup

fresh pineapple

½

frozen banana

sliced

½

avocado

1

Tablespoon

lemon juice

Scoop vanilla protein powder
Instructions
Place all ingredients in blender and blend until smooth.
Notes
Variations:
Change out the cream of coconut for coconut milk for a lower calorie option.
Add a touch of vanilla with ¼ teaspoon vanilla extract.
Add a slice of fresh ginger for extra immunity boosting power.
Nutrition
Calories:
651
kcal
|
Carbohydrates:
94
g
|
Protein:
25
g
|
Fat:
24
g
|
Saturated Fat:
9
g
|
Cholesterol:
62
mg
|
Sodium:
154
mg
|
Potassium:
1524
mg
|
Fiber:
15
g
|
Sugar:
66
g
|
Vitamin A:
7558
IU
|
Vitamin C:
137
mg
|
Calcium:
254
mg
|
Iron:
3
mg
This post has been updated with new photos and a more complete write-up on its health benefits. It was first published on May 18, 2014.