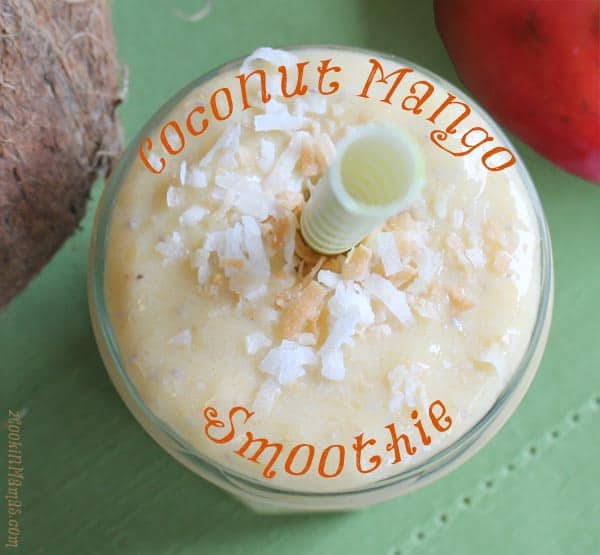 Daily Burn has created a project called #ShowUsYourSmoothie, open to all, to encourage people to eat a proper diet that includes a good source of protein. Check out their site which offers alternative protein sources as well as tasty protein-based recipes.
This project inspired me to create this delicious Coconut Mango Smoothie which provides a meal's worth of protein and would be an excellent addition to anyone's diet. And, if you read my blog, you must know how much I adore smoothies but they wouldn't be much of an addition to my healthy diet without protein being added to the mix of carbohydrates and fats.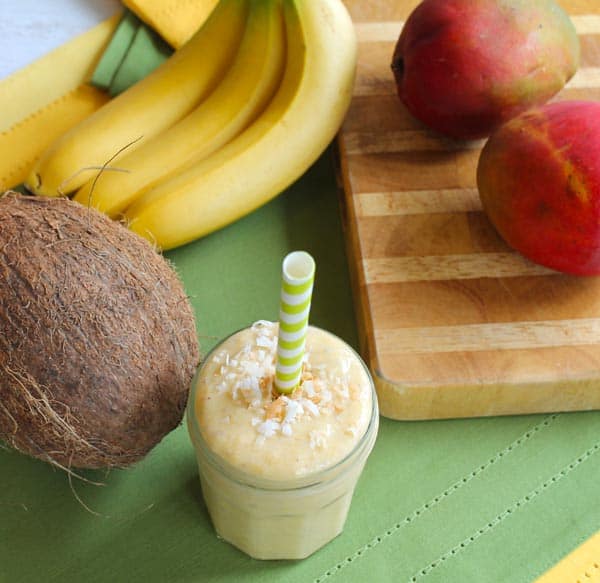 Keeping a balance of all three, protein, carbs and fats, can help shed unwanted pounds and lower elevated levels of insulin. By balancing proteins and carbs in a meal, you can stabilize insulin levels for 4-6 hours. This helps eliminate mood swings and keeps you feeling full for the duration. No more feeling hungry mid-morning or afternoon and nibbling on something you know you shouldn't have!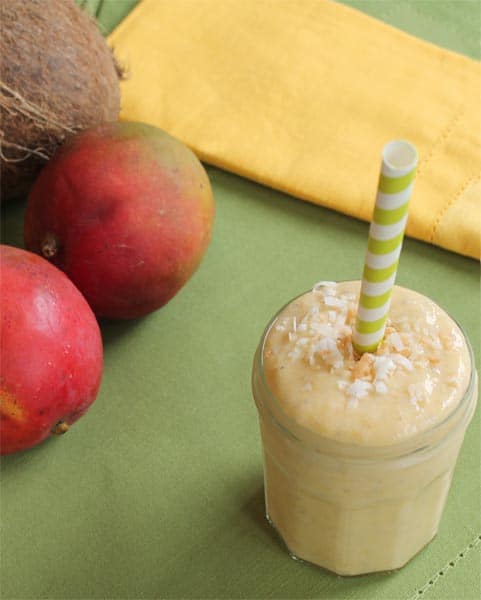 This smoothie provides 3 of your required servings of fruit and vegetables (daily requirements average about 8 servings or 2 cups) as well as protein from both the protein powder, which helps reduce hunger and build lean muscle mass, and Greek yogurt which has the added benefits of important vitamins and calcium. The addition of the chia seeds, one of the super foods, aids in keeping you feeling fuller, provides added energy and decreases spikes in blood sugar levels. What more could you ask for in such a simple and yummy drink?
I also live in hot South Florida and love drinks that help keep me cool. And what better ingredients to mix together than ones I can find locally, some even in my own backyard! This smoothie can be eaten one of two ways, either as a smoothie bowl, one you eat with a spoon, or as cooling drink to sip with a straw.  It doesn't matter which one you choose as they are both over-the-top tropically delicious!
Enjoy!
Coconut Mango Smoothie
Ingredients:
1 banana frozen
1 mango, cut-up
1/4 cup vanilla Greek yogurt (a soy-based product can be used for dairy-free)
1/4 cup coconut milk
1 scoop protein powder (rice-based powders are great for a gluten-free option)
2 teaspoons chia seeds
2 teaspoons agave or honey
1/4 teaspoon coconut extract
Garnish: toasted coconut
Directions:
Place all ingredients in your Ninja blender (or any blender will do). If you like more liquidy smoothies, use a fresh mango and add 1/4 cup more coconut milk. If you want to make a smoothie bowl, follow recipe and use frozen mango then dig in with a spoon.
Serve with toasted coconut on top.
Makes 1 serving.
Love to add more smoothies to your everyday meal plans? Check out these options!
DON'T MISS A RECIPE!