Wake up to a refreshing, healthy, and delicious Citrus Smoothie! The sweet and zesty blend of fresh citrus fruits and creamy yogurt packs this immune boosting smoothie with nutrition, antioxidants, and Vitamin C.  Perfect for breakfast, snack, or any time of the day.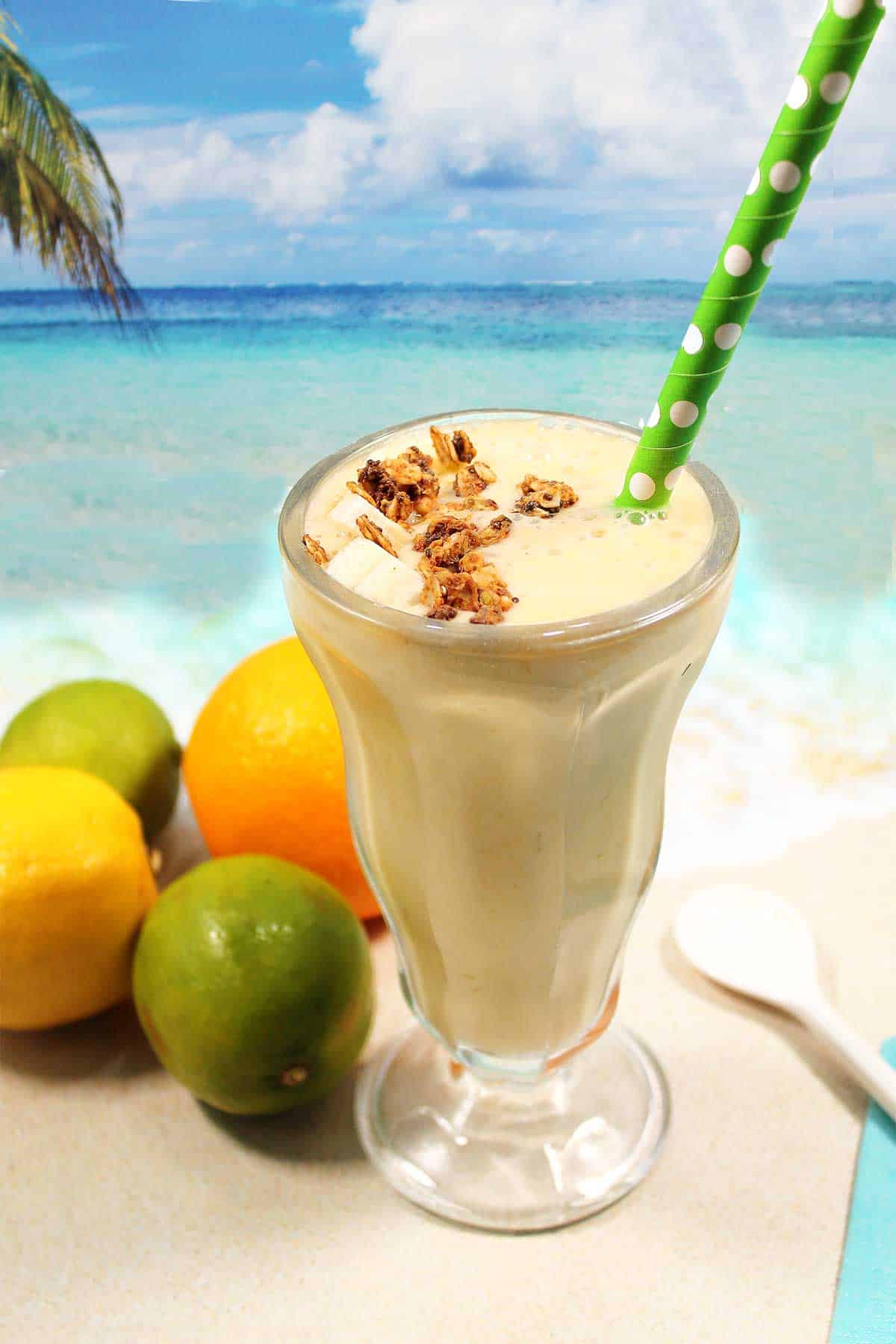 FYI - This post contains affiliate links. As an Amazon Associate, I earn from qualifying purchases. All links are products I use when making my recipes.
Healthy Fruit Smoothies
There isn't any better way to get your vitamins than to drink a healthy fruit smoothie! It tastes just like dessert. Your tastebuds think this immune boosting smoothie is a treat - but you know that the vitamins are nourishing your body. In fact, when you're feeling slightly under the weather, a vitamin C smoothie might be just the ticket to feeling better.
If you aren't a fan of the orange, lemon, and lime combination, then how about making either a cherry smoothie, coconut smoothie, or a pineapple banana smoothie? They are all fantastic options!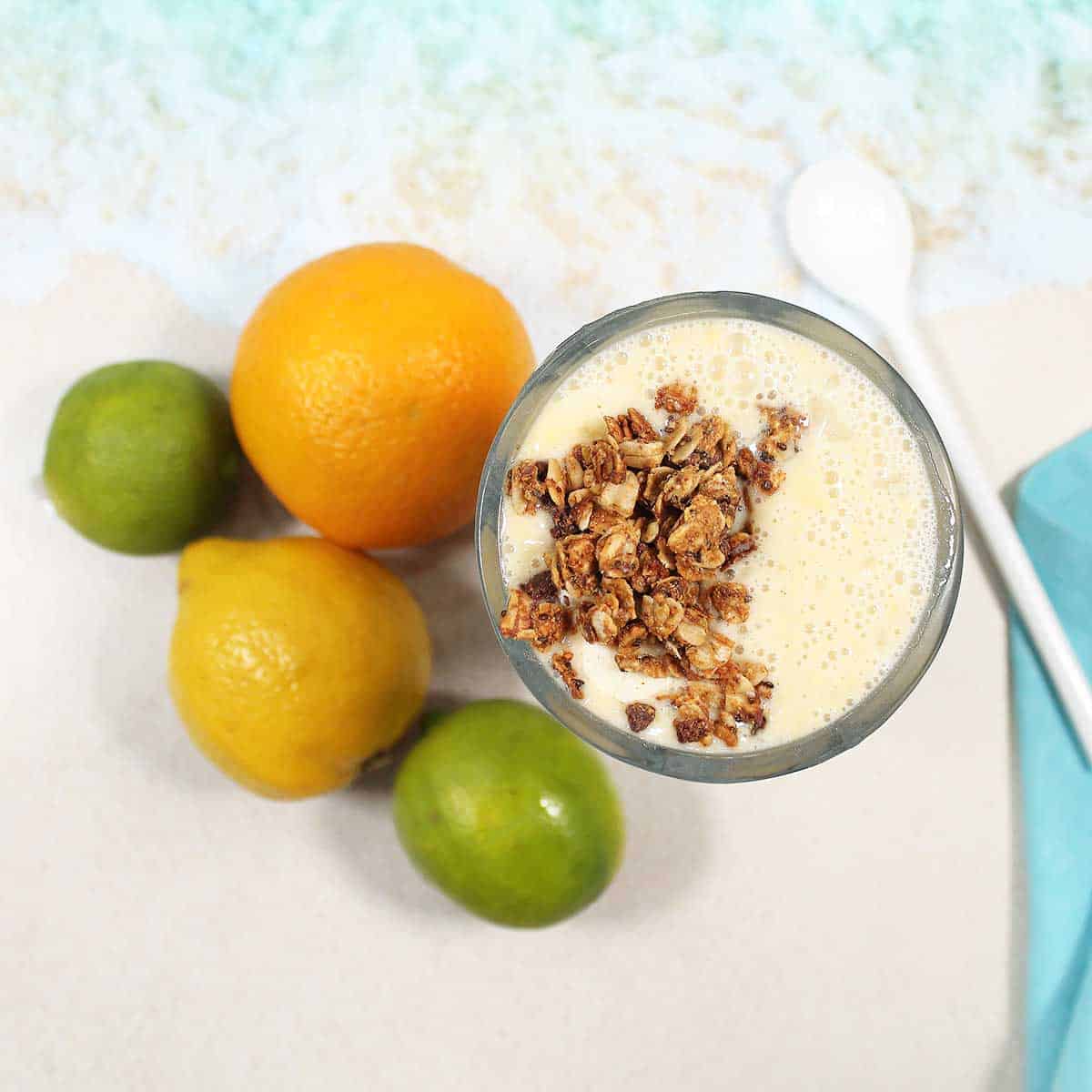 Benefits of Citrus
Citrus fruits are a delicious and nutritious addition to any diet. Their numerous health benefits, ranging from immune system support to heart health and skin radiance, make them an ideal choice for promoting overall well-being.
High Vitamin C content. This essential nutrient plays a crucial role in maintaining a healthy immune system, which is vital in warding off infections and illnesses. Additionally, Vitamin C helps in the production of collagen, promoting healthier skin and faster wound healing.
Packed with antioxidants, which protect our bodies from harmful free radicals. By combating oxidative stress, antioxidants help reduce inflammation and lower the risk of chronic diseases such as heart disease, diabetes, and certain types of cancer.
Rich in flavonoids and other heart-healthy nutrients. These compounds have been shown to improve blood flow, reduce blood clot formation, and lower the risk of heart disease by decreasing inflammation and improving blood vessel function.
Essential nutrients like folate and Vitamin B6 have been linked to improved cognitive function and a reduced risk of age-related cognitive decline.
So, next time you're at the grocery store, don't forget to add some zesty citrus to your cart and make this healthy smoothie!
Why You'll Love This Fresh Citrus Smoothie Recipe
One of the best things about this immune boosting smoothie recipe is that it has a bright citrus fruit flavor. One sip will wake you up and invigorate your senses. It's loaded with vitamin C.
It's a good source of energy-boosting protein with Greek yogurt and protein powder. The yogurt also gives it a nice creamy touch, which rounds out all the other flavors.
Not only that, but it also has lots of natural beneficial dietary fiber from the banana.
This energy-boosting smoothie is easy to make and adjust to your taste preference. You're going to love it!
Ingredients for This Vitamin C Smoothie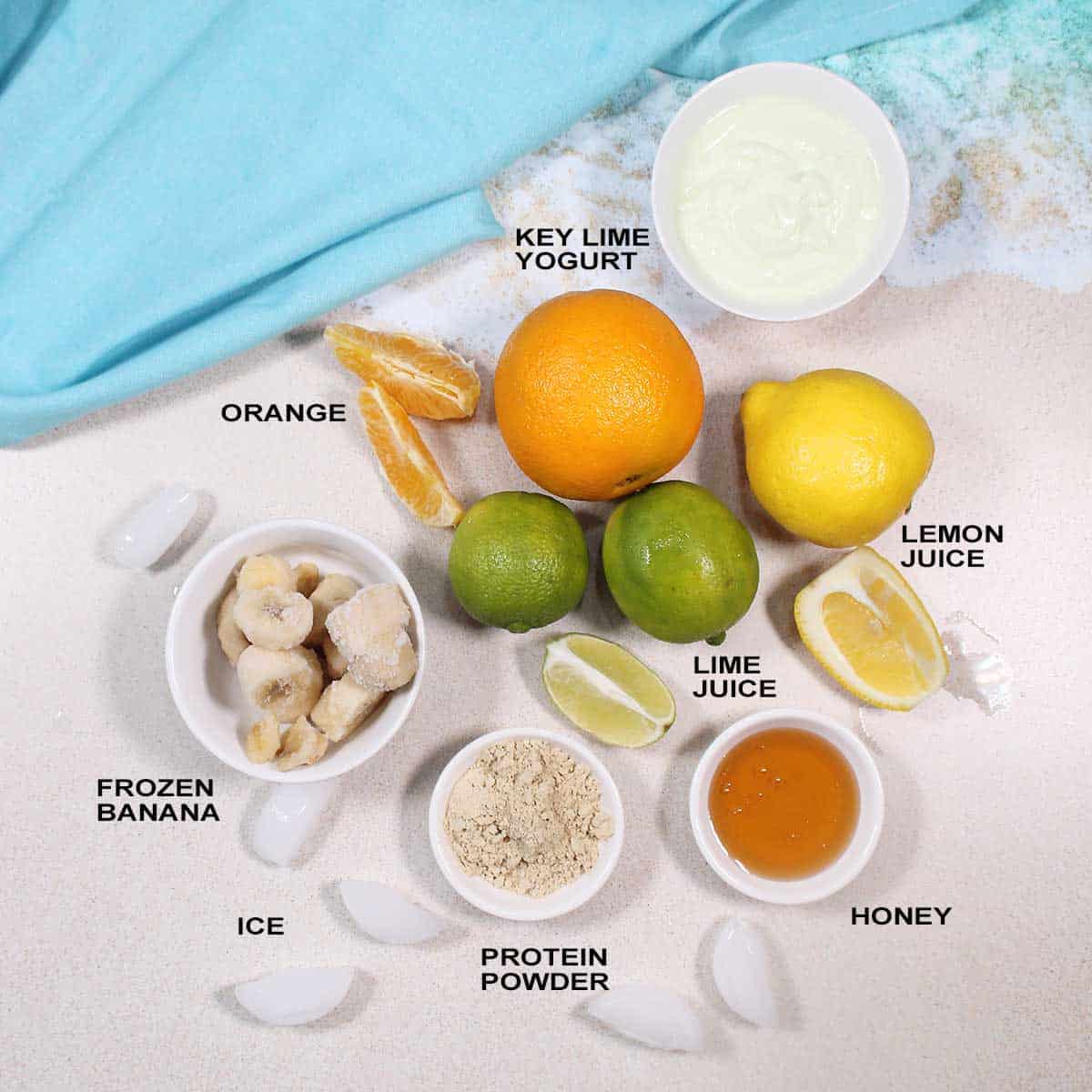 Orange
Limes
Lemons
Key Lime Greek Yogurt
Honey or Agave
Banana
Vanilla Protein Powder
Ice
Ingredient Notes and Substitutions
This smoothie can be made either with or without a frozen banana, just add more ice for a thicker, more slushie drink.
If you can't find key lime Greek yogurt, you can use plain or any other citrus-flavored Greek yogurt.
Protein powder is optional. Leave it out if you prefer smoothies without protein powder.
How to Make a Citrus Smoothie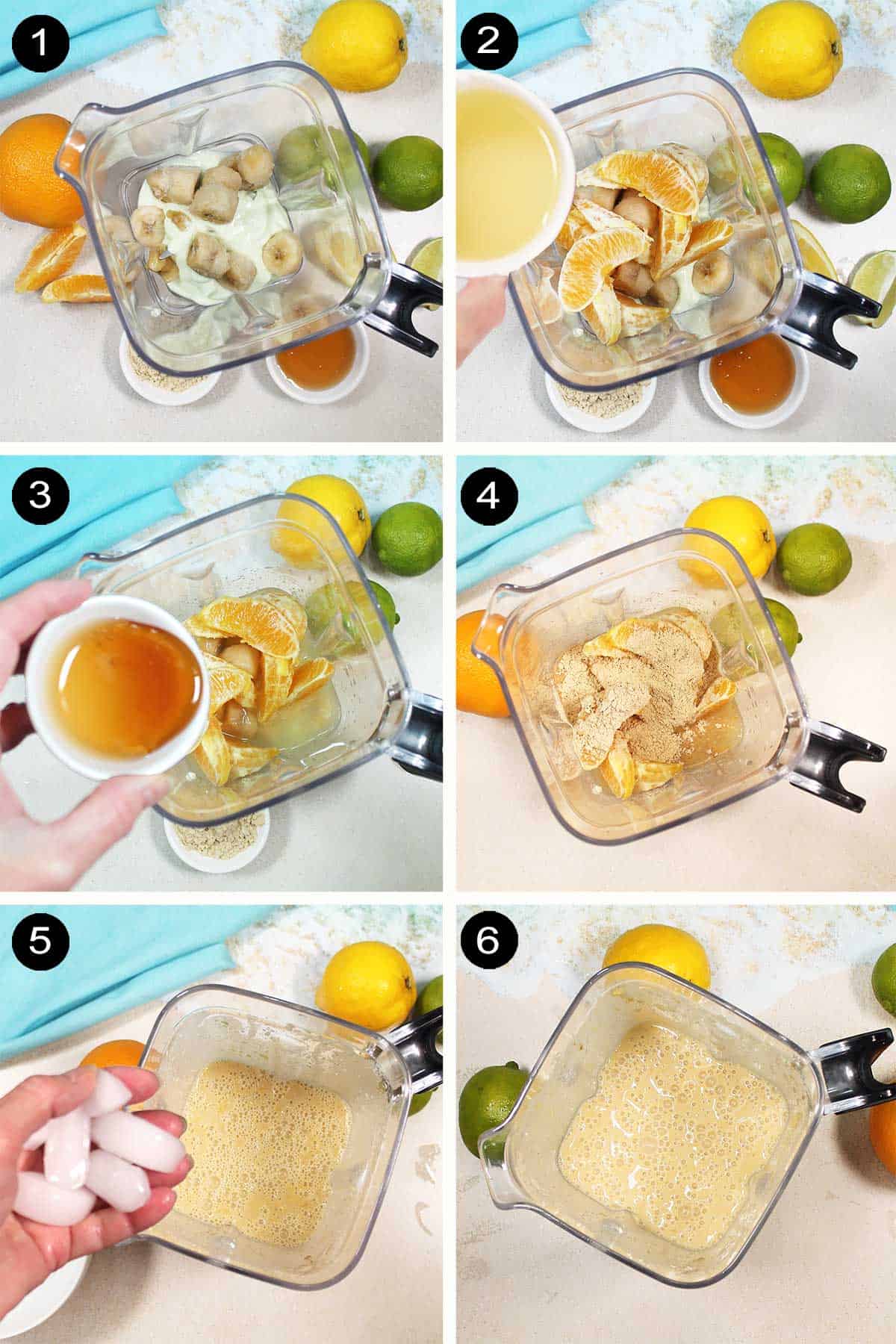 Place frozen bananas and yogurt into blender.
Add fruit juices or peeled and seeded whole fruits.
Pour in sweetener to taste.
Add protein powder if desired.
Blend until smooth. Add ice here if you want your smoothie thicker.
Blend again.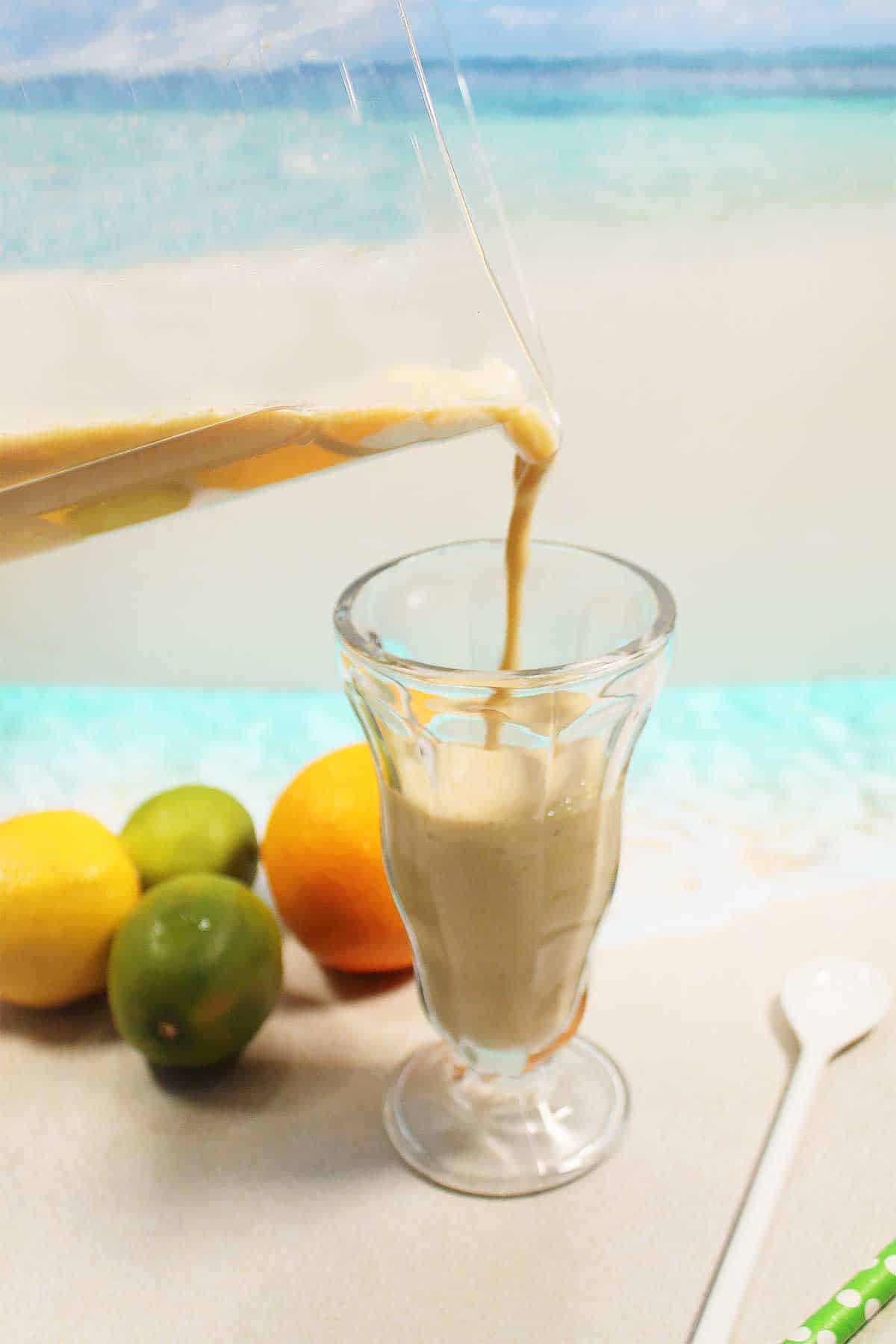 Pour your Vitamin C smoothie into a tall glass.
Serve as is or top with granola and banana slices.
Recipe Variations
Here are some ideas for changing up this immune booster smoothie:
Avocado Citrus Smoothie - Add ½ of an avocado.
Citrus Berry Smoothie - Add ½ cup of berries. Strawberries pair nicely with citrus.
Citrus Ginger Smoothie - Add 1 tablespoon of fresh ginger or ½ teaspoon of ground ginger.
Citrus Green Smoothie - Add a handful of kale or spinach. Or add 1 teaspoon of spirulina powder.
Mango Citrus Smoothie - Add ½ cup of chopped mango.
Pineapple Citrus Smoothie - Add ½ cup of chopped pineapple (fresh is best).
Switch Out The Citrus - Use grapefruit, mandarin orange, or yuzu.
How to Store and Freeze
Smoothies are best right after they are blended. However, if you have leftovers and you want to save them, here's what to do:
Store any smoothie leftovers in an airtight container in the refrigerator for up to 24 hours. Stir or shake it before drinking because it may separate.
Freeze smoothie leftovers in a freezer-safe container or plastic freezer bags for up to 3 months. Thaw in the fridge overnight. For a typical smoothie texture, blend it again with ice cubes.
Or you can freeze smoothie leftovers in popsicle molds to make popsicles like these chocolate cherry smoothie popsicles.
LOVE QUICK & EASY RECIPES? FOLLOW ME ON INSTAGRAM, FACEBOOK, & PINTEREST FOR ALL THE LATEST RECIPE INSPIRATION! PLUS JOIN MY EMAIL LIST AND RECEIVE A FREE E-BOOK.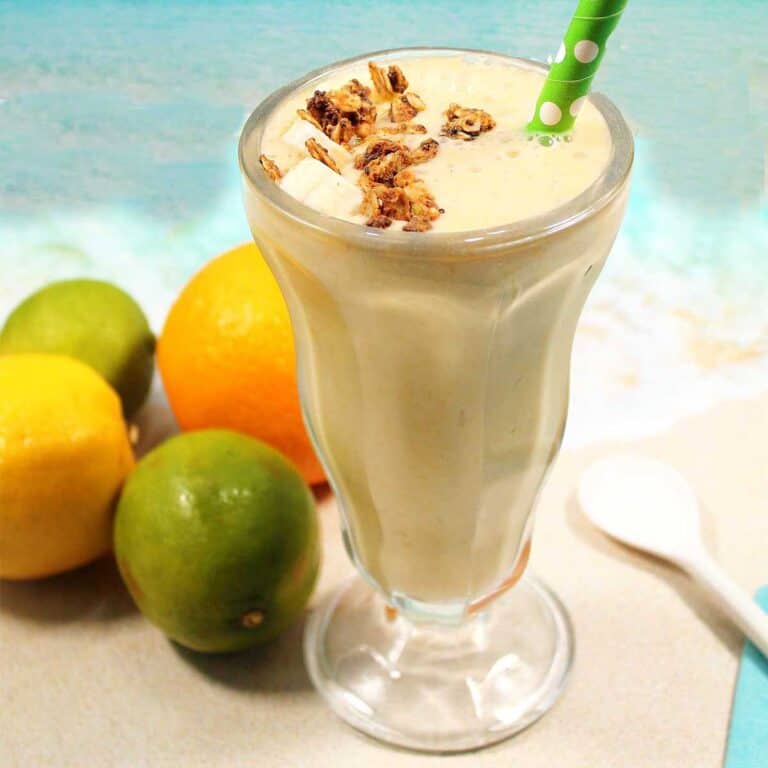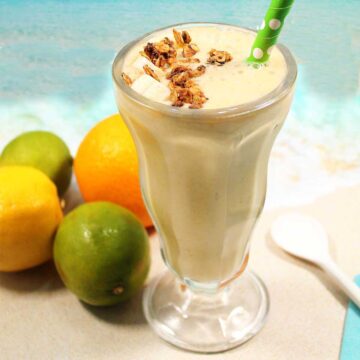 Citrus Smoothie
Wake up to this sweet and zesty citrus smoothie. The blend of fresh citrus and yogurt packs this smoothie with healthy deliciousness. Perfect for breakfast, snack, or any time.
Print
Rate
Ingredients
⅓

cup

lime juice

or 2-3 limes, peeled & seeded

¼

cup

orange juice

or 1 orange, peeled and seeded

2

Tablespoons

lemon juice

or 1 lemon, peeled & seeded

5.3

oz

Key Lime Greek yogurt

1-2

Tablespoons

honey or agave

sweetened to taste

1

frozen banana

2

Tablespoons

vanilla protein powder

(optional)

Ice to thicken

(optional)
Instructions
Add all ingredients to blender except ice.

Puree until smooth then add enough ice to bring it to desired consistency.
Notes
Tip: You can freeze the lime, lemon, and orange juice to the slushy stage & you will get a thicker smoothie without the use of ice.
Nutrition
Calories:
457
kcal
|
Carbohydrates:
80
g
|
Protein:
36
g
|
Fat:
3
g
|
Saturated Fat:
1
g
|
Polyunsaturated Fat:
0.2
g
|
Monounsaturated Fat:
0.1
g
|
Trans Fat:
0.01
g
|
Cholesterol:
65
mg
|
Sodium:
130
mg
|
Potassium:
1122
mg
|
Fiber:
7
g
|
Sugar:
52
g
|
Vitamin A:
418
IU
|
Vitamin C:
116
mg
|
Calcium:
383
mg
|
Iron:
1
mg
This post has been updated with new photos, step-by-step directions, and more useful information. It was first published on April 22, 2016.