Everyone loves a great grilled sandwich! But nothing beats a tuna melt with lots of stretchy Gruyere cheese & an added healthy dose of spinach.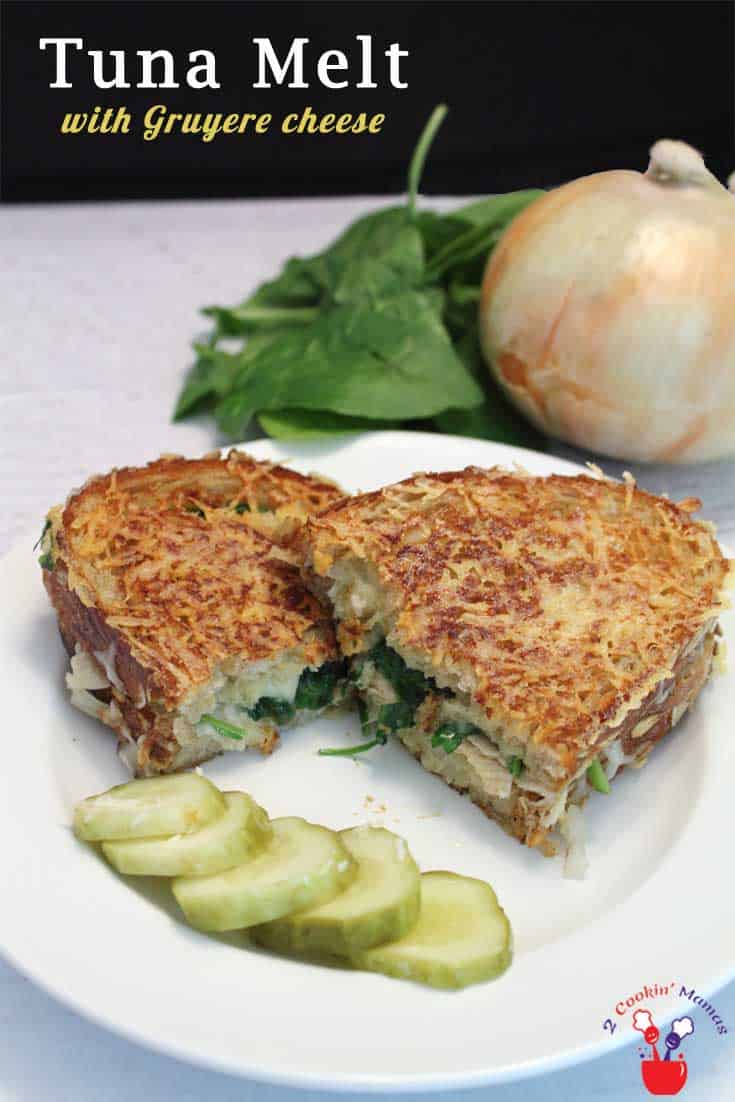 I love sandwiches for lunch. They are easy to make, easy to pack for bag lunches and, using the right ingredients, can be a nutritious and healthy meal as well.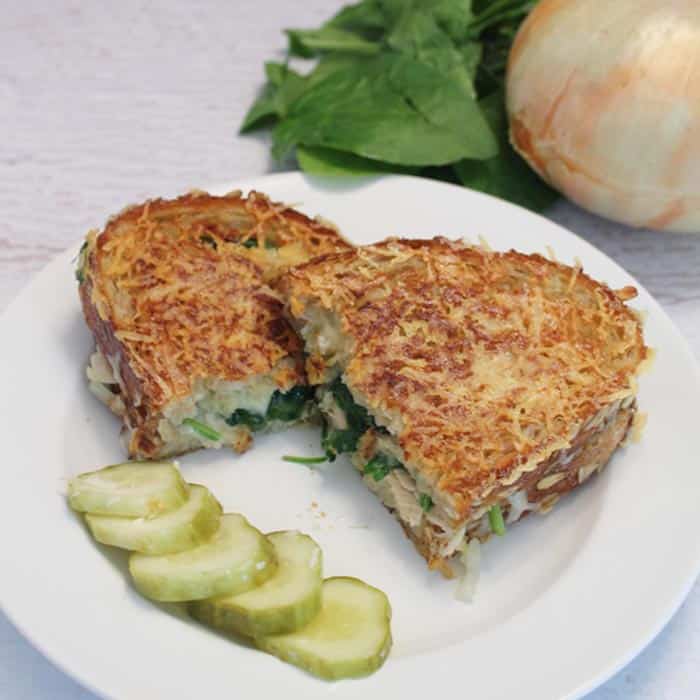 Today's recipe is one of my favorite sandwiches, the tuna melt. I think I had my first one at my Mother-in-law's house and fell in love with the flavor combination of tuna and melting cheese. Now that fall is here, it seemed like the perfect time to offer up a grilled sandwich that will warm you up as the days get cooler.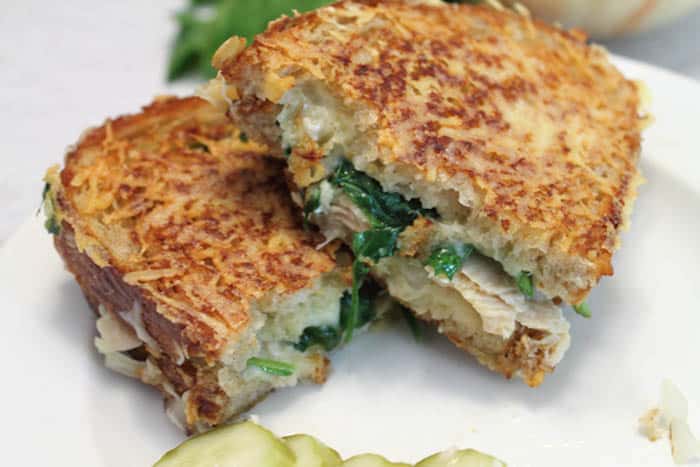 This tuna melt is a take on the original. I have switched out the cheddar or Swiss cheese for my new favorite cheese, Gruyere, which, by the way, melts really well, and then I've punched the health quotient up with some healthy spinach and whole grain bread.
I've also left off the mayonnaise and used the tuna straight from the can. You definitely won't miss the extra fat and calories with all that glorious melted cheese on top.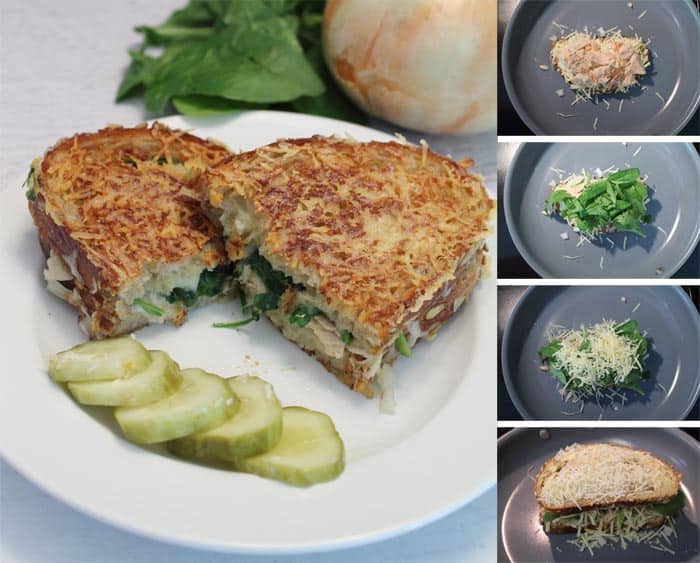 It's a big gooey sandwich that is filling but relatively healthy too! Just look at what this sandwich can do for you:
Tuna: High in omega 3's which have anti-inflammatory health benefits as well as aiding in heart health. Good source of lean protein.
Spinach: High in phytonutrients, including flavonoids and carotenoids, which help protect against inflammatory problems, cardiovascular problems, bone problems, and cancers.
Whole Grain Bread: Contains fiber which can reduce the chance of developing colon cancer as well as regulate blood sugars. It also helps you feel full longer and aids digestion.
Gruyere: Although high on the saturated fat side, which we should keep to a minimum, this hard cheese contains no carbohydrates and provides plenty of protein and calcium.
Hope you enjoy!
More Tuna Recipes
Ahi Tuna Kabobs with mango is a wonderful and light summer meal.
Tuna Dip is served hot and a great appetizer for any occasion.
Tuna Fish Patties with Panko Parmesan crust.
Find lots more healthy seafood recipes here on 2CM!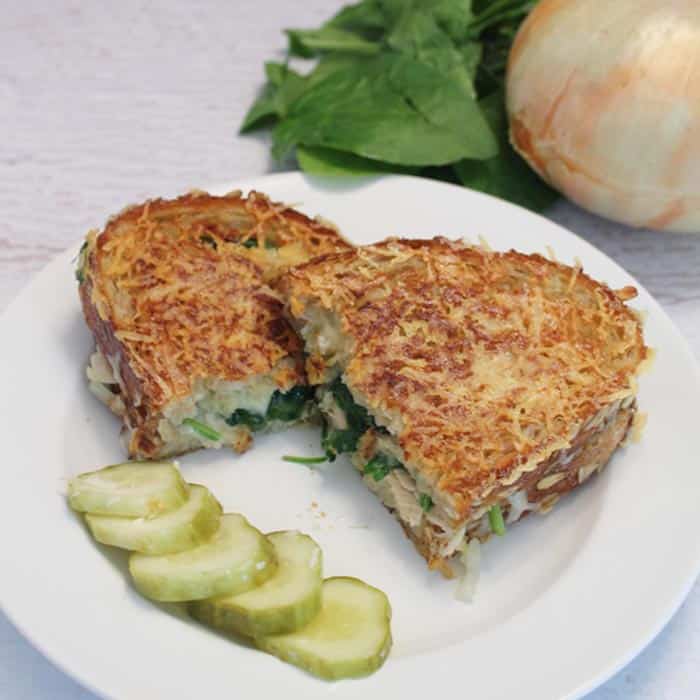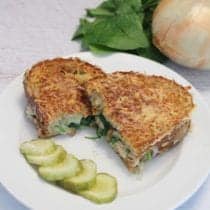 TUNA MELT with GRUYERE CHEESE
Everyone loves a great grilled sandwich! But nothing beats a tuna melt with lots of stretchy Gruyere cheese & an added healthy dose of spinach.
Print
Rate
Ingredients
2

slices

whole grain bread

1

Tablespoon

butter,

softened (I like Kerrygold butter)

1

Tablespoon

Pecorino Romano cheese,

grated (Parmesan can also be used)

½

cup

Gruyere cheese,

shredded

1

Tablespoon

onion,

diced

2-½

oz

white albacore tuna,

drained

Handful spinach leaves
Instructions
Lay 2 pieces of bread out and butter one side.

Evenly divide the Pecorino Romano cheese and sprinkle on top of butter to coat. Press so it adheres to butter.

Place 1 slice down in skillet or on a griddle. Place half of Gruyere cheese on top of bread. Sprinkle with onions, layer with tuna, spinach and finish with the remaining Gruyere cheese. Top with other slice of bread, buttered side up.

Turn heat on stove to medium and cook one side until it is brown. Carefully hold sandwich together while you flip it and brown other side.

It is ready when browned and cheese is melted.

Serve with pickle slices and a piece of fruit.
Notes
You can also add a tomato to the sandwich too for additional vitamins and minerals.
This post has been updated and was first published on September 16, 2015.
DON'T MISS A RECIPE!