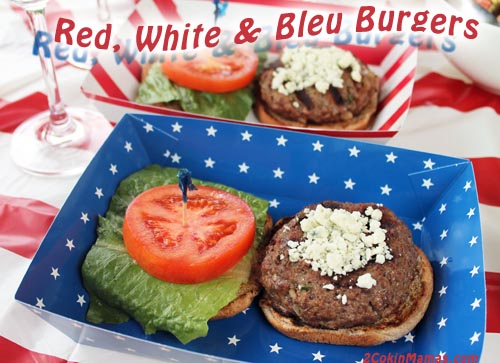 I know, I know, bad play on words, but I couldn't help myself since the bleu cheese on these hamburgers was just so gosh darn good. And you know what? If you don't like bleu cheese, you can leave it off or add any other cheese and they will still be out of this world delicious. So get that grill going this fourth and cook up these world class hamburgers.

Red, White & Bleu Burgers
Ingredients:
1 lb. ground beef
1/4 cup onion, chopped
1-2 jalapeno peppers, chopped (optional)
1 clove garlic or 1/2 teaspoon minced garlic
1 teaspoon Worcestershire sauce
Salt & pepper to taste
Tub of crumbled Bleu cheese
4 hamburger rolls
lettuce & tomato
Directions:
Mix ground beef with onion, jalapenos, garlic, Worcestershire sauce and salt and pepper to taste. Divide into 4 portions. Form into patties, making sure to mold it enough for the meat to stick together. Once made, form a small depression in the center of each patty to keep the hamburger from puffing up into a round ball during grilling.
Preheat grill.
Grill hamburgers for about 8 minutes for medium doneness, turning halfway through. Sprinkle blue cheese on the top of hot burgers and remove immediately to platter.
If you prefer your hamburger buns toasted on the grill, when there is about 4 minutes left, slice them in half and put face down on grill. You can pick at them from time to time as you need to watch them carefully as they can char rather quickly.
To serve: Lay bun open on plate. Place cheeseburger on the bottom of hamburger bun. On the top of bun, place a little lettuce and a nice slice of tomato. If you have a decorative toothpick with a blue top, stick through tomato to make it a special 4th of July presentation.
Serves 4.