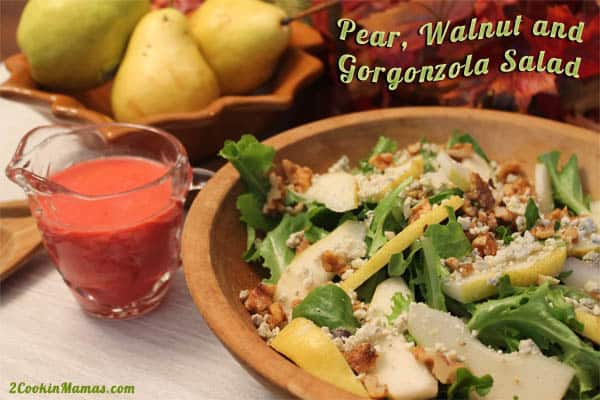 First off, I love pears! Who wouldn't love these sweet, juicy and versatile  fruits? I think they rank right behind apples with what you can make with them. I love to carry them for lunches, have one as an afternoon snack or bake up a cobbler, upside down cake or a tart.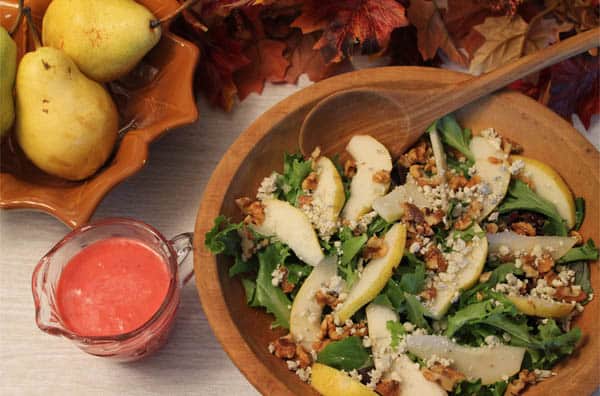 I first had pears in a salad at an Italian restaurant soon after I was married. I hadn't really thought of having pears any other way than just as a delicious piece of fruit but this salad really changed my mind. It was full of greens, had fresh juicy pears, walnuts and a touch of gorgonzola or blue cheese. They served it with a very light raspberry vinaigrette but I have recently changed my preference to a light lemony vinaigrette. After that, I couldn't stop experimenting and coming up with new recipes to make them shine.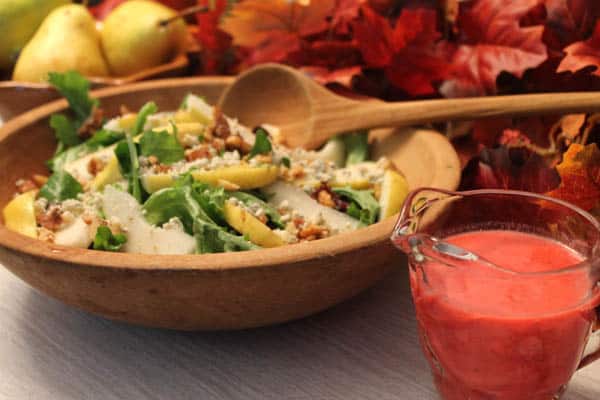 This salad is a perfect example of how you can make a healthy side dish with pears. They are a wonderfully nutritious fruit, low in calories and deliciously tasty. They are in season from fall through winter and can be frozen so you can enjoy them throughout the year.
Healthy Pear, Walnut & Gorgonzola Salad
Ingredients:
Spring greens
2 pears, cored & thinly sliced
1 cup walnuts
6-8 oz. Gorgonzola cheese
1/2 cup dried cranberries (optional)
Your favorite raspberry or lemon vinaigrette (see recipe below)
Directions:
In a large bowl, mix all the above ingredients. Do not peel pears as you will lose 1/2 the fiber and 3-4X  the phyto nutrients without the skin.
Adding cranberries is optional but does make the salad look very festive for the holidays.
For lemon vinaigrette, mix the following in a small sealable jar:  2 Tablespoons lemon juice, 2 Tablespoons extra virgin light olive oil, 1/4 cup light vinegar such as a rice wine vinegar then season with salt and pepper to taste. Shake and serve on side.
Serves 4.

Pears are packed with high levels of fiber, which can protect against colon cancer, as well as antioxidants and phyto-nutrients that contain strong anti-inflammatory and anti-cancer fighting properties. They are also low in calories and contain good quantities of Vitamin C, B-complex, copper, iron, potassium, manganese and magnesium.
Walnuts really up the nutrition and health level of this salad. Just 1/4 cup provides 100% RDA of omega-3 fats which combat free radicals in the body, reduce risk of prostate cancer, support heart and brain health and have anti-inflammatory properties as well. 
DON'T MISS A RECIPE!