Find out the secret ingredient and trick that makes these crispy buttermilk waffles the best you've ever had! The perfect waffles - crunchy on the outside, soft on the inside and super delicious! Great for weekend mornings and special enough for Mother's Day and Father's Day.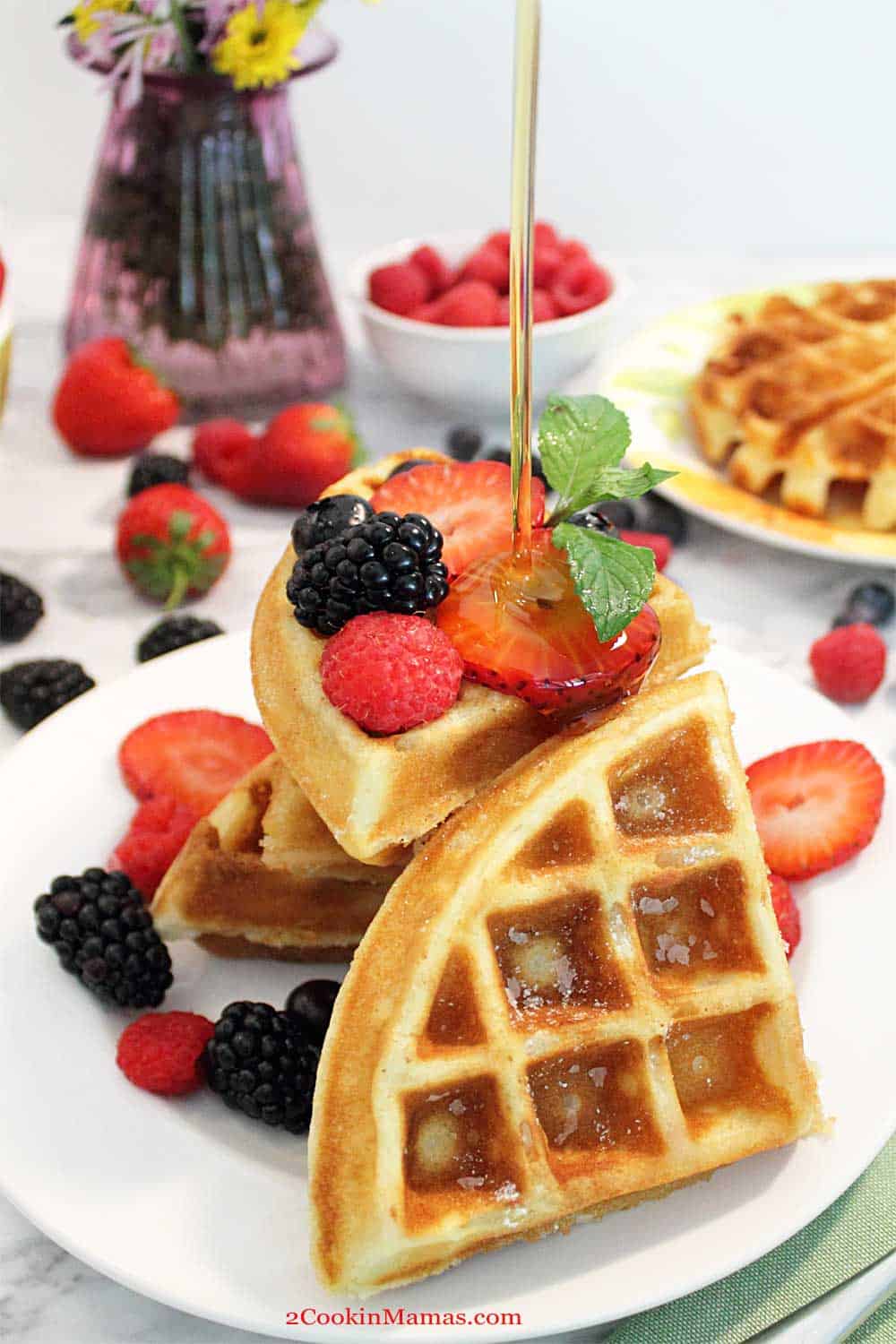 Some people hunt for the best chocolate cake, others for the best Chicken Parmesan, me, I hunt for the perfect waffles!
Why? My husband absolutely loves waffles but they have to be made with a soft interior and a nice crunchy exterior before he feels like they are worth eating. I have to agree with him too. Waffles that are mushy, are just blah, you know, like a pile of dough. Who likes that anyway? Hence my search and experimentation with loads and loads of combinations of ingredients and heat to get them just right.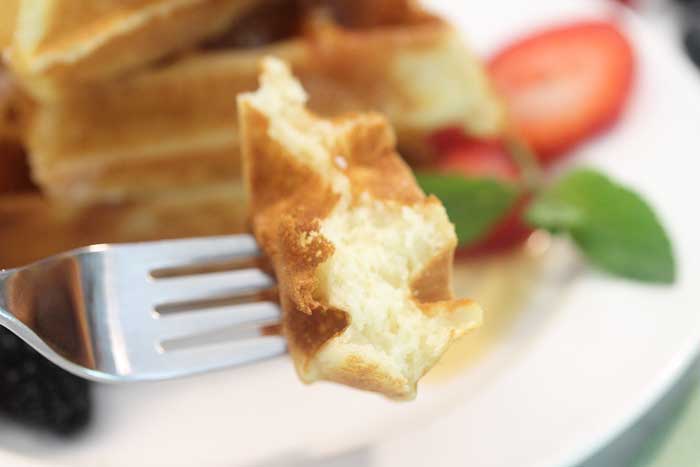 That is suffering through an awful lot of so-so breakfasts before hitting the ball out of the park. And I finally did it! The secret? Putting cornstarch in the batter! Who knew?! But wait! There's one more secret step and it not only helps them crunch up but allows everyone to eat breakfast at the same time. After cooking each buttermilk waffle, take off the griddle and place directly on the rack of a preheated 200 degree oven. As you finish each waffle, add it to the rack, and when you are ready to serve, pile those crispy waffles up, cover with pecans and fruit and you have a breakfast fit for even the pickiest waffle connoisseur.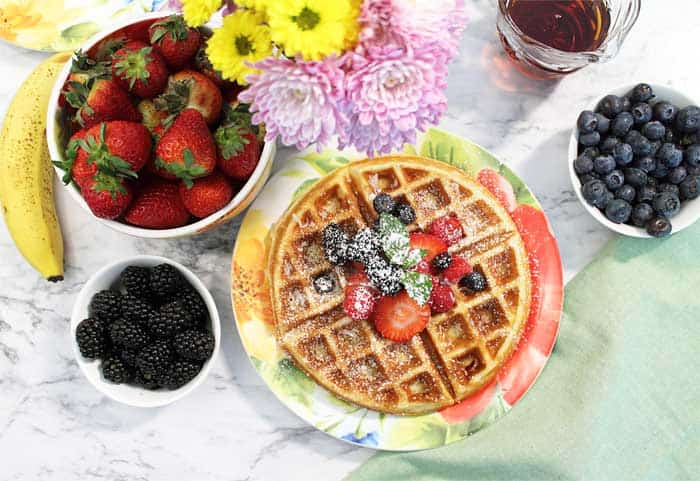 Frequently asked questions about waffles
What's the difference between Belgian waffles and regular waffles?
Belgian waffles are lighter and crisper with deeper pockets. They can be made with either a yeast base or beaten eggs whites, as I've used in this recipe, to achieve a crisper, lighter texture.
Can I use pancake batter to make waffles?
This is not recommended as a waffle batter usually contains more butter or oil. This is what makes waffles airier and fluffier than pancakes. If you have to use pancake batter, increase the butter in the batter by 1 tablespoon per cup of flour.
Why are the waffles coming out soggy?
If your waffle iron is not hot enough, the waffles will come out squishy and soggy. The heat of the iron is what evaporates the moisture in the batter and you see as steam coming out the sides of the waffle iron. To avoid soggy waffles, make sure your waffle iron warms up for at least 5 minutes prior to starting to make your waffles.
Can waffles be frozen?
Absolutely! Let the waffles cool, then place on a cookie sheet lined with parchment paper in a single layer and freeze. When completely frozen, place them all in a resealable plastic bag and take out just what you need when ready to reheat.
How do you reheat waffles?
There are two ways that will work for reheating your waffles. First, you can place the frozen waffles right into a toaster and toast as you would any piece of bread. Since my waffles don't fit in my toaster, I use this second method. Preheat your oven or toaster oven to 350 degrees. Line a cookie sheet with parchment paper. Place the waffles in a single layer on the prepared sheet and bake for 10-15 minutes or until warm.
Tips and Tricks for crispy waffles:
Add cornstarch! This may seem like a strange ingredient to add to waffles but it makes a tremendous difference. The cornstarch will help protect the waffle from getting soggy from the steam generated as it cooks and give it that crispy exterior that makes a great waffle.
Beat the egg whites to stiff peaks. This adds an incredible amount of air into the batter making the waffles light and airy instead of dense and heavy.
Use buttermilk in place of whole milk and the flavor will be enhanced exponentially!
Get a good flip waffle iron! Flipping a waffle will ensure that the batter is distributed well and that both sides get done evenly. I use a Presto Flip Waffle Maker, which is not too expensive, and it works great.
Pro-Tip: The oven step is not just there to keep the waffles warm! No matter what else you do, do not skip this step. Preheating the oven to 200 degrees and placing the waffles directly on the oven shelf as they are finished cooking will ensure the crispness that everyone looks for in a perfect waffle. Leave the last one in the oven at least 5 minutes prior to serving.
Easy steps to making the perfect waffles every time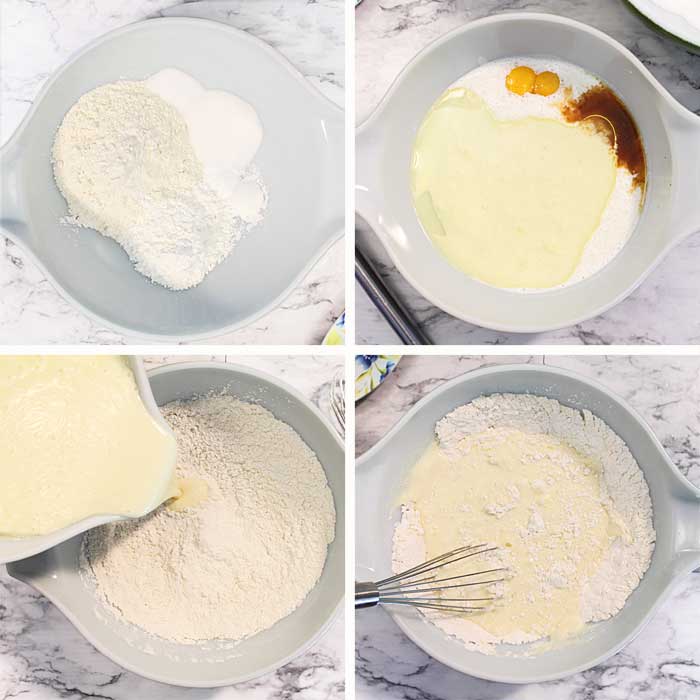 On a large bowl, combine flour, cornstarch, baking powder, baking soda, sugar and salt.
In a medium bowl, whisk together buttermilk, oil, egg yolk and vanilla.
Pour the liquid ingredients into dry ingredients.
Whisk until just mixed then let sit for 10 minutes.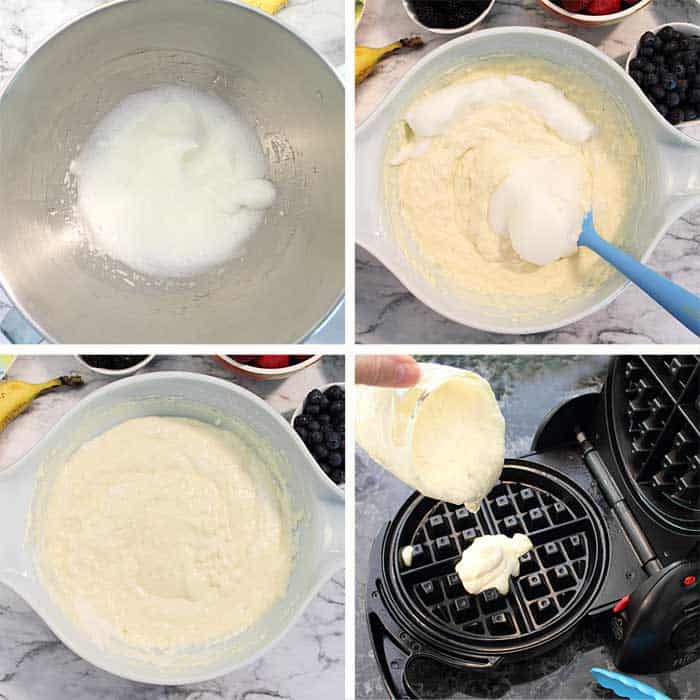 Using your KitchenAid or electric mixer, beat egg white until stiff peaks form.
Fold egg white into batter.
Mix until most of the white disappears.
Preheat waffle iron and pour about ¾ cup batter onto hot griddle, close and turn immediately.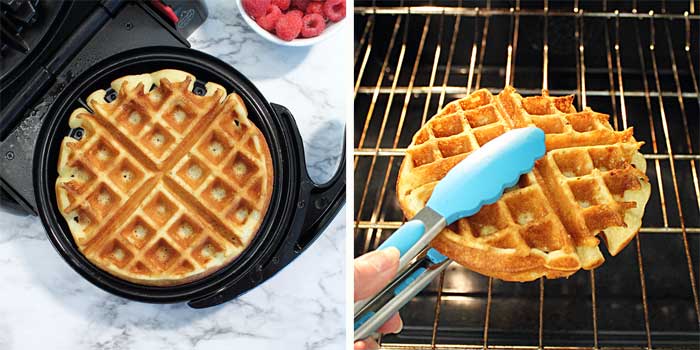 Let waffle cook for 4 minutes or go by the time recommended for your particular model.
Remove waffle and place directly on rack in a preheated 200 degree oven. Repeat above until all batter is gone.
Serve with your favorite toppings like butter, syrup, chopped nuts, fresh fruit or powdered sugar.
More delicious waffle recipes for everyone!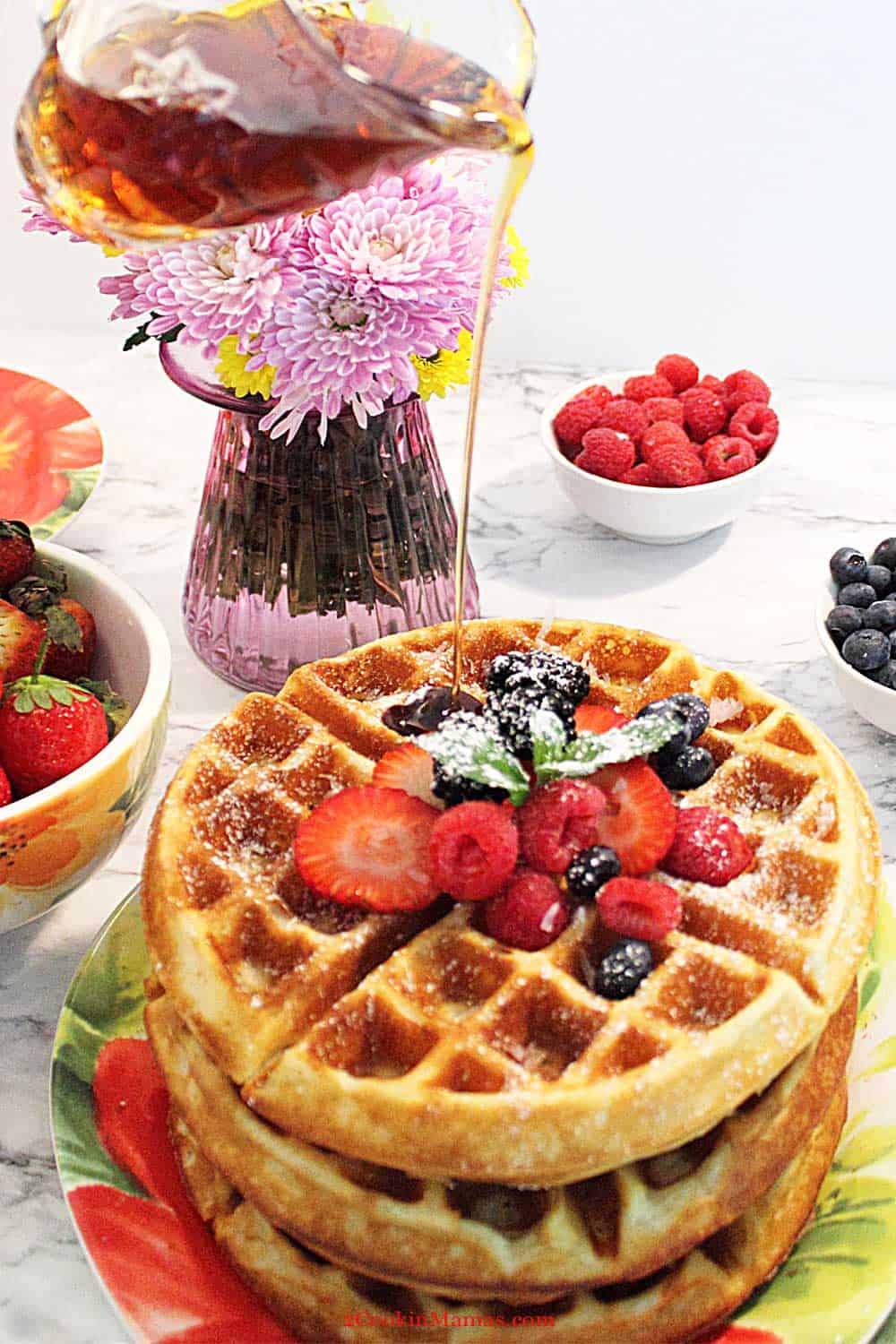 Now pour on that syrup and enjoy!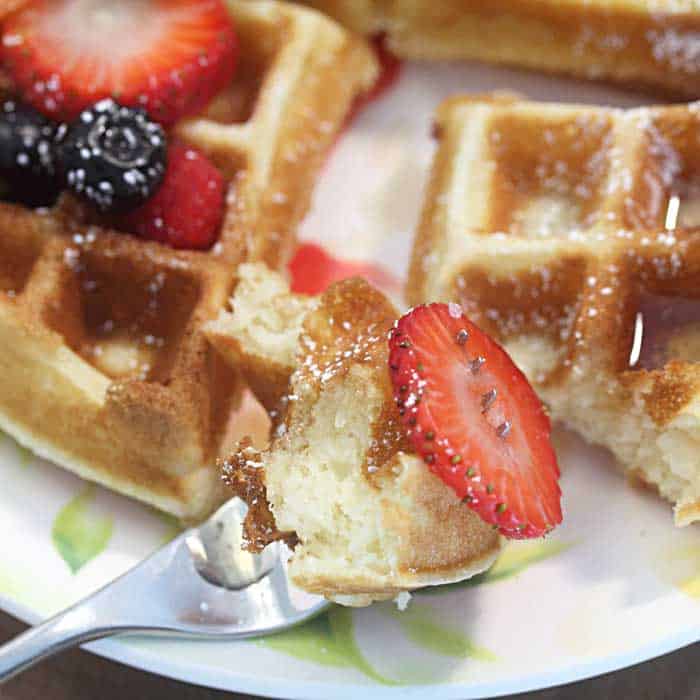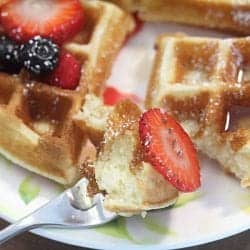 PERFECT CRISPY BUTTERMILK WAFFLES
Find out the secret ingredient that makes these waffles the best you've ever had! The perfect waffles - crunchy on the outside & soft on the inside.
Print
Rate
Ingredients
¾

cup

all-purpose flour

¼

cup

cornstarch

½

teaspoon

baking powder

¼

teaspoon

baking soda

1

Tablespoon

sugar

½

teaspoon

salt

1

cup

buttermilk

⅓

cup

vegetable oil

1

egg,

separated

1

teaspoon

vanilla extract

Pecans,

chopped (optional)

Garnish: chopped fruit,

berries, chocolate chips, whipped cream
Instructions
Preheat oven to 200 degrees.

In a large bowl, combine the first 6 ingredients.

In a medium bowl, whisk the buttermilk, oil, egg YOLK and vanilla.  Pour into the dry mixture and whisk until just mixed. Let sit for 10 minutes.

Using your Kitchen Aid or other electric mixer, beat egg white until stiff peaks form. Fold into batter.

Heat waffle iron. When hot, pour about ¾ cup batter onto hot griddle. (Optional: I sprinkle chopped pecans on batter here) Close and invert. (I love the Presto FlipSide Belgian Waffle Maker) Cook until waffle is brown and crisp, about 4 minutes.

Remove and place waffle directly on wire rack of oven to keep warm while cooking remaining waffles.

Serve with your favorite accompaniments like butter, syrup, fresh fruit or powdered sugar.
Nutrition
Calories:
453
kcal
|
Carbohydrates:
42
g
|
Protein:
7
g
|
Fat:
28
g
|
Saturated Fat:
21
g
|
Cholesterol:
63
mg
|
Sodium:
585
mg
|
Potassium:
229
mg
|
Sugar:
8
g
|
Vitamin A:
210
IU
|
Calcium:
134
mg
|
Iron:
1.7
mg
This post has been updated with new photos and easier to follow instructions. It was originally published on April 27, 2016.