No flour, no problem! Whip up this sweet breakfast treat starting with a cake mix. Cake Mix Waffles are so easy and so delicious, you'll feel like you're having dessert for breakfast. It's a favorite of kids and big kids too!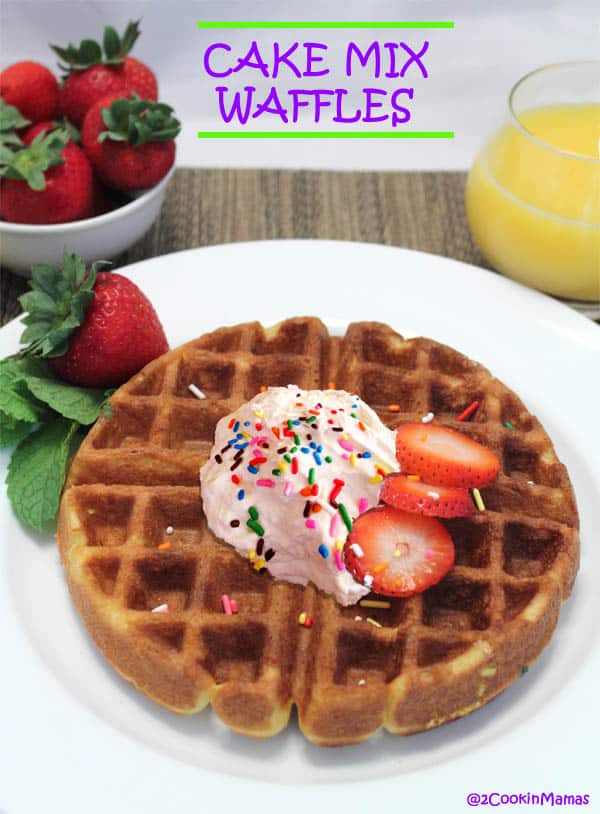 Over the holiday weekend I was babysitting my little grandson and just had to think of something fun to whip up for him for breakfast. Seeing that I'm the Grandma, I get to spoil him a little while Mom and Dad are away so I thought I would try these sweet Cake Mix Waffles and top them with another of his favorites - sprinkles!
I thought this was such an original idea and then found out I was way behind the curve! Tons of recipes on line for doing this very thing. One blogger made it because they had promised their children waffles in the morning and then found she didn't have any flour - hence the use of the cake mix. Another thought the way I did and just wanted to make a special treat for her kids.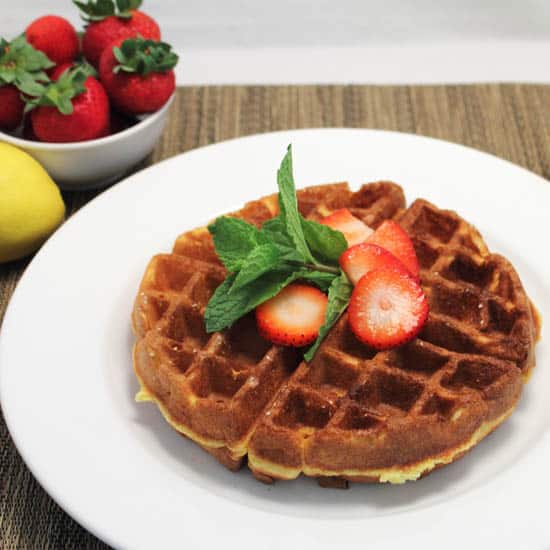 All the recipes seemed to use the same ingredients but I changed the procedure up slightly by doing what I normally do when making waffles, I whipped the egg whites to soft peaks and then gently folded it into the batter. It really lightens them up quite a bit!
I also left out the chia seeds because that would have been a "yuck there's something in my waffles I'm not going to eat them" moment. But adults, go ahead and add them, they add that extra protein that helps offset the heavy carbs (at least a little).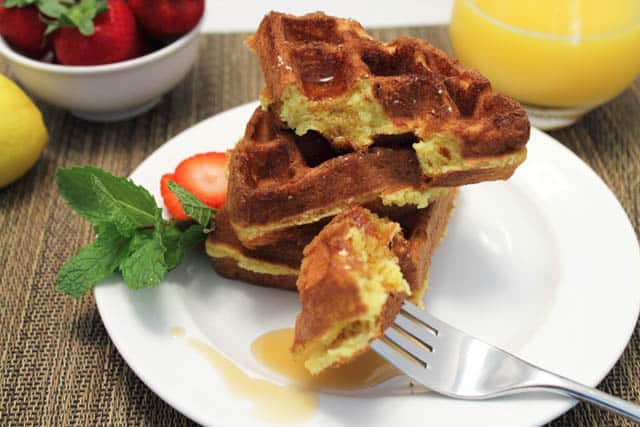 If you like your waffles a little crisper on the outside, I found that putting them in the oven, directly on the rack, for just 5 minutes or so works great. And you can do this with each one while you cook the rest up and then everyone can sit down at the table at the same time to eat. Yay!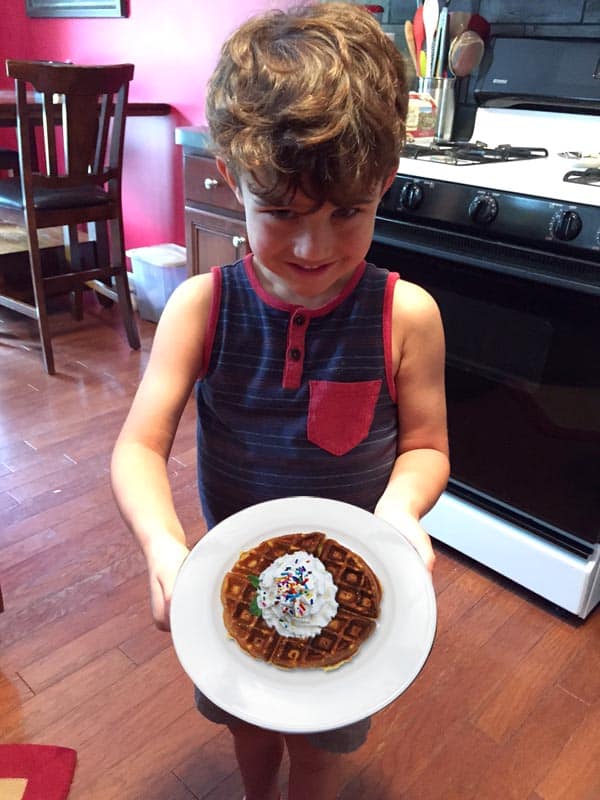 I'm happy to report that they were a big hit! And we saved the rest in the freezer to pop in the toaster for another morning breakfast treat.
More waffles to make for breakfast:
Chocolate Belgian Waffles topped with cinnamon apples are great for breakfast or dessert.
Eggnog Waffle is gluten-free and perfect for the holidays.
Banana Bread Waffle with cinnamon and vanilla is rich and delicious.
Crispy Almond Flour Waffles made with buttermilk are gluten-free.
Find even more healthy breakfast recipes here on 2CM!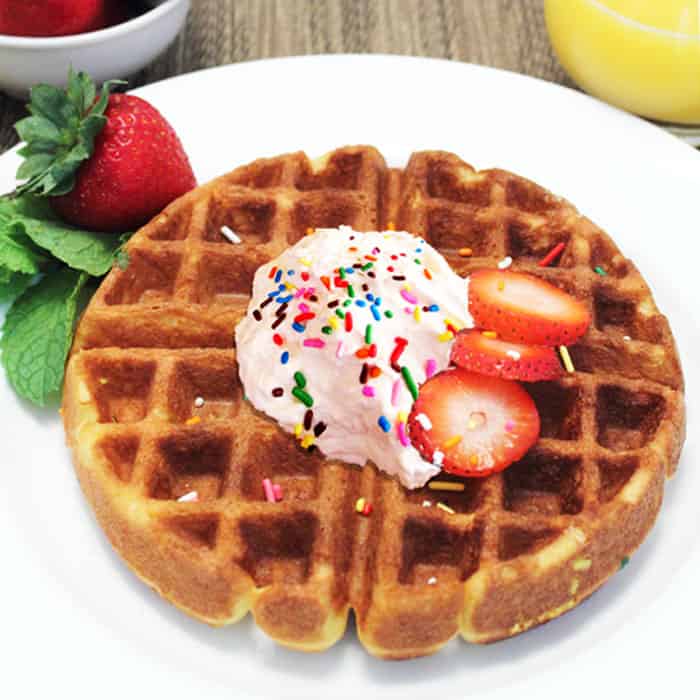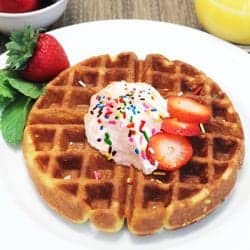 CAKE MIX WAFFLES
No flour, no problem! Whip up this sweet breakfast treat of cake mix waffles. It's so easy & the kids (big kids too) will love it!
Print
Rate
Ingredients
16.5

oz

Lemon Supreme Cake Mix

(I used Duncan Hines)

3

eggs,

separated

1

cup

almond milk,

water or regular milk can also be used

⅓

cup

vegetable oil

(I used half almond oil & half vegetable oil)

1-2

Tablespoons

Chia seeds/poppy seeds or go for it with colored sprinkles

(optional)
Instructions
Preheat oven to 250 degrees.

Pour cake mix into large bowl. Add egg yolks, milk, oil and chia seeds.

Place egg whites in large bowl and whisk with electric mixer until soft peaks form. Fold into cake batter.

Pour ¾ to 1 cup batter onto hot waffle iron and cook according to manufacturer's instructions, usually about 4 to 4-½ minutes.

Remove waffle carefully, as it will be slightly soft, and place directly on oven rack to keep warm while cooking remaining waffles. They will crisp up some as they sit in the oven.

Serve with fruit, syrup and, for a real treat, whipped cream.
This post has been updated and was first published on September 9, 2015.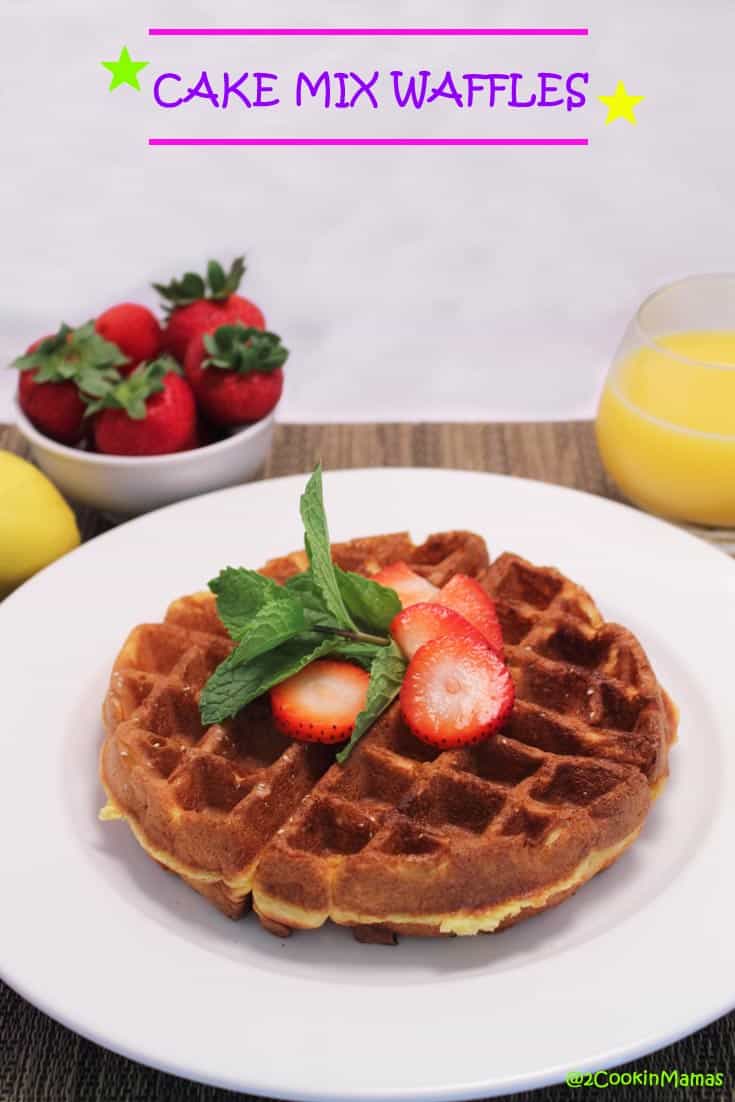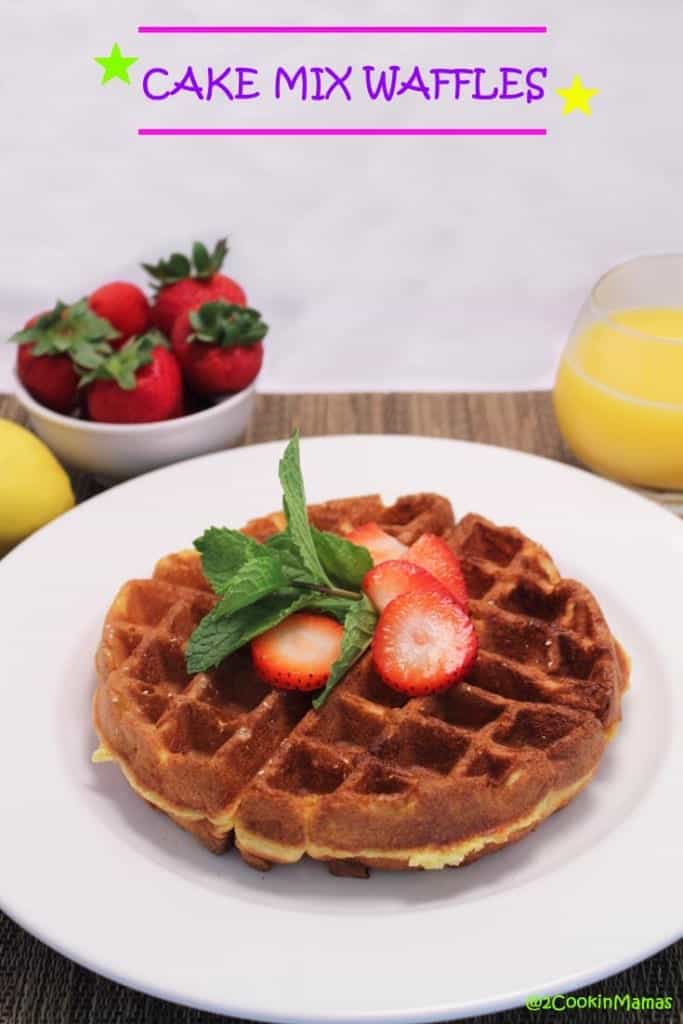 Love breakfast? Here are some more goodies you just might want to try.
DON'T MISS A RECIPE!