Delicious & healthy quinoa waffles make a powerful breakfast that's full of protein. Add some fresh berries for antioxidants & bananas for potassium to start your day on the right foot!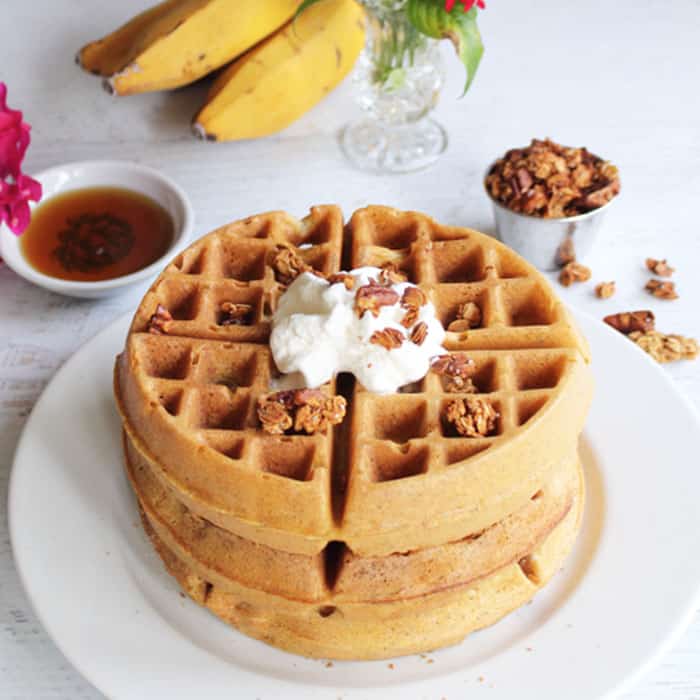 Happy Spring! It's a beautiful day, blue sky & going into the 80's. Who could ask for anything more?
So feeling all bright-eyed and bushy-tailed, as my Dad would say, I wanted to make something special for breakfast. We love waffles in this house ever since I created the Perfect Waffle recipe but, since we are trying to eat healthier now, I had to find a way that we could keep to our healthier eating and have our waffles too.
Quinoa is an excellent source of protein
Well, as you might have guessed if you follow us regularly, my go-to health food is quinoa (pronounced keen-wah, just so you don't happen to say it wrong and have everyone jump on your case for not knowing). We love it in our household and it fits the bill for so many things - use in lieu of rice, noodles, bulgur wheat and even as a baking grain in breads.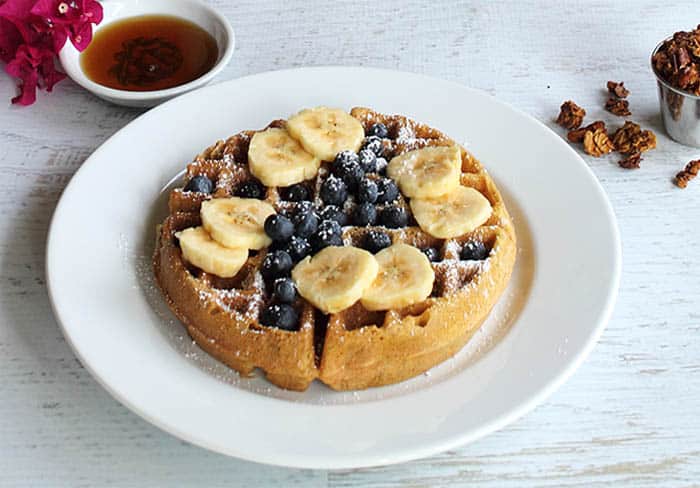 Are you asking yourself at this point what is so good about quinoa? Let me tell you! Quinoa is a protein-packed, nutty-tasting grain that contains a perfect balance of every amino acid, which makes it one of the only plant foods that is a complete protein source. It is rich in lysine, which promotes healthy tissue growth, and is a good source of iron, magnesium, vitamin E, potassium and fiber. Now you know why I chose it to make my waffles healthier.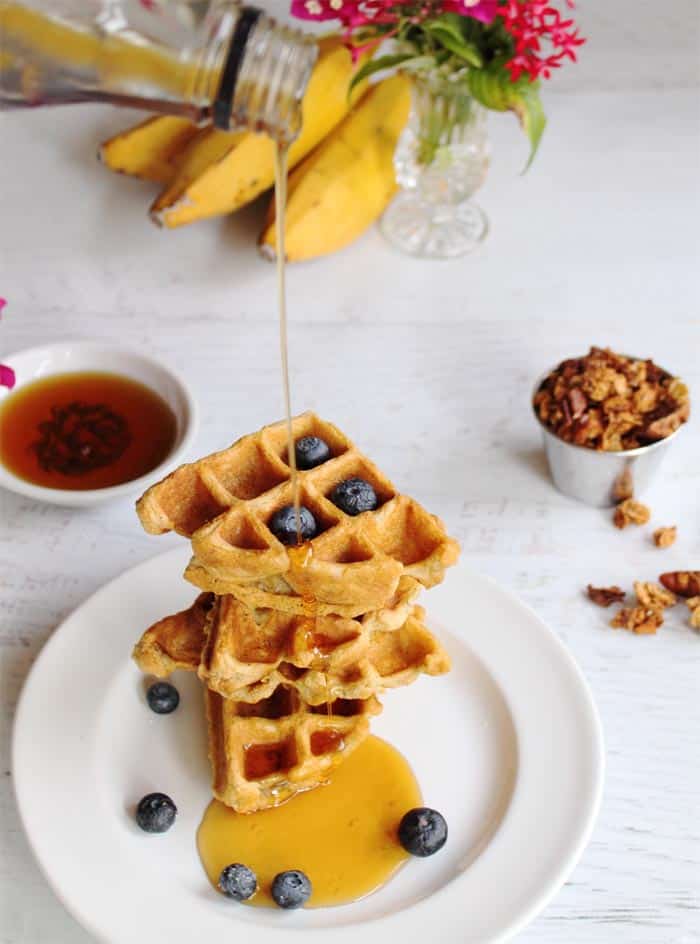 I also found out, after many unsuccessful tries, that cornstarch is the main ingredient that helps make your waffles crunchy on the outside. You still need to use a good waffle iron, preferably one that you can turn over, like the Presto flip-side waffle maker I use, to ensure that they come out soft on the inside and crunchy on the outside. This recipe not only comes out perfect but tastes delectable too! Hope you enjoy!
More Pancakes & Waffle Recipes
Banana Yogurt Protein Pancakes - packed full of protein, calcium, useful carbs & only a little sugar. Make the dry mix ahead of time & add liquid ingredients when you're ready for a fast start in the morning.
Buttermilk Almond Flour Waffles - a trick and secret ingredient makes these buttermilk waffles perfect with a crunchy outside and a moist soft inside.
Apple Dutch Baby Pancake - make this amazing pancake with only a blender, a can of apple pie filling and an iron skillet.
Love quick & easy recipes? Follow me on Instagram, Facebook, Pinterest & Twitter for all the latest recipe inspiration! Plus join my email list here and receive a free e-book.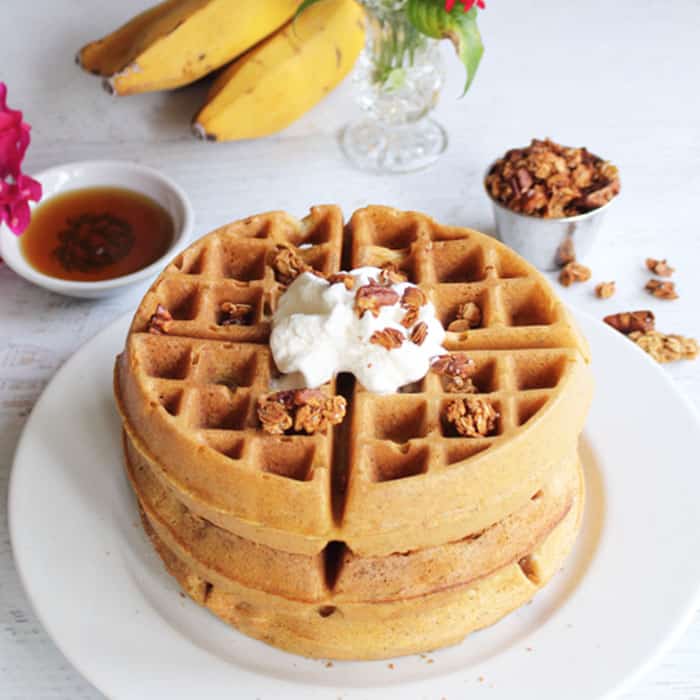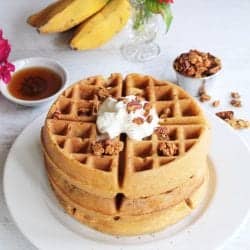 Quinoa Waffles
Delicious & healthy quinoa waffles make a powerful breakfast that's full of protein. Add some fresh fruit & you'll be ready to tackle anything!
Print
Rate
Ingredients
1

cup

all-purpose flour

½

cup

cornstarch

2

teaspoons

baking powder

1

teaspoon

baking soda

½

teaspoon

salt

¾

cup

cooked Nature's Earthly Choice quinoa,

cooled

4

eggs,

separated

1

teaspoon

vanilla extract

⅔

cup

vegetable oil

1 ½

cups

almond milk

⅓

cup

your favorite nut butter

(optional)

1-2

Tablespoons

packed brown sugar or palm sugar

Garnish: Fresh sliced berries and/or sliced bananas, homemade granola & & maybe a little indulgence like whipped coconut cream or dark chocolate chips
Instructions
In large bowl, combine flour, cornstarch, baking powder, baking soda and salt.

In a separate bowl, combine quinoa, egg yolks, vanilla extract, oil, milk and nut butter, if using. Add to dry mixture and stir well.

Beat egg whites until soft peaks form, add sugar slowly and continue to beat until stiff peaks form. Fold into batter.

Pour batter into waffle iron and cook according to manufacturer's directions. Usually about 4 to 4-½ minutes.

Top with fresh berries or sliced bananas and pure maple syrup.
Notes
To keep waffles warm until you are done cooking all of them, preheat oven to 250 and put cooked waffles directly on oven rack until ready to eat. To save time, you can prepare the batter the night before up to the addition of the egg whites. Store overnight in refrigerator. Prior to cooking, beat egg whites and combine with cold batter.
Nutrition
Calories:
748
kcal
|
Carbohydrates:
54
g
|
Protein:
15
g
|
Fat:
54
g
|
Saturated Fat:
31
g
|
Cholesterol:
163
mg
|
Sodium:
762
mg
|
Potassium:
511
mg
|
Fiber:
4
g
|
Sugar:
3
g
|
Vitamin A:
240
IU
|
Calcium:
307
mg
|
Iron:
3.7
mg