It's easy to make your own ice cream sandwiches at home. And they're even gluten-free! Make the wafers, choose your favorite ice cream and just enjoy!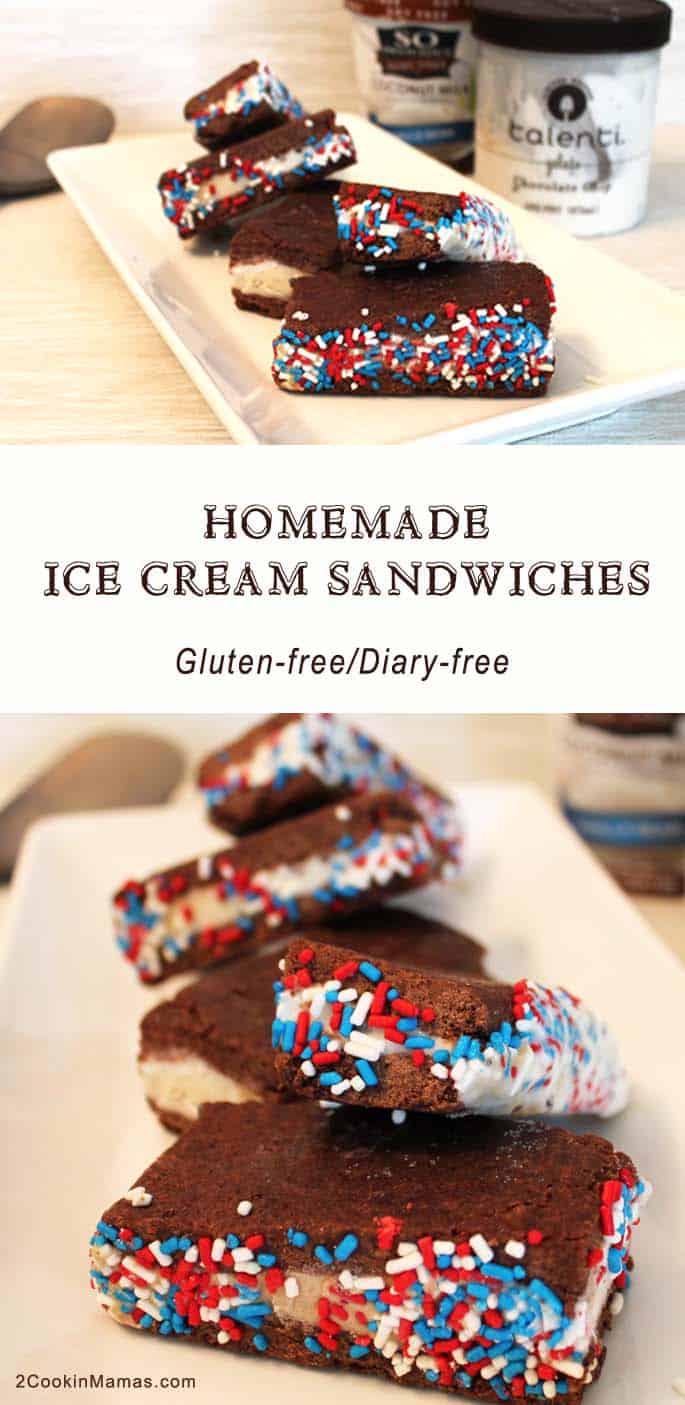 It's National Ice Cream Month! So what could be more appropriate or fun than making your own ice cream sandwiches?
These were super easy to make and went together so easily that I can see myself making them for numerous occasions. These happened to be made for 4th of July with red, white and blue sprinkles but I can see them with red and white for Valentines Day or red, green and white for Christmas.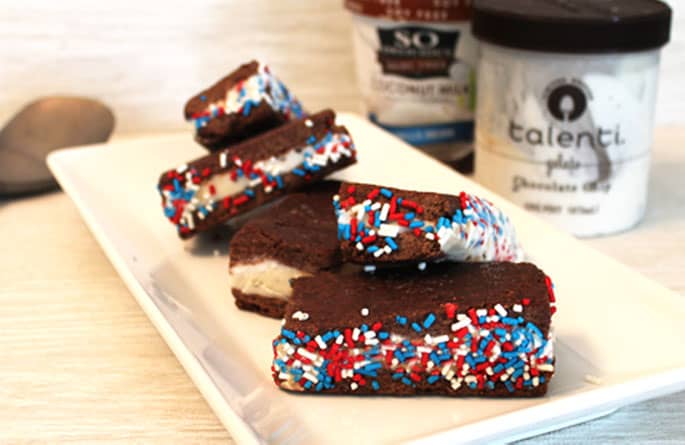 I also wasn't sure how they would come out with gluten free flour since Christina, the other Cookin' Mama, needs to stay away from gluten, but they turned out even better than the normal flour ones. Amazing!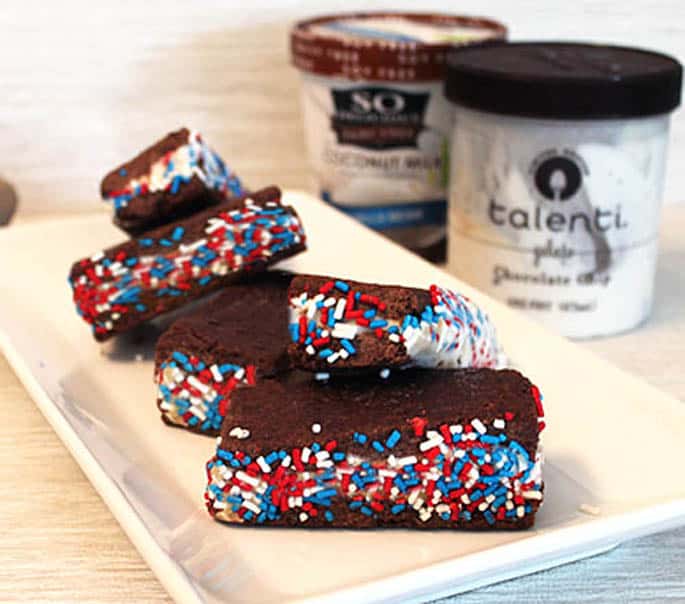 And, an added bonus, my grandson will be staying with us this week so these will be the perfect treat for him. Cut them smaller for the kids and larger for the adults.  
Fill these delicious chocolate wafers with almond or soy based ice cream like the So Delicious brand, gelato or our homemade no-churn coffee ice cream or no-churn white chocolate ice cream.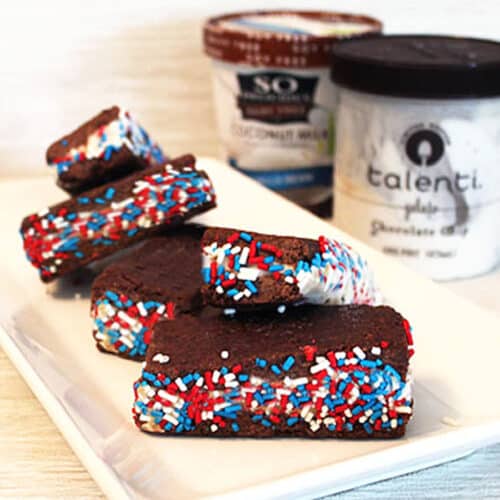 GLUTEN FREE ICE CREAM SANDWICHES
It's easy to make your own ice cream sandwiches at home. And they're even gluten-free! Make the wafers, choose your favorite ice cream and just enjoy!
Ingredients
1 3/4

cups

gluten free flour

3/4

teaspoon

xanthan gum

1/8

teaspoon

baking soda

1/4

teaspoon

salt

1/2

cup

unsweetened cocoa powder

1/4

cup

granulated sugar

1/2

cup

light brown sugar,

packed

6

Tablespoons

Crisco,

melted (or coconut oil)

3

Tablespoons

butter,

melted (or butter substitute)

2

eggs,

room temperature

2

teaspoons

vanilla extract

2

small containers of your favorite ice cream,

dairy or non-dairy
Directions
Preheat oven to 325 degrees. Have 2 8x8-inch square pans ready. Cut 6 pieces of parchment paper into 8x8-inch squares.

Mix dry ingredients together in a large bowl making sure there are no lumps.

Combine remaining liquid ingredients, starting with Crisco, and add to dry mixture. Once well mixed the dough should be pliable and hold together well.

Divide dough into 4 equal pieces and roll each out between 2 pieces prepared parchment. Make the dough square just slightly shorter than the paper so it fits well into bottom of dish. It should be approximately ¼" thick. Trim edges to make a nice even square.

Place 1 square, with parchment paper still on bottom, into one of the 8" square dishes. Repeat with the other square into remaining dish.

Place both baking dishes in preheated oven. Bake for 10 minutes.

Let cool on rack about 10 minutes prior to removing carefully from pan and setting on wire rack to cool.

Repeat rolling, cutting and cooking with remaining 2 squares of dough.

When wafers have cooled, place one wafer into the bottom of each of the 2 8x8-inch dishes that have been lined with parchment paper.

Spread slightly soft ice cream over each of the wafers. Place remaining two wafers on top and press down carefully in order to spread ice cream evenly.

Cover with plastic wrap and place in freezer until firm.

When ice cream is frozen, about 4-5 hours, remove from freezer, lift out and place on cutting board. Cut into equal-sized rectangles. I usually get 8 small sandwiches out of each dish (2" wide x 4" long).

At this point you can wrap each individually with plastic wrap or dip ice cream edges into sprinkles (such as red, white & blue for a patriotic holiday or red and white for Valentine's Day) and then wrap in plastic wrap. Store in freezer until ready to eat.
Recipe Notes
Total time does not include time it takes ice cream sandwiches to freeze.
Check out more of our gluten-free recipes here!
DON'T MISS A RECIPE!