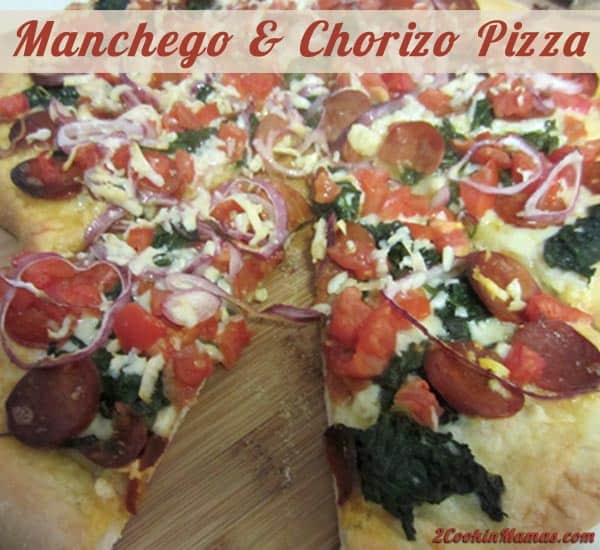 We just arrived back home after a relaxing and wonderful vacation in Key West. Beautiful weather, lots of sun and surf, fishing, boating, you name it, we did it. It was also a family reunion with the kids and grandkids coming to play with us for a week.
Now it's back to reality, but slowly, as that key west laid back feeling is hard to let go of!

So tonight is going to be an easy supper. Our local grocery store has a delicious 9-grain pizza dough that makes pizza making a breeze. And, after the amazing food this past week, I had to change up our usual and try for a little unusual. The Manchego cheese, a sheep milk cheese, idea came from Christina, as she eats a cow dairy-free diet, you know due to all those hormones injected into the cows that goes straight to their milk, and I paired it up with some spicy chorizo and added spinach for our greens. Kind of Cajun gone wild! And it really turned out extra super delicious!
This can be made with or without a pizza stone but the stones are well worth the investment. I use mine all the time and it always makes the crust so crispy.
Manchego & Chorizo Pizza
Ingredients:
1 pkg fresh 9-grain pizza dough from bakery
½ lb. spinach
⅛ teaspoon salt
1 Tablespoon olive oil
4-oz Manchego cheese, shredded
1-½ links Spanish chorizo sausage (about 3 ounces), thinly sliced or chopped
2 plum tomatoes, chopped
⅓ red onion, sliced thin
¼ cup Pecorino-Romano cheese, grated (Parmesan can also be used)
Directions:
Preheat oven to 500 degrees. Place pizza stone in it and heat for 30 minutes.
Heat large skillet and place spinach and a tablespoon of water into pan and stir until spinach wilts. Remove from pan and place in colander to cool slightly. Once cool, squeeze extra moisture from spinach and pat dry with paper towels. Coarsely chop and season with a little salt.
Sprinkle flat surface with corn meal and roll out pizza dough into circle the size of your stone. As you can see it is not always round but I'm getting better the more pizzas I make :-).
Remove stone carefully from oven and place on stovetop. Sprinkle generously with cornmeal and carefully place pizza dough on stone.
Pour olive oil on crust and spread evenly. Layer cheese then top with spinach, chorizo, tomatoes, onion and Pecorino Romano or Parmesan cheese.
Bake 25 minutes or until crust is brown and crispy.
Slice & serve hot.
Serves 3-4.
DON'T MISS A RECIPE!