Bacon Puff Pastry Pizza Twists bring all the flavors of your favorite pizza to the table with a touch of bacon. An easy-to-make pull-apart cheesy appetizer for game time, snack, or lunch that's always popular.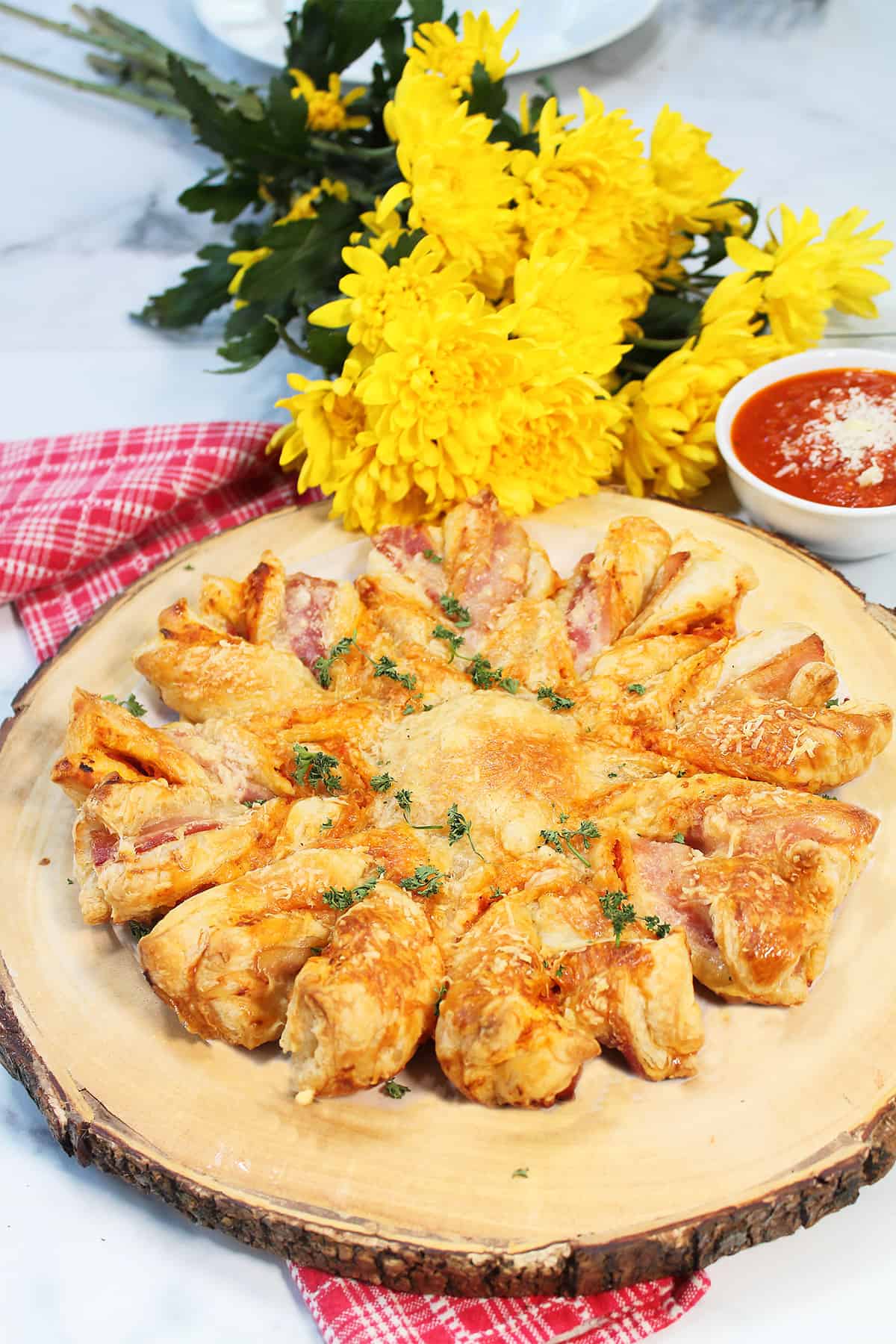 Pizza! Whenever we hear that word in our house all eyes light up. I mean, what's not to like about ooey-gooey stretchy cheese, marinara sauce, and a nice chewy crust!
Pizza usually means my homemade Pepperoni Pizza or Three Pepper Pizza but sometimes it means these appetizer Pizza Twists. They're super easy to make, full of cheesy goodness, and the recipe is super adaptable. You can use your favorite pizza toppings and make this just the way you like it. I like to serve this pull-apart puff pastry pizza for game-time parties, summer get-togethers, and simple lunches (a kids' favorite).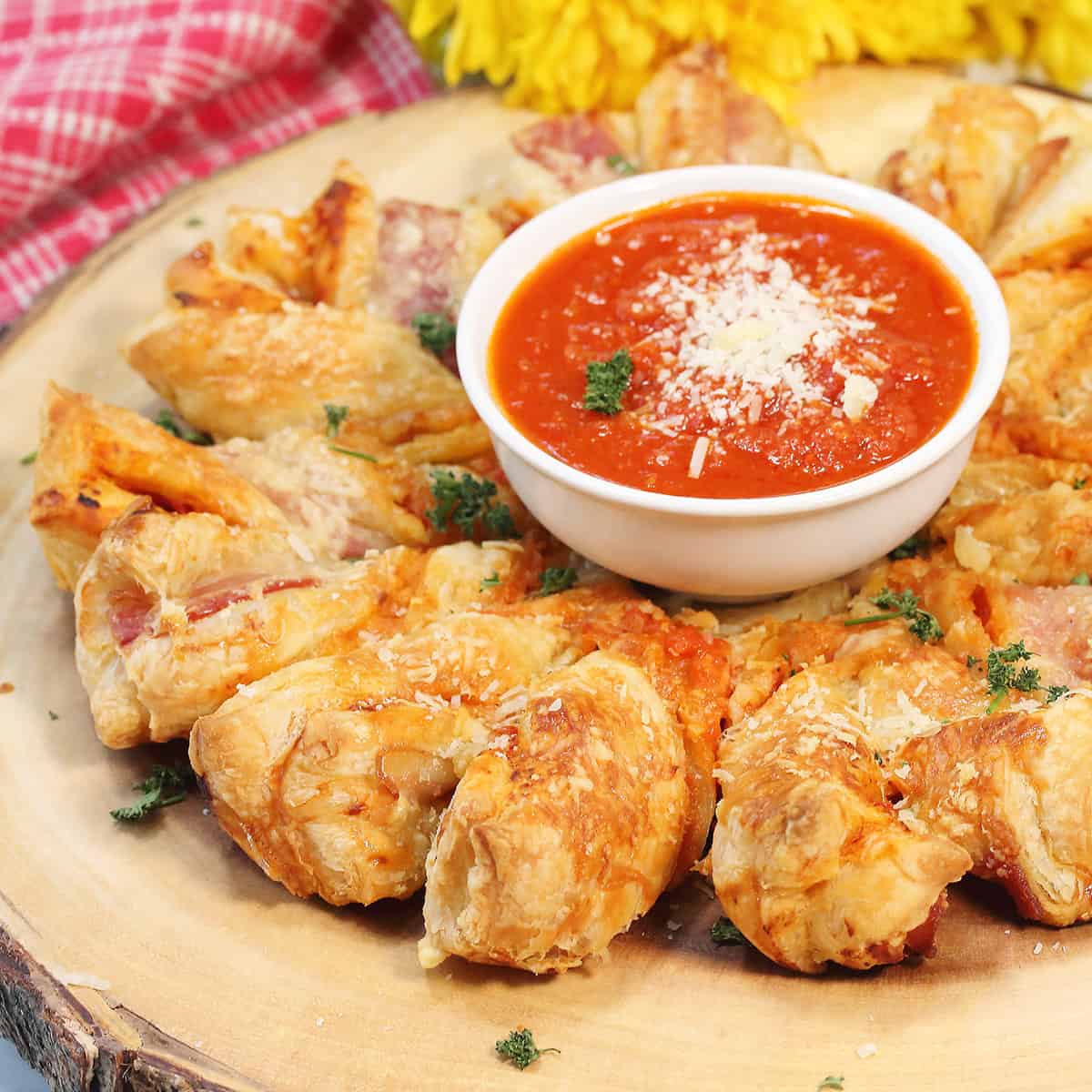 I love to make appetizers. Truth be told, I could make a dinner out of my favorites and be happy as a lark. I mean, how could you not like little bites of deliciousness like Air Fryer Ravioli or Meatball Sliders, or dip into the warm yumminess of Spinach dip or Cheddar Cheese Fondue? OK, you got me, I'll take one of each!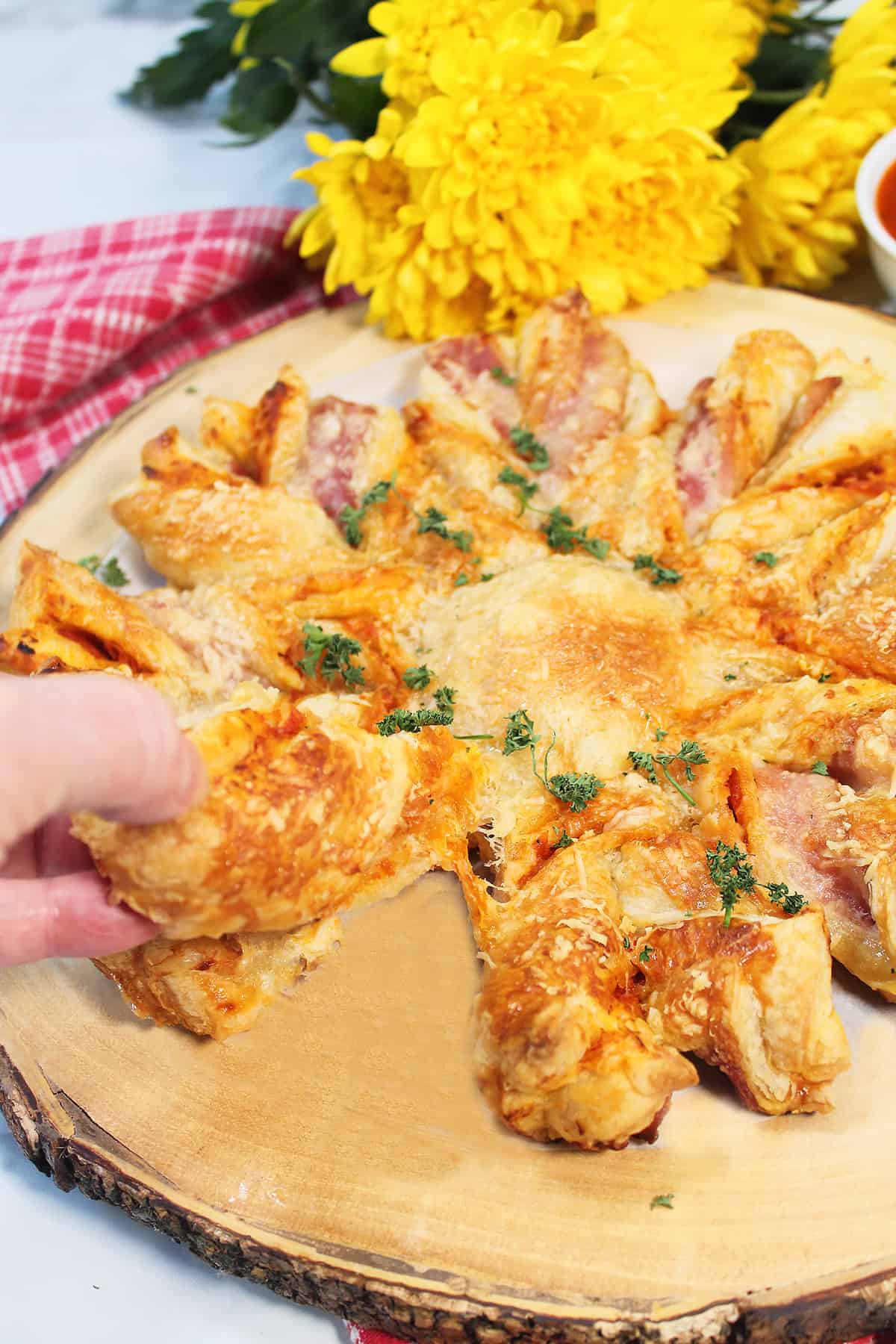 Why You'll Love This Puff Pastry Pizza Appetizer
It's super easy to make with only 5 ingredients
Tastes like your favorite pizza
Only 20 minutes of prep and you can prepare it ahead of time
Fun, pull-apart finger food
AND you get to dip it into your favorite sauce - marinara, ranch or garlic butter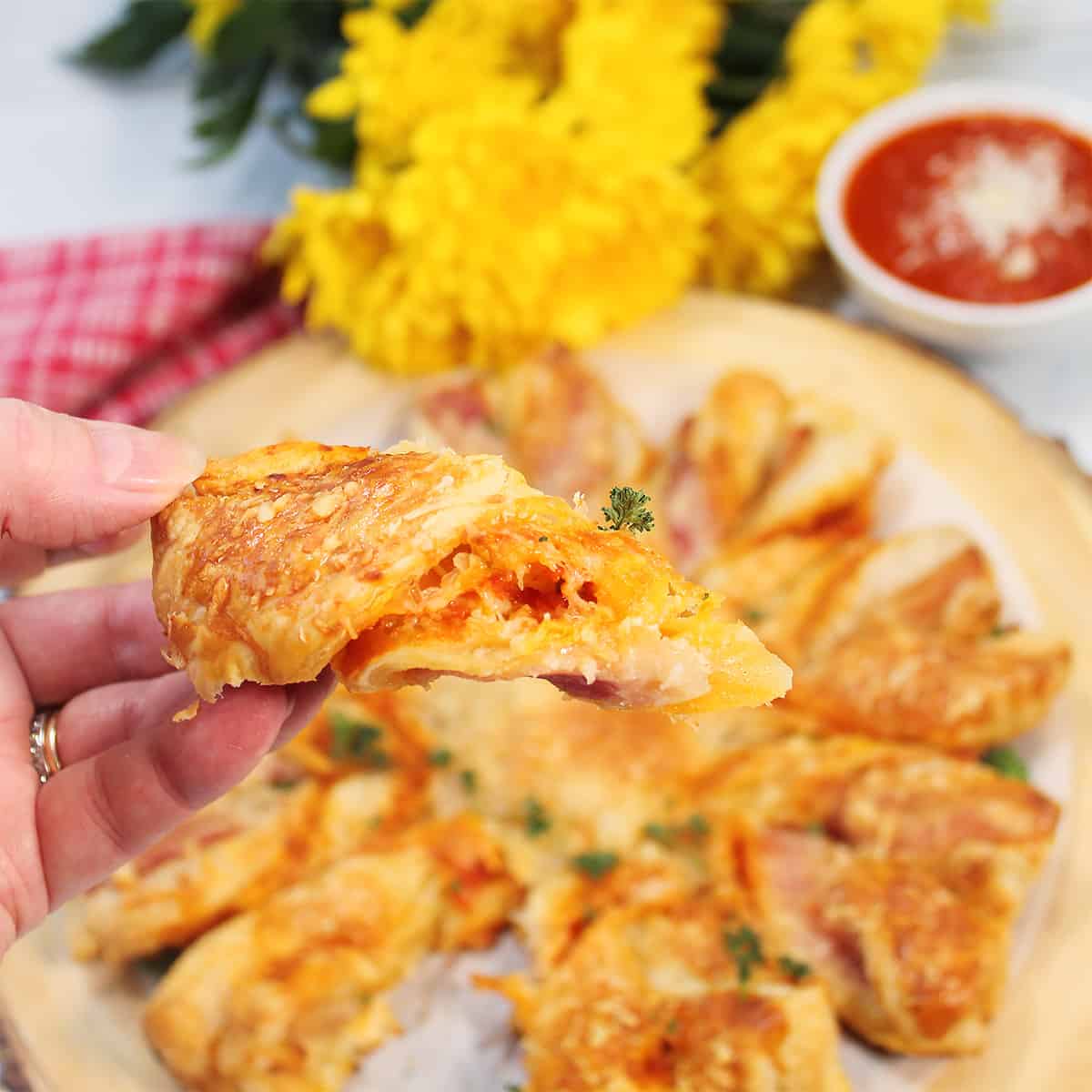 Pizza Twists Variations
Dough - use refrigerated pizza dough in place of the puff pastry
Cheese - opt for cheddar or provolone in place of the mozzarella and top with some grated parmesan
Meat - change out the bacon for strips of pepperoni, prosciutto, Italian salami or deli ham
Toppings (or in this case stuffings) - add in slightly sauteed chopped peppers, onions, mushrooms, or opt for a meatier filling with cooked Italian sausage
Shape - Don't feel like doing the pull-apart thing? It's just as easy to make these into twisted strips by rolling each puff pastry sheet into a rectangle, filling as directed, then cutting into individual strips before adding bacon and twisting. Baking time is the same.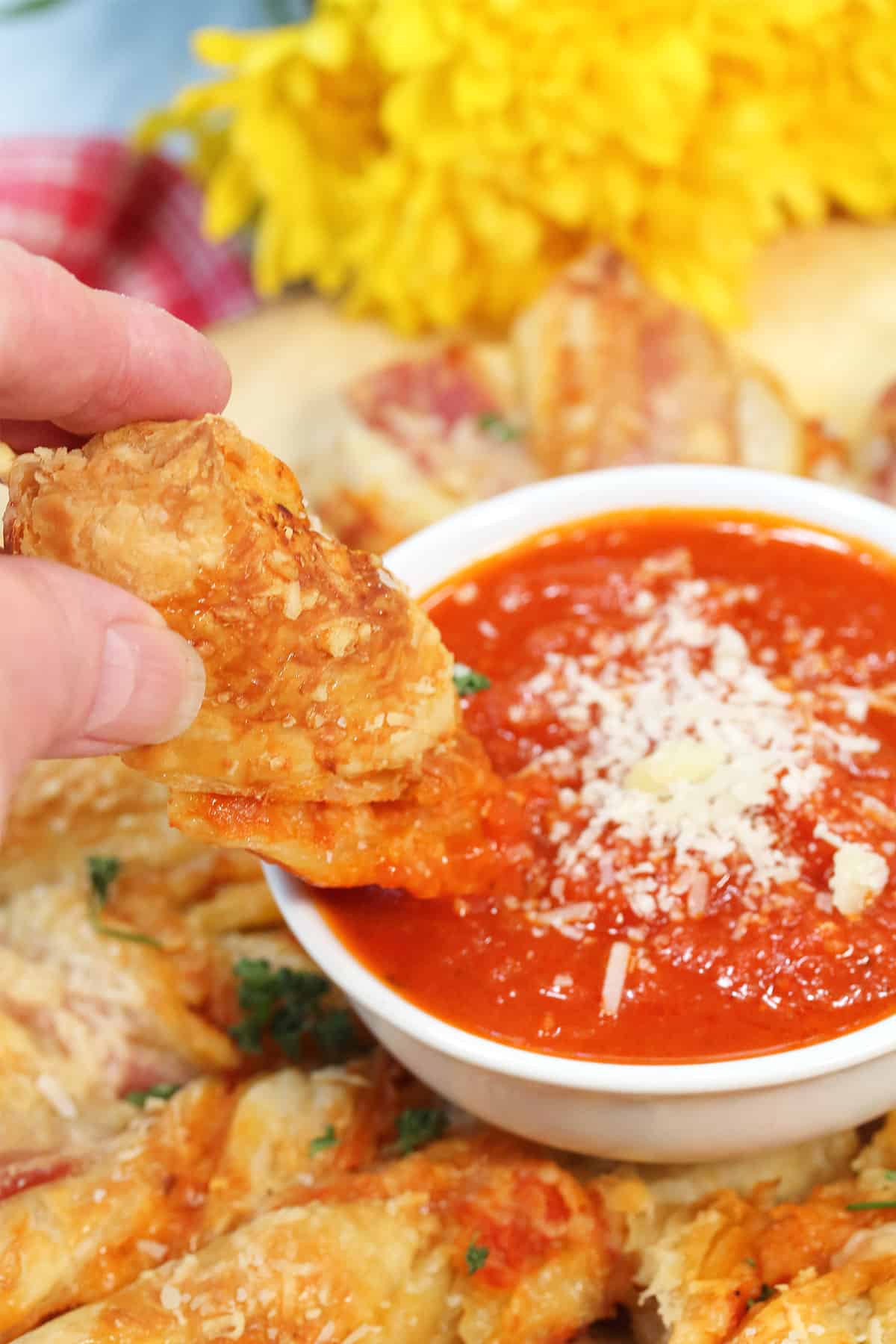 Ingredients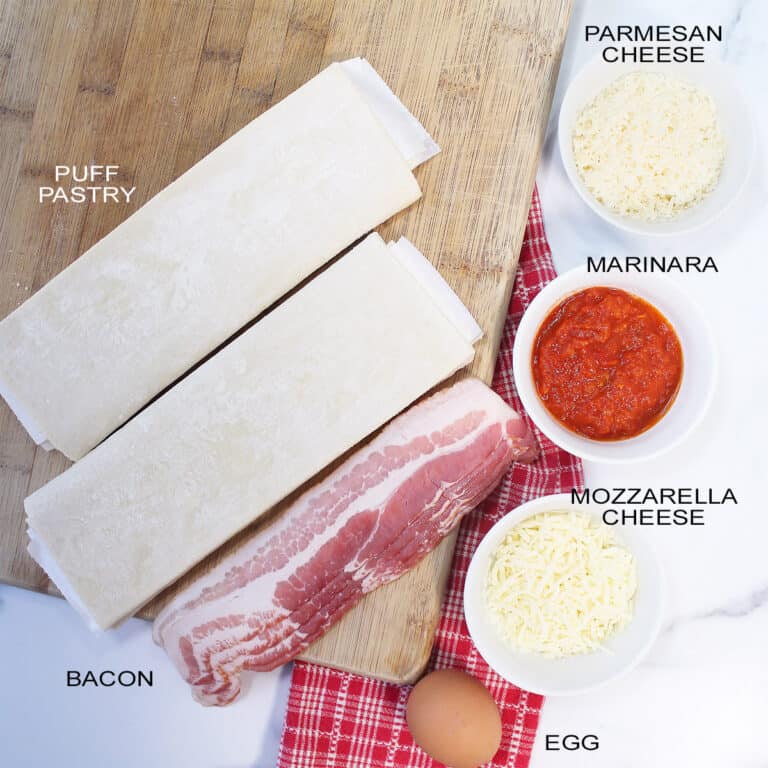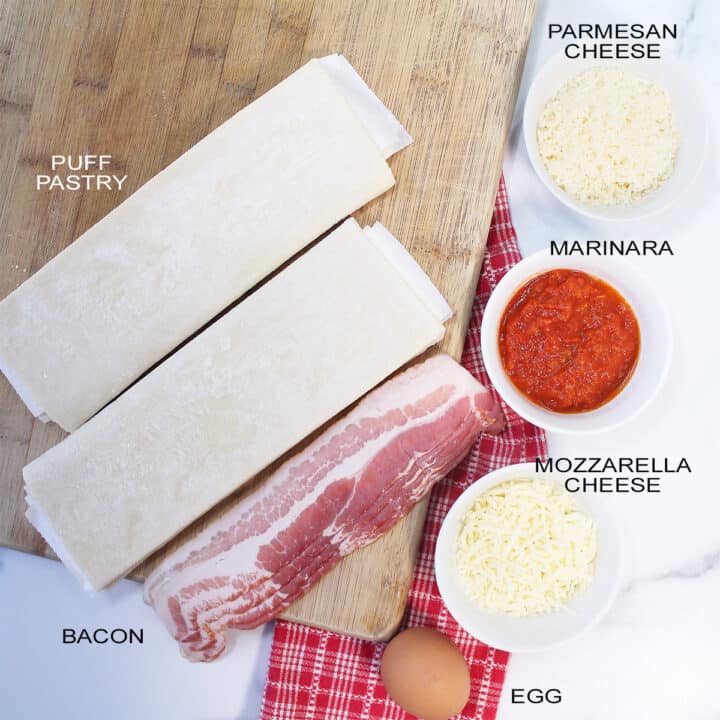 Puff Pastry - easy to find in the frozen foods aisle. This pastry dough makes the lightest, tastiest pizza twists. You can also use pizza dough but the result will be a bit heavier.
Mozzarella Cheese - a good melty cheese that makes them ooey-gooey delicious. Any good melting cheese would work here such as gruyere, fontina, provolone or gouda.
Marinara - choose your favorite or get adventurous and try a pesto or vodka sauce
Bacon - gives the twists a nice salty, smoky, meaty taste. Of course, the traditional pepperoni works great as well.
Egg - results in a beautiful golden brown puff pastry
Parmesan Cheese - 'cause why not? Extra cheese and one with a little bite gives this appetizer added cheesiness.
How to Make Pizza Twists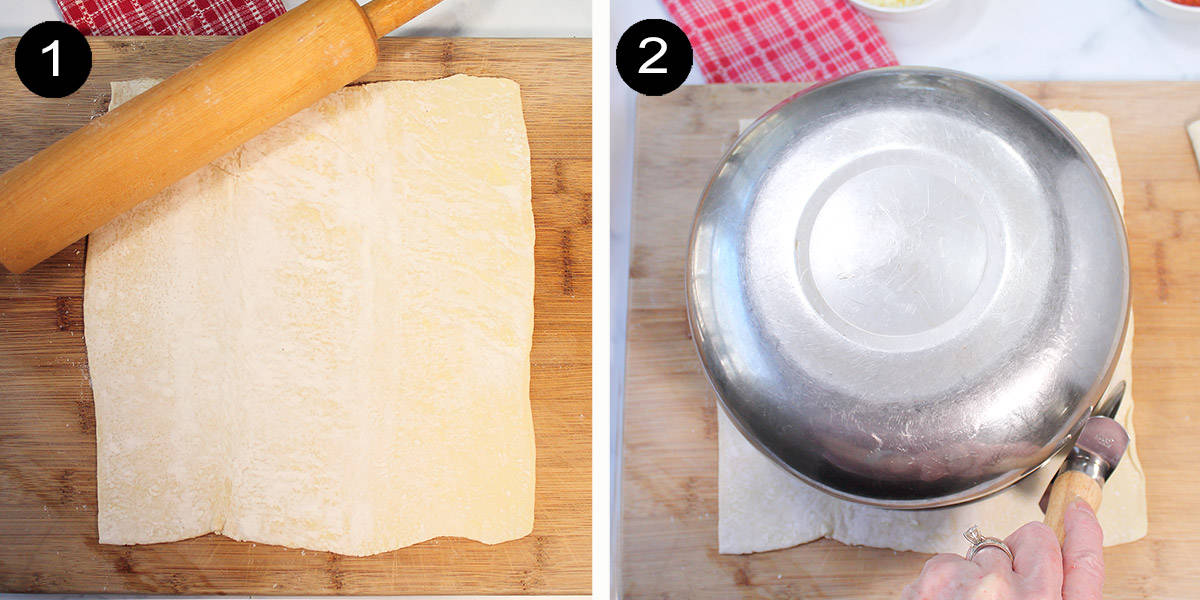 Let your puff pastry sheets thaw on the counter for about 40 minutes prior to unfolding then roll out so that you can cut a 10" circle.
Place a plate or bowl that has a 10-inch wide diameter over the top of the dough and run a pizza cutter or sharp knife around edge.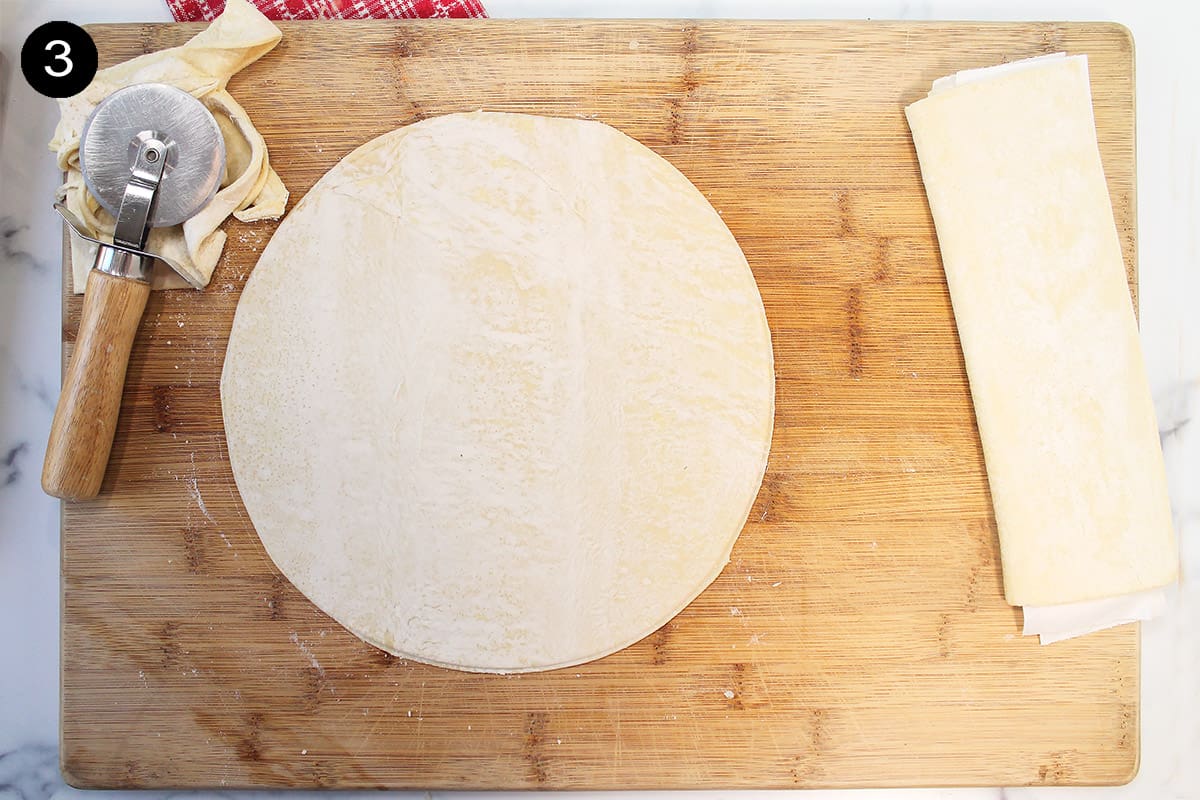 Remove excess dough then repeat with other puff pastry sheet.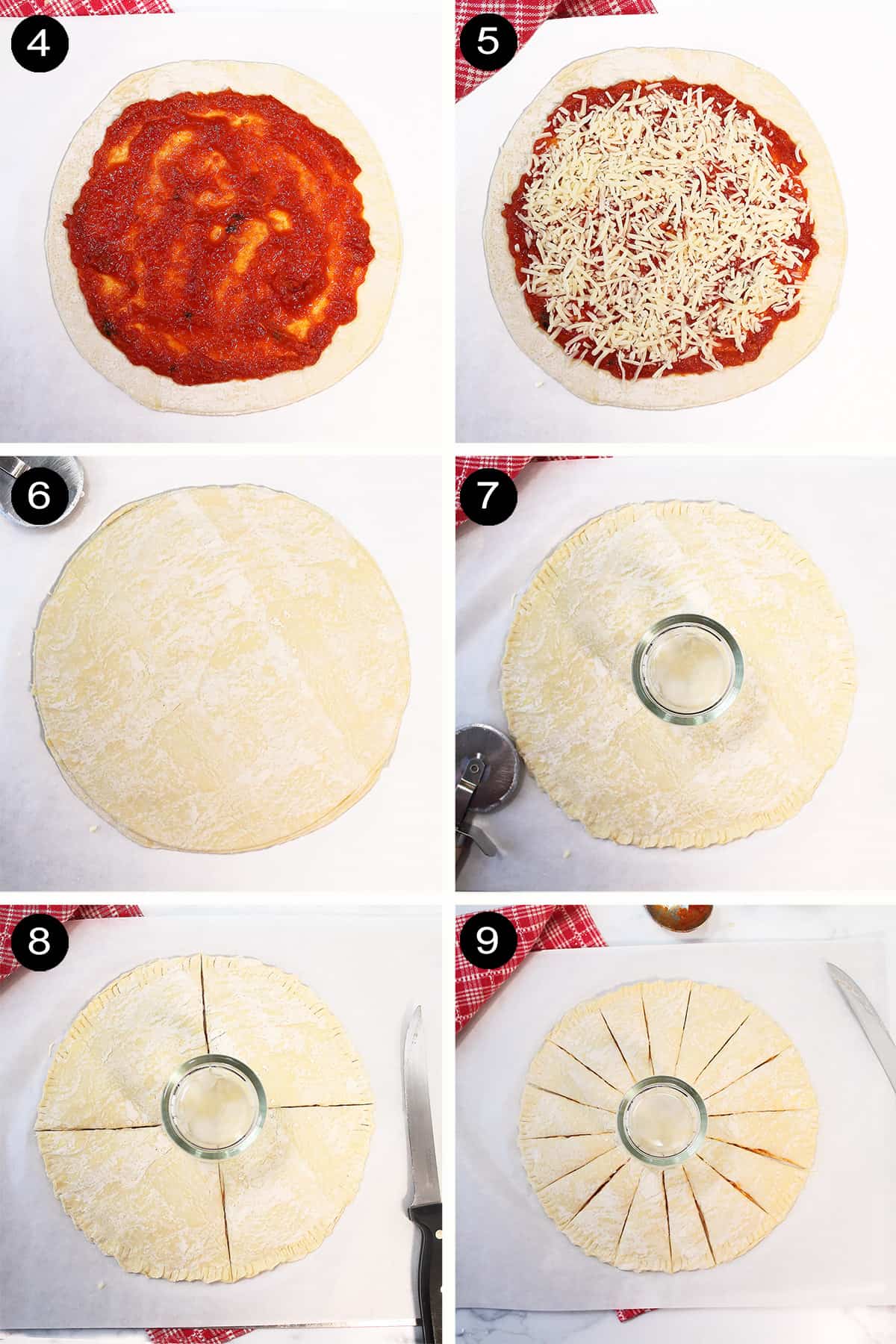 Spread marinara on top of one puff pastry circle. Make sure to keep the filling within ½" of edge.
Sprinkle mozzarella cheese over sauce.
Place the 2nd puff pastry sheet over the filling.
Crimp edges or use a fork to help seal then place a 2" diamter glass over the center of the filled puff pastry.
Using a sharp knife, cut the dough into quarters up to the glass.
Cut each of the quarters into 4ths. You will have 16 wedges.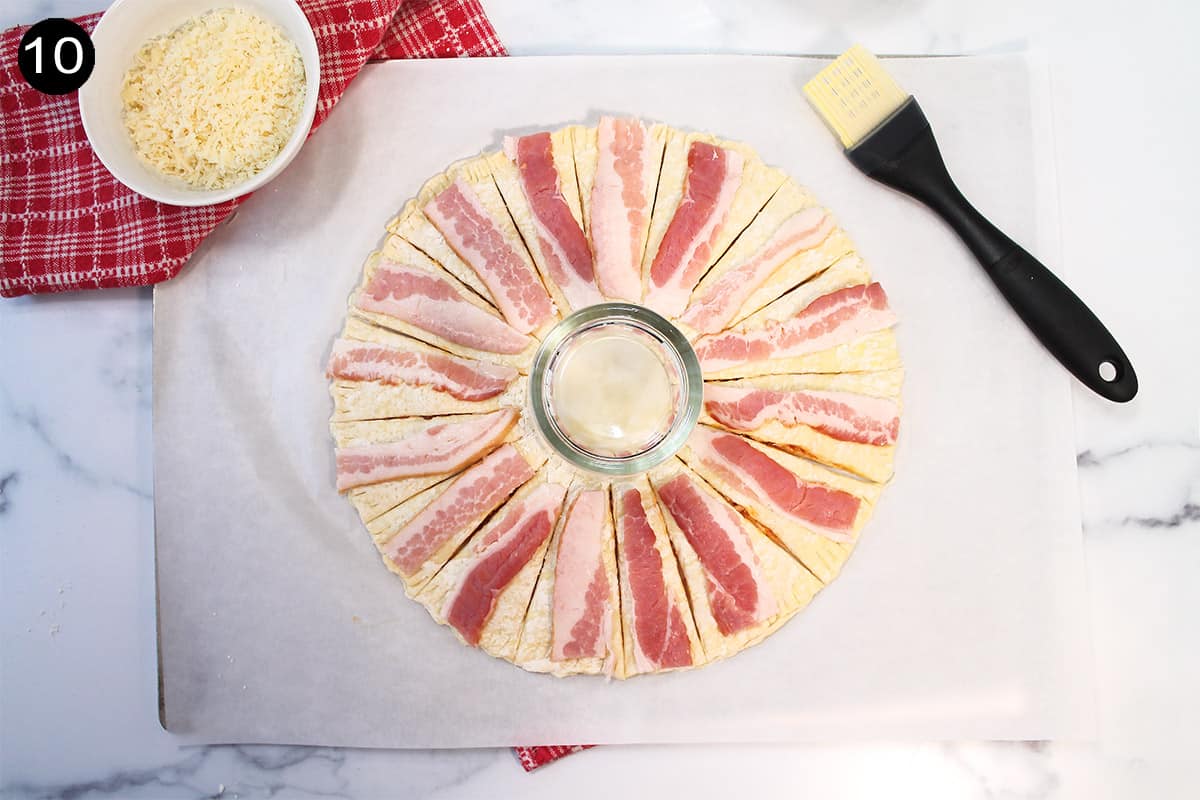 Cut the bacon in half and then in thirds and lay strips down the center of each wedge.
How to Twist Puff Pastry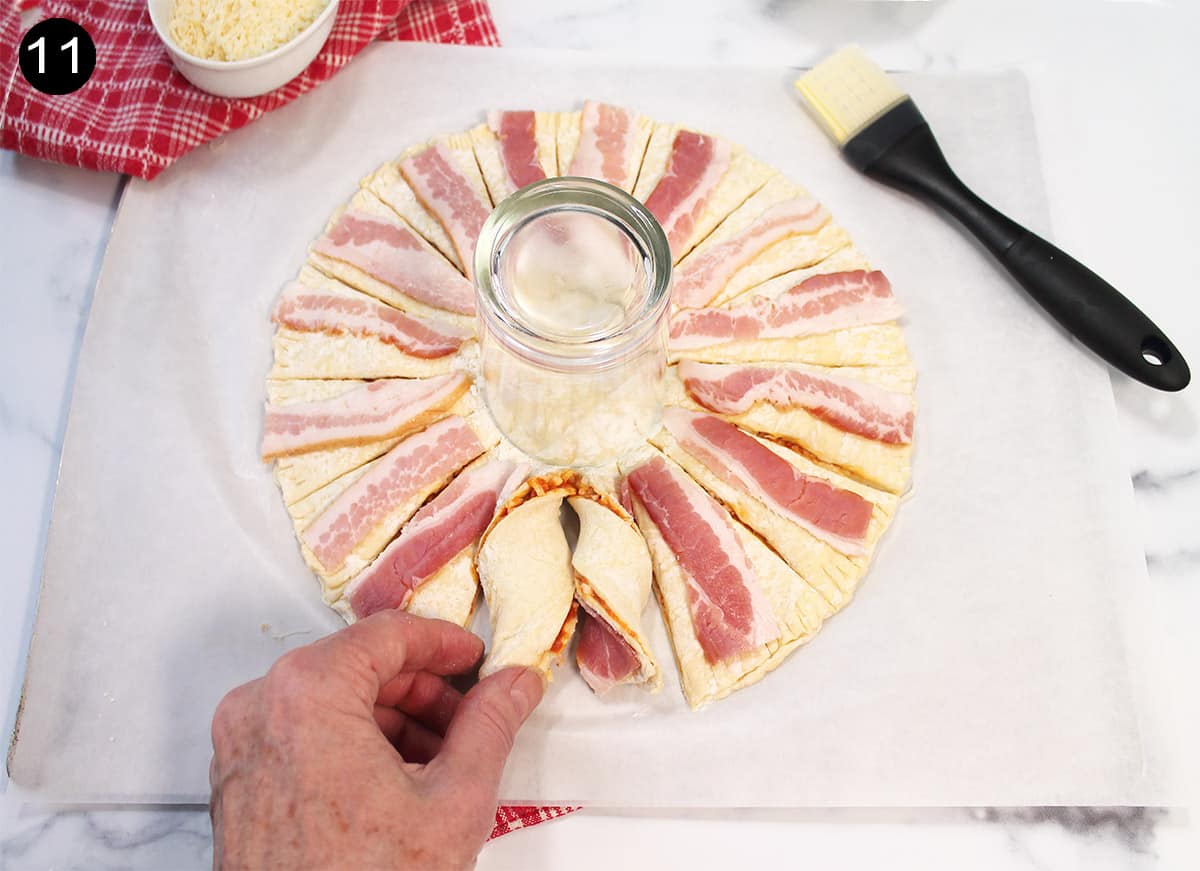 To twsit each wedge, grab the end with your fingers and twist 2-3 times. Twist adjacent wedges in opposite directions.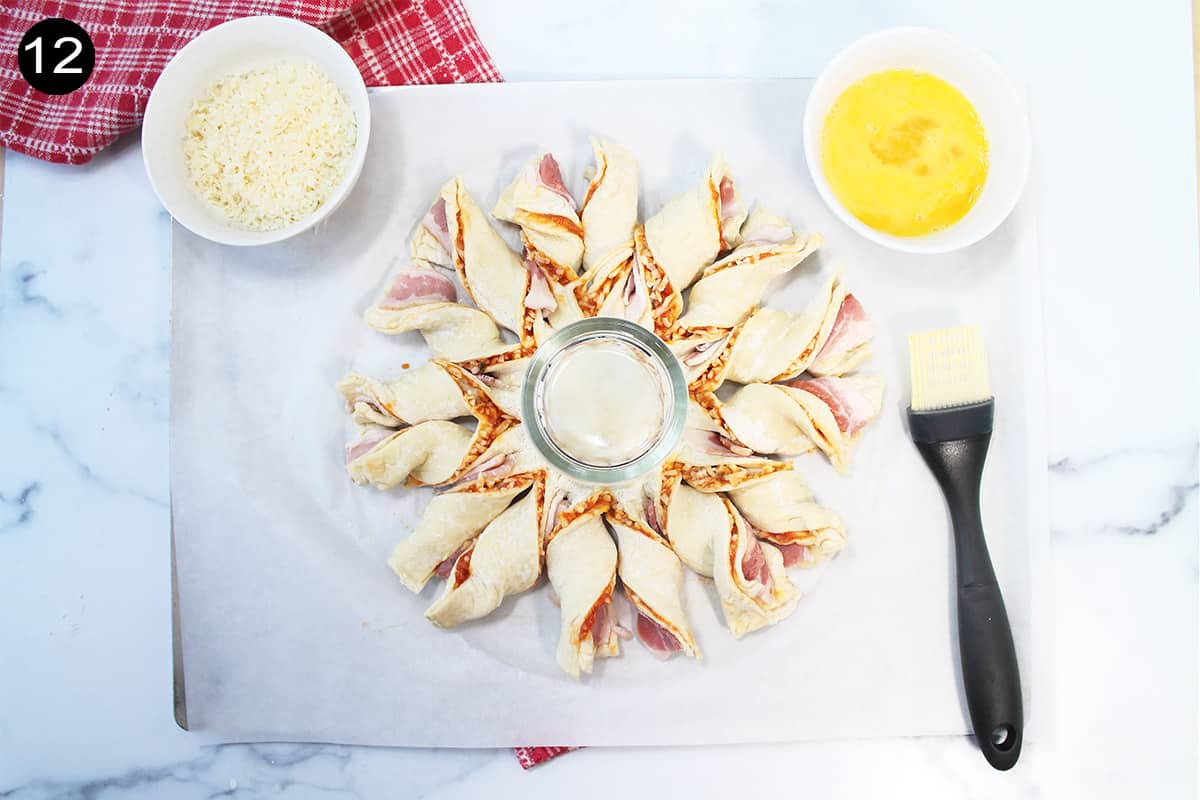 Continue until all wedges have been twisted.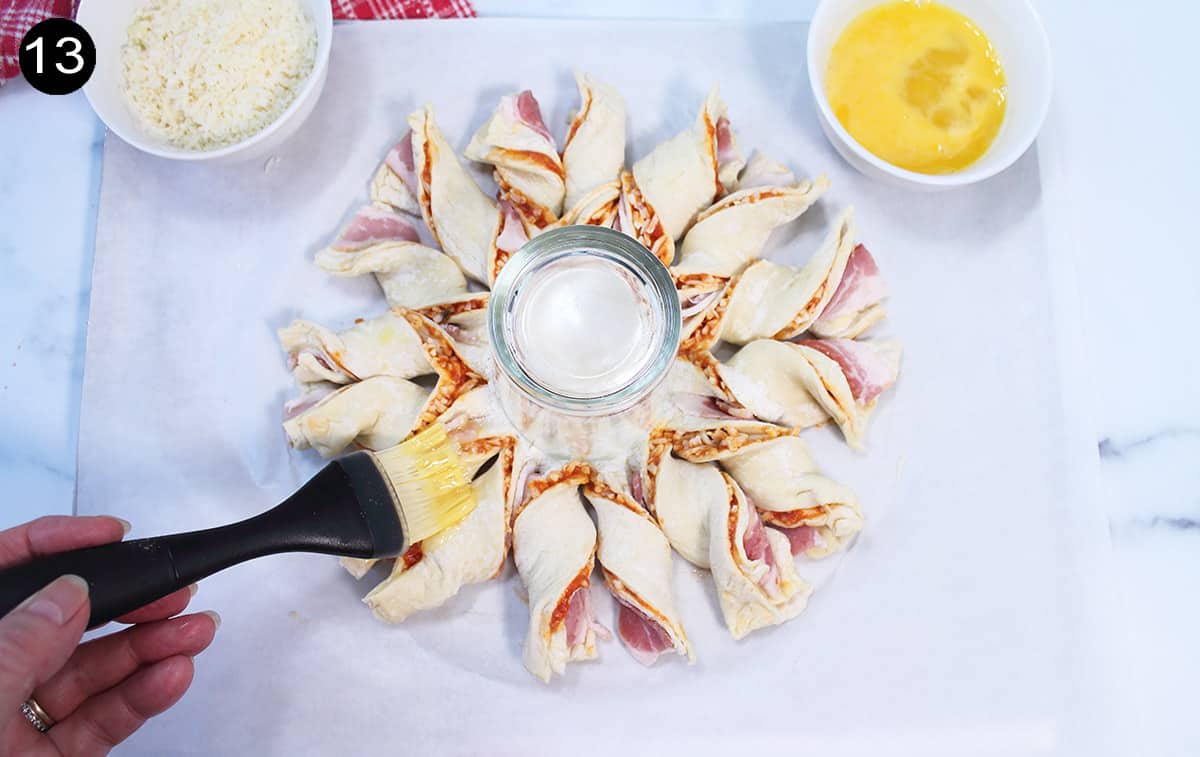 Whisk the egg well then, using a pastry brush, brush on a coating of egg wash. This will help the puff pastry come out nice and golden.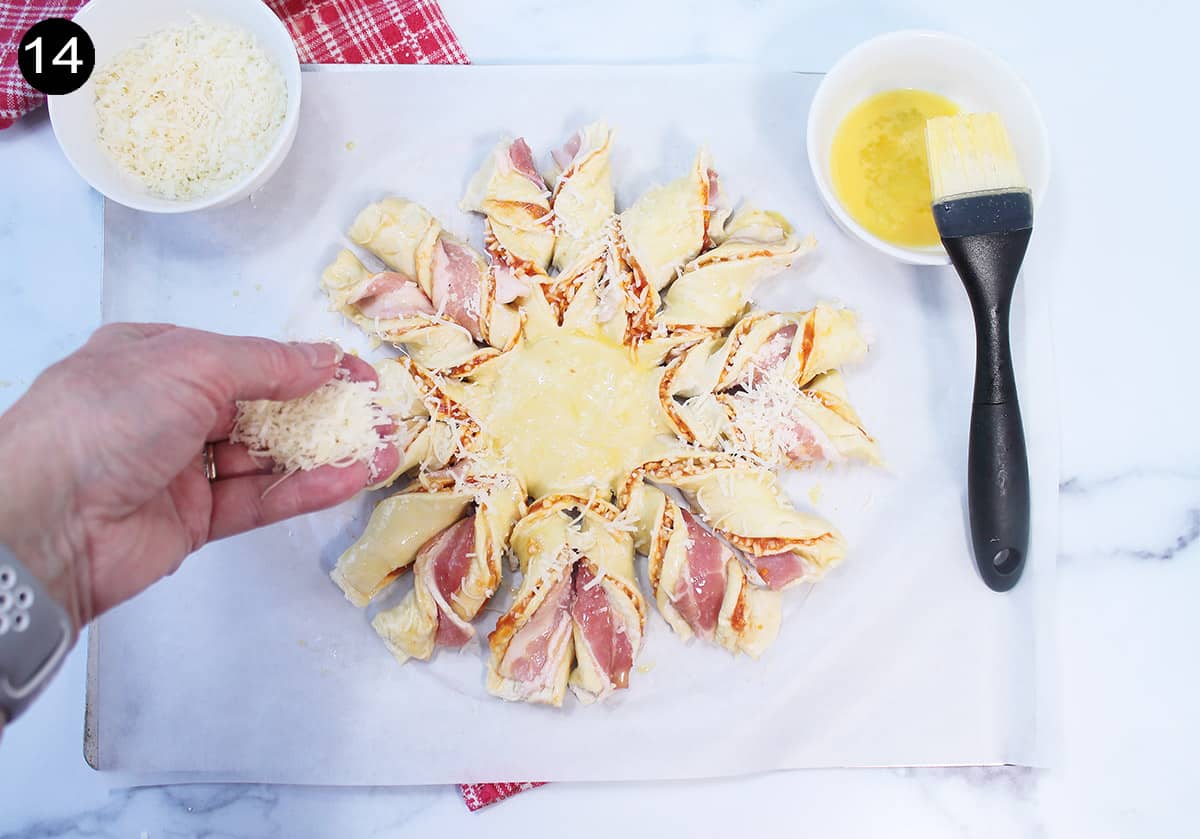 Sprinkle Parmesan cheese over egg wash.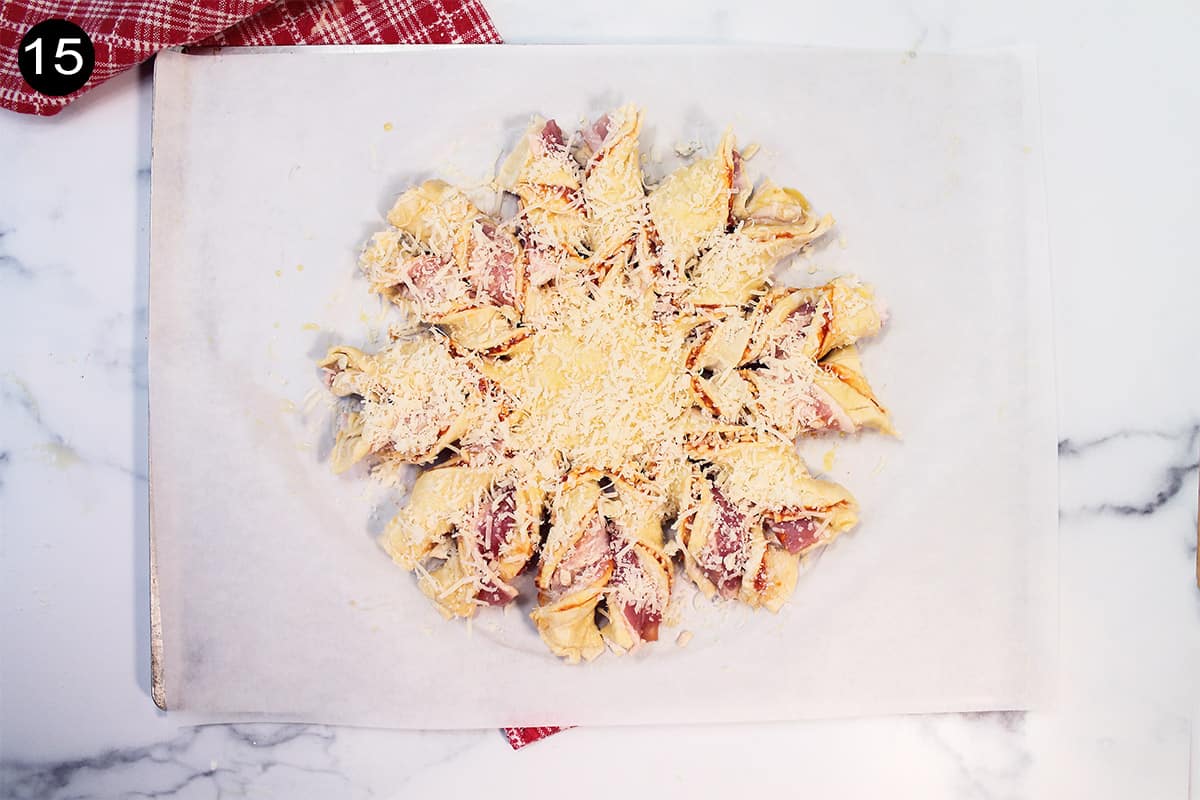 Twisted pizza is ready to bake. Pop it in a 375-degree oven for 30-35 minutes or until golden brown. Cover if the top gets too done prior to the recommended time.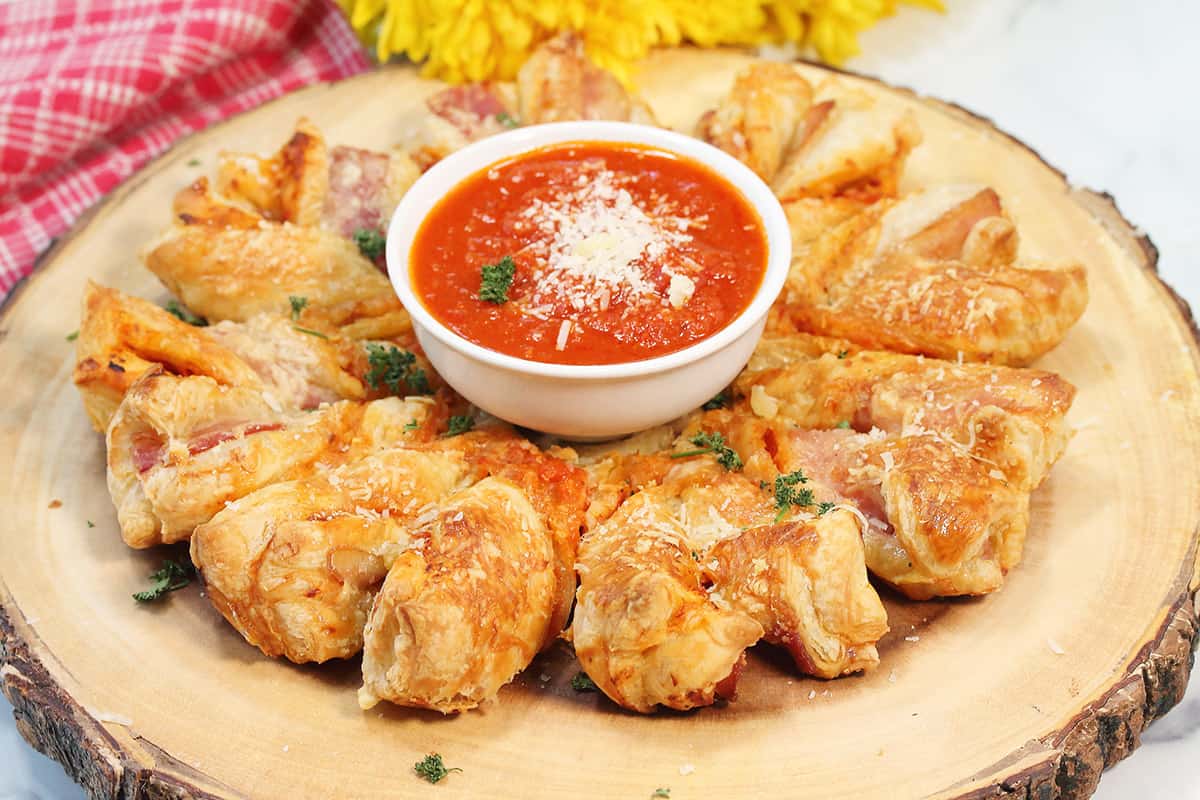 Once these puff pastry twists are done, grab yourself a piece fast before it's all gone! And try not to argue too heatedly over who gets that cheesy middle piece! Once removed, you can set that warm bowl of marinara in its place.
Serve this puff pastry pizza, or as I like to call it Twisted Pizza, with your favorite dipping sauce. I love marinara but it goes equally well with ranch dressing and garlic butter sauce. Go ahead, pull, dip, and stuff in your mouth for total cheesy finger food deliciousness. Enjoy!
How to Prepare Pizza Twists in Advance
If you'd like to get a headstart on your party appetizers this is a great one to make early the day of or even the day before. Make the recipe as directed but don't brush with the egg wash. Then cover the baking sheet with plastic wrap and store the pizza twists in the refrigerator until just before your guests arrive. Just prior to baking, brush with the egg wash and bake as directed.
More Delicious Appetizer Recipes
Air Fryer Chicken Wings - are deliciously crispy air-fried wings with no breading and come out moist and flavorful. Gluten-free, low carb and keto friendly.
Oven-Baked Zucchini Chips - help you satisfy that crispy, salty craving in a deliciously healthy way.
Wonton Taco Cups from A Mind Full Mom - are a mini version of your favorite tacos in appetizer form.
Pepperoni Pizza Pockets - are ooey gooey, cheesy hot pockets of pepperoni and cheese enclosed in a flaky biscuit and baked to a golden brown.
Find lots of easy appetizer recipes for game day or any fun occasion here on 2CM!
LOVE QUICK & EASY RECIPES? FOLLOW ME ON INSTAGRAM, FACEBOOK, & PINTEREST FOR ALL THE LATEST RECIPE INSPIRATION! PLUS JOIN MY EMAIL LIST AND RECEIVE A FREE E-BOOK.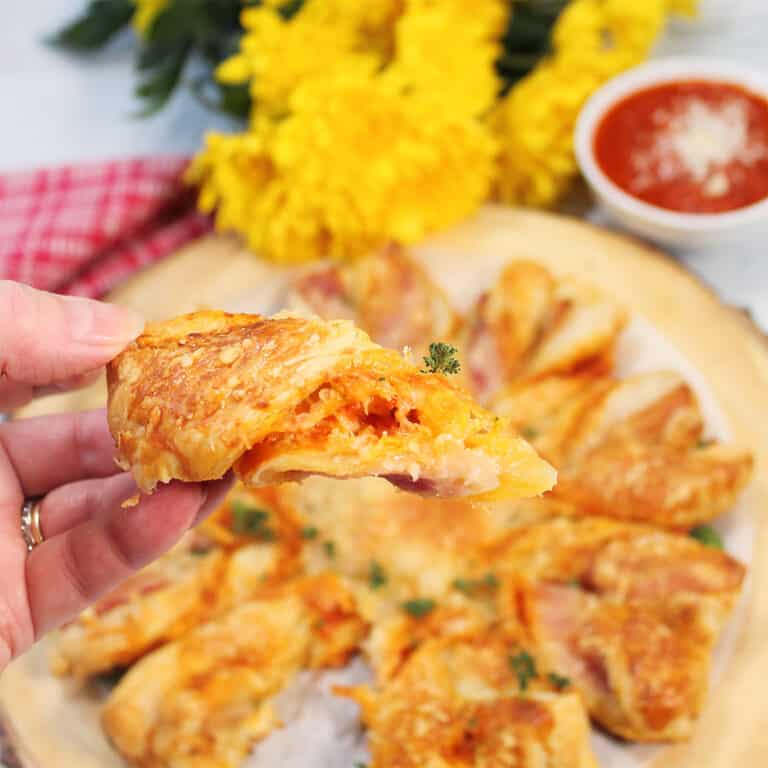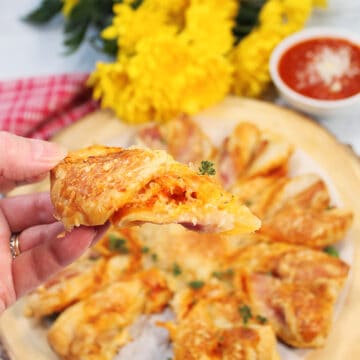 Bacon Puff Pastry Pizza Twists
These Pizza Twists bring all the flavor of pizza to the party with a touch of bacon. An easy to make pull-apart appetizer that's always popular.
Print
Rate
Ingredients
1

pkg

puff pastry dough

¼

cup

favorite pasta sauce

⅓

cup

mozzarella cheese, shredded

3

pieces

center cut bacon,

halved lengthwise & cut in thirds

⅓

cup

Parmesan cheese,

grated

1

egg for wash
Instructions
Preheat oven to 375 degrees. Line a cookie sheet with parchment paper or a silicone mat.

Roll out each puff pastry sheet, set a 10" bowl or plate on top, then trim to 10" circle.

Place 1 circle on prepared cookie sheet.

Spread circle with pasta sauce to within ½" of edge then top with mozzarella cheese.

Place remaining circle of puff pastry on top. Crimp edge to seal.

Place a 2" diameter glass in the center of the circle. Make slices up to the edge of the glass. First cut into quarters then cut each quarter into 4ths.

Place a piece of bacon on each wedge. Twist adjacent sections in the opposite directions, twisting 2-3 times. Continue with remaining sections.

When finished, brush with beaten egg then sprinkle with Parmesan cheese.

Bake for 30-35 minutes. Check after the first 25 minutes to make sure it is not getting too brown. If it is, simply cover with foil for the remaining time.
Notes
VARIATIONS Dough - use refrigerated pizza dough in place of the puff pastry Cheese - opt for cheddar or provolone in place of the mozzarella and top with some grated parmesan Meat - change out the bacon for strips of pepperoni, prosciutto or deli ham Toppings (or in this case stuffings) - add in slightly sauteed chopped peppers, onions, or mushrooms
Nutrition
Calories:
198
kcal
|
Carbohydrates:
14
g
|
Protein:
4
g
|
Fat:
14
g
|
Saturated Fat:
4
g
|
Polyunsaturated Fat:
2
g
|
Monounsaturated Fat:
8
g
|
Trans Fat:
1
g
|
Cholesterol:
5
mg
|
Sodium:
160
mg
|
Potassium:
42
mg
|
Fiber:
1
g
|
Sugar:
1
g
|
Vitamin A:
42
IU
|
Vitamin C:
1
mg
|
Calcium:
31
mg
|
Iron:
1
mg
This post has been updated with step-by-step instructions and new photos. It was first published on January 18, 2017.