It's hot! So why bake when you can make these no-bake cookie bars instead. Full of almond flavor, coconut & rich chocolate, these no-bake almond joy bars are just like those yummy Almond Joy candy bars, only better!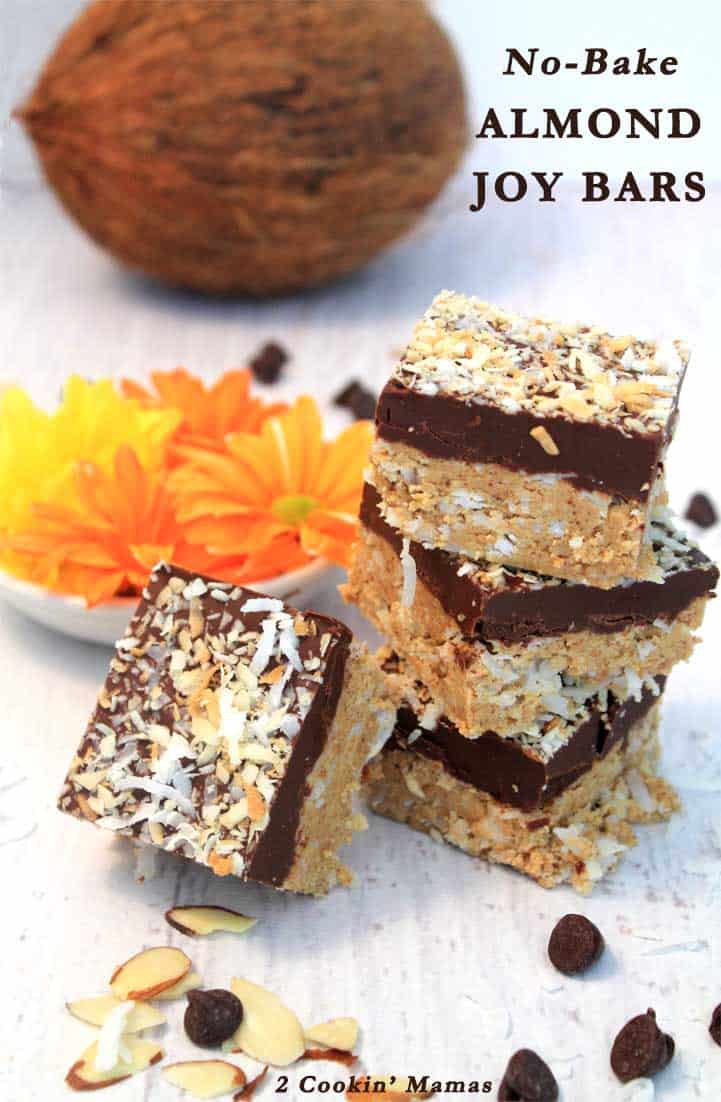 It's June and it's HOT (at least here in South Florida) which means it's time to keep the menu easy and the house cool. What better way than with these No Bake Cookies!
The predominant tastes in an Almond Joy bar are almonds and coconut and I knew I wanted the almond taste to really shine through. I exchanged the peanut butter for almond butter and almond extract for the vanilla. Now, how to add the coconut? I thought about adding the coconut on top of the almond-sugar mixture but decided that it would hold together better if I just mixed it into the almond mixture. That worked out great!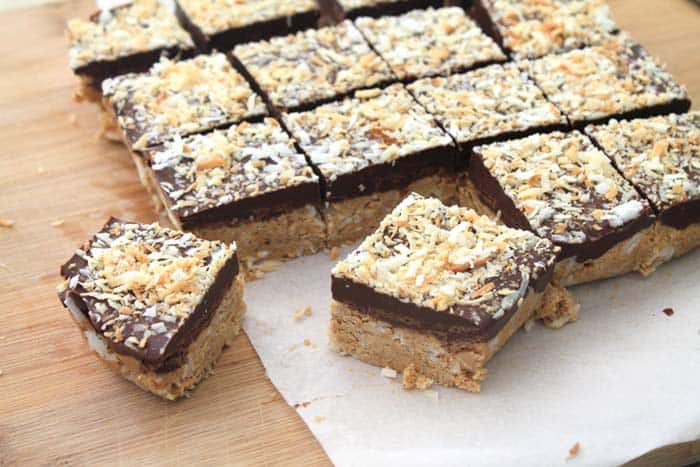 Do you remember buying Almond Joy bars where the almond sits just under all that delicious chocolate and on top of all that coconuty goodness? Well, I added that into mine too and, although mine got covered with the chocolate so it wasn't so pronounced, I still had them in there. I guess I got carried away with the amount of rich deep dark chocolate that I layered on but, after all, everything's better with chocolate, right?!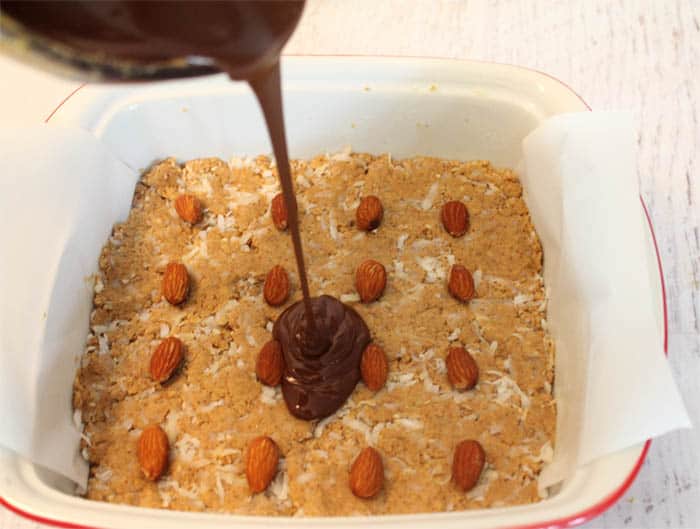 To say they were delicious would be an understatement! They came out so good, and so rich, that I thought they might make it past a day in the office - nope - all gone and well appreciated. A word of thanks to all my taste testers for always giving me good feedback on my creations.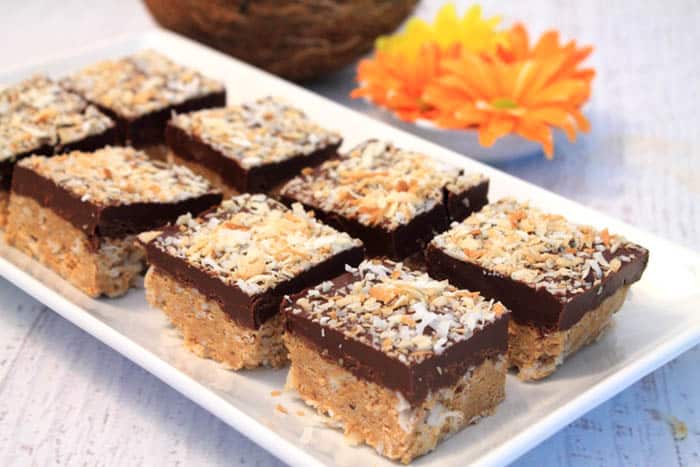 If it's hot where you are (and if it isn't I'm coming to visit you soon), you've just got to check out all the no-bake cool treats below. After all, they are brought to you by some of the best cookie makers around. Enjoy!
More Easy Cookie Recipes
LOVE QUICK & EASY RECIPES? FOLLOW ME ON INSTAGRAM, FACEBOOK, & PINTEREST FOR ALL THE LATEST RECIPE INSPIRATION! PLUS JOIN MY EMAIL LIST AND RECEIVE A FREE E-BOOK.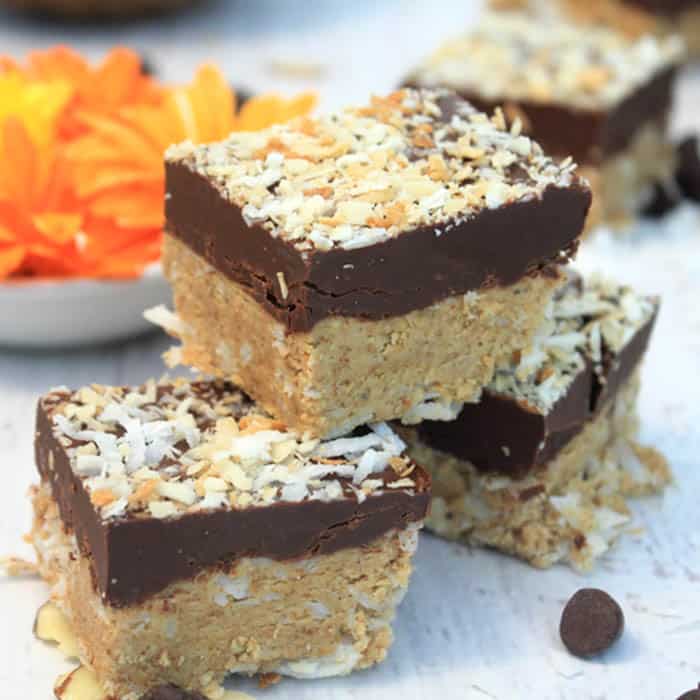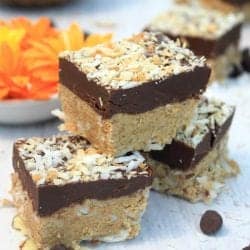 NO BAKE ALMOND JOY BARS
It's hot! So why bake when you can make these no bake almond joy cookie bars. Full of almond flavor, coconut & chocolate, just like that famous candy bar.
Print
Rate
Ingredients
1-½

cups

creamy almond butter

or peanut butter, divided

¼

cup

butter,

softened

¾

teaspoon

vanilla extract

(1 teaspoon if not using almond extract)

¼

teaspoon

almond extract

(optional)

1-½

cups

confectioner's sugar

½

cup

ground vanilla wafers or almond flour

1-½

cups

shredded sweetened coconut

12-

oz

dark chocolate chips

12

whole almonds

(optional)

Toasted coconut

(optional)
Instructions
Spray an 8×8-inch square baking dish with non-stick spray. Place one sheet of parchment paper over bottom and up 2 sides to be able to lift the bars out when cold. Spray parchment paper with non-stick spray.

In an electric mixer, beat 1 cup almond butter, butter and extracts on low to medium speed until smooth. Turn mixer to low and gradually add confectioner's sugar, vanilla wafers or almond flour and coconut and mix until well combined.

Place mixture into bottom of prepared pan and press down, patting smooth. Chill in refrigerator while you prepare chocolate layer.

In a large microwave safe measuring cup, melt chocolate and ½ cup almond butter together in 30-second increments, stirring in-between, until completely melted. It usually just takes about 90 seconds.

Remove bars from refrigerator and lightly score the top of the bars to make 16 squares. (You can also just eye it instead of scoring) Place an almond in the middle of each bar. Pour chocolate-almond butter mixture over entire surface of bars, gently moving it so that it covers them evenly. Sprinkle with toasted coconut if desired.

Place back in refrigerator for at least 2 hours. To cut, run knife around edge of dish, where there isn't any parchment paper, to loosen. Life out with edges of parchment paper and place on cutting board. Cut into 16 squares. Store in refrigerator.