This shop has been compensated by Collective Bias, Inc. and Mazola® Corn Oil​. All opinions are mine alone. #MakeItMazola #simpleswap #CollectiveBias  Bruschetta Chicken Skillet with zoodles is a light, quick and easy weeknight dinner. Simply brown chicken in a large skillet, add freshly made bruschetta, toss in some zoodles, done and done. A better-for-you dinner in 30 minutes with little cleanup.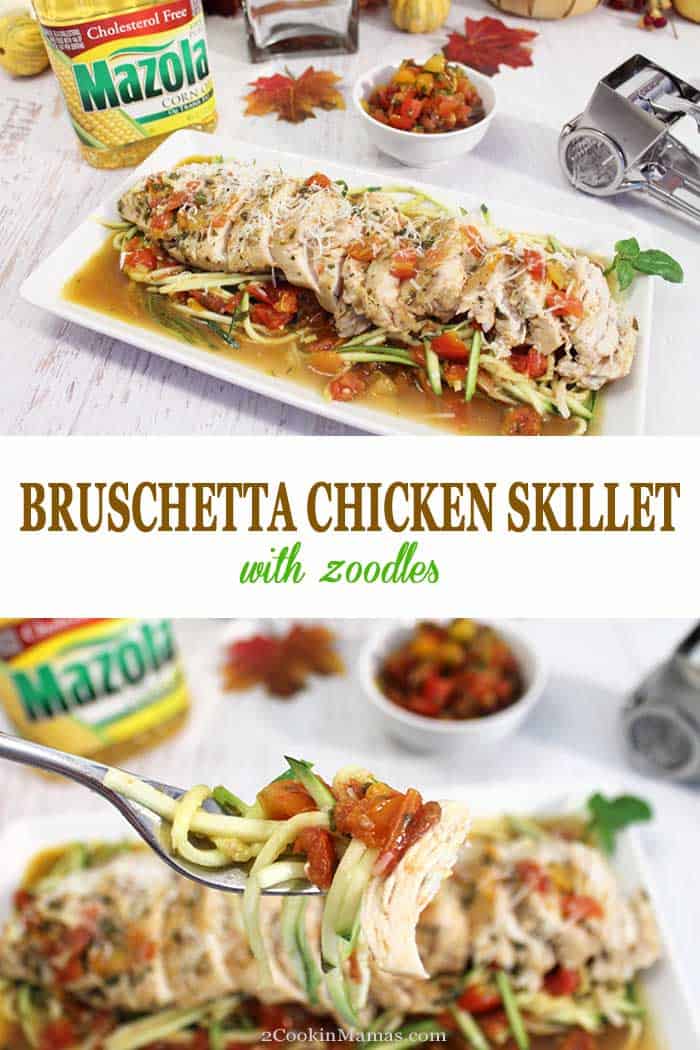 Weeknights can get pretty hectic around our house and being able to get a delicious, light meal on the table for dinner can be almost impossible. Enter deliciously fantastic 30-minute meals! Where have you been all my life? This Bruschetta Chicken Skillet puts all my favorite flavors together in a lighter way, using fresh produce, lean protein and Mazola® Corn Oil. Why Mazola Corn Oil? I learned that a clinical study showed Mazola Corn Oil reduces cholesterol 2x more than extra virgin olive oil so it was a no-brainer to choose Mazola. To learn more about this claim, check out MAZOLA.com.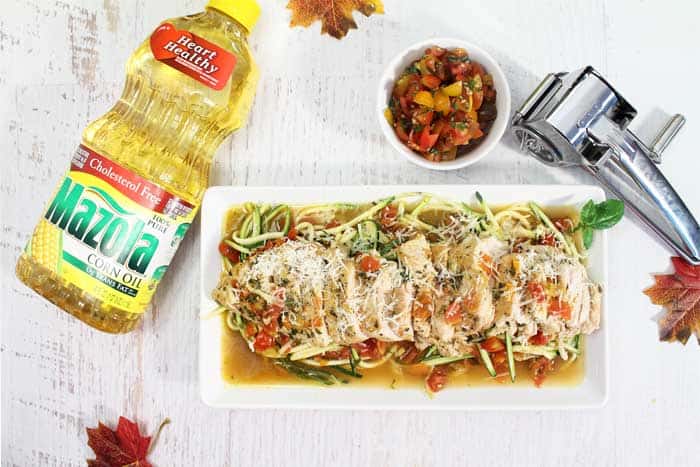 I love making skillet dinners, aka one-pan dinners. The meals are fast, always delicious, and I only have a skillet, a knife and a cutting board to clean up. This Bruschetta Chicken Skillet not only checks off all the boxes for a quick meal but a better-for-you meal as well.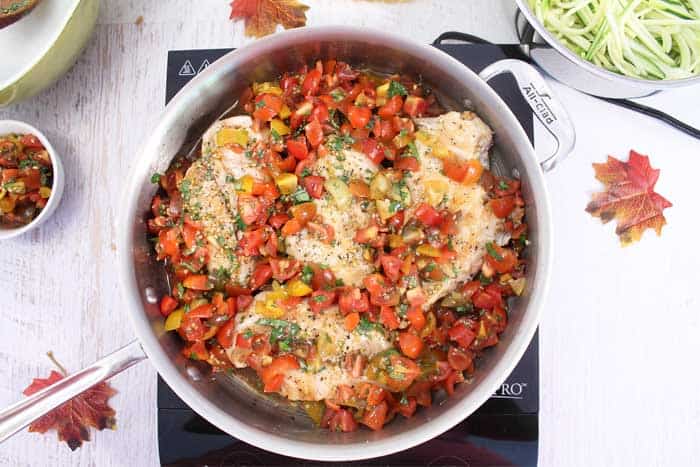 I've incorporated Mazola Corn Oil in this recipe because I know it is a heart-healthy choice for my family. It's a delicious all-purpose cooking oil I use often for baking, grilling, sautéing, stir frying, or mixing up marinades or dressings. The neutral taste of the oil allows all the flavors of my fresh ingredients to stand out. Hence more oohs and ahhs at the table. 🙂
Here's how to make this Bruschetta Chicken Skillet dinner in 6 simple steps.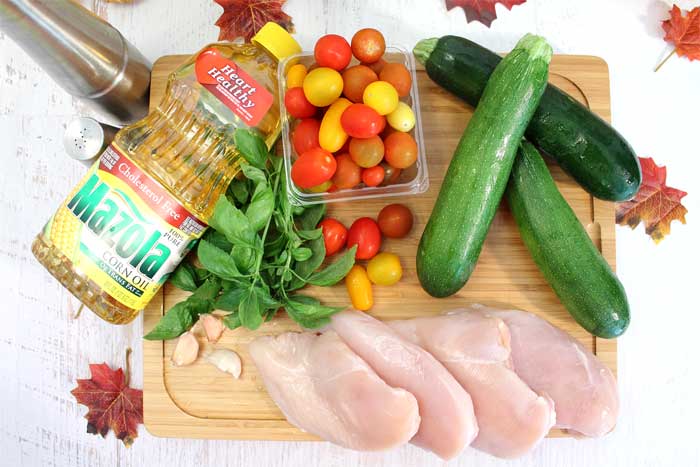 Step 1 –  Gather all ingredients.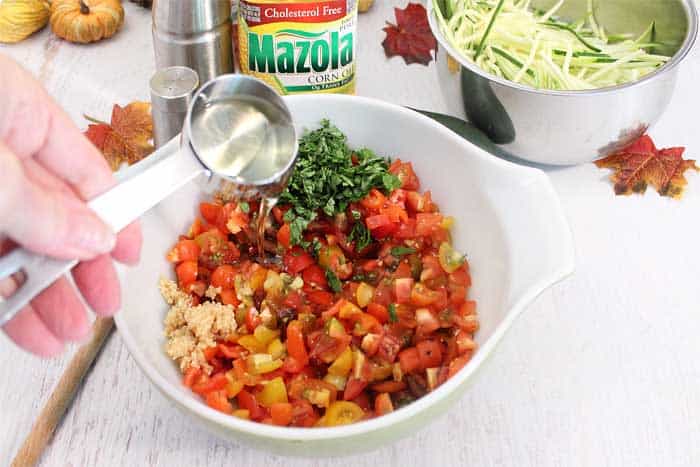 Step 2 – Cut tomatoes, chop basil and add all bruschetta ingredients together. Let the mixture marinate while preparing the rest of dinner. To make this bruschetta even better-for-you, I swapped out EVOO and used Mazzola Corn Oil. Corn Oil has more cholesterol-blocking plant sterols than other cooking oils – four times more than olive oil and one and a half times more than canola oil. Clinical studies indicate that when consumed as part of a diet low in saturated fat and cholesterol, plant sterols can help reduce the absorption of cholesterol in the gut. To learn more about this claim, see MAZOLA.com.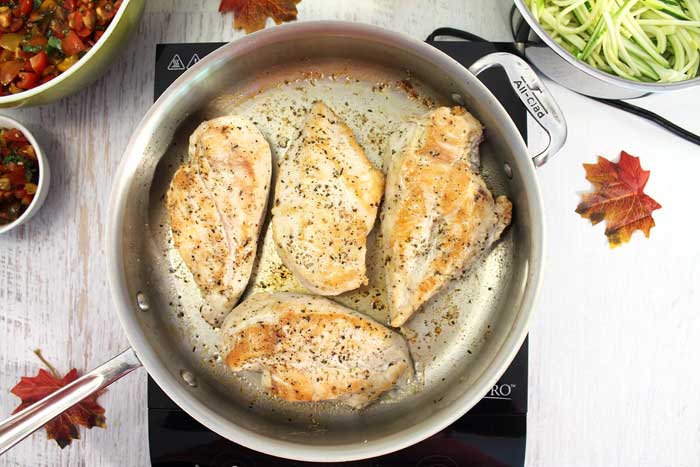 Step 3 – Brown chicken in Mazola Corn Oil in skillet. Why use Corn Oil rather than EVOO? Mazola Corn Oil has a smoke point higher than most cooking oils, 450°F to be exact, and performs well in a variety of cooking applications, such as sautéing, like I did with these chicken breasts, stir-frying, grilling and even baking. When an oils' smoke point is exceeded it can negatively affect a food's flavor and nutritional value as well. You can use beef as well as pork in this recipe but swapping those meats out for chicken will give you a leaner protein with less saturated fat and lower cholesterol.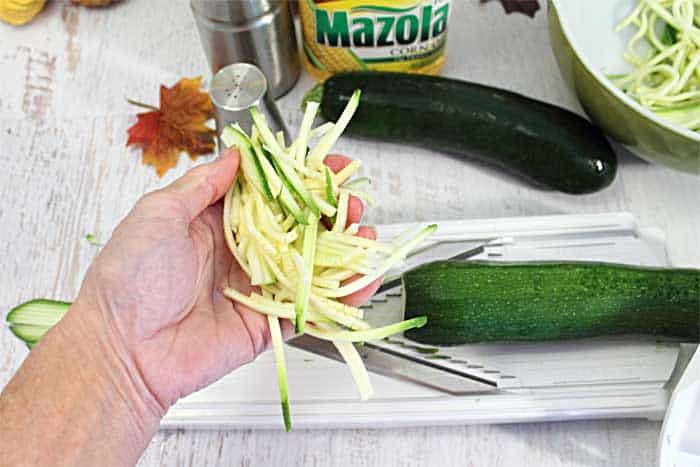 Step 4 – While chicken is cooking, cut zoodles with mandolin or spiralizer. Swapping zoodles for pasta will make the meal lighter with less dense carbs and more vitamins and minerals. Plus you'll be getting 1-2 servings of your required vegetables for the day. Even kids will like getting their veggies this way!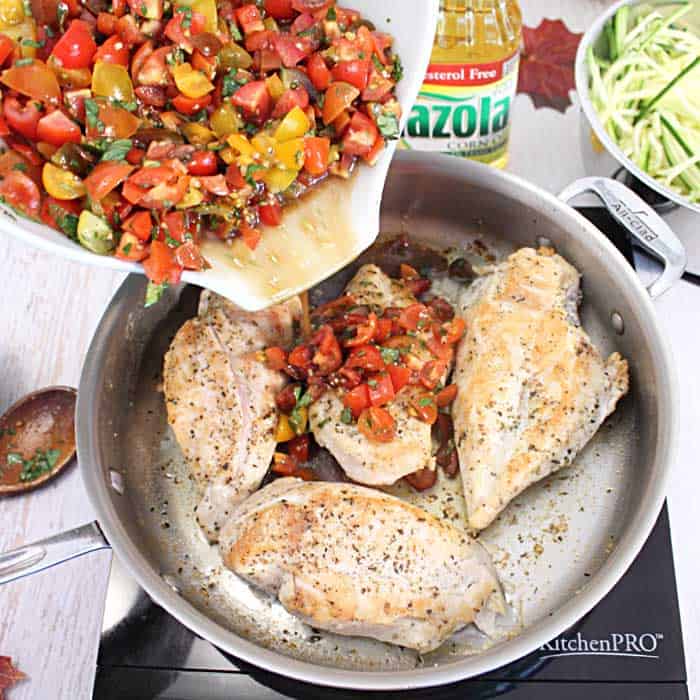 Step 5 – Add bruschetta mixture to skillet. Coat the chicken then remove chicken from skillet and keep warm.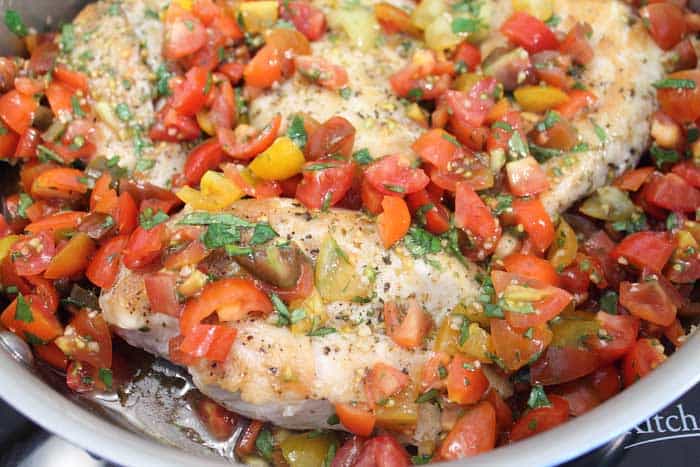 Just look at that juicy chicken just smothered in fresh tomatoes, garlic and basil!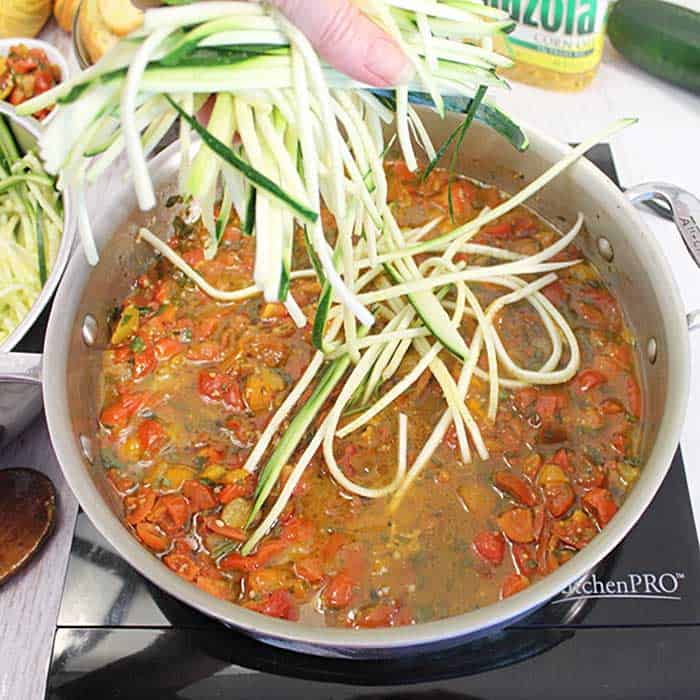 Step 6 – Add zoodles. Toss to coat. Cover skillet and simmer for just 2 minutes or enough time to warm zoodles. ('cause nobody likes mushy zoodles!)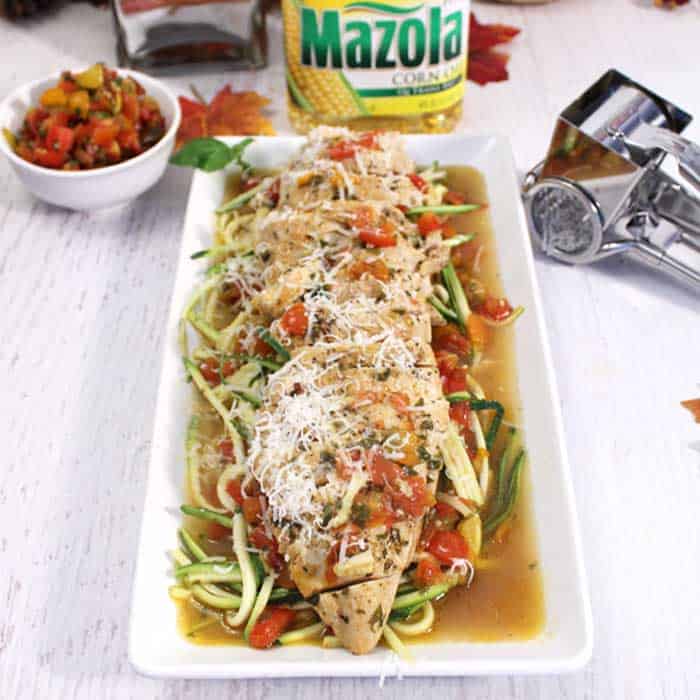 To serve, I like to plate the zoodles on a large platter, top with sliced chicken then garnish with Parmesan cheese. I swapped out a topping of mozzarella, browned under the broiler, for a grating of Parmesan on top of the finished dish. Parmesan is lower in fat and sugar and higher in protein than mozzarella plus a much smaller amount is needed.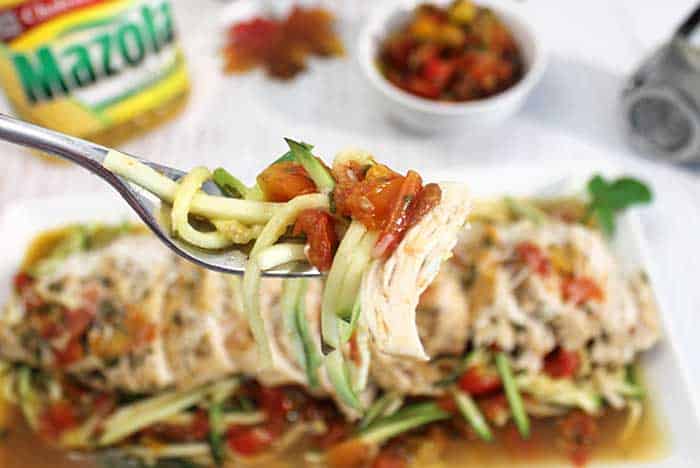 This dinner is totally delicious, super quick and easy, plus I feel so good when serving it to my family. Enjoy!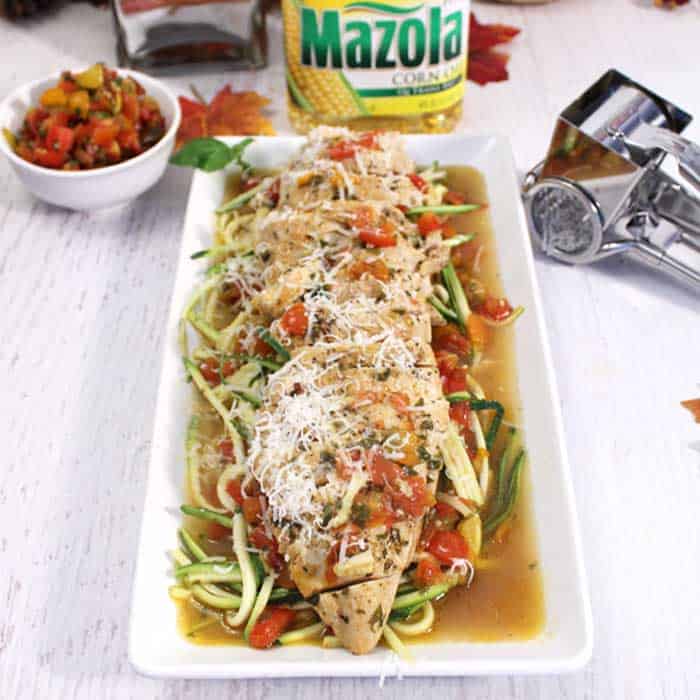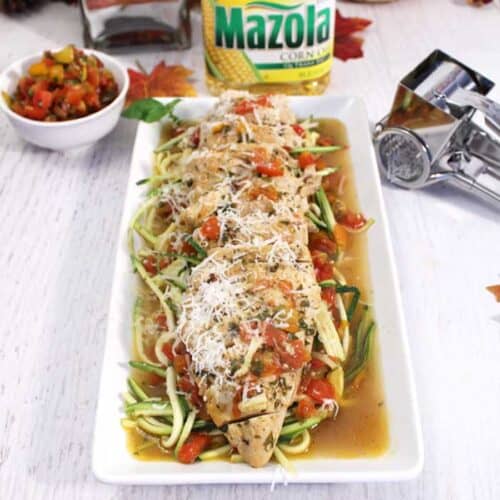 Bruschetta Chicken Skillet
Bruschetta Chicken Skillet with zoodles is a quick, healthy weeknight dinner. Just 1 skillet and 30 minutes & dinner's on the table.
Keywords:
30 Minute Dinner, Bruschetta chicken, chicken skillet
Ingredients
Bruschetta
2

lbs

cherry tomatoes

I like to use a red, yellow & orange mix but plum tomatoes can also be used

1 1/2

teaspoon

minced garlic

or 3-4 garlic cloves minced

1/2

cup

fresh basil

packed firmly & chopped

2

Tablespoons

fresh oregano

chopped (optional)

1/4

cup

Mazola Corn Oil

1

Tablespoon

balsamic vinegar
Skillet
4

medium

chicken breasts

boneless, skinless

Salt & pepper

to taste

1-2

teaspoons

Italian seasoning

2

Tablespoons

Mazola Corn Oil

2

zucchini

made into zoodles

1/4

cup

Parmesan cheese

grated
Directions
Mix all bruschetta ingredients in non-reactive bowl and let sit for 15-30 minutes so flavors will meld.

While bruschetta is marinating, season chicken breasts on both sides with salt, pepper and Italian seasoning.

In a large skillet, heat 2 tablespoons Mazola Corn Oil.

When the oil starts to shimmer, place chicken breasts carefully in pan and brown 8-10 minutes on one side, turn and brown on second side for 8-10 minutes or until cooked through. Cover while cooking to help retain moisture.

While chicken is cooking make zoodles with zucchini using a mandolin or spiralizer.

When chicken is done, remove to a plate and add bruschetta mixture to pan, reserving 1/2 cup to serve on the side.

Immediately add zoodles to skillet and toss to coat.

Add chicken back into skillet and simmer, covered, for about 2 minutes, just enough to heat zoodles.

Remove from heat. Place chicken on cutting board and slice on the diagonal.

Place zoodles on serving plate and top with sliced chicken. Drizzle with juices from pan.

Garnish with grated parmesan cheese and additional basil if desired.
Nutrition Facts
Bruschetta Chicken Skillet
Amount Per Serving
Calories 283
Calories from Fat 207
% Daily Value*
Total Fat 23g 35%
Cholesterol 4mg 1%
Sodium 136mg 6%
Potassium 790mg 23%
Total Carbohydrates 15g 5%
Protein 6g 12%
* Percent Daily Values are based on a 2000 calorie diet.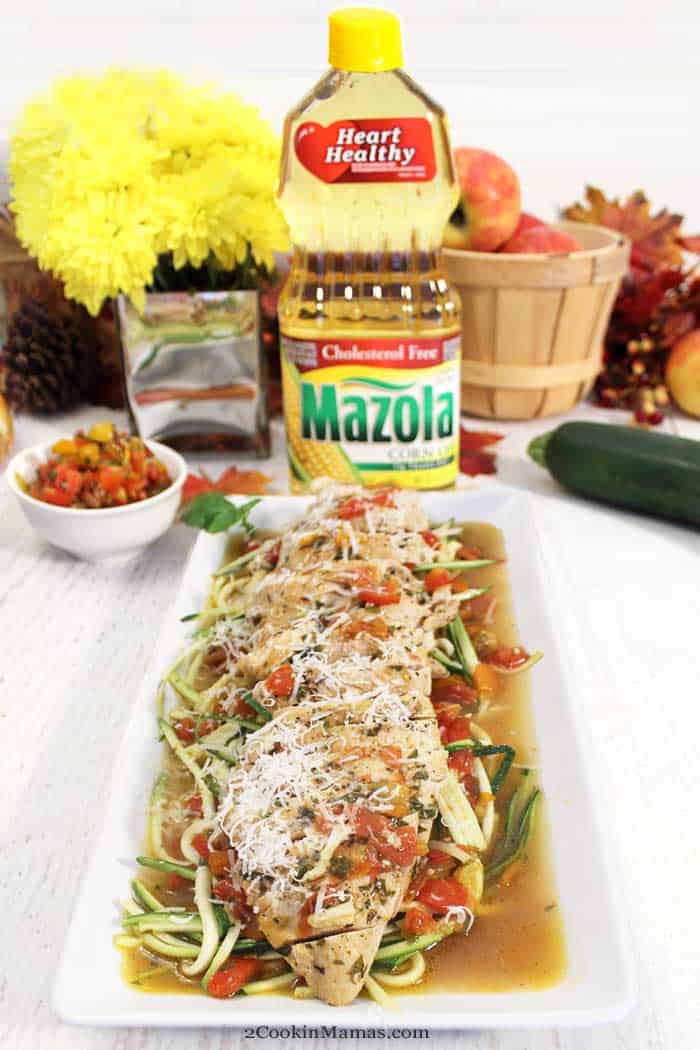 More quick and easy meals for weeknight dinners.
One Pot 30 Minute Seafood Stew
DON'T MISS A RECIPE!