A delicious orange pistachio biscotti, flavored with orange, filled with plenty of pistachios then dipped into dark chocolate! Easy to make & easier to eat! Great for seasonal cookie tins and holiday parties.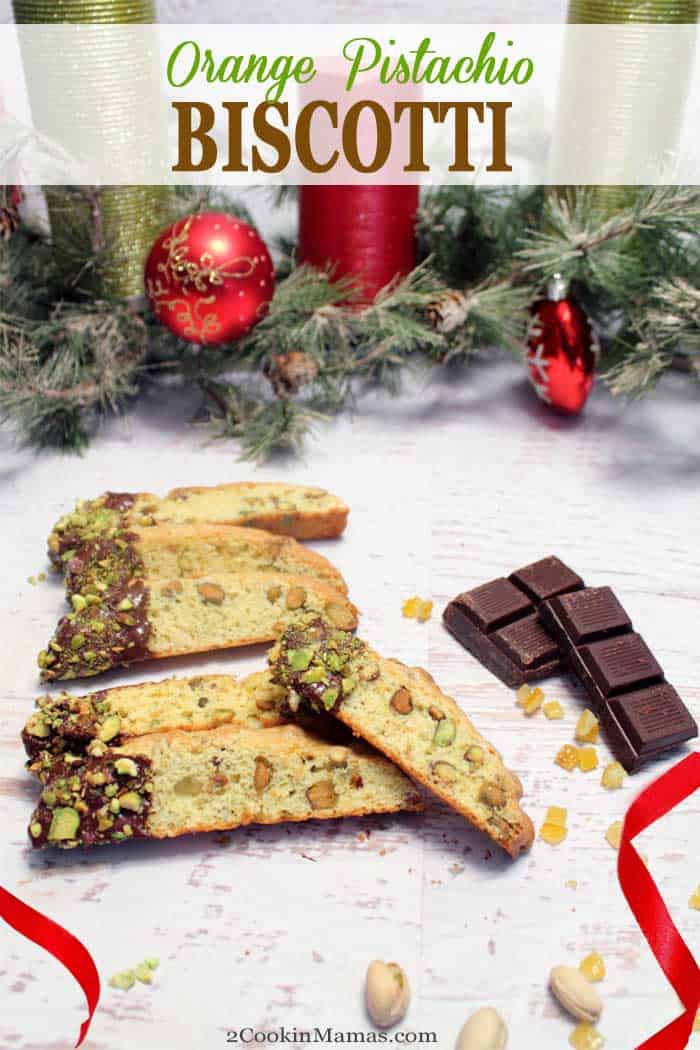 I am always so excited when Creative Cookie Exchange day comes around and I can't think of a better time to be sharing delicious cookie recipes than around the Christmas holidays. This month our theme was biscotti and I chose to make an Orange Pistachio Biscotti (mainly because two of my favorite flavors are, you guessed it, orange and pistachio). I have to say that biscotti is one cookie that I have never baked before. You are probably saying, really? Yep, really! It's not that I don't love it, it's just that it was one of those cookies I ordered for a special treat while dining out or stopping at my favorite coffee place and never thought about making my own.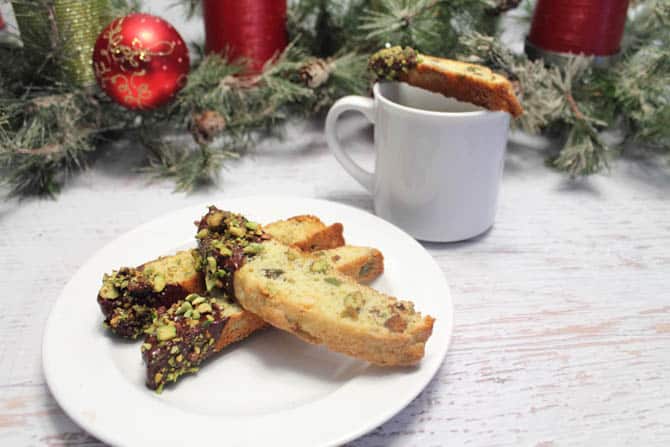 I was also under the mistaken impression that they were a hard cookie to bake. I mean, you have to cook them twice, what's with that? And after all that, and a nudge from the Creative Cookie Exchange, I found out they are actually one of the easier cookies to make. Thank you my wonderful group! Now that you know, you've just got to try some of the ones that are being shared today from our group and, if you love pistachios, you just can't miss trying my Orange Pistachio version.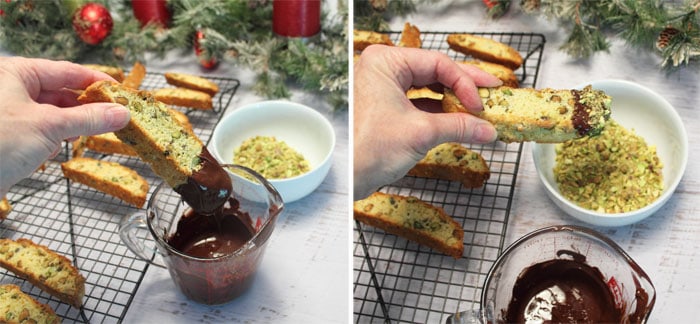 I think one of the parts I like best about the biscotti is that extra special dip into dark chocolate. Of course, it doesn't hurt that I get extra pistachios that way too! 🙂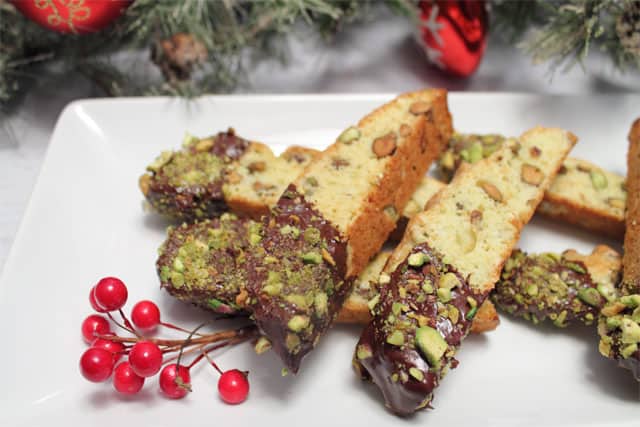 These cookies are oh so good and make a very nice homemade gift for the holidays. I like to add mine to a basket with a cute coffee mug and a nice coffee for that special neighbor that is always available for a morning coffee break.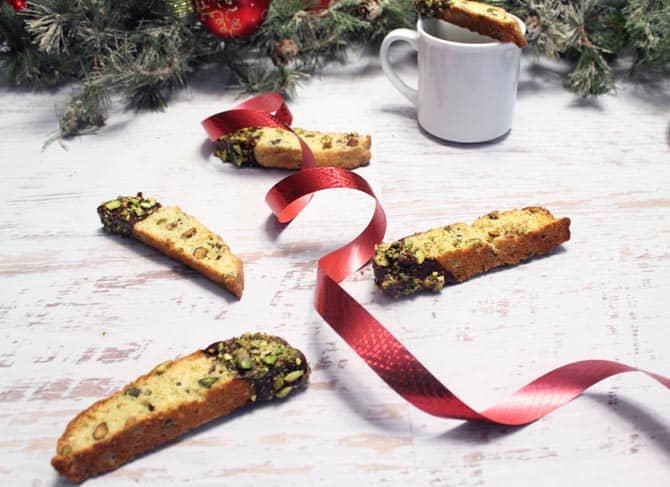 I did get the "these are incredible" from my husband so, as he is an aficionado of biscotti, I am positive you will love these. I so wish you could join me as I would gladly share with every one of you. Merry Christmas!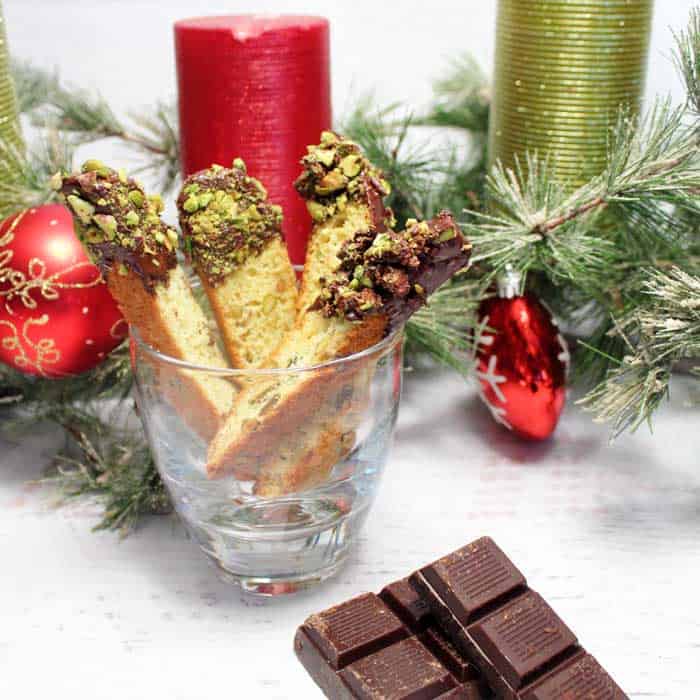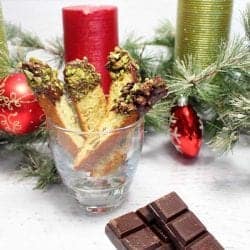 ORANGE PISTACHIO BISCOTTI
A delicious orange pistachio biscotti, flavored with orange, filled with plenty of pistachios then dipped into dark chocolate! Easy to make & easier to eat! Great for seasonal cookie tins and holiday parties.
Print
Rate
Ingredients
Biscotti
1

cup

+ 2 Tablespoons all-purpose flour

½

cup

sugar

1

teaspoon

baking powder

2

eggs

2

Tablespoons

orange zest,

about 1 large orange

1

Tablespoon

+ 1 teaspoon candied orange peel,

chopped fine

2

Tablespoons

orange juice

6

oz

shelled pistachios
For dipping:
8

oz

dark chocolate,

roughly chopped

½

cup

shelled pistachios,

chopped small
Instructions
Preheat oven to 350 degrees. Lightly spray a large cookie sheet with nonstick spray.

In a small bowl, mix flour, sugar and baking powder.

In a large bowl, whisk eggs, orange zest, candied peel and orange juice together. Add the dry ingredients and mix with spoon til incorporated. Add nuts and stir.

Lightly flour a wooden cutting board and place dough on board. Coat hands with flour and lightly knead for a minute. If dough is too wet, add another teaspoon or two of flour.

Divide dough in half and place on prepared cookie sheet, forming into a log that is about 2" wide.

Bake 20-25 minutes or until firm to touch and lightly browned. Let cool 10 minutes.

Place on cutting board and, with serrated knife, cut into ½" wide slices. Lay flat on cookie sheet and bake another 10-15 minutes, turning over halfway through.

Remove to wire rack to cool completely.

Once cool, prepare chocolate for dipping. (this step is optional)

In a microwave safe dish, place roughly chopped chocolate and heat in microwave in 30 second increments, stirring inbetween, until all chocolate is melted. Do not over cook as chocolate will seize easily (in other words, become hard). Dip end of cooled biscotti in chocolate then sprinkle with chopped pistachios. Place back on baking sheet and allow chocolate to set. They can also be placed in the refrigerator for the chocolate to set faster.

Store in airtight container.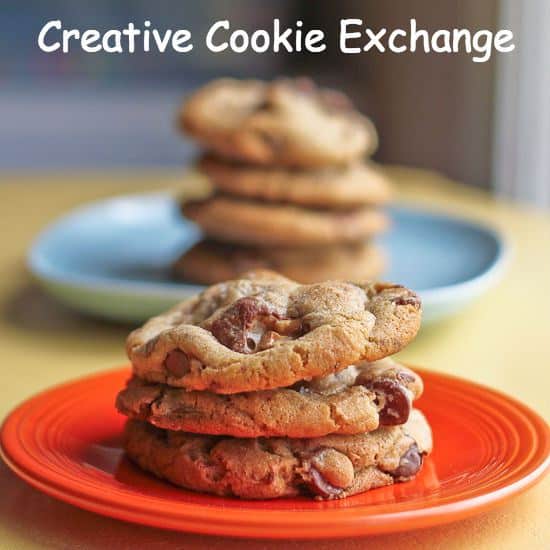 Biscotti (or mandelbrot or any other twice baked cookie by any other name) are one of the perfect Holiday tin cookies! They last forever, and there are so many ways to make them festive. So we've got you covered--sweet, savory, low fat, loaded with decadence, you name it, we've got it! Happy Holidays!
You can also use us as a great resource for cookie recipes. Be sure to check out our Pinterest Board and our monthly posts (you can find all of them here at The Spiced Life). You will be able to find them the first Tuesday after the 15th of each month! Also, if you are looking for inspiration to get in the kitchen and start baking, check out what all of the hosting bloggers have made: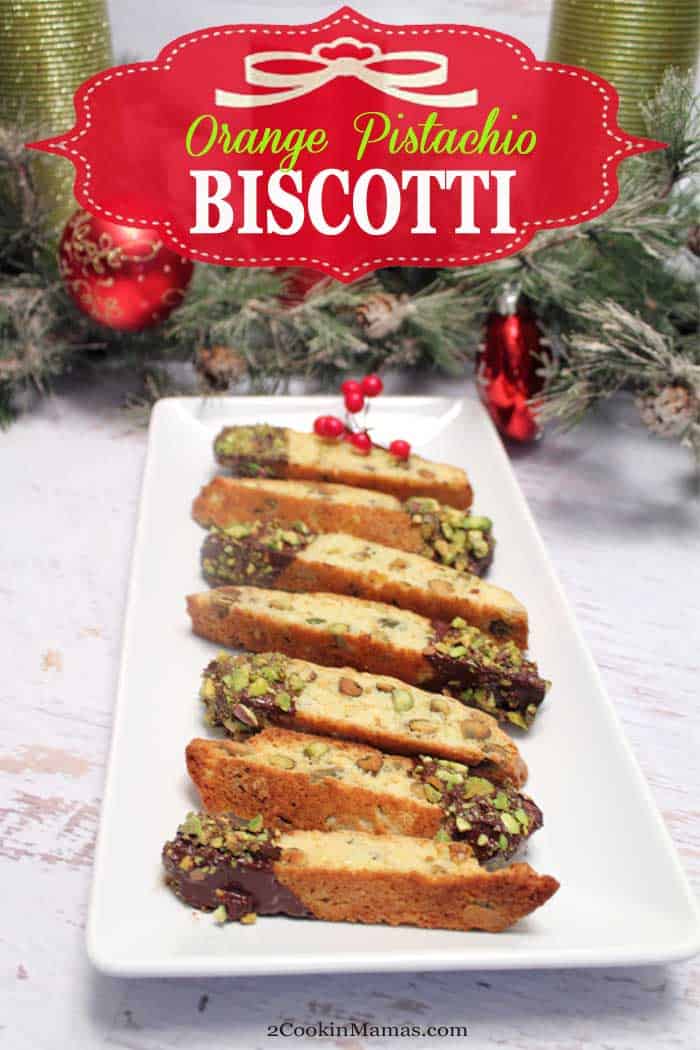 What's your favorite biscotti recipe?
DON'T MISS A RECIPE!