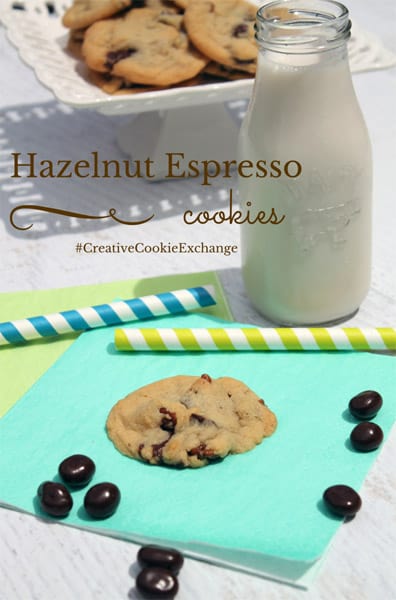 This month's theme for cookies was Chips, Chunks or Bits, which I totally loved! Thank you Tara for the great idea!
I was trying to think of what I wanted to make, something out of the ordinary, when I had one of those "wow I got it" light bulbs show up above my head. I was in a local coffee shop and they had those dangerous little dark chocolate espresso beans for sale and thought why not use those in a cookie? And what better place to be inspired by a coffee flavored cookie than in a coffee shop.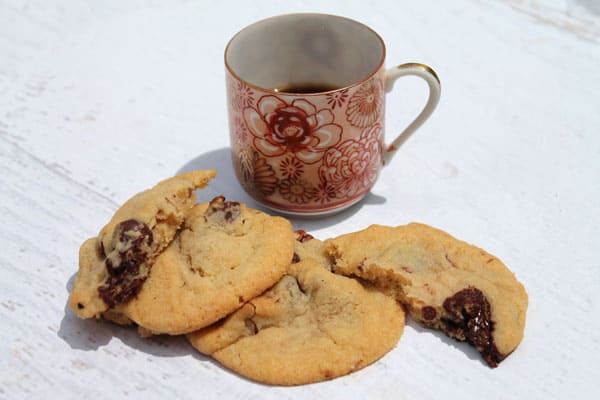 I love coffee, especially flavored coffee, so why not make the cookie a flavor that goes with coffee. Like hazelnut! And make it more decadent by adding more dark chocolate to the mix. I know, that's a little overboard but it sure turned out irresistibly tasty! So I think I got the theme covered this month - chips of chocolate, chunks of espresso beans and bits of nuts!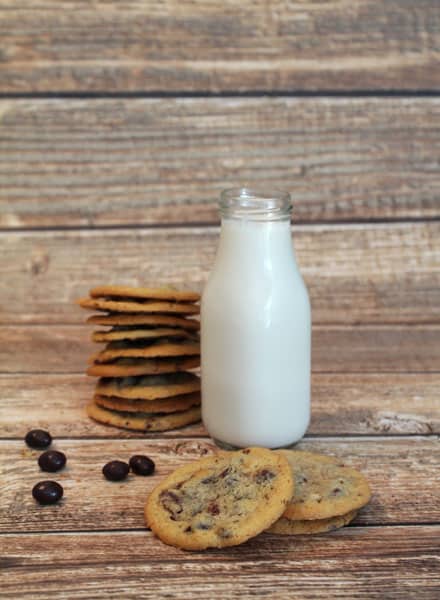 After making 3 batches I finally hit upon the right combination of ingredients and they pack a serious sugar high, not to mention the caffeine! Woohoo, it will keep you going all afternoon. It's a soft cookie oozing with gooey chocolate and a nice crunch from the espresso beans and nuts. Everything you could want in a cookie and then some!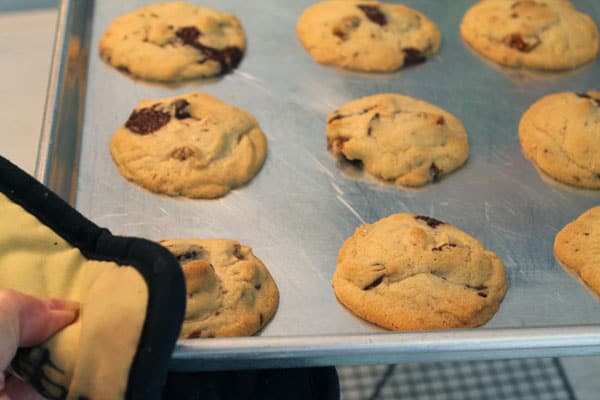 Hazelnut Espresso Cookies
Ingredients:
½ cup butter, room temperature
½ cup shortening
½ cup brown sugar, packed
½ cup granulated sugar
1 large egg
1 teaspoon hazelnut extract
½ teaspoon vanilla extract
2 cups all purpose flour
1 teaspoon baking soda
½ teaspoon salt
½ cup dark chocolate covered espresso beans, roughly chopped
½ cup (or about 3-oz) Ghiradelli dark chocolate bar, roughly chopped
½ cup hazelnuts, roughly chopped
Directions:
Beat butter & shortening until soft & creamy. Continue beating while gradually adding sugars, followed by egg and extracts.
Combine flour, baking soda & salt. Gradually add to butter mixture and beat until well incorporated.
Stir in espresso beans, chocolate & hazelnut pieces.
Drop by heaping teaspoonfuls, about 2" apart, onto ungreased cookie sheets. Bake at 350 degrees for 8-10 minutes or until lightly browned.
Remove from oven and allow to cool for 3-4 minutes on cookie sheets then remove to wire rack & let cool completely.
Makes 3-4 dozen.
The theme this month is Chips, Chunks or Bits! If you are a blogger and want to join in the fun, contact Laura at thespicedlife AT gmail DOT com and she will get you added to our Facebook group, where we discuss our cookies and share links. Please be patient though, as this month Laura is off to Italy and will not be checking email quite as often!
You can also just use us as a great resource for cookie recipes--be sure to check out our Pinterest Board and our monthly posts (you can find all of them at The Spiced Life). You will be able to find them the first Tuesday after the 15th of each month! Also, if you are looking for inspiration to get in the kitchen and start baking, check out what all of the hosting bloggers have made:
DON'T MISS A RECIPE!