You've never tasted anything so delicious as these crisp Maple Roasted Brussels Sprouts complete with bacon, pecans and a toss with maple syrup & balsamic. It's Brussels Sprouts taken to a whole new level!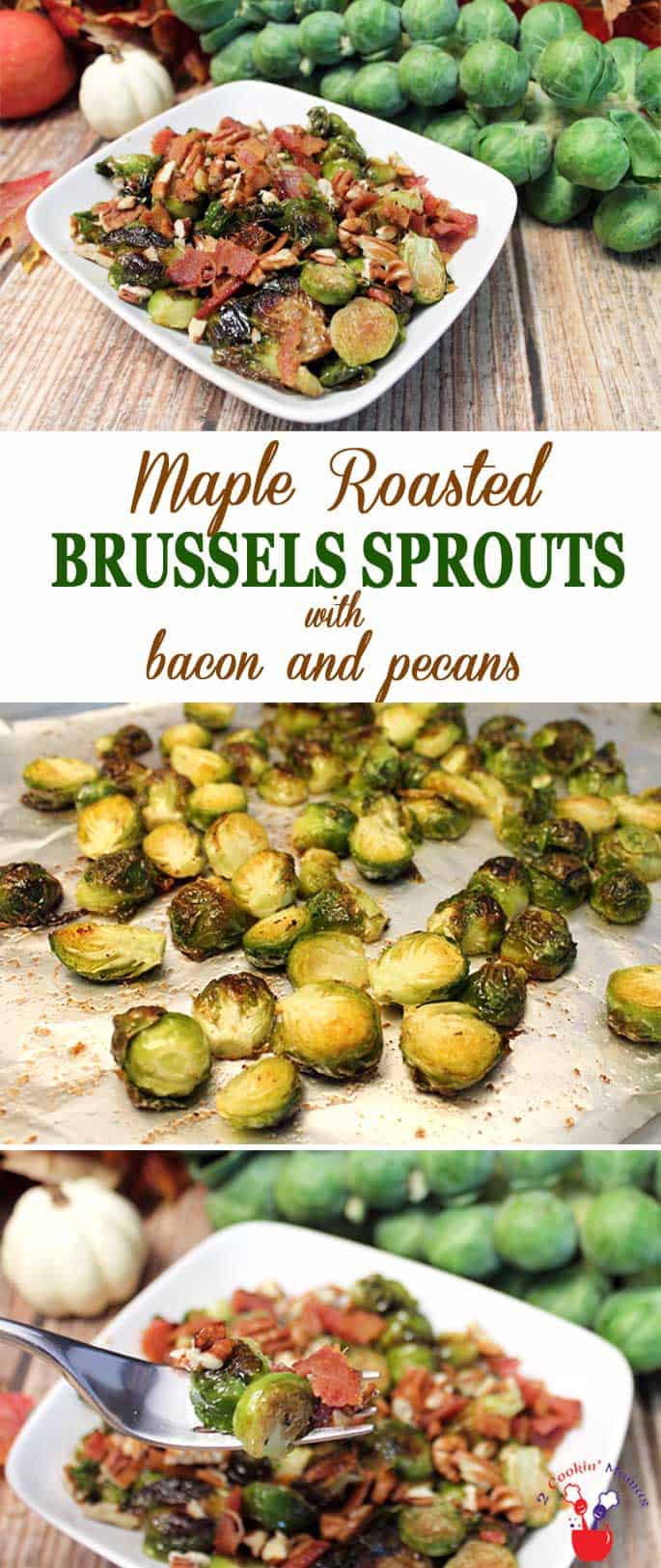 OK, I have to be honest and say that I have never really liked Brussels sprouts. In fact, I actually intensely disliked them for years. And then along comes Houston's Restaurant and my opinion did a 180. Yep, they fixed these roasted brussels sprouts with a maple balsamic glaze that was out-of-this-world fantastic! I was hooked!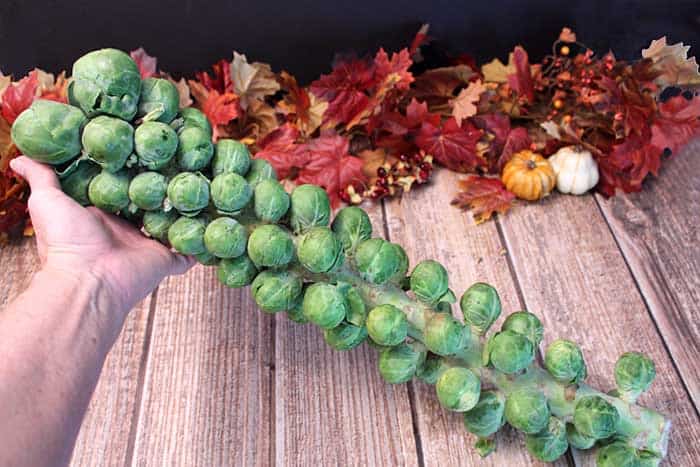 So when I saw this interesting stalk while grocery shopping last week, that looked just like brussels sprouts, I had to take a closer look. Yep, that's the way they grow! Pretty cool, huh.
I even met a woman at the checkout counter that said she used to grow them in her backyard and the kids were always fascinated by them. I think I would find it pretty fascinating myself.
There was a tag that was hanging from the stalk that also said you could cook them right on the stalk. Maybe I'll have to try it that way next time. If you want to try, I've included the instructions in the notes section of the recipe below.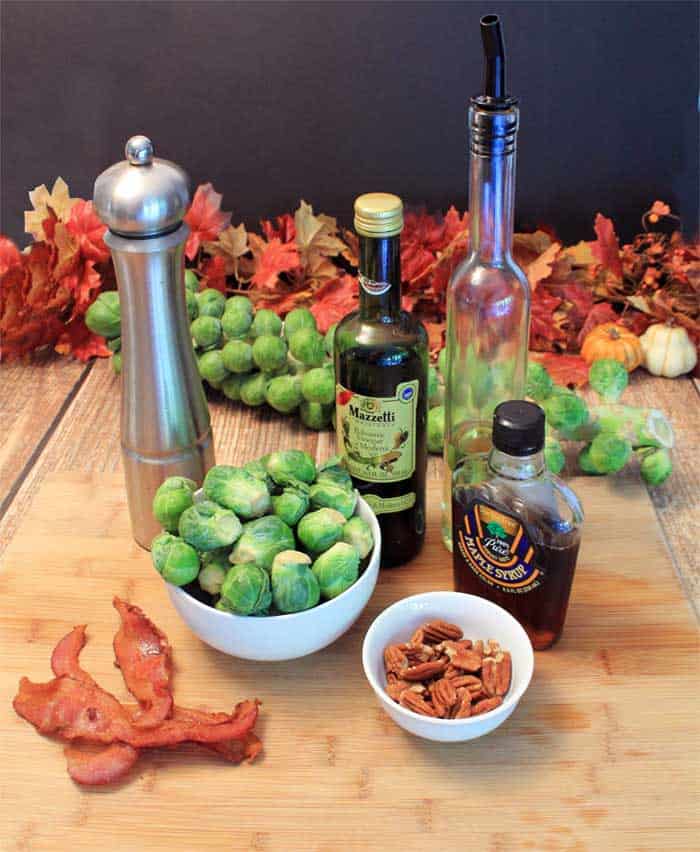 I'm so glad I finally added these little guys to my group of likes. They're a really healthy addition to any diet.
Brussels sprouts are rich in Vitamins C & K, high in potassium, omega 3's and dietary fiber. And they're really easy to cook too! It doesn't take a ton of ingredients, in my case, just bacon, olive oil, salt, pepper, maple syrup, balsamic vinegar and pecans, just a bit of prep time & mostly hands-off oven time.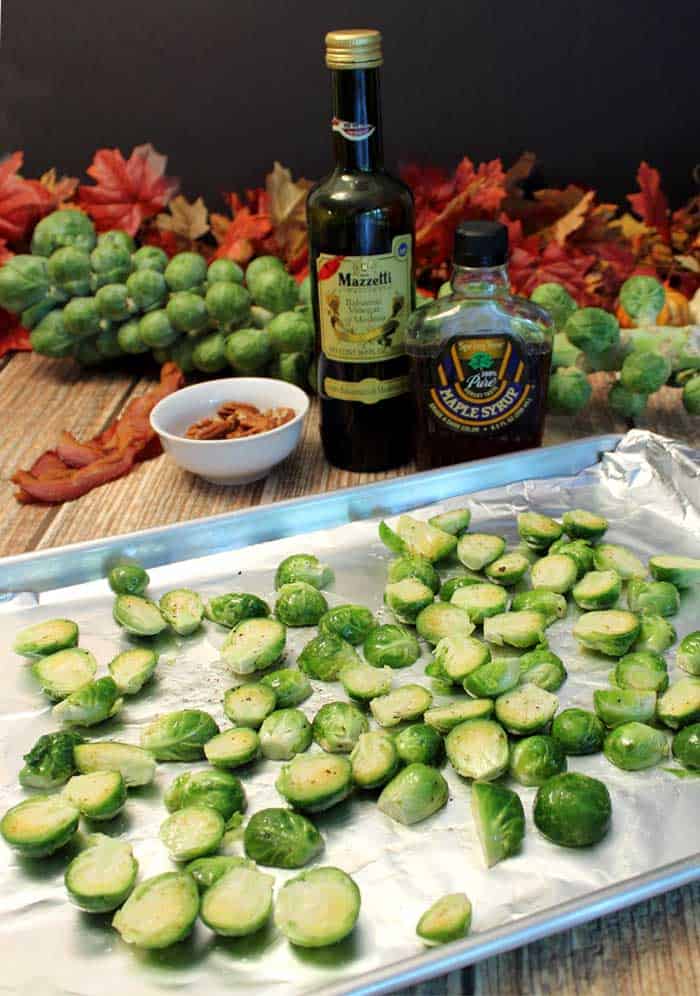 To prepare, just take off any of the outer leaves that look a little rough & torn, as they could be tough, then slice in half. Toss with some olive oil, and in this case bacon fat, and sprinkle with salt and pepper. Roast those babies until they're toasty and crisp. Oh, they're so delish!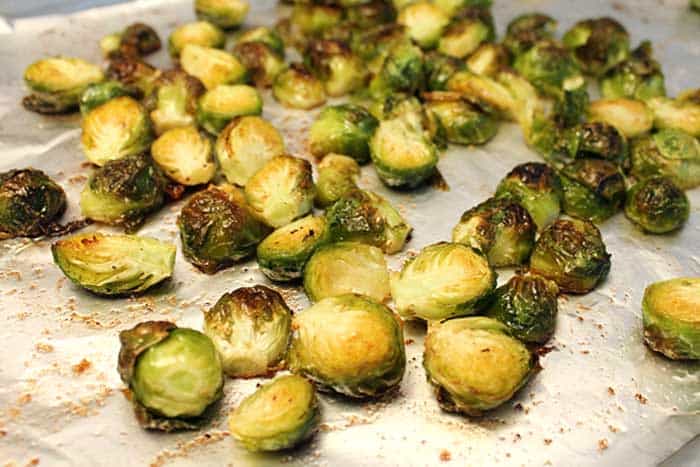 When they're done roasting, mix with maple syrup and balsamic and some of the bacon and put back in the oven just to glaze. That's it! When you serve them, top with remaining bacon and some extra special maple roasted pecans.
Oh yeah, I forgot to mention that I fancied the nuts up a bit (and if you do fix them this way, warning they're addictive, don't eat them all before the sprouts are done). Pop them in the oven to roast just prior to starting the sprouts. They only take 10 minutes and they make a great garnish not to mention a tasty snack option.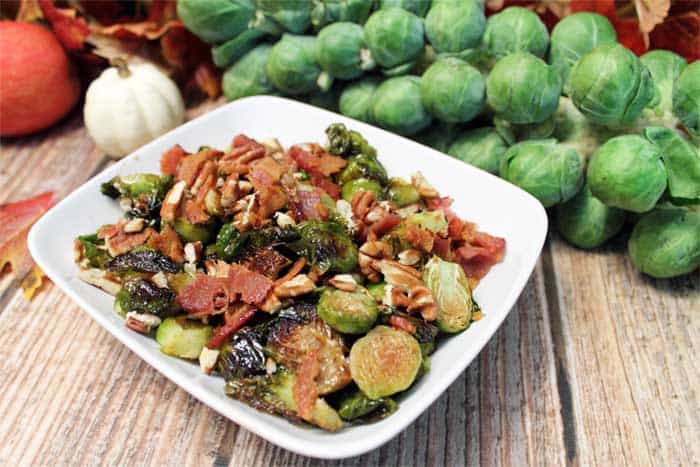 This picture doesn't do these delicious sprouts justice. They're sweet, a little crunchy and the perfect side to any meal. I like to serve mine with holiday turkey, grilled Cajun salmon or even my avocado stuffed chicken breast. Hope you enjoy!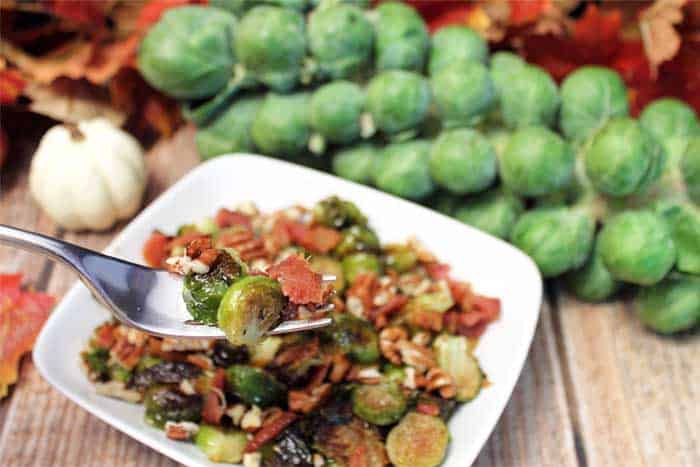 Maple Pecan Brussel sprouts are great for Thanksgiving. Another great side dish is my baked Sweet Potato Balls with marshmallow inside and gingersnap crumbs on the outside.
Try my bacon wrapped carrots with maple syrup for another tasty vegetable side dish.
Find more of the best recipes for Thanksgiving right here on 2CM!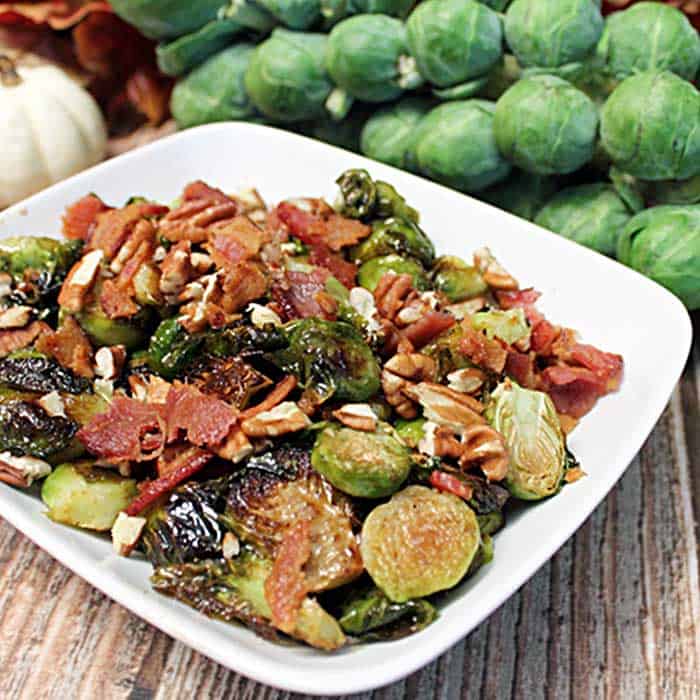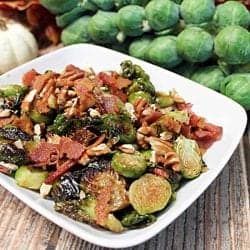 MAPLE ROASTED BRUSSELS SPROUTS with BACON & PECANS
You've never tasted anything so delicious as these crisp Maple Roasted Brussels Sprouts complete with bacon, pecans and a toss with maple syrup & balsamic. It's Brussels Sprouts taken to a whole new level!
Print
Rate
Ingredients
Maple Roasted Pecans
1

cup

pecans

1

Tablespoon

butter

1

Tablespoon

brown sugar

1

Tablespoon

maple syrup

¼

teaspoon

salt

Pinch

of cayenne
Brussels Sprouts
6

slices

bacon

2

lbs.

Brussels sprouts, halved

1

teaspoon

salt

½

teaspoon

black pepper

4

Tablespoons

maple syrup

3

Tablespoons

balsamic vinegar
Instructions
Preheat oven to 350 degrees. Line a baking sheet with parchment paper.

In a microwave safe dish, melt butter and sugar in microwave for 30 seconds.

Stir in maple syrup, salt & cayenne.

Pour butter-maple syrup mixture over pecans and stir well.

Put on prepared baking sheet and bake for 10-12 minutes, turning halfway through.

Let cool.
To prepare brussels sprouts
Turn oven up to 425 degrees. Reline baking sheet with aluminum foil.

Halve brussels sprouts, cut off any excess stem & remove any tough leaves.

In a large skillet, cook bacon until crisp. Remove from heat & lay on paper towel to drain.

Toss brussels sprouts into bacon fat. Add olive oil, salt and pepper and toss to coat.

Pour out on to prepared baking sheet.

Roast in oven for 10 minutes, turn and roast another 10 minutes.

While brussels sprouts are roasting, combine maple syrup and balsamic vinegar together.

Remove brussels sprouts from oven and pour maple mixture over all and add about ¾ of the bacon. Toss to coat.

Place back in oven for another 4-5 minutes.

When ready to serve top with remaining bacon and roasted pecans.
Notes
To cook on stalk: Place whole stalk, or cut in half if necessary, in a large roaster with 2 cups chicken stock or water. Cover and let steam in 350 degree oven for 20 minutes. Remove pan from oven & uncover. Mix ½ cup maple syrup with ⅛ cup olive oil. Brush on sprouts then season with salt & pepper. Return to oven and cook another 45 minutes, basting every 15 minutes with pan drippings. You want them to be nicely browned. Serve whole stalk on platter. Pretty cool!
This post has been updated and was first published on November 22, 2017.
DON'T MISS A RECIPE!